On Easter Monday in April 1971, Ford hit the headlines in national newspapers by unveiling a new Transit van at Brands Hatch Circuit, in Kent. But it wasn't your ordinary workhorse.
A race track is not the typical venue for presenting a van that's built for carrying plumbing equipment and tools, pallets of paving slabs or landscaping machinery, but this was no typical Transit. The Essex V4 petrol engine normally found under the van's short bonnet – referred to as a bullnose – had been unceremoniously tossed aside; in its place sat, well, nothing. Instead, the van used a Gurney-Weslake-tuned 302 small-block Ford V8 and a five-speed transaxle. Essentially a Ford GT40 draped in boxy van sheetmetal, it even shared the race car's "bundle of snakes" exhaust manifolds and fantastic engine note – plus its heady output of 435 horsepower. The absurdity of the Supervan was matched only by its brilliance.
How much is your car to insure? Find out in four easy steps.
Get a quote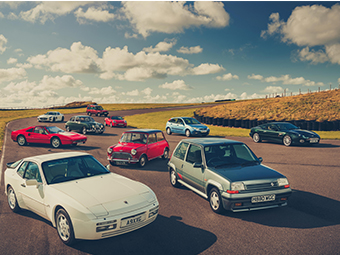 The idea to create a high-performance, mid-engine box-on-wheels was a novel way to advertise the practicality of the van, which had already been on the market for five years in its current form. Doesn't every bakery need a hot-rodded van to make sure that each loaf of bread gets delivered while it's still fresh and hot?
The Supervan's performance was impressive for the day. Its "nought-to-60" time was seven seconds, and it could dispatch the quarter-mile run in 14.5 seconds, which is not bad at all for any sort of small-block in the early '70s.
However, drag racing wasn't its forte. With wide front tyres that stick out from the wheel openings, Ford's custom creation had the appearance of a super-sized go-kart. Surely it would fare better on the track? Well, that depends on the track. To no one's surprise, a blocky van is not the ideal shape to push through the air, but the Supervan certainly looked and sounded good while trying. Top speed was supposedly in excess of 150 mph, although handling became a bit dodgy. Just watch it pull a front wheel way off the ground when cornering. Then again, given the way some van drivers have always liked to treat every journey as a land speed record attempt, such antics probably wouldn't have concerned them, should the Supervan have ever made it out onto the public road.
As it was, the Supervan remained a flight of fancy, a PR stunt that captured the imaginations of countless commercial vehicle drivers as well as plain old petrolheads across Britain. There were never any plans to sell the V8-powered monster. At its launch, in October 1965, the most affordable version of the Transit cost £542, whereas the budget to build the Supervan would have reached many thousands of pounds, by the time the costly components and labour from the specialist team were factored in.
The following year, Ford pulled another speed-related PR stunt to put the Transit in the minds of Britain's tradespeople. To demonstrate the durability of its new diesel engine, two Ford Transits were driven flat-out and non-stop for a whole week at Italy's Monza race circuit in 1972. The challenge led to the Transit diesel breaking three world endurance records, including 10,000 miles at an average speed of 73.6 mph.
Ford would go on to build a Supervan 2 in 1984, and it raised the bar higher still. The chassis was a Ford C100 Group C car, fitted with a Cosworth DFL engine, which was wrapped in a fibreglass body that was light enough for the car to hit a frightening 174mph at Silverstone race track. It would go on to be updated to Supervan 3 in 1994, but neither 2 or 3 were quite as cool as the original Transit Supervan, the grandaddy of all sleeper vans. Happy 50th birthday.
Via Hagerty US
Read more
Hagerty's Top Ten Unexceptional Vans
Little red devil: MST Mk2 Escort review
Future classic: Ford Focus RS (Mk1)