A Land Rover might once have claimed be the best four-by-four by far, but visit parts of the globe where you need to connect two points on a map and breaking down is not an option, and you're much more likely to find a Land Cruiser instead.
Toyota's four-wheel drive workhorse has now been around in one form or another for 70 years, and much like the Land Rover Series and Defender models, certain variants persisted far longer than others.
How much is your car to insure? Find out in four easy steps.
Get a quote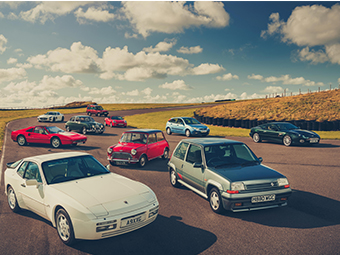 One of those was the J40 built between 1960 and 1984, an example of which has come up for sale through The Market by Bonhams, wearing a £35,000-£45,000 estimate.
Specifically, it's a 1980 HJ45, a model that debuted in 1972 powered by a 3.6-litre inline six-cylinder diesel engine. Several body styles were offered, from the most familiar two-door, short-wheelbase cars through two- and four-door pickups and a four-door wagon, but this model is known as a "Troopy" or troop-carrier, with a pair of rear doors (like a Mini Clubman) and three rows of seats.
That gives it a useful six-person capacity, plus plenty of luggage space for the expeditions such a vehicle positively begs you to embark upon. But much like a contemporary Land Rover, there's always the option of ditching the rear pews and inviting even more of your closest friends to occupy the bench-like areas either side of the cabin. Less comfortable perhaps, but truer to the car's troop-carrying role.
If everything looks impossibly tidy for a hard-working vehicle with four decades under its wheels, that's because this right-hand drive, Japanese-built HJ45 had $60,000 of restoration work in the not so distant past, by Blalock Customs of Georgia in the US.
During this work it gained a darker sand colour over the original Dune Beige (you'd have to be an expert to identify it as non-standard), plus toys like a front-mounted winch and air conditioning.
The original 3.6-litre diesel remains, along with its four-speed manual transmission and two-speed transfer case. power and torques of 94bhp and 159lb ft aren't the most exciting of figures, but there's a fair chance it'll still be producing both numbers long after the next few owners have themselves expired.
Bidding has now opened, with the auction ending on October 12. Given the estimate it's unlikely the next owner will get things too muddy, but you can bet the Land Cruiser would be game even if the owner isn't.
Read more
Toyota RAV4 driven: The ideal all-weather budget classic?
Meet Land Rover's new £200,000 toy: Classic V8 Trophy is built for adventure
The Honda Accord Type-R is a touring car in streetwear