Engineers love a challenge. Speak to one on the subject of environmental regulations or cost constraints and however laced with doom and gloom your question, they'll respond with an enviable enthusiasm. To an engineer, a new regulation or external circumstance is just another problem to find a clever answer to.
So while it's easy to imagine a bunch of Honda employees sitting head-in-hands as legislation makes their hardcore Type-R products unavoidably heavier, or turbocharged for efficiency, the reality is they create something like the current Civic Type-R, a car so wildly ahead of its rivals it might as well be in a different class entirely.
How much is your car to insure? Find out in four easy steps.
Get a quote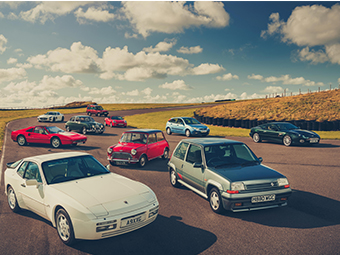 Somewhere though, in the back of their minds, there must be a little envy for their predecessors, who were able to sneak through high-revving naturally-aspirated engines and could draw in customers unperturbed by minimal equipment or meagre sound insulation. The first Type-R was based on the NSX supercar, so extreme characteristics were almost a given, but faithfully transferring that attitude to Civics, Integras, and even the Accord, made Type-R Hondas legends in their own lifetimes.
You do wonder though how the Accord Type-R snuck into that particular party, and even more so why Honda saw fit to homologate a model that wasn't even available in Japan, like previous Rs. The company had never offered a particularly racy Accord in the past. The Integra Type-R had only just arrived in Europe, so there was little precedent that a similarly hardcore saloon might sell. Honda had a presence in touring car racing, and indeed F1 – 1996 champ but then Jordan driver Damon Hill was drafted in to hawk the car in the brand's print ads – but it still seemed like a big ask.
There wasn't much in the way of direct competition either. Most magazines ended up squaring off the Accord either against much less focused repmobiles like the Ford Mondeo ST200 and Vectra GSi, or throwing it into odd-couple match-ups with the Subaru Impreza WRX.
If the competition wasn't obvious, it wasn't much competition either as it turned out. The hot Honda won almost every battle it entered. It made mincemeat of super touring-themed rivals in evo Magazine's group test in October 1999, trouncing the closest Alfa 156, Audi A4, Mondeo and Vectra as comprehensively as the current Civic dismisses any hot hatchback that dare challenge it.
Autocar's in-depth road test was no less effusive. While missing out on that final fifth star, the magazine called it "Japan's modern day answer to the Sierra Cosworth", and praised its engine and in particular its steering – better than the Integra-R, said the reviewer.
The car market can be fickle though, and two decades down the line the Accord seems largely forgotten. Hero to zero in the space of a few model generations. Reviewers jump at the opportunity to compare the latest Civic-R with the UK's first, the breadvan-shaped EP3, but in ethos, it's the group-test-winning and family-friendly Accord, not the smaller, mixed-reception EP3, that feels closer in spirit.
At the same time, it takes about ten seconds – the time you need to open the door, sit down and twist the key – for familiar Type-R sensations to filter through. The door is typical Honda, light but somehow sturdy. The seat is a Recaro – the same sort used by Renault in the phase 2 Clio V6 and Clio Trophy, the Evo VI Tommi Mäkinen and more – and one of the comfiest and most supportive in the business. And the engine whirrs into life to a slightly reedy idle and a touch more commotion than you might expect.
Herky-jerky low-speed progress betrays a slightly sticky throttle on Honda UK's recently-restored heritage fleet car, but once fluids are warmed the top of the throttle travel is less important than the bit near the thinly-carpeted firewall.
Unlike some high-revving Hondas, a completely binary approach to the throttle isn't a necessity. With a hand-finished, 2.2-litre "H22A7" four-cylinder at its disposal, there's genuine torque here despite an official figure (164lb ft at 6700rpm) which makes it sound rather peaky. It's not the muscle you'd have got from a contemporary V6-powered rival, or indeed a modern turbocharged four, but the engine does real work from around 3000rpm or so, where it's useful in real-world driving.
It's already moving briskly then by the time the spikier cam lobes are engaged at around 5000rpm with the VTEC changeover. The full 209bhp output then becomes available, and while you know it's coming, the additional thrust is still a surprise. As is the noise, what little soundproofing there is doing little to stop a touring car-style induction howl blasting through what seems to be a tinfoil-thin firewall.
The steering tugs this way and that, but as the red line approaches you're already applying a slight pressure to the alloy gearknob, ready to slice through to the next ratio, minimising the time the revs have to drop out of that VTEC zone by the time the clutch re-engages. Slightly closer gearing would definitely help, but keep on top of it and the car is wickedly brisk and intoxicatingly vocal. Every time I think I've had enough of high-revving engines, and wish to settle into a life of lazy torque, one of these Hondas always draws me right back in.
The Accord's secret though isn't its engine, but the parcel the engineers designed to contain it. The old Integra is rightly praised for being among the best front-wheel drive cars ever made, but in some respects the Accord might be even better. At moderate speeds for instance, the Integra's steering is far from talkative, only really waking up when you're leaning hard on the car. But the Accord's rack chats all the time, with seemingly less friction, and greater bandwidth to the messages it relays.
And its response is no slower, the Accord shaking off its extra kilos and tucking into bends with the same attitude as its slimmer-hipped coupe cousin. Like the Integra, and indeed all the best front-drivers, it seems to work the rear axle as hard as the front from the moment you turn, so it doesn't feel like you're just lugging around a large rump and sizeable wing for the sake of it.
Lift and the nose tucks. Add throttle, and the nose tucks further – thank the limited-slip diff for that – and while there's a limit to how much you can ask of a front-driver's front axle, the Accord has grip and adjustability in equal measure. It's a rare treat, since adding grip so often makes a car feel locked-down at road speeds. Like the steering, the other controls all relay information, from the positive and powerful brakes to the slick-shifting gearbox, so even pottering becomes a pleasure.
Whatever the road there's no shake, rattle or roll, with Integra levels of body control in corners and over crests, but a far more compliant ride everywhere else. Even churning along at 4000rpm in top on the motorway it's oddly silent (there's still half the rev counter to go, don't forget) and feels incredibly relaxed, with nary a squeak from the well-built cabin. I can't think of many cars that would so comfortably handle a continental road trip and a track day without breaking a sweat on either.
It really is the current Civic Type-R's spiritual predecessor in that respect. The wild-looking Civic has an uncanny ability to operate as a comfortable and practical family hatchback one minute but make mincemeat of serious sports cars as you hit a circuit, and I can't think of another Type-R badged car that strikes that same balance to the same degree as the Accord.
Notably, the market finally seems to be cottoning on to its appeal. Not so long ago Accords were a three-grand buy every day of the week, but all of a sudden tidy ones seem to be cropping up at five figures.
Rarity must play a part, as their long-running affordability has inevitably seen most succumb to several previous abusers. Small issues unique to the model, like wandering self-levelling headlights or the usual Honda bugbear of rust, can also be a nuisance to sort, so those in perfect nick justify their premium.
But if you accept that the Accord Type-R has probably been undervalued for several years now, even the very best are undoubtedly worth the money that some now seem to be charging. It's either that or spend double on an Integra or three times that on a brand new Civic Type-R, and for a driving experience that stands up to either as one of Honda's finest, it still seems like a bit of a bargain.
Read more
Honda S600: the highest-revving sports car | Revelations with Jason Cammisa
Engine Room: How Honda unlocked the power of small engines with VTEC
Freeze Frame: Honda's Grand Prix debut