Triumph fans with a passion for rally history have a rare chance to bag themselves a former works TR3A rally car – believed to be the only survivor from its season.
The 1957-registered model was campaigned by the Triumph squad in the 1958 season, one of four TR3As that Standard-Triumph prepared for its works rally team to compete with in the Monte Carlo Rally.
How much is your car to insure? Find out in four easy steps.
Get a quote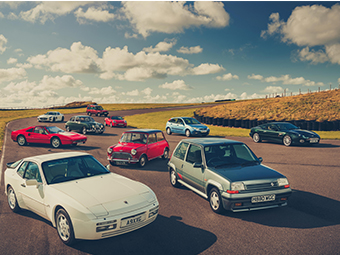 It is said to remain remarkably original, retaining its competition factory hardtop and rare overdrive transmission, and still wears its original colours of Apple Green over brown leather. 
At the 1958 Monte Carlo Rally, Standard-Triumph entered four Triumph TR3As: VRW 219 for the car driven by Annie Soisbault and co-driver Tish Ozanne, VRW 220 for Paddy Hopkirk and Jack Scott, VRW 221 for John Waddington and Mike Wood, and VRW 223 for Maurice Gatsonides and Marcel Bequart.
VRW 221 was assigned to Waddington and Wood, but poor weather conditions delayed Waddington, so much so he was excluded from the event before reaching Lyon. However, excluded parties were permitted to continue to Monte Carlo to compete in the driving tests on the promenade at the end of the rally. The detour proved worthwhile when the pair finished third in the standalone event, while French drivers Guy Monraisse and Jacques Feret took the overall win in an 845cc Renault Dauphine – the first victory for a rear-engined car on the Monte.
That same year, VRW 221 was driven in the Circuit of Ireland Rally in April by Desmond Titterington, former Works Jaguar and Ecurie Ecosse driver, and co-driven by Brian McCaldin. Titterington secured second behind Hopkirk, ensuring a a one-two finish for Standard-Triumph. Ron Gouldborn then entered VRW 221 with Stuart Turner for the Tulip Rally and scored a class win and tenth overall.
The plucky Triumph reverted to being crewed by Titterington and McCaldin at the Rallye des Alpes, finishing eighth overall and third in class. The final Works outing for the car was the Tour de France, where it retired with brake problems.
The next year the TR3A was sold by the Stadard-Triumph works team, to former driver Ron Goldbourn, before passing through a number of owners.
Offered at next month's RM Sotheby's London sale, on 6 November, the matching-numbers TR3A boasts a well-documented rally history, is presented with FIA HTP documents, FIVA Identity Card and British Motor Industry Heritage Trust certificate – in other words, all you need to go historic rallying.
The reserve has been set at £140,000 – £160,000, and only three years ago the same car sold at Sotheby's Paris auction for €184,000 (£155,240). By comparison, a standard TR3A road car without any competition history or association with the works outfit would sell for around £33,000, in excellent condition.
With none of the other works TR3As from '58 believed to have endured, this is a true survivor.
Read more
Buying Guide: Triumph TR4, TR5 and TR6
Opinion: What the government doesn't tell you about E10 fuel
The One That Got Away: Nick Whale's racing E-Type, CUT 7