Has there been a better looking hot hatch than the Ford Focus RS Mk1? Twenty years on from its launch – yes, it really is that long – nothing has come close to looking so purposeful yet so accessible. It'll buy you a pint, but don't let it catch you eyeing up its girlfriend.
It was a long time coming. Rumours of a go-faster Focus began circulating before the standard car went on sale in 1998, but a two-year period of media hype and speculation did little to quell our hunger for an even edgier take on Ford's New Edge formula. First came the Focus ST170, but this was little more than an appetiser for the main course; a warm-up act before the turbocharged star attraction.
How much is your car to insure? Find out in four easy steps.
Get a quote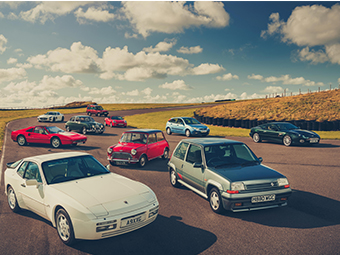 At its launch in 2002, Mike Kilpin, chief programme engineer said: "We've clearly understood the feeling of urgency among performance enthusiasts to get their hands on the Focus RS. The imminent rekindling of the RS brand created tremendous expectation, but we still believe that the right thing to do was not to rush this car to market."
What this fails to point out is that the Focus RS wasn't always destined to wear the fabled badge. Had the brilliant but expensive Ford Racing Puma (FRP) been a success, we could have been celebrating two decades of the Ford Racing Focus. The FRP's £22,750 list price also played a role in Ford's aggressive pricing strategy for the Focus RS; £19,995 was a bargain for a rally-bred hot hatch.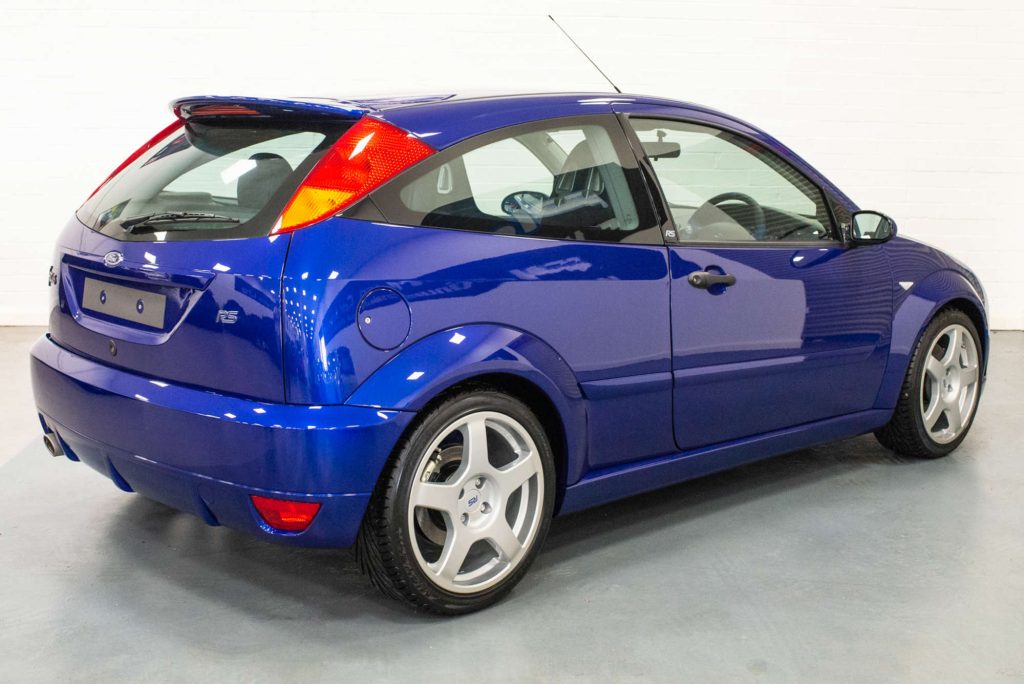 The spec list reads like a who's who of the performance upgrades world: Garrett turbo, Sachs dampers, AP Racing clutch, Brembo brakes, O.Z Racing alloys, Michelin Pilot Sport tyres and Quaife torque-biasing limited slip differential. With 212bhp at the front wheels, that diff had a lot of work to do.
Not everyone agreed that it was successful. It's rare for a performance car to polarise opinions to this extent – the Alfa Romeo 4C was another example – but some believe that customer cars were different to those tested by the press. In an otherwise favourable review, evo said: "Quaife diff or not, torque-steer isn't just present, but the kind that actually pulls on lock if you aren't careful with the gas exiting a hairpin bend. Just to drive briskly requires constantly stoked-up concentration levels. In fact, you become very much part of the front wheels' battle to get a grip."
Later, 'RS02 FUN' would finish last in the 2002 evo Car of the Year, with David Vivian saying, "it falls between two stools and ends up being neither fun-time hot hatch nor full-on pseudo rally weapon". Four-wheel drive was required, it said.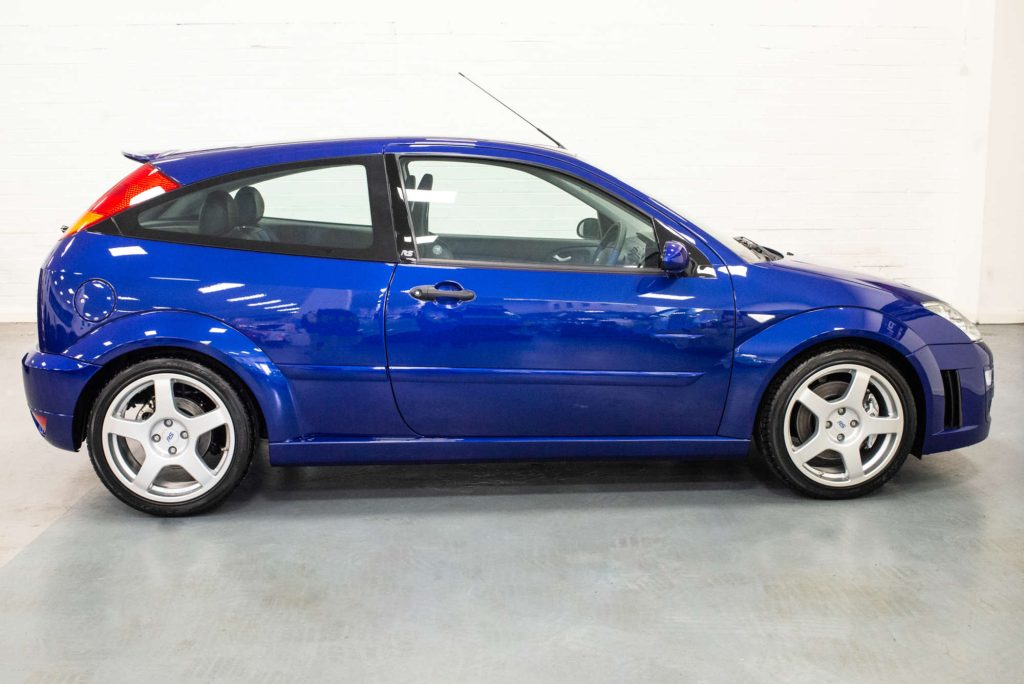 Or maybe not. After pitching 'RS02 FLY' against the Honda Civic Type R and Subaru Impreza WRX, CAR's Paul Horrell declared the Focus RS the winner, but only after he'd highlighted the torque steer. "This is well on the way to yanking your arms out of their sockets. It's a tug of war against the RS as it darts left-right-left-left-oops-right."
A couple of months later, 'RS02 FUN' finished an impressive sixth out of 20 in Car magazine's Performance Car of the Year, beaten only by the Mitsubishi Evo VI FQ300, Mini Cooper S, Mercedes SL55 AMG, Ferrari 575M Maranello and Pagani Zonda C12 S. Matthew Franey called it "astounding to drive" at high speeds, but warned that "you're going to have to be on permanent DefCon 5 to be alert enough to handle the bucking bronco that is a Focus RS on anything other than race-track smooth surfaces. On a track, it could easily lay claim to being the finest rally-bred road car in the world". High praise.
In 2005, evo's John Barker revisited the Focus RS – a sub-4000-mile customer car – partly in response to complaints from happy owners. "There's no torque-steer, not in a straight-line over poor surfaces, not when you hit boost in first or second gear. Even gunning hard and early out of a tight corner there's only a hint that the limited slip diff is trying to steer the RS. I'm astonished." The customer may not always be right, but some customer cars certainly were.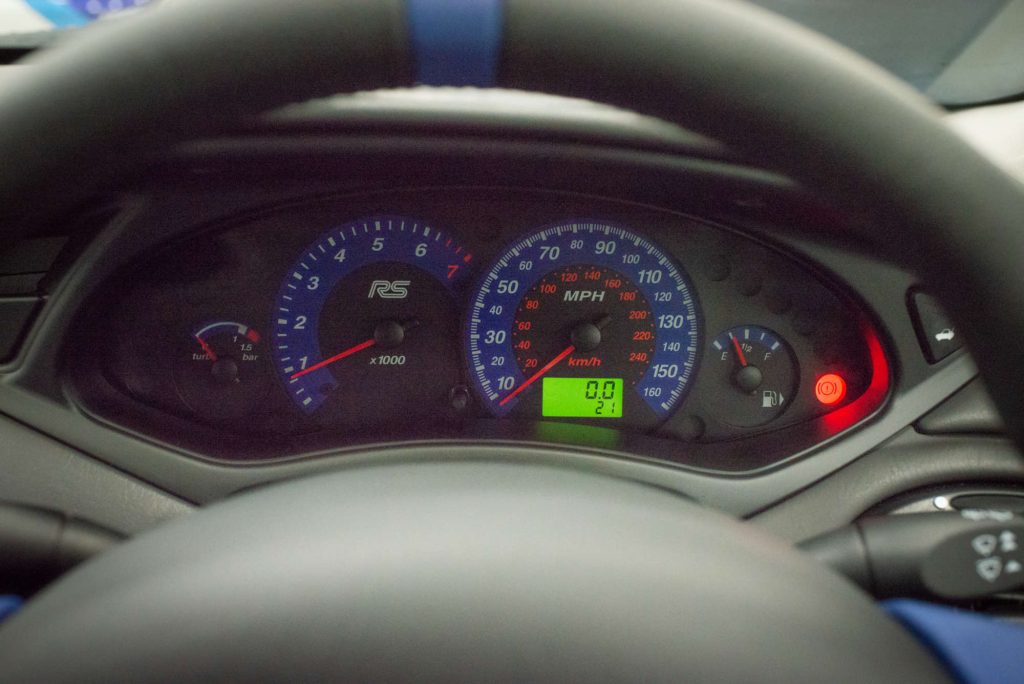 Ford built 4501 examples of the Focus RS, with 2147 sold in Britain, but you sense that it could have sold double that. Some were squirrelled away for significant anniversaries, like this 21-mile example that went under the hammer at last weekend's NEC Classic Motor Sale. Silverstone Auctions said it was likely to fetch £85,000 to £95,000, but it fell just short at £74,833. At last year's show, a 2003 Focus RS with 335 miles on the clock sold for £77,063.
As you'd expect, the Imperial Blue paintwork is immaculate, the figure-hugging Sparco seats have barely seen a bottom, and the absence of number plates makes it look like it has just left the Saarlouis plant in Germany, on route to Evans Halshaw Ford of Preston.
Last year, our James Mills said he'd "be sorely tempted" to buy a Focus RS, having enjoyed a spirited drive from London to Geneva. Nearly two decades later, we wonder if he decided to put his money where his mouth is…
Read more
Buying Guide: Ford Focus RS Mk1
These 10 affordable Fords will be fun to drive while you wait for them to attain classic status
We are family: meet the fans united by a love of Ford