Any Ford with an RS badge is always eagerly anticipated, and fast Ford fans had been waiting for five years when the original Focus RS appeared in 2002. The idea was to capitalise on the firm's involvement in the World Rally Championship, yet the new RS was front-wheel drive while its key rivals, the Subaru Impreza and Mitsubishi Lancer Evo, were both four-wheel drive. Undeterred by this, Ford gave 60 engineers pretty much free reign to develop the best fast Focus possible.
Opinions vary on whether this goal was achieved [I ran one for a year and adored it! Ed], but what is certain is the first Focus RS was the most honed hot hatch Ford had ever made. It also gave its rivals plenty to think about, going on sale with a list price of £19,995 to undercut them while being just as quick in a straight line. Nought to 60mph was claimed to be 6.4 seconds and the top speed was 144mph, but contemporary magazine tests easily knocked half a second off that acceleration time.
How much is your car to insure? Find out in four easy steps.
Get a quote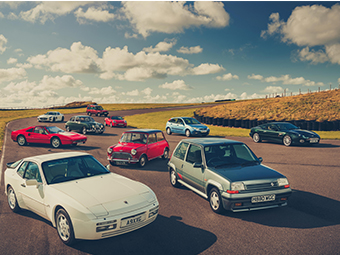 Helping to put its 212bhp and 229lb ft of torque to the road to such good effect was the Focus RS's Quaife Torque Biasing Differential. This clever traction aid did its best to tame the power driving through the front wheels, but it's also what caused the schism between those who loved the RS and those who were glad to leave it alone. This Quaife limited slip differential was aggressive to the point of picking a fight, so driving on bumpy roads required full driver attention at all times. However, when you turned into a corner and applied the power, it dug in like no other front-drive car to make the Focus superlatively quick across country.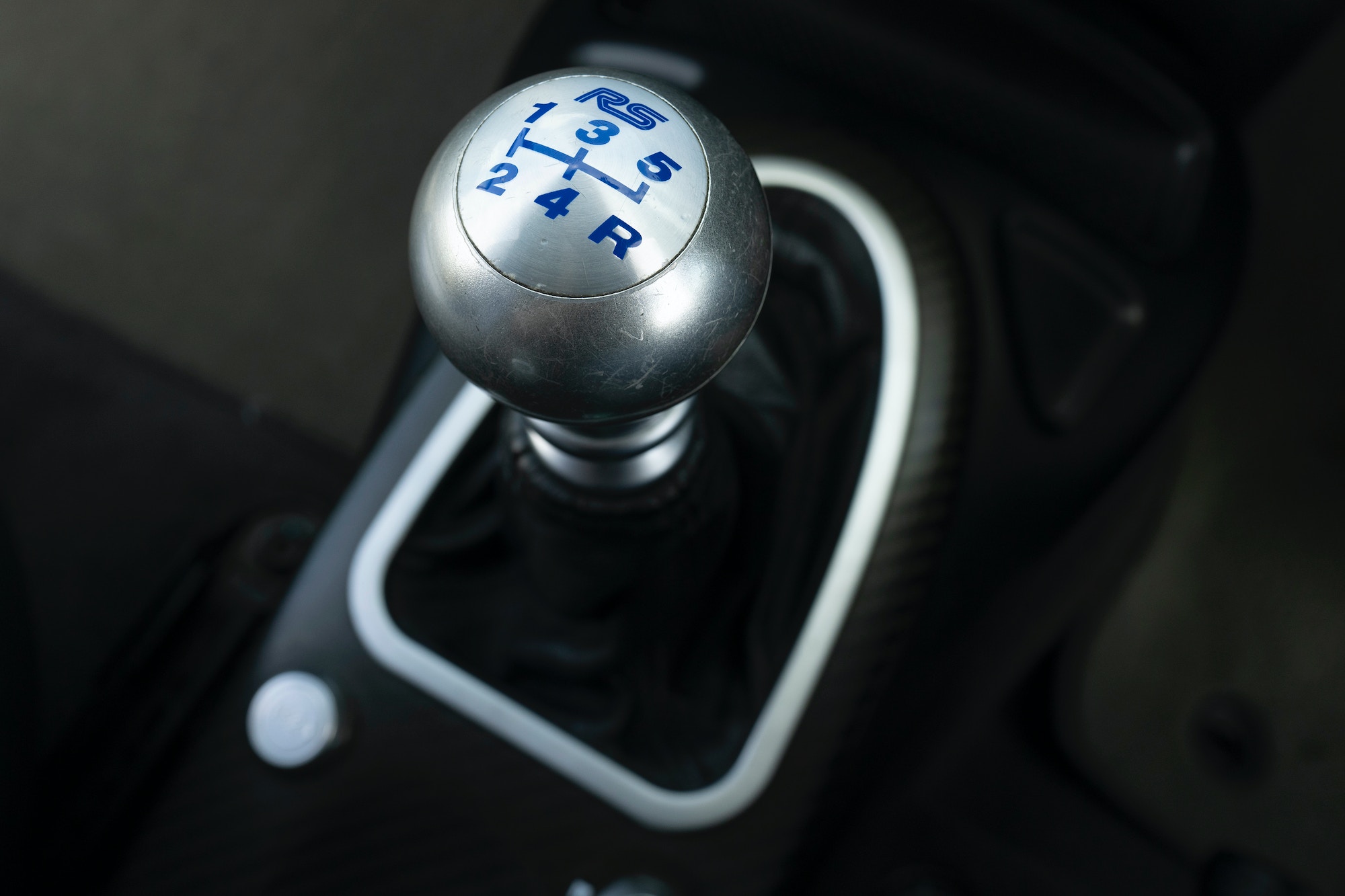 Making the Focus RS this good on back roads meant changing almost every component. In the end, the roof, doors and bonnet remained the same as any other three-door Focus, but the rest of the exterior bodywork was new. It was the same story under the skin, and the 2.0-litre Duratec turbo engine was bespoke to the RS. In all, 521 parts were created just for the Focus RS, from the Sparco seats and handbrake lever, unique dials, and starter button to the suspension and brakes.
Ford built 4501 Focus RS Mk1s, all individually numbered and all thought to have been sold at a £4000 loss to the company. Out of that total, 2147 RS Mk1s were sold in the UK, making it by far the biggest single market for the car that was only sold in Imperial Blue. Today, the Focus RS Mk1 still splits drivers' views, but what isn't in doubt is this is now a prized modern classic.
What's a Focus RS Mk1 like to drive?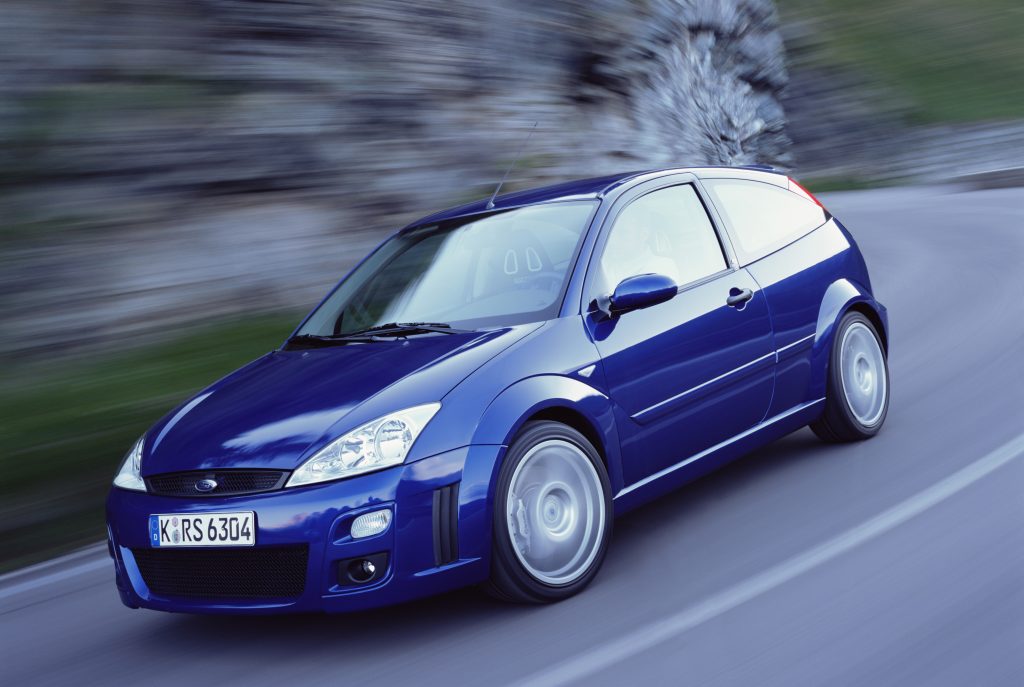 The word 'hardcore' is bandied about in relation to many hot hatches, but the Ford Focus RS Mk1 applied it with a headbutt. From the moment you fire up the turbocharged 2.0-litre motor with the green button on the carbon fibre-effect console between the front seats, this is a car that lets you know you'd better be on your mettle. Pulling away, the motor has decent low-down torque and the AP Racing-sourced clutch is not heavy. So far, it all feels very much like any other first-generation Focus.
Get on a quiet road, though, and the 212bhp engine pulls the RS with an urgency you won't find in any other Mk1 Focus. There's some lag from the engine, and a five-speed manual gearbox means you need to use all the revs to keep the boost on side where a six-speeder would give you more options. No matter, as this engine loves to get to a move on and it adds to the special feel.
When you arrive at a corner with commitment for first time, how you feel about the RS may well depend on the road surface. On smooth tarmac, you will be bowled over by the grip that Quaife differential provides by dealing power to whichever front wheel has the most traction like a Las Vegas card sharp. On an uneven road, however, you'll feel the front tyres squirming as they hunt for grip, and it's accentuated by the quicker steering rack used in the RS. Some will just find it too unsettled, but for others it's a key part of the appeal of this car. Drivers in the latter camp will also find the occasional instance of oversteer as the car turns into a corner part of the overall RS experience. In some ways, it's like a slightly more yobbish alternative to the equally dazzling Renault Sport Megane R26R, reviewed here.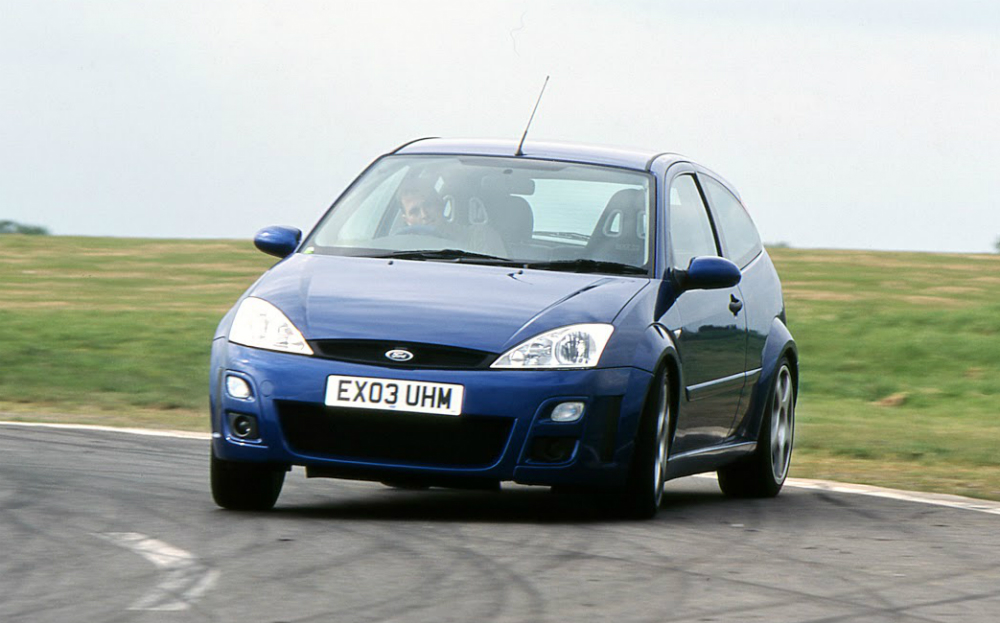 Bumpy roads will also show up the firm ride of the Focus RS, though it's not as harsh as some modern hot hatches riding on bigger wheels and lower profile tyres than the Ford's unique 18-inch OZ alloys with 225/40 tyres. As for refinement, the RS is not any noisier than a Focus ST in most instances. However, the RS has much stronger brakes than its warm hatch sister thanks to 324mm front and 280mm rear discs, and Brembo calipers. They're more than up to the job, even at a circuit.
Inside the RS, there are comfortable Sparco front seats, which gained an extra row of stitching across the base in later built cars to stop the cushion from sagging. Through the blue and black leather-trimmed steering wheel are unique RS dials, while the centre console is standard Focus but without any air con fitted. The aluminium gear lever is another bespoke part to this RS, along with the carbon fibre console with green starting button and, on the opposite side, a small aluminium disc with the individual build number of the car from the 4501 made altogether. In the back, there's matching Alcantara and blue leather upholstery, while space is as generous as any other Mk1 Focus three-door hatch. You also get a decent boot, so an RS can be practical when required.
How much does a Focus RS Mk1 cost?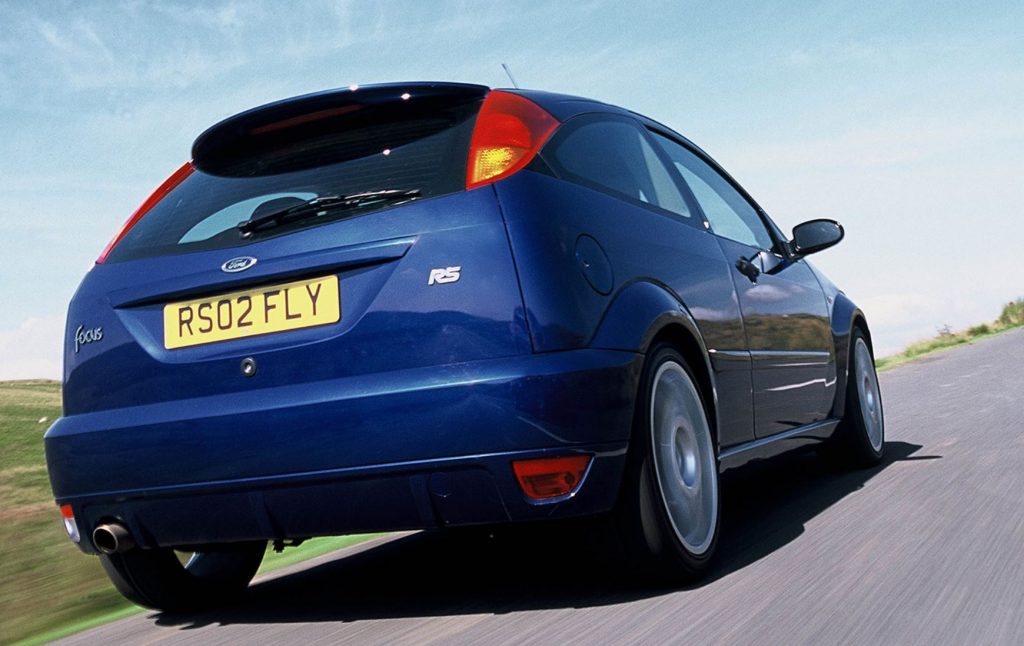 Not so long ago, you could find a usable, higher mileage Ford Focus RS Mk1 for around £9000. It's no shock to learn that cars for that sort of price are a thing of the past and starting money for a decent first-generation Focus RS is £16,500. This will get you a car in good overall condition, but likely with a higher mileage and perhaps needing some work to bring it up to the best possible condition.
There are quite a few Focus RS Mk1s around that have been modified, which can range from different wheels to tuned engines. These cars often fall into the £20,000 bracket, but don't pay any extra for a car that has been altered unless you know the work has been done properly and it suits your tastes. Sorting a modified car back to standard could be an expensive exercise if the car doesn't come with all of the original parts included. For those cars that need nothing to improve them, the current going rate for a Focus RS Mk1 is about £25,000 for examples with reasonable mileages. Extremely low mileage cars in concours 'condition 1' can fetch £35,000.
What goes wrong and what should you look for?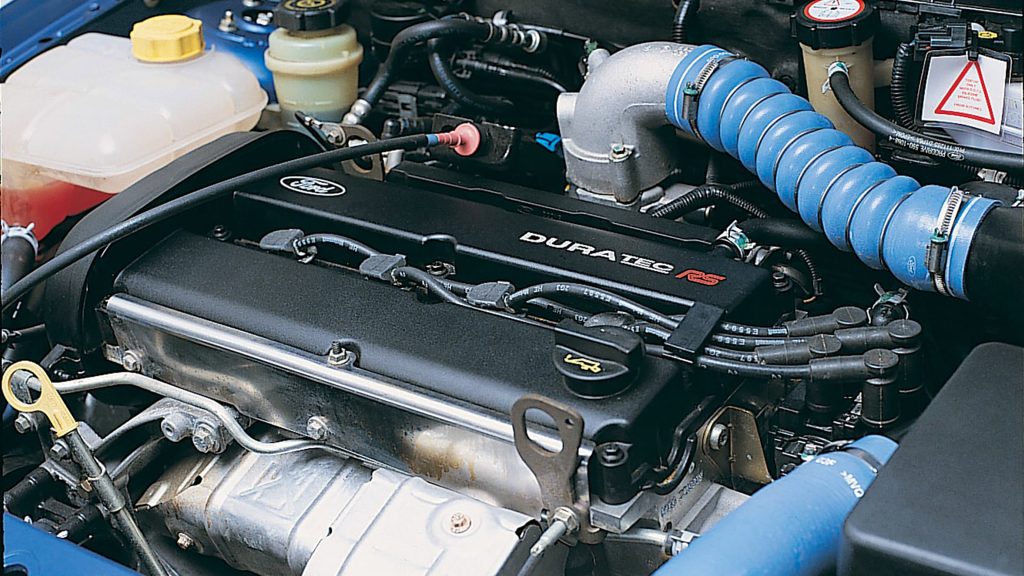 Your first port of call when looking at any Ford Focus RS Mk1 has to be the sills in a search for any rust. The steel sills are hidden by plastic covers, so a car can look pristine at first glance yet be rotten underneath. While you're under the car, check the jacking points and floor pans for anything more than surface rust. Thankfully, the sills of the RS are the same as any other Focus of this generation, so good quality replacements are easy to come by.
The same cannot be said for rusty front or rear wings, which are unique to the RS with their wider profiles. No new panels are available, so you'll need a skilled welder to let in sections to repair crusty wings or wheelarches. Other areas to look for corrosion are around the fuel filler flap, tailgate handle, door bottoms, and behind the rear bumper.
If the body seems in good condition, you also need to check the car is a genuine RS. No RS was fitted with a sunroof, so that's an easy one to check for. You should also look for matching serial numbers under the back seat, on the front panel when the bonnet is raised, and on the engine's cylinder head. With all that in order, you can check the engine for coolant leaks around the thermostat housing and water pump, and make sure all of the coolant hoses are in good fettle. The RS engine is tough, but blue smoke on start-up points to worn valve stem seals or piston rings and a car that may have been driven hard on track. Also look for oil leaks around the cam position sensor.
The Garrett GT2560LS turbo of the RS is reliable too, but reckon on replacing its oil pipe banjo bolt at 50,000 miles. The chargecooler for the turbo is more common weak spot, so remove the cap and make sure it's spraying water into its reservoir. Also give it a shake to make sure the rubber mounts are not perished. A new chargecooler pump is cheap to replace, but new hoses are pricey and hard to find.
Early RS Mk1s suffered from a cold start misfire, which can be solved with a remap, but make sure this has been carried out by a reputable tuner. Later cars had an improved ECU to solve this, and they also had a grommet, known as a 'trumpet', to cure vibration through the throttle pedal. Curiously, UK cars used a pink grommet, while European cars had a blue or yellow one.
Last things to look for with an RS is that it comes with all the unique bits that are impossible or expensive to find now. This applies to everything from the OZ alloy wheels, to badges, to the steering wheel. Even the original owner's manual and book pack are now hard to find and pricey when they do come on the market. Having all of the bespoke RS parts will make any work to refresh the car much easier.
Which is the right Focus RS Mk1 for you?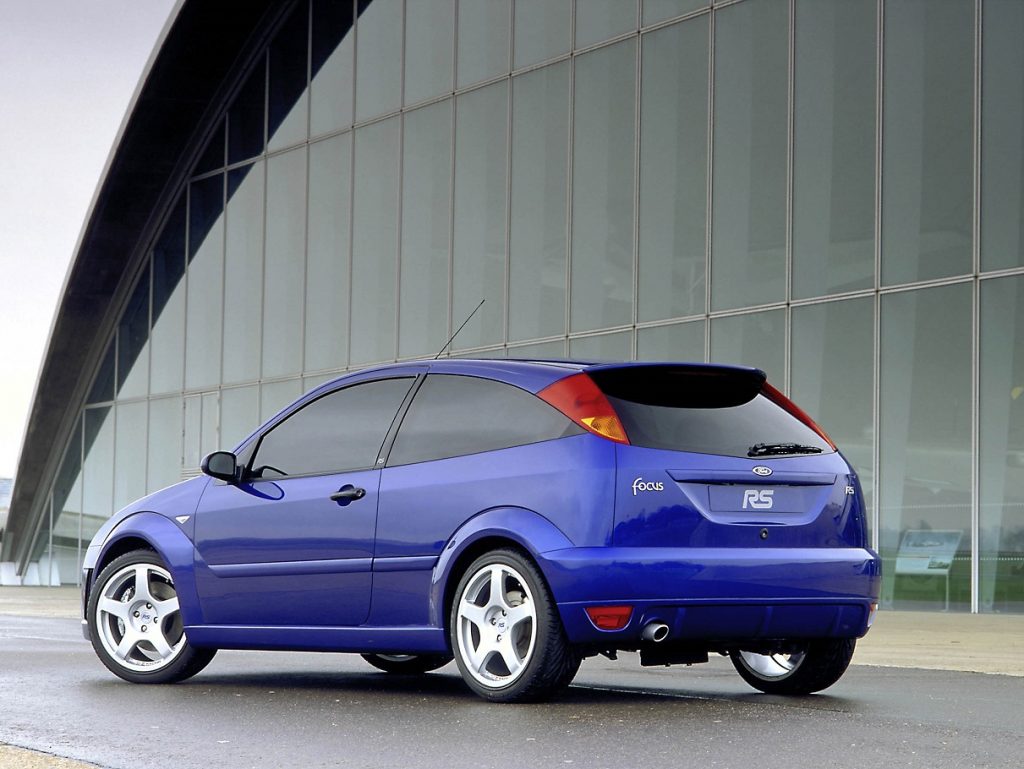 There was only one Ford Focus RS Mk1, so choosing should be simple when you find a good, cared for original car of the 4501 made. This is complicated a little by talk of Phase 1 and Phase 2 cars, even though Ford did not facelift or announce any changes to the RS in its brief production life. However, there were small improvements made during the RS's build period, with later cars gaining details changes such as the 'trumpet' grommet for the throttle cable to reduce vibration at the pedal. There was also extra stitching for the front seat base to prevent sagging, an engine start sticker around the green ignition button, and a revised ECU to improve cold starting. Some cars also came with plastic covers for the rear seat hinges.
However, not all of these changes were introduced at once, so there is no such thing as a Phase 1 or 2 Focus RS Mk1. Instead, the later the car is in the build sequence, the more of this updated kit it will have. How much you want or need any of this boils down to personal taste. Either way, the Ford Focus RS Mk1 is a raw, exciting hot hatch that demands as much from its driver as it delivers.
Read more
Future classic: Ford Focus RS (Mk1)
The fastest Ford the world never saw
These 10 affordable Fords will be fun to drive while you wait for them to attain classic status