Citroën's 2CV is part of a long line of what are popularly known – thanks to its German equivalent, the Volkswagen Type 1 – as "people's cars". You know the drill: Cars cleverly designed to cost as little as possible to be accessible to as many as possible.
Drivers' needs changed significantly over time though – at least in western markets – and over the decades such cars were bought instead for their quirky style. And today, they're bought as classics, their low pricing replaced by surprisingly steep price tags reflecting their rarity and appeal to enthusiasts and collectors.
How much is your car to insure? Find out in four easy steps.
Get a quote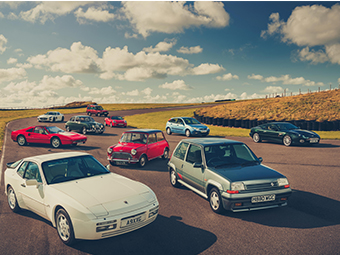 Which is why on July 17, a 1990 Citroën 2CV6 Special is crossing the block with Bonhams with an estimate of between £20,000 and £25,000.
Rarity and appeal only explains some of this eyebrow-raising estimate of course. The other major factor is the number on the 2CV's odometer: just 377km, or 234 miles. To see a supercar still wrapped in delivery plastic these days is almost par for the course, but how does a 2CV escape the passage of time?
Predictably, there's a tale behind it. As Bonhams reports, the original purchase was a mix of both opportunity and guilt, when the vendor, already a 2CV owner, ducked into a Citroën showroom to avoid a rainy day and discovered the dealer was able to import one of the few 2CVs still remaining following the end of production.
Duly intrigued he asked them to do just that, before collecting the car from Calais, hopping on a ferry back to Dover, and then driving it up to Oxfordshire where the car was then stored.
That doesn't explain the low mileage however. What does is that the vendor lived in Italy at the time. The next time he was back in England he had the car Waxoyled – trailered there and back – but became separated further from the car when he moved to the USA. Despite intending to import the car once the country's "25-year rule" allowed, the vendor since changed his mind and now offers the car for sale.
Unsurprisingly, given the low mileage and anti-corrosion treatment, the vendor score for the car is a full 100/100. From the photos the seat trim looks a bit flappy, but all of us get like that after three decades, and unlike our bodies what's beneath is still presumably in excellent shape.
Anyone intending to use the car might wish to give the mechanicals a going-over, though it's likely – given the estimate, and how untouched it otherwise is – it'll end up in a collection or museum. A strange fate for a people's car, don't you think?
Read more
Freeze Frame: Citroen illuminates the City of Light
Turn more heads than a supercar with this rare Citroën 2CV Roadster
Take a chance on me: The £200 Renault Safrane that paid off