The Brands Hatch GP layout is a tricky old circuit, but I think I understand it a little better now. I've never driven around it for real, I should add, but after ten laps in a professional simulator at Base Performance near Banbury, I'm both more familiar with the circuit and hopefully, just a little better as a driver too.
Unfortunately I won't get to test that theory myself for a while, at least outside of racing sims and driving games like Assetto Corsa and Gran Turismo Sport, but for typical clients of Base Performance Simulators (BPS), the gains are both measurable and immeasurable. I'm just a goof with too many hours on a PlayStation, but most will leave here with enough of a knowledge boost that they can be right on the pace on a real race weekend before even turning a wheel in free practice.
How much is your car to insure? Find out in four easy steps.
Get a quote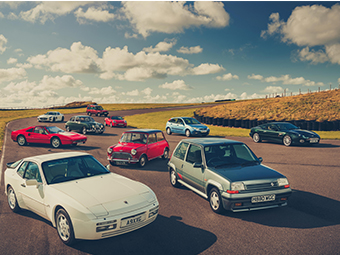 Back to Brands Hatch. Virtually, anyway. If you've driven around it for real – my real-world experience amounts to trackside gawping and a handful of laps of the Indy loop alongside a talented driver in a tuned MX-5 on a greasy surface – you'll know the Grand Prix circuit is a mix of blind corners, elevation and cambers.
It's these that have made it a tricky one to learn, even in the virtual world. In many places you're picking your braking markers before you can see the apex, and turning in before you can see the exit. In hundreds of virtual laps I have probably never picked exactly the right line for Paddock Hill bend, the uphill left onto the GP loop at Surtees, or the fast Hawthorn right-hander at the back of the circuit.
That won't change today, but I'll get closer than ever, for a few different reasons. One is the accuracy of Base Performance's GT car simulator both in terms of hardware and software, and the other, which we'll come to in a moment, is the instruction and feedback on offer.
On the hardware side Base has two main simulator rooms, one with a GT theme and the other a single-seater. The former uses the actual front half of an Aston Martin GT3 car along with much of its interior, but with its relevant functions – steering, pedals, gearchanging, data, brake bias, even cockpit cooling – hooked up to a simulator rather than an actual car. It's surrounded by a wraparound display that gives you a fully immersive view; look out of the car in any direction, and you see a virtual world.
The other simulator is in many ways even more sophisticated. The chassis itself isn't real (though its design is apparently taken from the mould of an old Red Bull F1 car) but perched upon a six-degree Moog motion platform there are a few vital extra cues for a driver to use as they get to grips with a car or circuit. Both sims run on several PCs, controlling not just the software but also data collection, technical control of the sim room, and in the single-seater's case, the motion platform.
The software itself is Assetto Corsa, but not as most home sim-racers will know it. It's the Pro version of the simulator, which is effectively commercial and industrial-level version with a wider roster of cars and circuits plus more customisation and functionality, allowing companies like BPS to run it as they see fit.
In that respect, BPS makes changes to the software for greater levels of accuracy than the standard game – everything from physics improvements (they've found the standard models a little tail-happy next to their real-world counterparts, perhaps a concession towards fun over accuracy), to more accurately-modelled tracks. Their version of Circuit de Catalunya for instance has already been updated to include the reprofiled turn 10, as used at the Grand Prix earlier in May.
Brands Hatch hasn't been changed in a while. It feels much like the circuit I'm familiar with from my own copy of Assetto Corsa, plus various Gran Turismos and others over the years. Where it scores in full-scale simulator form is that elevation is much better represented on a human-scale screen, and that the high-end hardware beneath me feels far more accurate than any sim-racing kit I've used before.
There's some uncanny-valley disorientation at first – the environment doesn't feel "real", but it's far more immersive than the 21-inch TV I normally use, which makes the GT sim feel like it's moving even when it isn't. But that quickly passes, and familiarisation then starts with the realistic force feedback and the even more realistic brake pedal – which is hooked up hydraulically to an actual disc and caliper to replicate the pedal pressure required.
The brakes probably feel normal to anyone familiar with a real racing car, but next to the cotton-wool assistance of road cars or piddling electronic potentiometer of my Logitech pedals at home, it's very much a whole-leg job.
And as I hear "you need to be braking harder and later" through my headset, the third component of what Base offers comes in: instruction. BPS's instructor doesn't talk too often, but quickly picks up on all the areas I could be improving.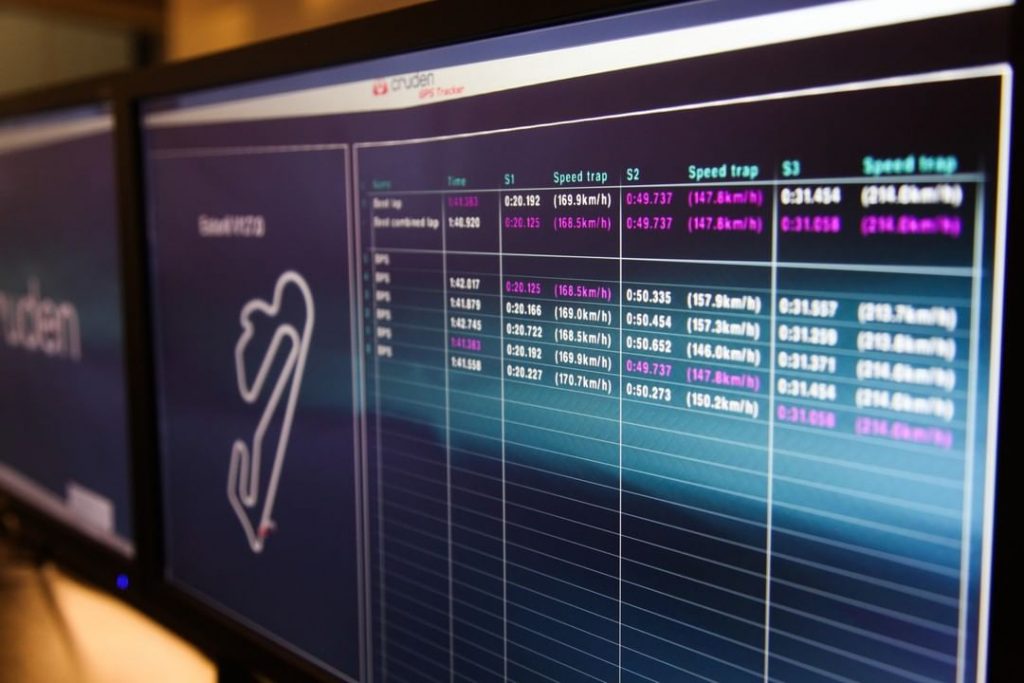 Braking is one. Another is something I was aware of but wasn't aware how badly it was affecting my pace: I'm getting back on the throttle too early after releasing the brakes. In my head, this is how you stabilise a car when cornering, but the virtual Aston has stability to spare, and I'm instead giving it enough gas to start pushing wide. This means I stay on part throttle longer but can only use full throttle later, and that means less speed down the entirety of the next straight. At which point I'm then braking too early for the next turn and compounding the problem.
This all becomes painfully aware after my laps are over and, like a real driver in debrief, stare at lap traces showing me where somebody else is quicker. By 1.9 seconds, compared to my fastest lap.
To my credit I'm not a million miles away at some parts of the circuit, but there's enough difference to make the value of both instruction and analysis abundantly clear. In British GT, two seconds is the difference between pole and mid-grid. If a driver can hop in the simulator to close up that gap, there's a potentially enormous competitive advantage. Well, if a bunch of your rivals weren't also booked into Base Performance to do the same thing.
Before I head off, I give the Blade a try – one of the home simulators available from BPS, and with its swooping tube frame consumption, a bit like sitting in a single-seat Ariel Atom. Used by the likes of Dario Franchitti and Anthony Davidson, it can count several familiar racing driver names among its user base.
The Blade comprises a custom-designed carbonfibre seat, 49-inch Samsung curved monitor, and combines a Simcube 2 PRO steering motor with Precision SIM GPX steering wheel, looking like something out of a high-end GT car or single seater. The two-pedal layout is of Base's own design and engineering, plus of course a high-end gaming PC, a Sennheiser headset and everything else you need to be race-ready.
It all comes in at a £22,750 and there's a range of options to enhance it further. As a humble motoring scribe I'm clearly not in the market for such a thing so my thoughts on the price are irrelevant – a twenty grand car would represent a lot of money to me too, but for some it's pocket change.
Considering the design, engineering and kit included though, it's easy to see how those wanting to take their sim racing to the next level, or build on the training provided at Base Performance HQ, might want to take the plunge. Particularly given the driving experience itself isn't actually that far behind that of the full-size GT simulator thanks to the wide screen and high-end wheel and pedals.
The bad news? My home setup of a spinny office chair, wobbly 21-inch monitor and entry-level Logitech wheel and pedals no longer really cuts it…
Also read
How to get started gaming and racing cars online
Opinion: Riding a motorcycle is the last great escape – let's keep it that way
The 2021 Tesla Model S steering wheel is no stranger than these 14 whacky wheels