Aston Martin has been perennially unprofitable throughout its 107-year history, so you could argue every new car has been 'make or break'. It's gone bankrupt seven times. But never has there been a crucial new model quite like the DBX.
If all goes to plan – and things rarely do for Aston Martin – it will be the company's best-selling model, ever. It should drag the little British sports car maker to the sunny uplands of sustained profitability, boosting total production by 70 per cent. The DBX is also the company's first SUV, as Aston Martin follows the lead of other European sports car makers who've compromised their sporting souls in the search for juicier profits. Or, in Aston's case, any profit at all. Even those sports car diehards Ferrari and Lotus have SUVs on the way.
How much is your car to insure? Find out in four easy steps.
Get a quote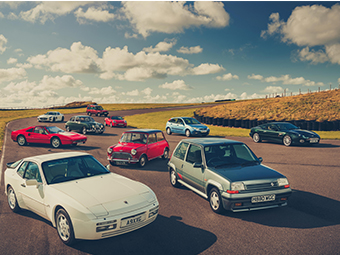 As befits a new Aston Martin, the new DBX sits at the top of the SUV market, competing head-on with the styling tragedy that is the Bentley Bentayga. Only the lofty Rolls-Royce Cullinan – and that's hardly sporty – commands a heftier price. The DBX starts at £158,000, but with a couple of handfuls of options added our test car was £199,040.00. Unlike the competing Bentayga, Porsche Cayenne and Lamborghini Urus, it sits on a completely new platform and structure, made from bonded aluminium. Its engine, though, is familiar: Mercedes-Benz's tuneful 4.0-litre twin-turbo V8 as also used in the V8 Vantage, DB11 and in various high-performance Benzes. Tuning is unique to Aston Martin. The nine-speed auto transmission is also Benz sourced, as is the infotainment system and entire electrical architecture.
Mercedes holds a five percent stake in Aston Martin, and like all stakeholders, has seen its investment value slump. When it was floated on the London stock exchange in 2018, shares traded at £19 ($25). When CEO Andy Palmer was ousted in May this year, the stock price had collapsed to 35p (45c).
Palmer, who took over the top job in 2014, briefly made Aston Martin profitable. He was also the driving force behind its diversification into SUVs. The DBX is his inspiration. It is built in a new factory in St Athan in south Wales, formerly an RAF air base. A 'Hand Built in Wales' plaque on the door sill greets owners. Aston's sports GTs are still made in Gaydon, Warwickshire.
Headline figures include a 542bhp version of that Benz V8, top speed of 181mph and 0-60mph in 4.3 seconds. They're super sports car, not SUV, numbers. More SUV familiar is the mass: just over 2200kg. That's almost 410 kg heavier than the DB11, with the same engine, although lighter than the usual luxury SUV.
We find a style that is Aston Martin-familiar, never mind the inflated dimensions. Note the signature Aston 'DB' grille made from real aluminum not plastic, unlike all sports SUV rivals. As Aston design boss Marek Reichman notes, "it's surely the biggest Aston Martin grille we've ever done". A carbon-fibre splitter in the nose hints at the high performance.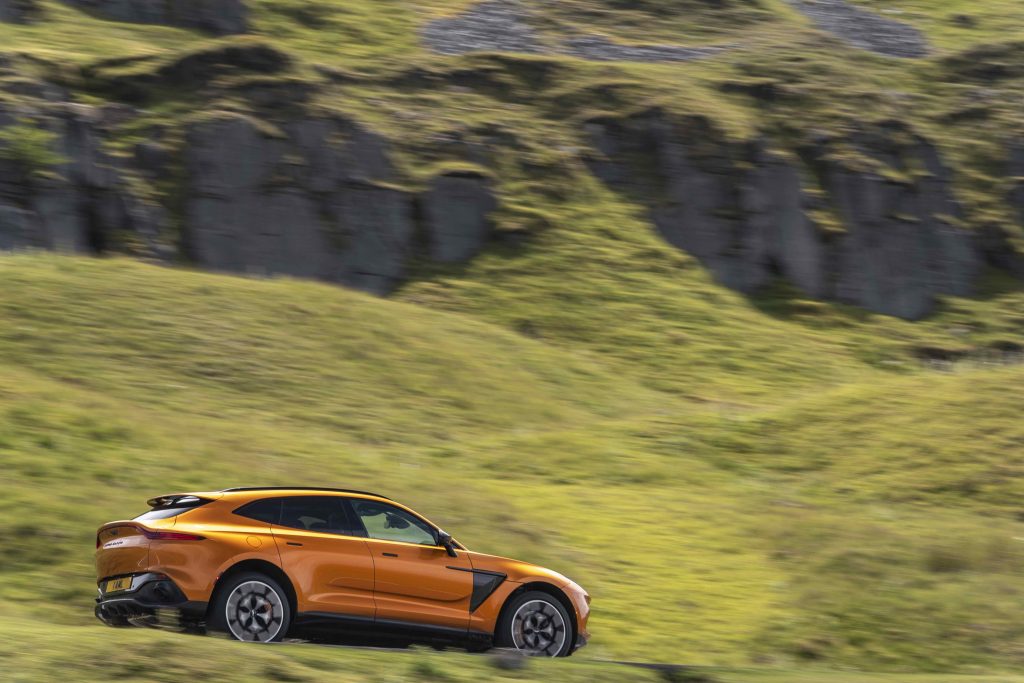 Overhangs are pleasingly short. The headlights have familiar Aston Martin form, and there are the usual Aston side metal strakes, glasshouse profile and accentuated hips. At the rear there's a fastback style and a little duck tail spoiler, familiar on Aston sports cars since the DB6. Unusually for an SUV, there is no rear wiper. Rather, the airflow cleans the back screen. There's also a big rear diffuser complete with carbon vanes, to remind you of the car's considerable speed potential.
Wheelbase is the longest in the class, and this helps give tremendous cabin space, probably the first time we've ever been able to say that of an Aston Martin. Those short front- and rear-overhangs also mean it's not particularly long. Its Ford Explorer-like length means it sits between a Bentayga and a Cayenne. Rear space, in particular, is cavernous. Three six-footers can fit easily, with legroom to spare.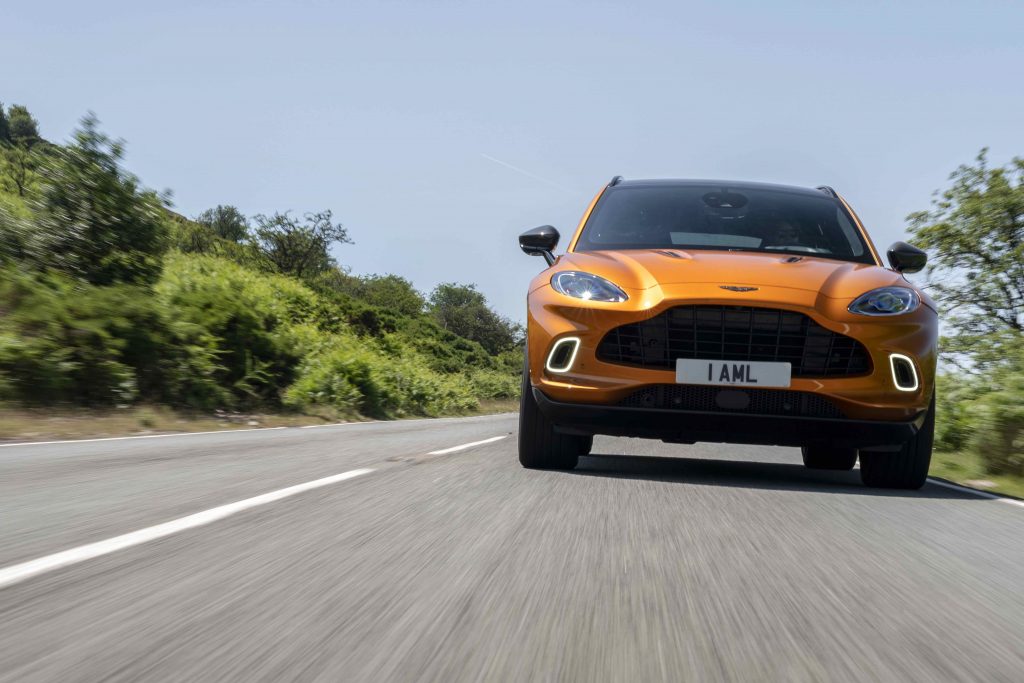 Looks are subjective, of course. For me, it's like an inflated DB11 on stilts. But that's not necessarily a bad look, and it's also tautly surfaced and has a decent ground-hugging stance, unusual for an SUV. It's certainly eye-catching, especially in the Golden Saffron of our test car. It's vastly more successful, stylistically, than the Bentayga or boxy Cullinan, at least to my eyes.
Inside, it's a resounding success. It's not only spacious and comfortable, but the fit, finish, design and quality of materials are first rate. The metal on view is invariably real aluminum. The carbon fibre is genuine not fake plastic, there is real wood and the aromatic leathers are the finest available, from Scottish supplier Bridge of Weir. The leathers can be brogue patterned, quilted or perforated, and all leather stitching is done by hand. Natural wool also swathes parts of the cabin. No SUV cabin looks smarter, smells better or is finer to touch. A vast (standard) full-length glass panoramic roof bathes the cabin in sunlight.
It can act as a workhorse too, a first for an Aston. It's surely the first Aston Martin designed to tow, and can lug almost 2700kg. There are bike, surf and ski roof racks, as well as various trunk accessories, including a heated 'wet' area for ski boots and a 'pet' pack complete with washer to clean a muddy dog.
Step behind the wheel and the cabin envelopes you. This not one of those SUVs where you drive from a high chair. It feels more like a sports car, accentuated by the grippy DB11-like seats and that small chunky steering wheel. Dash buttons select park, reverse, neutral or drive, and shifting is by big steering wheel paddles. A wide floating centre console contains switches for your preferred drive mode, from Terrain + to Sport +. Make your choice, depending on whether you want to go off-road, stay on the blacktop, or venture onto a circuit. We do all three.
Also on the centre console we have the Mercedes-Benz derived (and not terribly good) touch pad for the infotainment system. Sadly, it's the old generation Benz system rather than the newer and superior MBUX platform. You won't buy a DBX for its cutting-edge connectivity or the system's intuitiveness, which may prove a deterrent to some younger buyers.
Rather, you'll buy the DBX for its style and the way it drives. We start, rather incongruously, by venturing off-road, on a muddy, rutted and steep track inside the Silverstone grand prix circuit. The DBX is no Land Rover Defender – reviewed here – or Jeep but in its highest Terrain + setting, which elevates ride height by almost two inches, it is surprisingly go-anywhere dexterous. Wading depth is almost 20 inches.
The triple chamber air suspension can also be lowered for sharper driving and for easier ingress. In its lowest Sport + setting it rides almost two inches lower than in its normal GT setting. The five settings also include Terrain for mild off-roading and Sport for sharper on-road driving. All settings vary ride height, as well as suspension firmness, steering sharpness, throttle response and exhaust note. Additionally, there's an Individual configuration. Engineering director Matt Becker recommends suspension and steering in GT mode, drive to be in Sport mode, "so I get a little bit more urgency from the gear shifts and a more aggressive throttle", and the exhaust system in Sport +, "because I like a few more pops and bangs".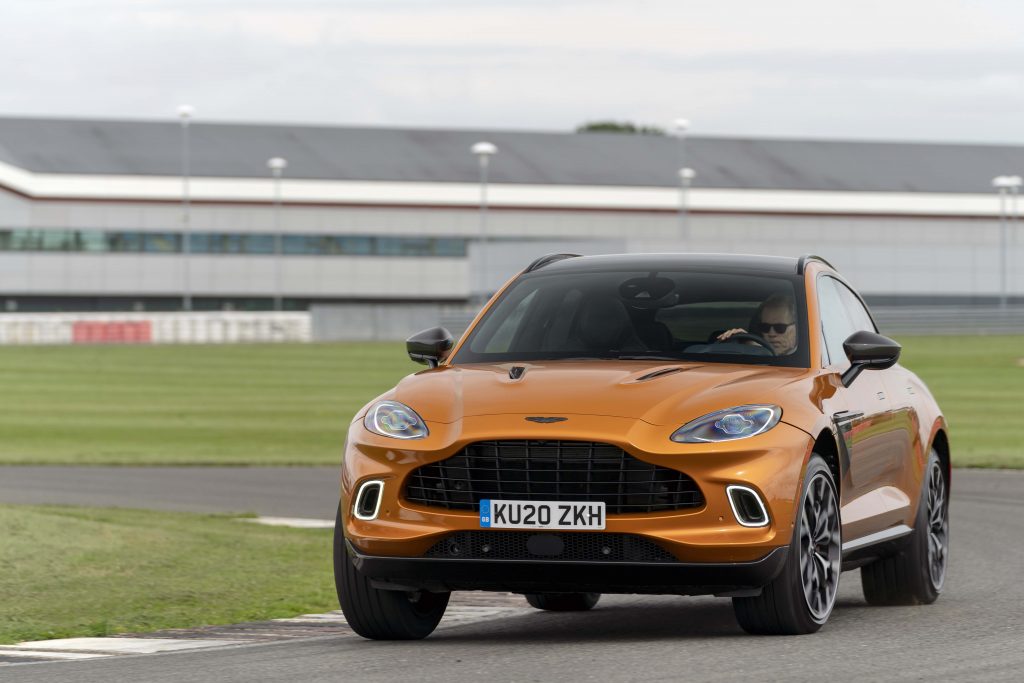 On Silverstone's tight and twisty Stowe circuit, the DBX is hugely impressive for a big SUV. The suspension and drive systems are highly advanced, contributing to wonderfully responsive high-speed driving. Note the 48-volt electronic anti-roll system, similar technology to that used on the Bentayga, which limits body-roll and also boosts suspension suppleness on a straight road due to the lack of any passive anti-roll bars. Just as important is the active centre diff which can precisely and instantly parcel torque fore or aft, as needed, sending up to 100 per cent to the rear. There's also an electronic rear limited-slip diff. Add a particularly quick-ratio steering system, and the upshot is the most precise and throttle-responsive big SUV I've driven.
A Lamborghini Urus is wilder, shouts louder, accelerates harder and is more dramatic. A Bentayga has a higher top speed. But no SUV can match the sheer responsiveness and agility of the Aston at speed. Credit must go to Becker, responsible for the wonderful dynamics of recent Lotuses before he joined Aston Martin. There is surely no chief engineer who is a more astute test driver. In extremis, the DBX understeers more than a sports car and can't possibly match the lizard-down-a-drainpipe agility of a top sports car. But for an SUV, it's astonishing.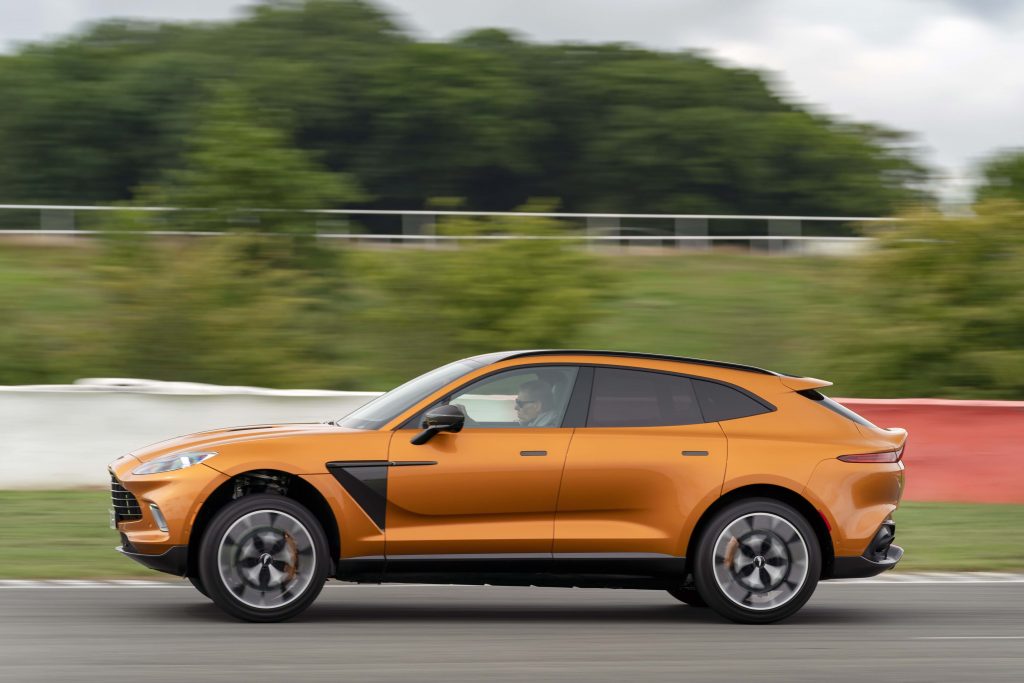 On the road, in standard GT mode, the DBX is a comfortable long-legged cruiser. It sits between the extreme Urus and the softer Bentayga and Cayenne in driving demeanor, and that's a sweet spot indeed. Ride is a little firmer than the SUV norm but still perfectly compliant, and performance is excellent. The Benz V8 provides a satisfying burbling musical accompaniment, wonderfully amplified if you choose Becker's preferred Sport + exhaust setting.
The DBX is exciting and responsive to drive, looks like an Aston Martin, has a wonderful cabin that combines space and style, and can also play workhorse. It can even go off-road, as long as you don't get too ambitious. It's everything we could have hoped for an Aston Martin SUV. More important, it could and should be Aston Martin's passport to a much brighter financial future.
SPECIFICATIONS: 2021 Aston Martin DBX
Price: £158,000
Layout: 4-door, 5-passenger, front-engine, all-wheel drive SUV
Engine: 4.0-litre DOHC twin-turbo V8, 550 hp, 516 lb-ft
Transmission: Nine-speed automatic