While many car enthusiasts, collectors and dealers will be paying close attention to how vehicle sales proceed at this weekend's Bonhams Revival sale, a small but significant minority will be drawn to the automobilia lots, where your imagination can run wild with visions of perfectly prepared picnic hampers, silk-lined luggage sets and cocktail shakers that could extend opening hours to your choosing – assuming someone's prepared to volunteer as designated driver.
It's always a pleasure to spend a quiet moment perusing the lots that go into any automobilia auction. You could say it's the online or catalogue-flipping equivalent of wandering into an antiques store and soaking up the atmosphere as you hope to stumble upon something significant, unusual or simply plain fun.
How much is your car to insure? Find out in four easy steps.
Get a quote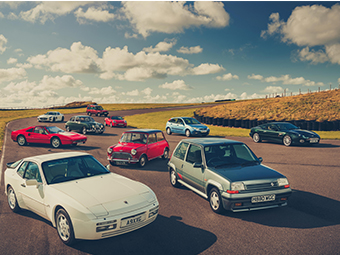 There's no shortage of model cars, art works, posters and registration numbers up for grabs during the Goodwood Revival sale. Yet our attention was drawn to the travel sets and our imagination ran wild with fantasies of touring Tuscany in a V12 Italian thoroughbred with long, lazy lunches in olive groves and vineyards. (Well, mine did.)
If you, too, wanna get loaded, here are the luggage and travel sets for the discerning road-tripper.
Mappin & Webb traveller's cocktail set, 1909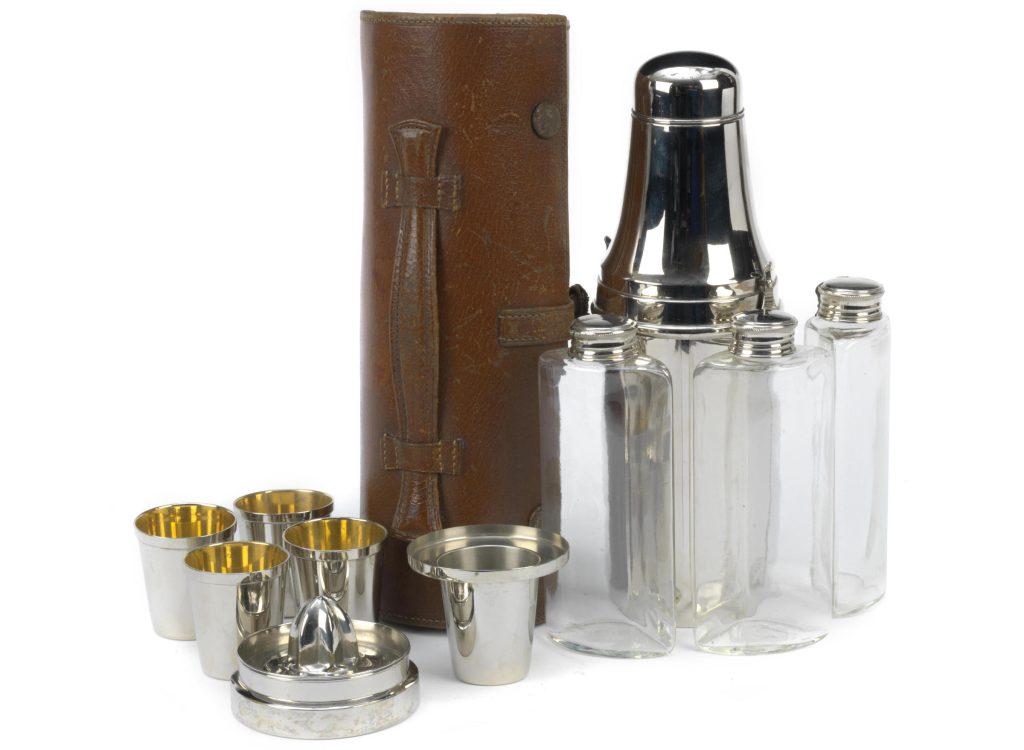 Estimate: £1000–£1500
In 1909, about the time this nickel-plated cocktail set was crafted, bartenders from America to England were perfecting the blend for the Clover Club cocktail, said to have originated in Philadelphia's Clover Club a handful of years earlier.
Mixing your cocktail of choice is one way to brighten a rainy day at the races, or shake up a surprise picnic for that special someone. This set was made in Germany, and sold in London by Mappin & Webb. It consists of the cocktail shaker, complete with lid, catches, cap and strainer, three screw-cap glass flasks for the spirits, a lemon juicer and a set of four, gilt-lined beakers. The cocktail set packs away into a leather carry case. We'll drink to that!
Louis Vuitton motoring case, 1910s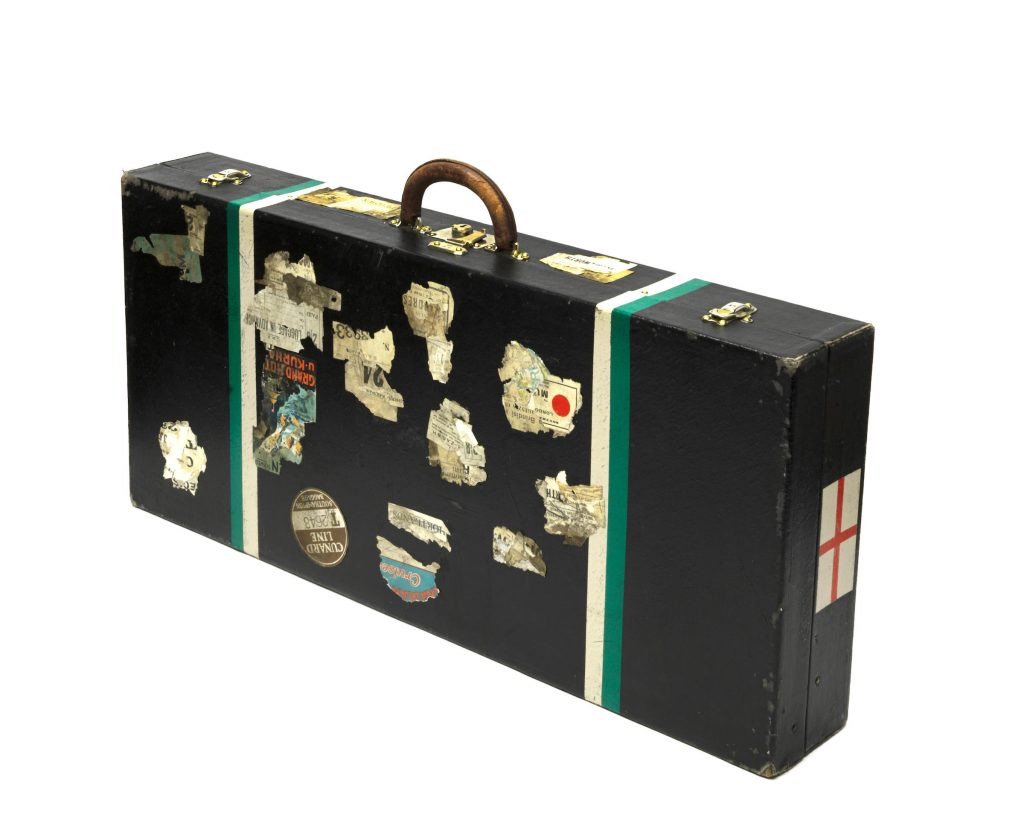 Estimate: £1000–£1500
With fashion slowly but surely coming around to the movement for reusing and repurposing items, rather than replacing with new pieces, what better way to make a small but significant (style) statement than picking up this Louis Vuitton motoring case?
Believed to date from the 1910s, it has a nicely aged, black Rexine exterior and its old travel labels tell a story of a life well lived. The interior is said to be lined with beige canvas and comes with branded Louis Vuitton cloth straps and buckles. Pack your best flying cap, goggles and driving gloves, a trench coat for inclement weather and hit the road with this unique travelling companion.
Drew & Co picnic set, 1920s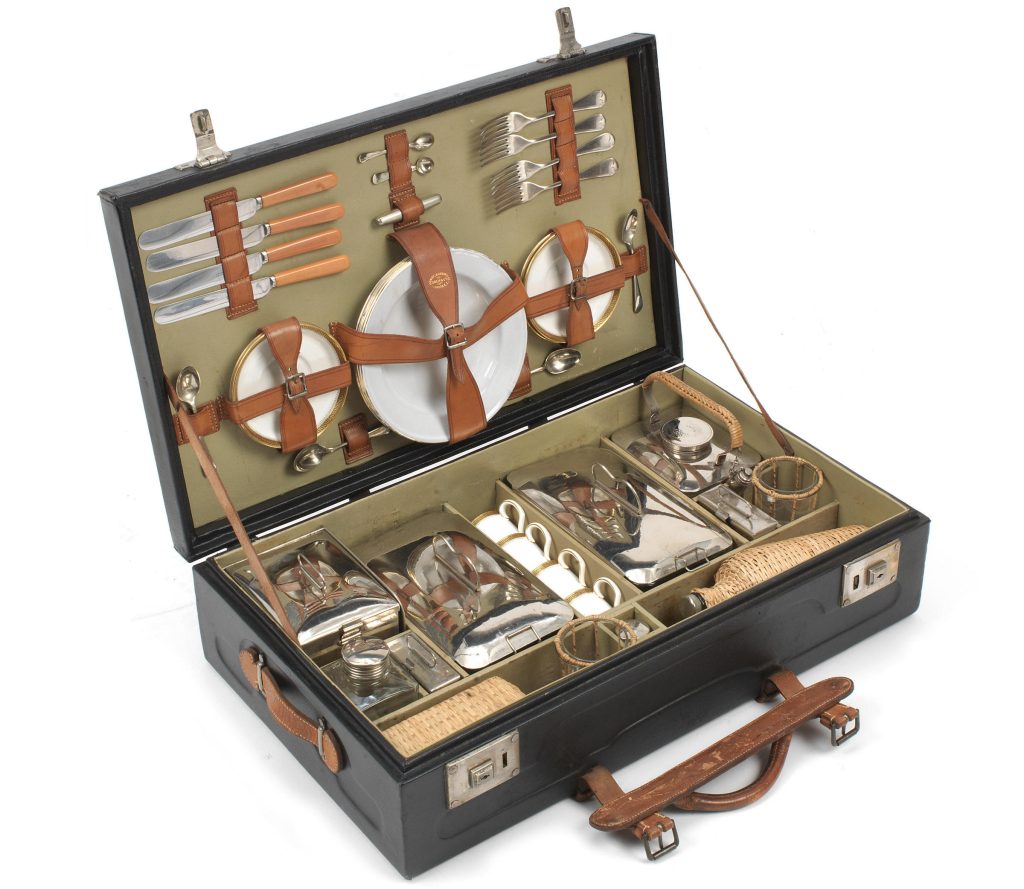 Estimate: £1500–£2000
Who needs Deliveroo when you can carry your own personal fine dining and silver set at all times, perhaps ready to partake in a round of smoked salmon and caviar, or cucumber sandwiches (crusts removed, naturally)? Drew & Co specialised in leather trunks and bags, picnic baskets and silverware during their time in business, catering for the well heeled from 1887 to 1935.
This picnic hamper is typical of the one-time London based outfit, which was based on Regent Street. The black Rexine case comes with leather handles and nickel-plated locks, and housed inside is a delightful package of cutlery, plates, saucers, cups, food boxes, glasses and condiments containers. There's even a kettle stand, kettle and burner. Bon appétite.
Asprey leather vanity case, 1936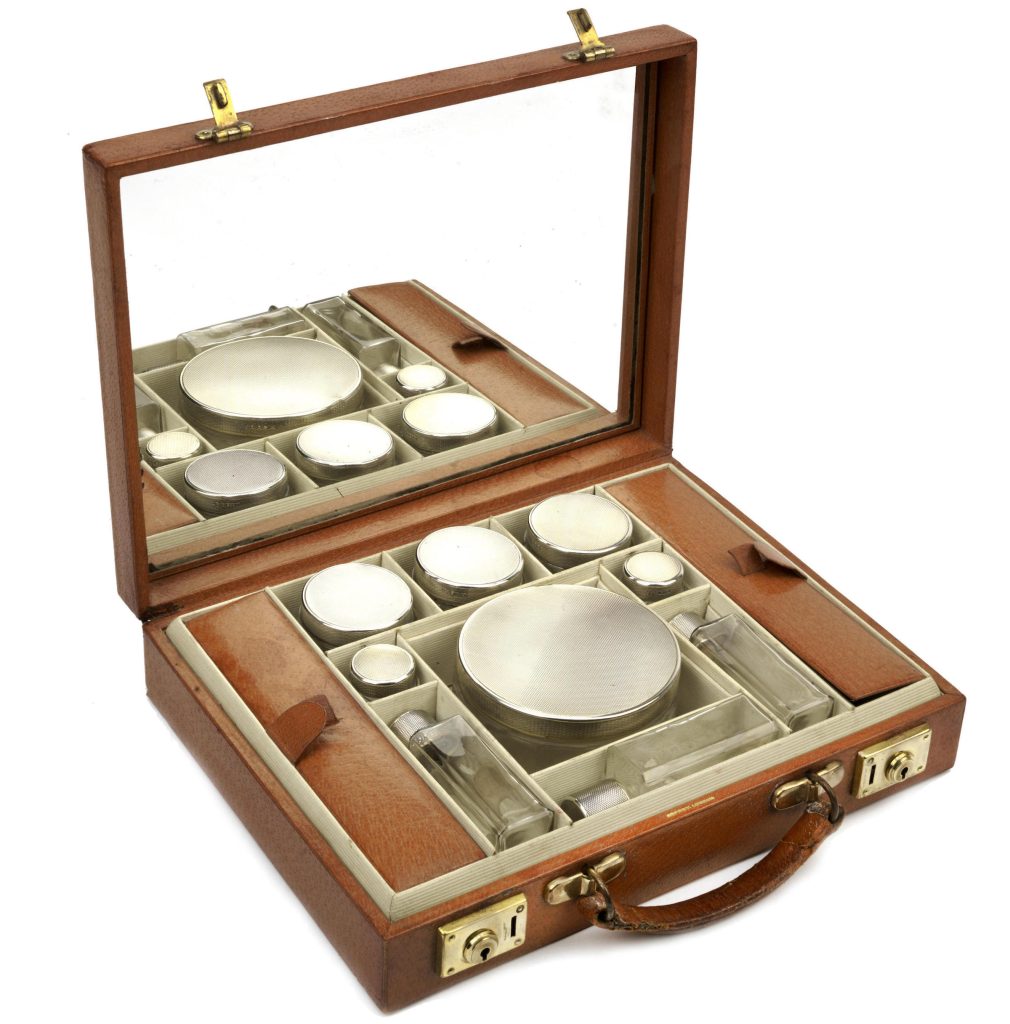 Estimate: £1000–£1500
Admittedly, this Asprey's leather vanity case isn't exactly the sort of thing one could slip into a purse and call on when powdering one's nose. But as a period-correct accompaniment to a post-vintage motor car, the 1936 set would finish a car to a tee for any show, tour or concours.
William Asprey founded his company in Mitcham, Surrey, in 1781, and came to earn a Royal Warrant from Queen Victoria, in 1862. By the '20s and '30s, it embraced the Art Deco movement, and whoever its original owners was – the tan pigskin is gilt-embossed with the initials A.M.L.W – must have been a glamorous figure in their day. Its maker used sterling silver (by AJG London) to top off the glass bottles and jars for perfumes, potions and creams. With a nice patina, it's a piece of history in a box.
Veteran took box and tools, 1905
Estimate: £800–£1000
Anyone who has taken part in or followed the London to Brighton Veteran Car Run won't have failed to have noticed how many of those men and women aboard their magnificent, er, driving machines like to dress in period attire. Well, this tool box, purpose designed to mount on a running board, is believed to date to 1905 and comes with its original set of tools, so any spannering at the roadside or rest stations can be performed in period-correct fashion.
Pininfarina carbon-fibre briefcase, 1980s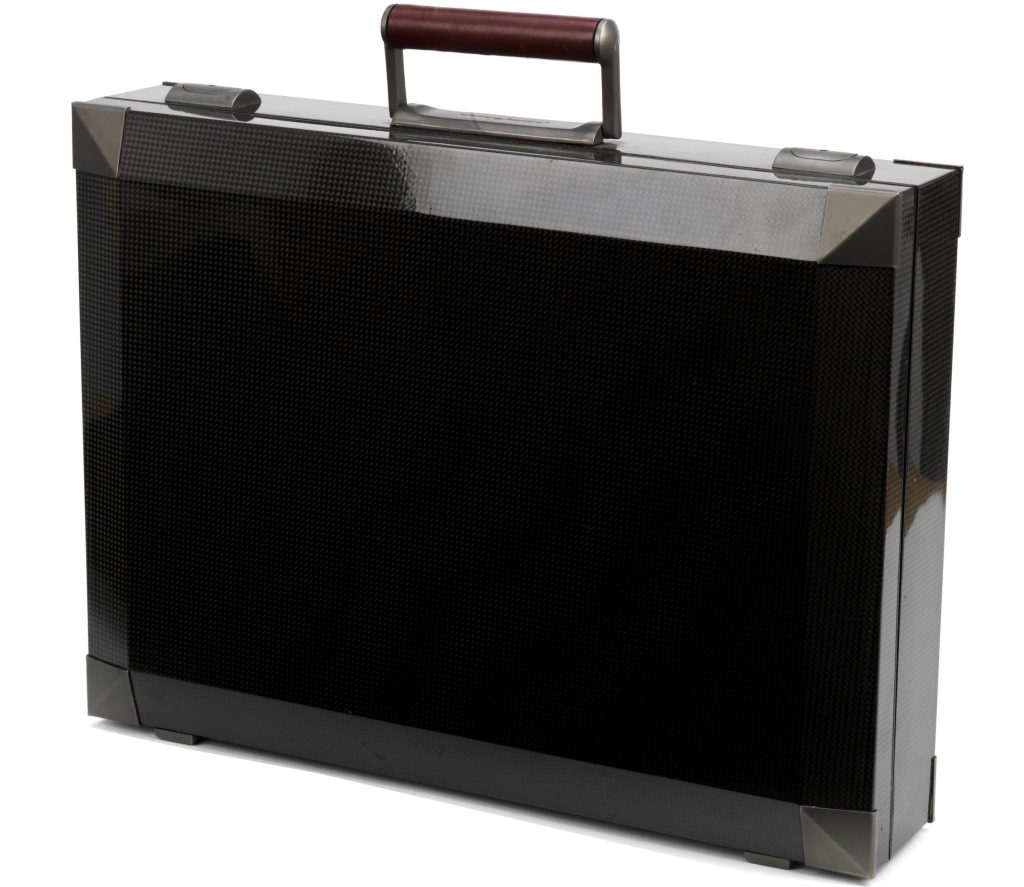 Estimate: £800–£1200
It was only in 1981 that McLaren brought the first carbon-fibre monocoque car to Formula One, the MP4/1, which was designed by John Barnard and inspired by British Aerospace's use of the same material for the engine cowling on the Rolls-Royce RB211 turbofan engine.
Not long after, some bright spark at Pininfarina proposed to its client Redwall, a leather goods maker in Pianoro, near Bologna, Italy, that it should use the same material for a limited edition briefcase. It's finished with titanium corners, locks and handle complete with a wood insert, and is said to be number 94 from a run of 100. Just the thing for keeping technical drawings of '80s F1 cars in.
Read more
2022 Goodwood Revival preview
Analysis: Collectors drive the classic car market to new heights
Record-breaking Bluebird K3 returns to the water