RM Sotheby's wrapped up its Open Roads, Fall online auction last week, and while the headline-grabbing sales involved the cars on offer, there was plenty of collectible automobilia and garage art attracting interest, too. And who wouldn't be interested, given a trinket or toy is a fraction of the price of a classic car? The bulk of that haul was a treasure trove of Ferrari automobilia, including manuals and brochures from the 1950s and '60s, original luggage sets, motor racing posters, and rare parts. These are the collectibles that the tifosi can afford.
Naturally, however, Ferrari automobilia tends to attract more attention and command more money than the average accessory. This auction saw serious pieces pass under the virtual hammer, such as a Girard-Perregaux watch made to mark the production of the Ferrari F50. And there were more frivolous items, including a Michael Schumacher Barbie doll set. Here are seven Prancing Horse pieces that caught our eye.
How much is your car to insure? Find out in four easy steps.
Get a quote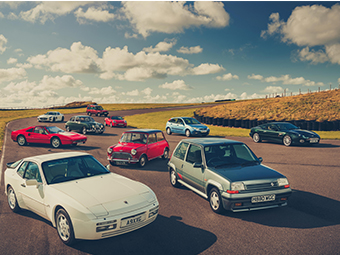 1985 Testarossa phone
Sold for: £67 ($90)
Oh, you had a Countach poster in your room when you were a kid? That's cool, but there were much cooler kids out there, and they had Ferrari phones. Thirty-five years later, these old Testarossa telephones occasionally pop up on eBay and other collectibles sites, and even though this one attracted just one bid, £50 to £100 seems to be about the going rate for others.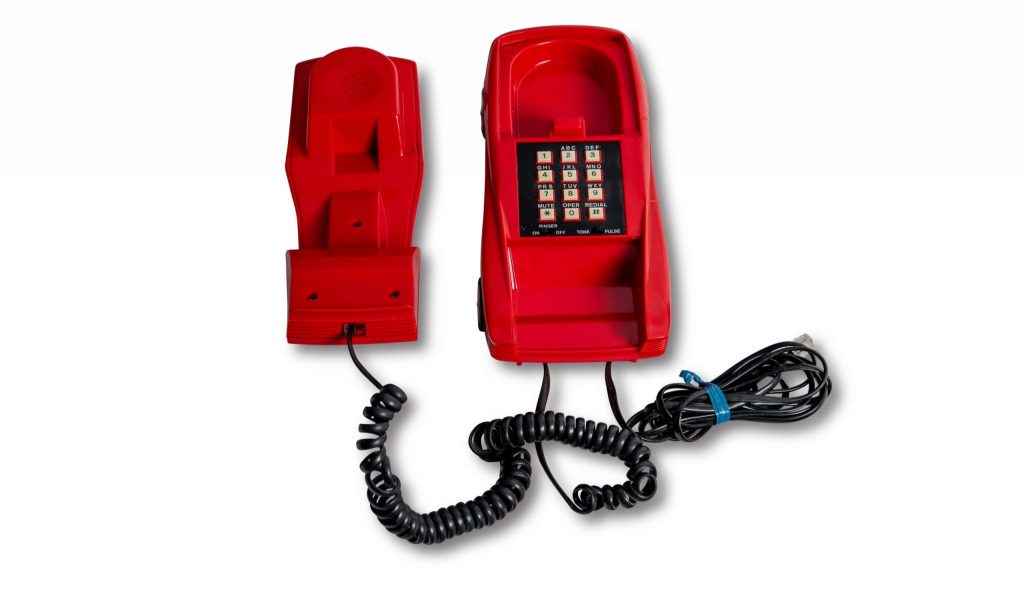 It's expensive for a 35-year-old piece of plastic and basic electronics, but it would definitely be a neat way to take calls in the garage. For reference, a real Testarossa sold in this online auction as well, for £127,000. That's nearly 1900 times as expensive as the phone.
Nardi steering wheel ashtray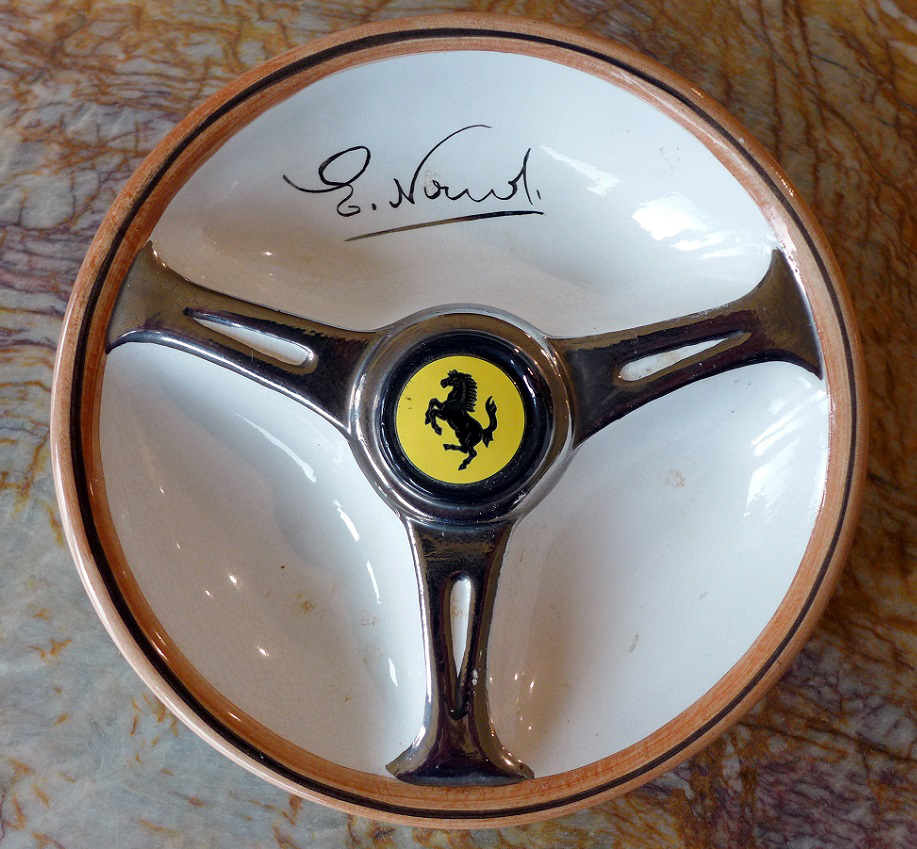 Sold for: £5600 ($7500)
Nardi steering wheels have graced everything from vintage Porsches to modern Mazda MX-5s, but the most famous Nardi is the classic wood-rim wheel with Ferrari's Prancing Horse on the boss. It's so recognisable that a company in Italy recreated it on these cool ceramic ashtrays. It's nifty, but at £5600 (over twice its presale estimate and about £750 per inch of diameter), we'd think twice about ashing a cigar in this piece of Ferrari automobilia.
Ferrari F40 Owner's Manual set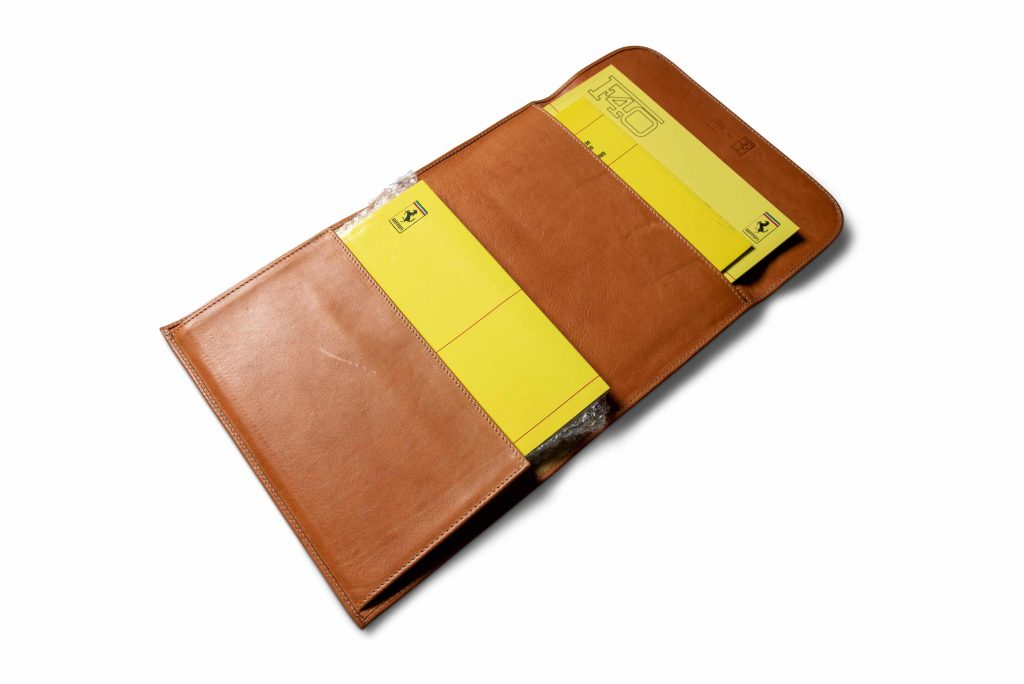 Sold for: £3600 ($4800)
As one of the world's most sought-after cars, the Ferrari F40 (compared here with its nemesis, the Porsche 959) commands a high price. So while most of us dream about ever getting our hands on an F40, someone has taken the initiative and bought a bit of an F40 for just £3600.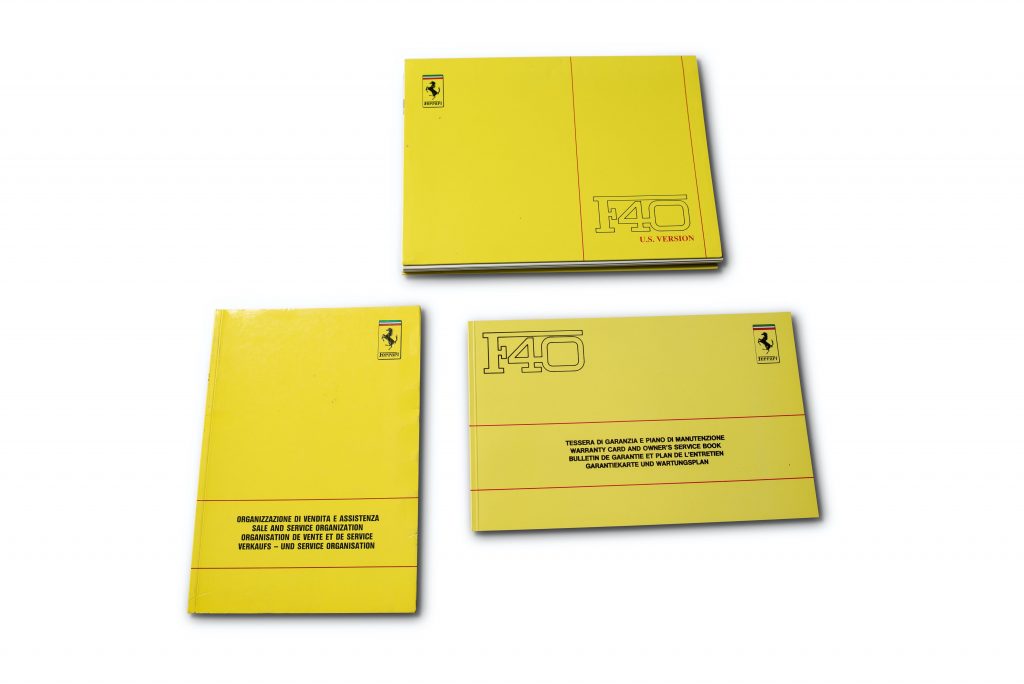 Admittedly, the F40 Owner's Manual set doesn't have quite the allure of being handed the keys to an F40 and told to go use up all the rubber on the tyres. Yet we'd imagine that the manual could be an interesting read, providing an insight into the care and maintenance of one of the most coveted cars in the world.
Ferrari Champions du Monde Shell advertising poster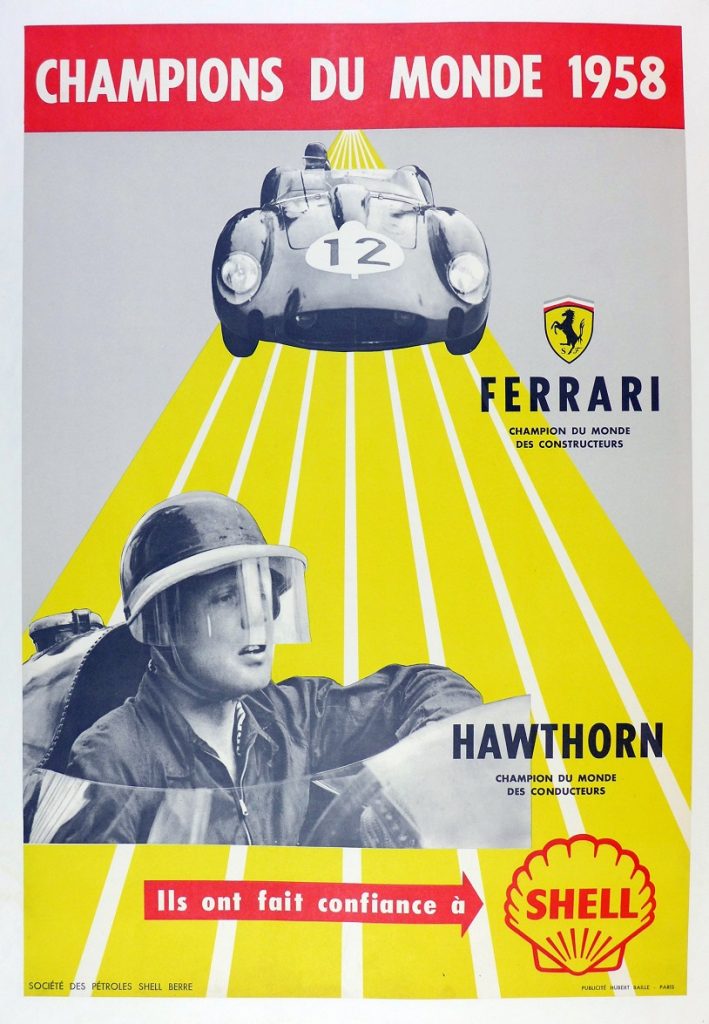 Solds for: £3800 ($5040)
Posters have long been viewed as collectibles, especially in the Ferrari automobilia scene. Better still, these linen-backed snapshots of a moment in time inject someone's personality and interests into a home environment. One of the more expensive one-sheets to sell at RM Sotheby's Open Roads, Fall auction was this 1958 example from Ferrari's long-standing technical partner, Shell. It commemorates Mike Hawthorn's World Drivers' Championship and Ferrari's World Manufacturers' Championship of '58. That season, Hawthorn won one grand prix to Stirling Moss' four victories, yet Hawthorn took the crown and went on to retire.
Colnago for Ferrari CF2-199 mountain bike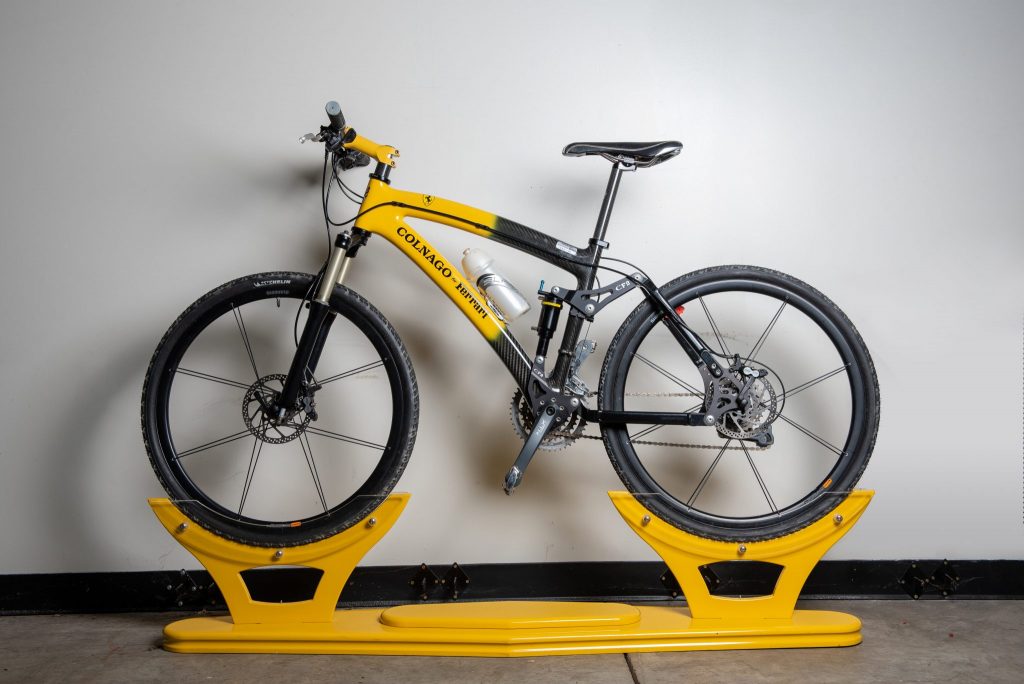 Sold for: £5400 ($7200)
Carmakers have worked with bicycle builders, and even built bikes of their own, for years. There have been Mercedes-Benz, BMW, Peugeot, and Porsche bicycles over the years, and Lotus even made an Olympic-level individual pursuit racing bike back in the early 1990s. One of the most famous and longest-lasting car/bike collaborations, however, was between Colnago and Ferrari.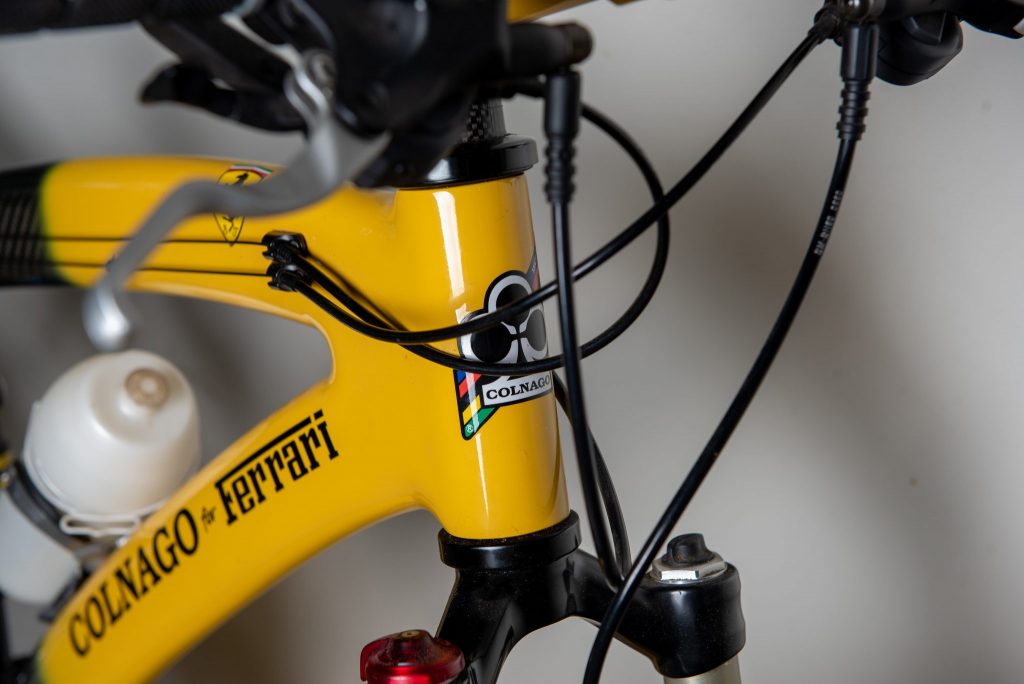 Colnago was already well known and respected as a frame builder and for its racing bikes by the time it started working with Ferrari in 1986. Taking advantage of Ferrari's F1 experience, Colnago made some of the first bikes to utilise carbon-fibre, and the two companies have produced numerous Colnago-Ferraris since then. Naturally, they were mostly speedier road bikes, but this is one of the few mountain bikes to come out of the partnership, and it dates from around 2001. Yes, it's a 20-year-old bike that sold for £5400 and would likely make any actual mountain bike enthusiast audibly guffaw. At least it comes with a stand.
Ferrari Dino ceramic decanter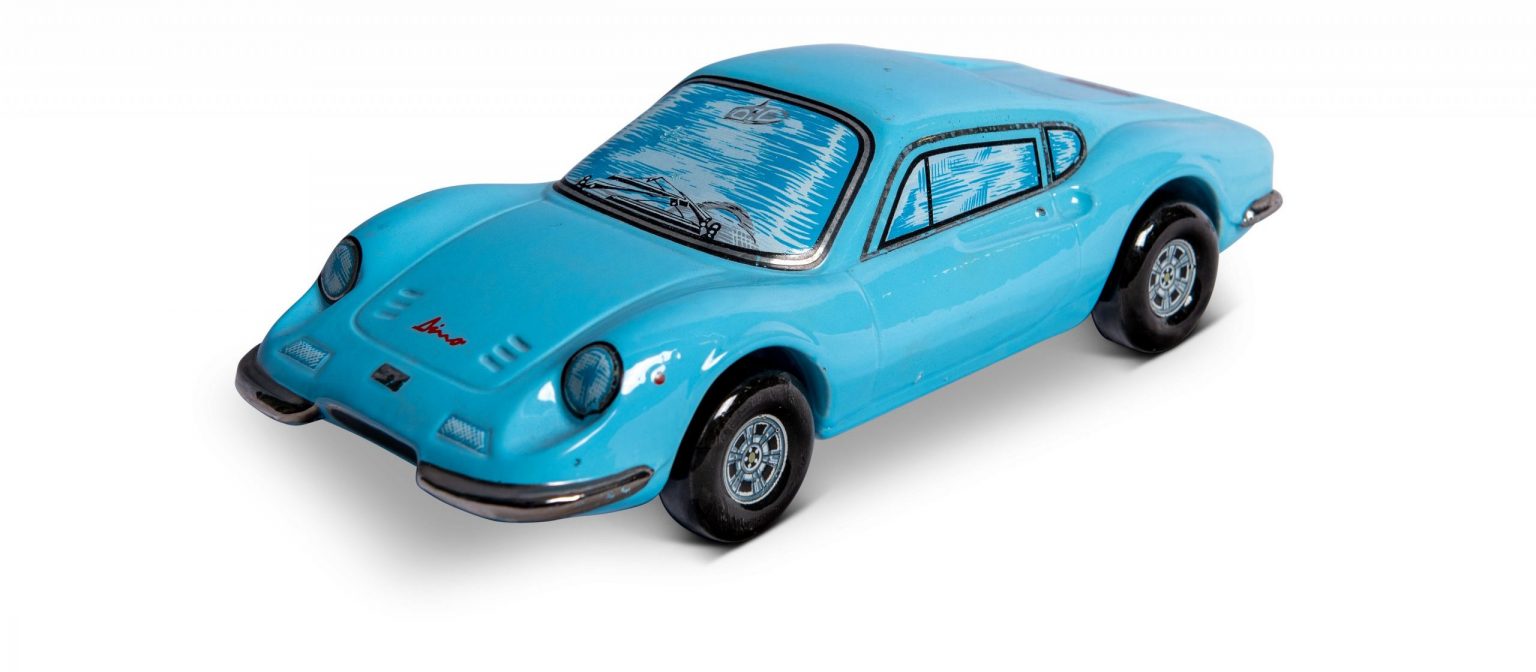 Sold for: £135 ($180)
Made in Italy to look like a miniature Dino 246 GT, these ceramic decanters sold in the 1970s and came complete with rolling wheels. (Perfect for passing your favourite Chianti across the table!) We couldn't find much info on them, but they have popped up on eBay before in various colours and they sold for similar prices to this.
Ferrari F1 simulator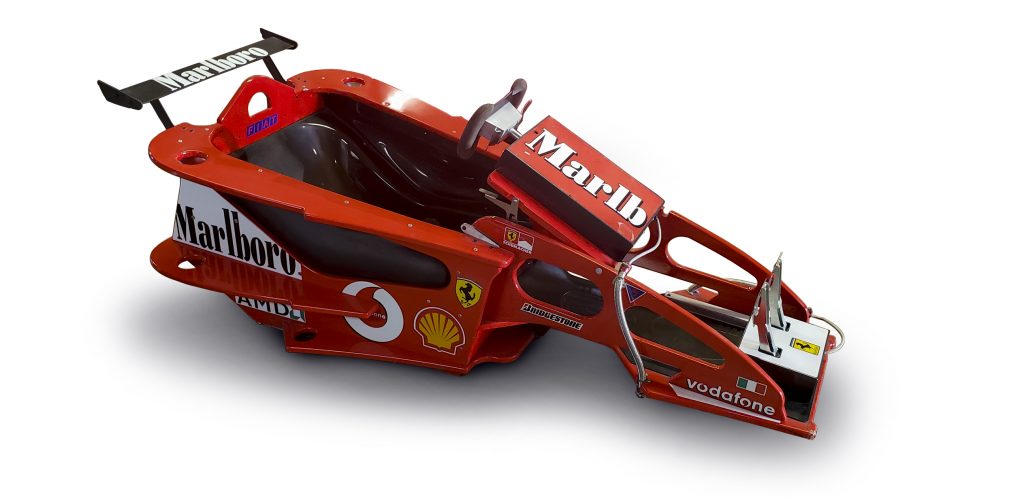 Sold for: £4700 ($6300)
While this is already a relic from the age of gaming, this Schumacher-era F1 simulator is nevertheless a slickly made setup with a carbon-fibre cockpit, realistic controls, and customisable cars, conditions, and tracks. And with the spoiler, F1 car-like shape and undisguised Marlboro livery, it looks just plain cool. Of course, almost £5000 isn't cheap for a garage toy, but people have spent a lot more money on racing sims without this example's connection to Ferrari.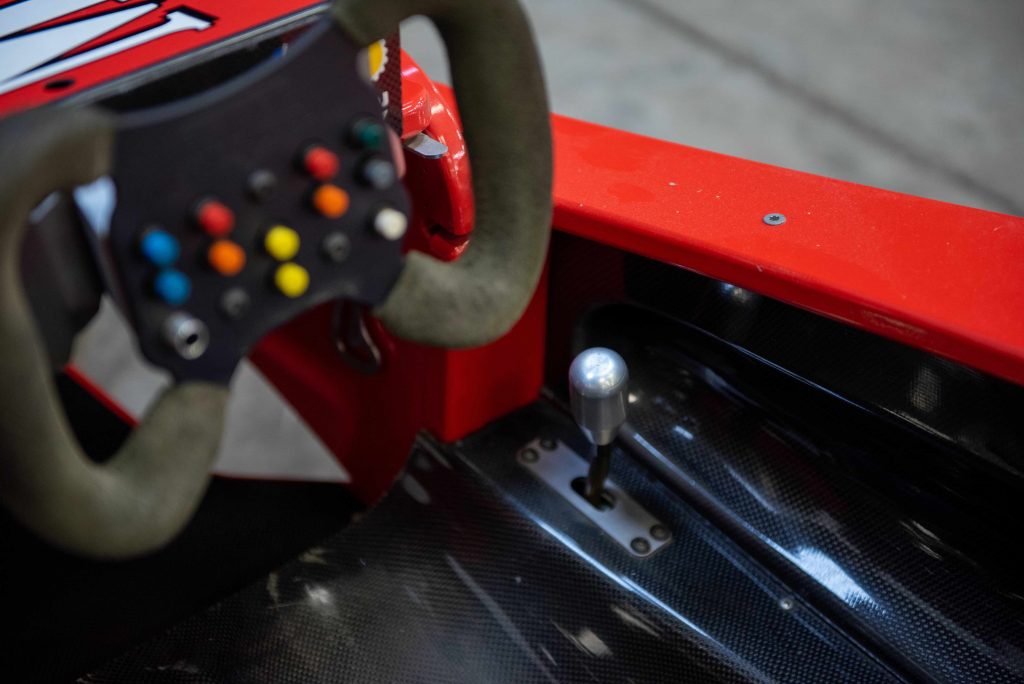 Michael Schumacher and Ferrari Barbie dolls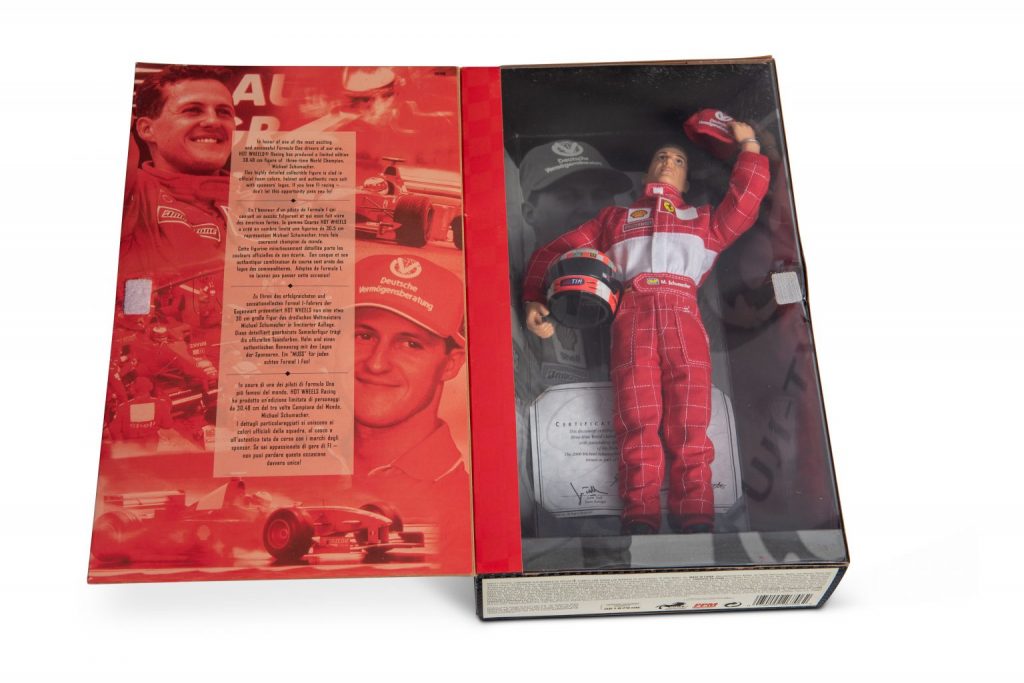 Sold for: £337 ($450)
Judging by these toys, Barbie apparently started straying from her chosen Corvettes back in the 2000s. This lot came as a set of three dolls with two Barbies (one dressed up in grid-girl gear and the other with a fire suit and helmet) and one Michael Schumacher. He doesn't just look like Ken in Ferrari clothes, either. If you squint it actually does look a little bit like the seven-time F1 champion.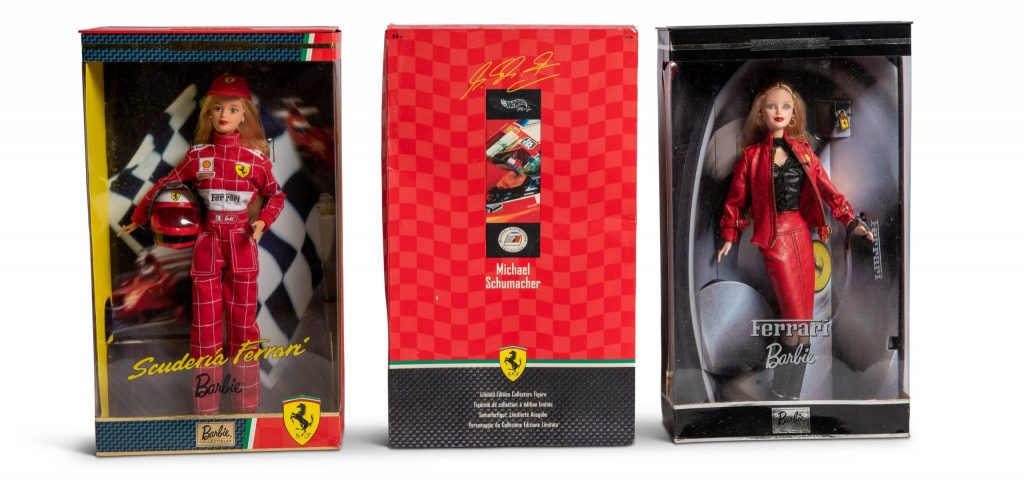 Anybody out there with a sister knows that rare, limited-production Barbies can cost a pretty penny, so it's no surprise that Barbie + Ferrari turned out to be a sought-after combination.
Girard-Perregaux pour Ferrari F50 automatic wristwatch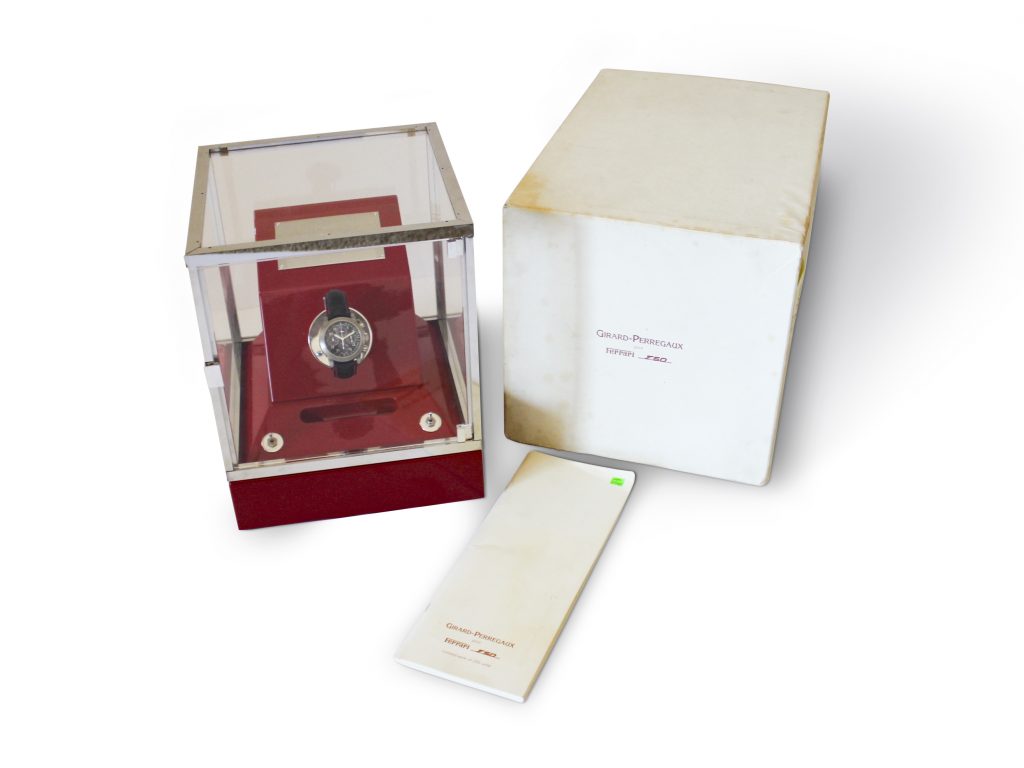 Sold for: £18,400 ($24,600)
Girard-Perregaux makes high-end timepieces, and in 1994 the Swiss watchmaker began a 10-year partnership with Ferrari, a company that makes equally high-end automobiles. There were several limited edition Girard-Perregaux pour Ferrari models, mostly chronographs, and the F50 chronograph was introduced both to celebrate Ferrari's 50th birthday and to accompany Ferrari's 1990s hypercar: the F50.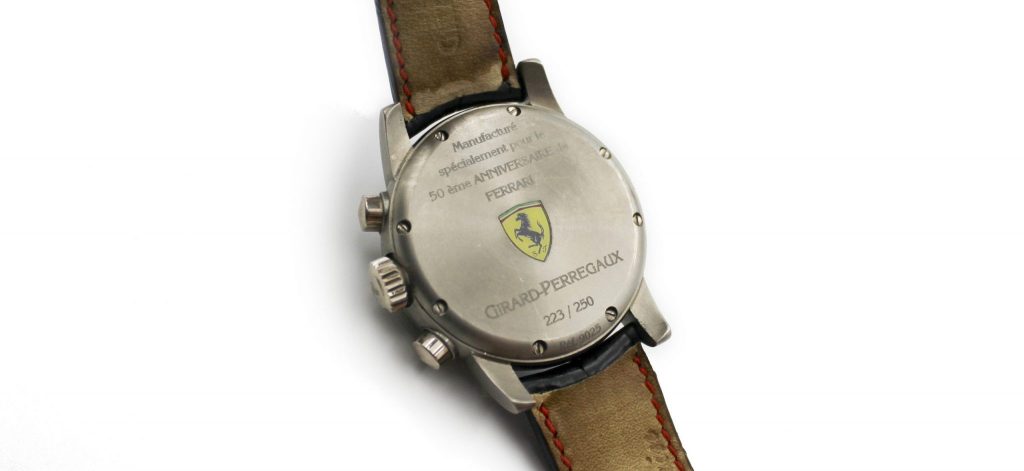 Via Hagerty US