For sale: 1995 Ferrari 412, low mileage, all original, complete history, four owners.
The sentence above likely already has some Formula 1 fans as misty-eyed as did the birth of their children. For the uninitiated, the Ferrari 412 is the last Ferrari F1 car to be powered by a V12 engine. From 1996, F1 began its gradual downsizing trend, initially switching to smaller capacity V10 units that didn't hit the sweet spot in quite the same way.
How much is your car to insure? Find out in four easy steps.
Get a quote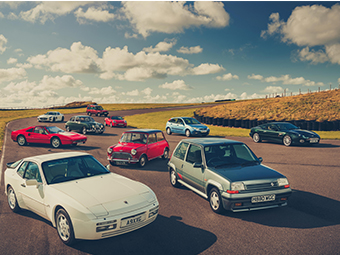 But hold on, there's more: this particular 1995 Ferrari 412 T2, chassis number 157, is the first car from the Scuderia Ferrari stable that Michael Schumacher drove. And that makes it spectacularly special.
"When you look at the interest that there is in that name, or those two names combined, it is really impressive," says Marcus Willis, one of the founding partners of Girardo & Co., the London-based purveyor of significant classic cars and historic racing cars, which is selling the Ferrari on behalf of a client,
There's more to finding such a car a new owner than writing a classified ad. Hagerty spoke to Willis to learn more about what goes on behind the scenes of selling a Schumacher Ferrari. How does an agent such as Girardo & Co. find itself appointed to handle such a significant sale? What checks are made to verify the car is the real deal and all it claims to be? And what does someone even do with their ex-Schumacher Ferrari F1 car? Put it in a glass case, framed like a Matisse?
A match made in heaven
By November 1995, Michael Schumacher had successfully defended his 1994 championship with Benetton and accepted the advances of Ferrari's Luca di Montezemolo and Jean Todt. He arrived at Fiorano, Ferrari's test track, on 16 November, and spent the afternoon getting acquainted with the car that had put up a brave fight against Benetton and Williams, in the hands of Jean Alesi and Gerhard Berger.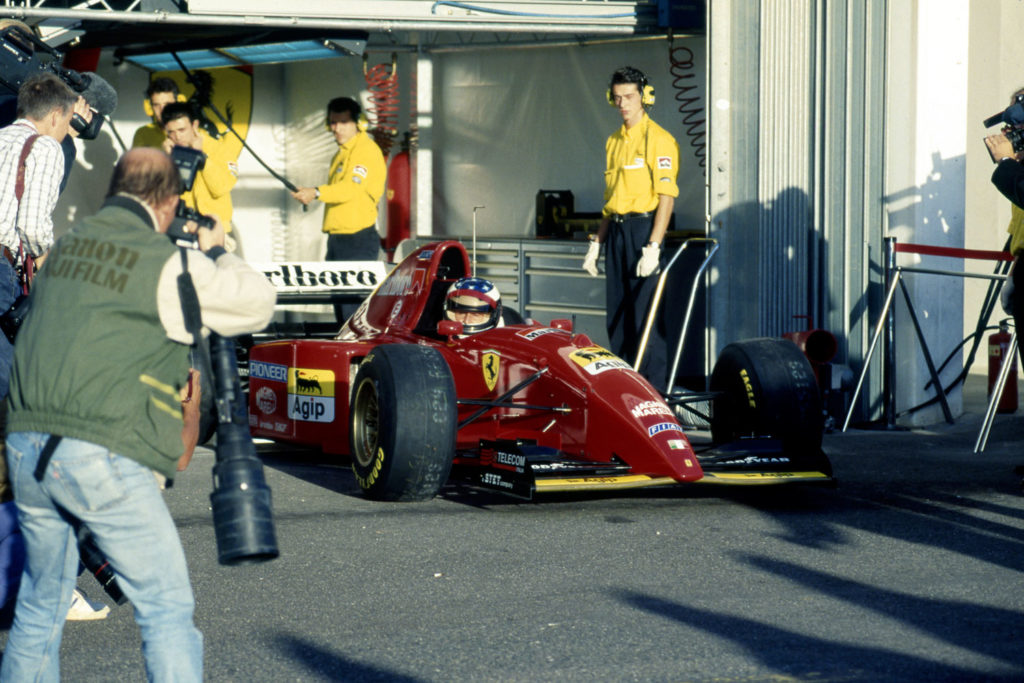 Schumacher's conclusion? "If I had had this car for 1995, it would have been easier to win the world championship." This wasn't just a sound bite designed to please his new paymasters. The previous season, Alesi had taken two second places in chassis 157, at Argentina and Italy (Imola). During Schumacher's next test with Ferrari, five days later at Estoril, he posted a time that was 0.7 seconds faster than Gerhard Berger managed in qualifying for that year's Portuguese Grand Prix. The rest, as they say, is history, with Schumacher winning five driver's championships in Ferrari red.
That history—along with the steep costs associated with making any F1 car run—can make for a complicated sale.
Surprisingly, winning the business was simplicity itself. The car's current owner is a friend and client of Girardo & Co. So there was no feverish process to pitch for the consignment.
"He is very private and has transacted several times with us before, and he would like to remain anonymous," says Willis. Girardo & Co. charges a commission for the sale but won't divulge the details of individual deals such as this one.
It's not uncommon for cars like this to change hands with casual observers being none the wiser. Buyers with the means and interest to invest in such a thing can probably be counted on your fingers. The current owner has never even been seen in public with it. Yet Girardo & Co. advised him to make this sale public. The logic was that much of the car's value lies in its story and, in particular, its Schumacher connection.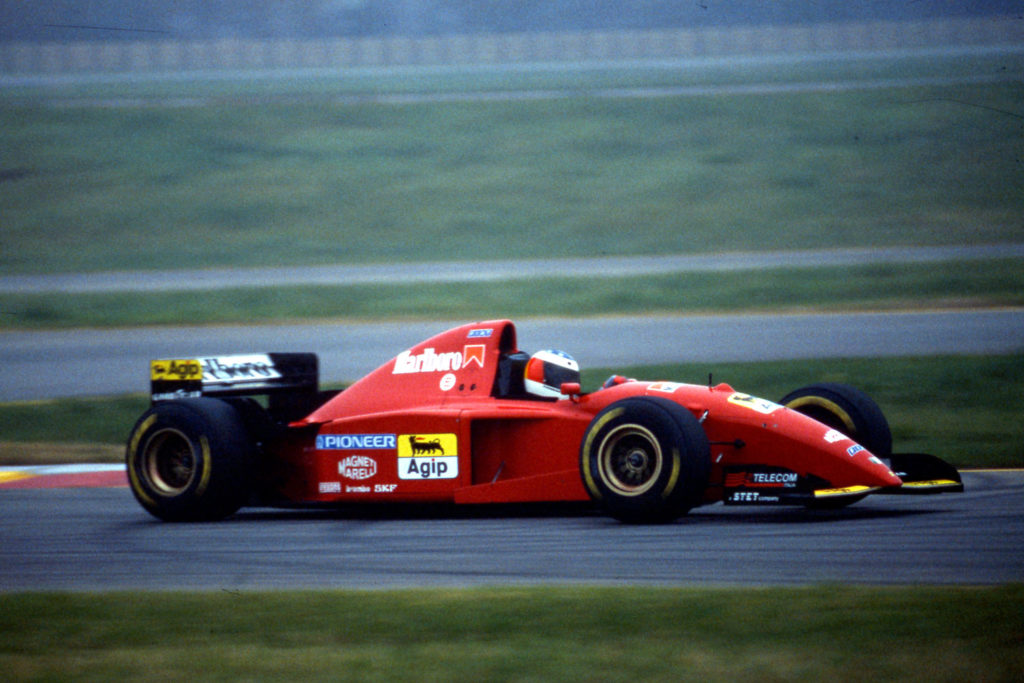 The other complexity with selling such a Ferrari is, well, Ferrari. A Ferrari F1 car never really flies the nest. They almost always come back for maintenance and often the factory will request that they attend events, such as the Goodwood Festival of Speed. Even if Ferrari takes care of arrangements, any prospective owner has to be prepared to put up with the Italian company's whims.
The first owner of chassis 157 after Schumacher had driven it, a German collector named Peter Fandel, was considered a "friend of Ferrari." He had previously owned a 1971 Ferrari 312 B2, driven by Clay Regazzoni and Jacky Ickx, and a 512 S sports car. Together with a dealer friend, Fandel approached Jean Todt sometime in 1997, and arranged to buy the car.
Next came Axel Urban, a Ferrari dealer. "He didn't have the car too long—just a year and a half—but he was the first person to use the car after Schumacher," says Willis. "He took it to Ferrari Racing Days, which allow owners with these very special Ferrari grand prix cars to take them to a circuit and have some fun with like-minded people and the sort of sister grand prix cars."
In 2000, Klass Zwart, a Dutch businessman who made his fortune patenting a valve for oil drilling equipment, purchased the car. Zwart has such a thing for horsepower that he built his own racing circuit, the Ascari Resort, near Ronda, in the south of Spain. He has a reputation for hard driving, something I can attest to, having sat alongside him on a hot lap of Ascari Resort. He raced the Ferrari 412 T2 in the Euro BOSS racing championship for historic formula cars, and at the Monaco Historic Grand Prix.
The current owner bought chassis 157 in 2013 and, during his time with the car, handed it over to Ferrari to be rebuilt to race-ready standard. Hands up who'd like to see the invoice for that work?
Inspecting a Ferrari F1 car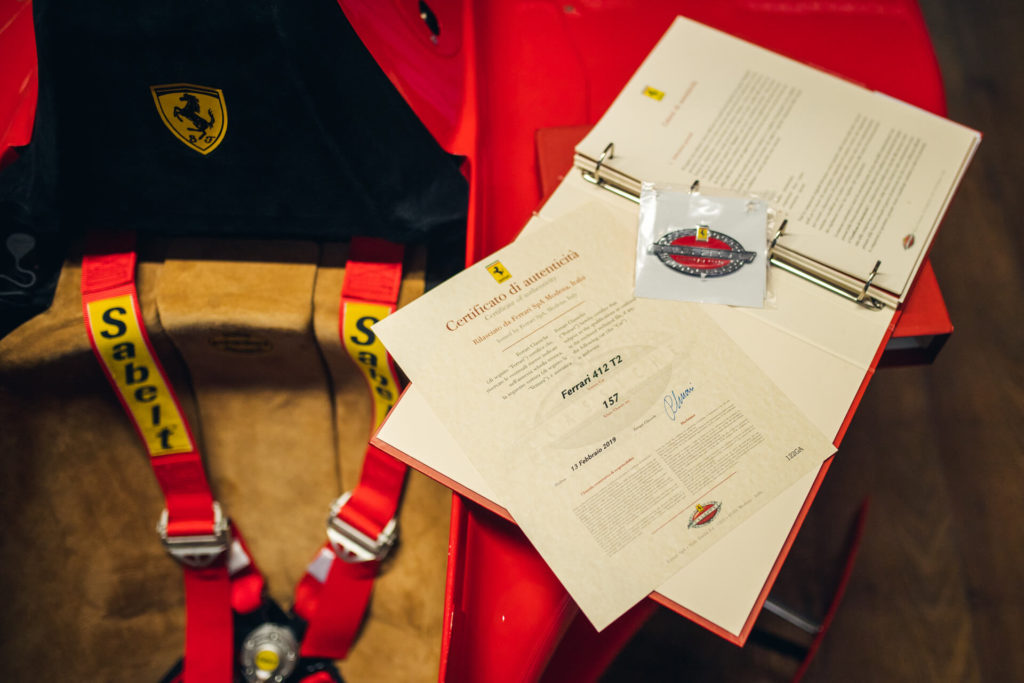 Since so much of chassis 157's value rides on its story, Girardo & Co.'s first order of business, after taking on the sale, was to confirm that story. Despite the car being well documented—right down to copies of Ferrari's individual, hand-written time sheets from Schumacher's first test session on 16 November, 1995, at Fiorano—Willis says Girardo & Co.'s first task, before any sale could be given serious consideration, was to send the car to Ferrari Classiche to have it inspected and certified. Every component, from the V-12 engine to the paddle-shift gearbox, bodywork to suspension components, and steering wheel to seat, could be verified as being original and to Scuderia Ferrari's specification.
The sale also includes tyre warmers, starting guns, spare BBS wheels, and wet-weather tyres, as well as the all-important pre-heater units that are used to bring the fluids of the engine and gearbox up to a prescribed temperature before any attempt can be made to start the engine. All these parts, says Willis, came with the car and from Ferrari at some point.
Of course, this investigation is part of the fun for Girardo & Co.
"For me, as a kid growing up, I watched Schumacher in Formula 1. So for us to have this opportunity to speak to the guys who were there, in period, at Ferrari, and confirm its history and document it as being without doubt the first Ferrari grand prix car that Schumacher ever drove, is amazing," says Willis.
Counting the cost of the Schumacher connection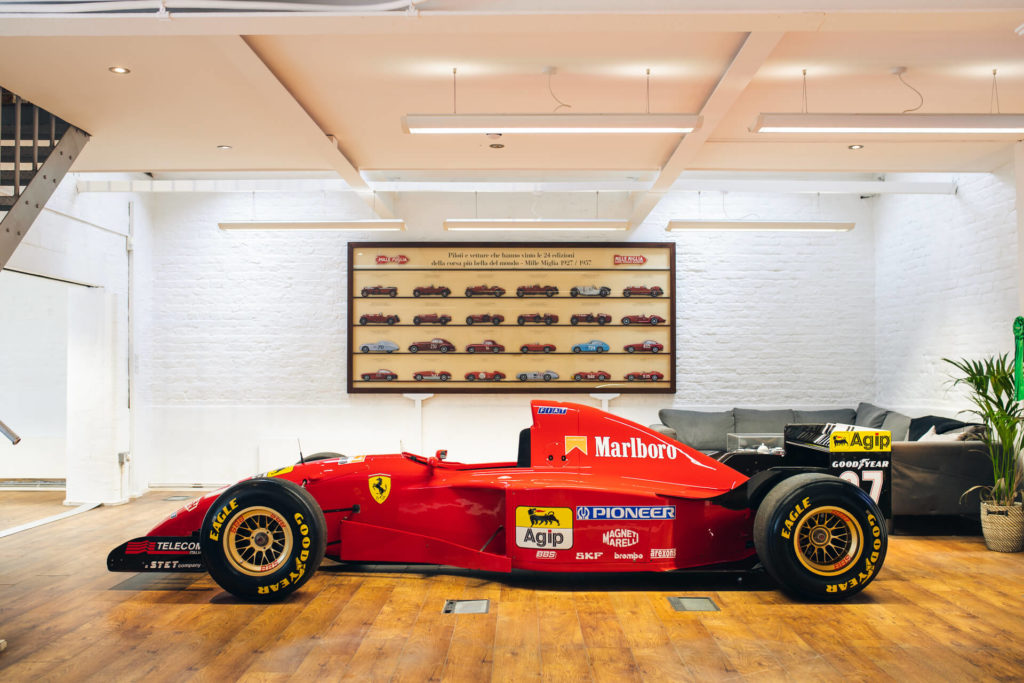 Having verified chassis 157's provenance, Girardo & Co. next had to put a price on it, no simple task.
"There is obviously a premium to a Schumacher car over an Alesi or Berger car," explains Willis, but defining that premium is difficult. External factors, from the state of the market to the number of interested parties, or another car being on the market at the same time, can swing the price needle from high to stratospheric. Broadly speaking, however, the team at Girardo & Co. feel a Schumacher Ferrari F1 car commands a 30- to 50-percent premium.
By Willis's reckoning, there are approximately ten ultra-desirable F1 Ferraris with Schumacher history, including this car. Some come with race wins and championships, but as Willis says, they cost even more. The most expensive sold in public, in 2017, was an F2001, auctioned by RM Sotheby's for $7.5m. And last December, RM Sotheby's, together with Formula 1, sold the car in which Schumacher clinched his fifth world title, an F2002, for $6.6m.
Girardo & Co. has sold two F1 Ferraris in the past and has set a price which it believes is a fair reflection of chassis 157's status and one that is achievable, given the right approach, in today's market. But Willis won't share the magic number with any old tyre kicker like me, only serious parties.
The car is presented in concours condition, says Willis. But he adds that condition is not a significant driver of its value. "To have the very first car Schumacher drove," explains Willis, "the condition might vary the price but is irrelevant to a degree. Because if you want it and you want to go and drive it, you're going to buy it anyway. Like buying your first car back, there is only one."
More relevant, perhaps, is the condition of the world economy, what with the COVID-19 pandemic. Willis says some clients may be sitting on their hands at the moment but believes a car this expensive and this rare is not as affected by the current situation as other classic cars.In fact, he says chassis 157 has generated interest. "It's not sold, but we are certainly in negotiation with several people over the car."
Those negotiations are not like the sort of give-and-take haggling you or I might engage in over the purchase of a Lotus Elan or Honda Integra Type-R. Instead, buyers think about the bigger picture—what are the once-in-a-lifetime opportunities that could come as part and parcel of owning a significant piece of Ferrari racing history?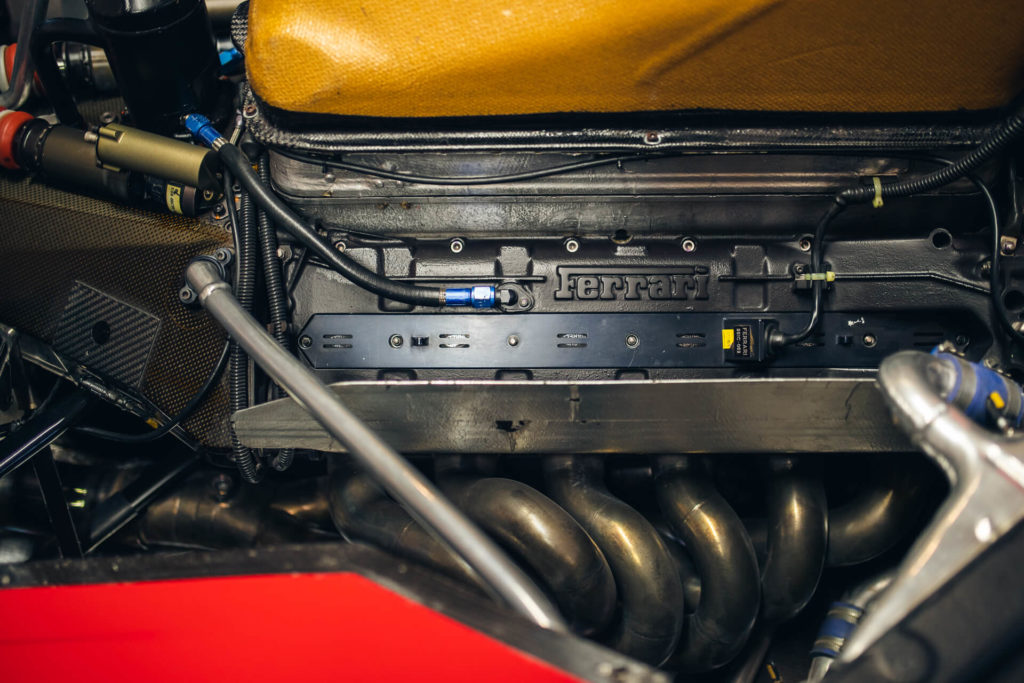 One prospective client, reports Willis, is taken with the idea of the hand-over of the car being conducted at Fiorano, in the same spot where Schumacher, wearing white, unbranded race overalls, first lowered himself into the Schedoni leather seat, fastened the six-point Sabelt harness and clasped the simple, suede-wrapped Momo steering wheel, then set off for 17 exploratory laps. More than 2000 people reportedly pressed up against the fences around Fiorano to get a view of the momentous occasion.
Other parties are enticed by the possibility that through Ferrari, and its Corse Clienti programme, they could be given a personal masterclass in F1 car control, or take part in one of several international events around the world that see significant Ferrari F1 cars mix it up during a weekend of Ferrari motor sport.
Above all else, though, it's the allure of owning and driving Schumi's first Ferrari that is likely to resonate with collectors. Bragging rights don't get much better.
"I appreciate Michael Schumacher did not race this car," says Willis, "but it was the first car he drove. And where did he drive it? He drove it at Fiorano. How cool is that? He spent the morning over the road in the workshop, going around Ferrari meeting key people; in the afternoon he went and drove this car, in Maranello!"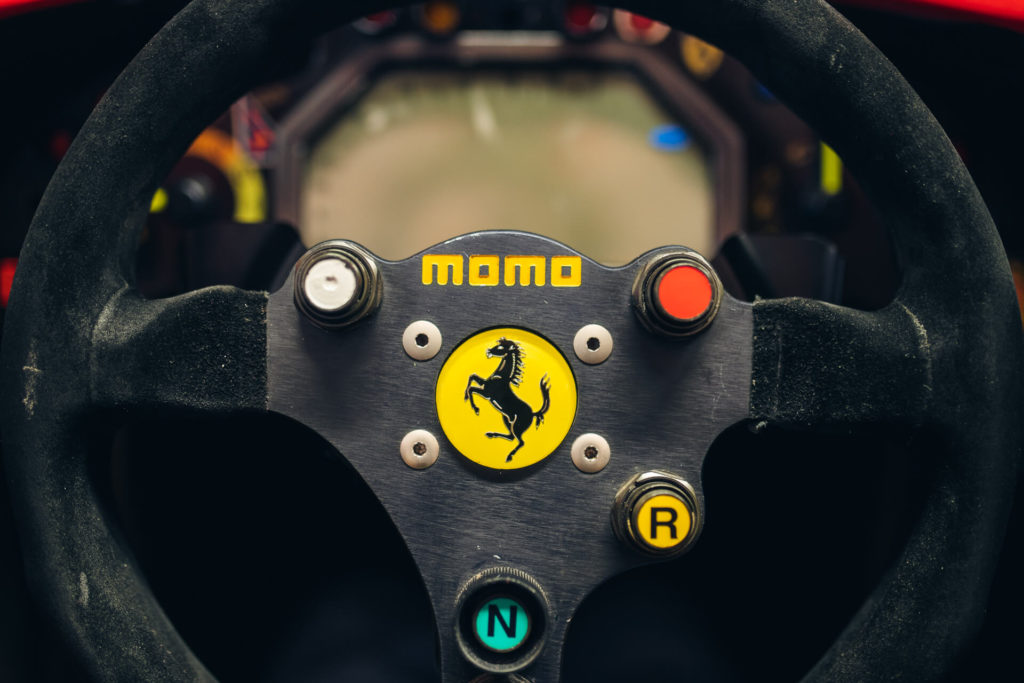 Willis concedes such cars are never quick to sell, which is perhaps all the better for him as it means more time to have chassis 157 in Girardo & Co.'s Fulham showroom. Has he sat in it? Of course he has.
"To sit there and take a minute to think, 'This is where Michael Schumacher first experienced a Ferrari grand prix car', and what that led to… Imagine if he had never gone to Ferrari and never driven that car, the household name Schumacher wouldn't be known. He's one of the few sportsmen who is a household name."
Willis and the team at Girardo & Co. admit that in recent years the classic car market has seen newcomers who don't value the story behind a car. People who care more about turning a profit than they do about driving and spending time around history. But they sense a change.
"We want to be dealing with significant cars because they're being bought by people who value their history. And you should be buying a car because you value its history."
Amen to that.
Find out about insuring your Ferrari race car or road car through Hagerty's Private Client Department