Davin Reckow and the crew at the Redline Rebuild garage, over at Hagerty's US base in Michigan, love a giant project, but they love a tiny one, too. In fact, even their smaller projects are pretty involved – as the case proved with this 1973 Honda CT70.
The CT70 is better known as the Trail 70 and served as a literal and figurative jumping-off point for the lifelong passion of many petrolheads. Honda introduced the little trail machine in 1969 and produced it until 1981 without changing much. With a lay-down, single-cylinder four-stroke engine, the CT70 is easy to maintain and has enough power to propel most adults, although with slightly less vigour that it would a younger, smaller rider. The easy-to-use, clutchless three-speed gearbox most models featured meant that just about anyone could operate one – and discover the fun to be had from messing about on two wheels.
How much is your car to insure? Find out in four easy steps.
Get a quote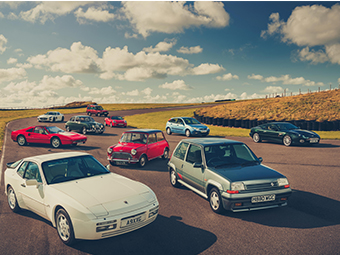 Reckow enjoys a motorcycle ride as much as the next guy, but the workshop is his happy place. He didn't hesitate for a second when this bright orange model popped up for sale in the Traverse City, Michigan, area. It was more than a little tired, but the pint-sized bike was complete. "It was really a perfect restoration candidate," he says, sitting on the finished bike in the Redline Garage. "Everything was there, and it hadn't been cut up or really abused."
That made for a quick teardown that left only the bare stamped-steel frame on the workbench. Reckow then realised this machine was a little bit outside his normal piston-powered projects. Out came the phone and soon on the other end of the line was Trail Buddy Inc in Michigan. The crew there served as the expert resource for Reckow throughout the Trail 70 restoration process, including rebuilding the front forks and spraying the frame with three-stage orange-candy paint.
The 700cc thumper was all Reckow's work, though. "A little engine like this is great for beginners to learn, and really fun for experienced folks, too. There aren't a lot of parts but they all work just the same as they would in a bigger and more complicated engine," says Reckow. Add in that most, if not all, parts you will need for a rebuild are available and fairly affordable, and you have a great project candidate.
The paint was not the only item for which Reckow called in the experts. From the final cam-chain tension adjustment to his dad stopping in to re-cover the seat, this project evolved into a community effort. He admits the process was more involved than he expected, but he's still adamant about telling folks to undertake similar projects themselves. "There is nothing wrong with phoning the experts or reaching out in-person to someone who knows more than you do. No one knows everything, and the friends you will make in those conversations can last a lifetime."
With any luck, this Honda CT70 will last just as long. Where will Davin take this little adventure-ready bike? If you want to find out, and discover the other projects in the Redline Rebuild garage, subscribe to the Hagerty YouTube channel.
Read more
Your slow-motion video guide to how a carburettor works
Your Classics: Keith Harris and the 40-year restoration of his Morris Eight
From wreck to dream drive: Simon Kidston's astonishing £400,000 restoration of a one-of-a-kind Lamborghini Countach LP400