Trail bikes are hot property in the classic collectible motorcycles scene, with dealers and riders alike reporting that interest levels are running at full-throttle. That much is evident from just the briefest surf of social media, where bikers around the world can be found celebrating the spirit of adventure and escapism that trail bikes bring.
Born in Japan but bred in the USA, it didn't take much to create the first trail bikes, in 1968. They were basically bikes fitted with knobblies – or "nobbies" as early brochures referred to them – and a high-level exhaust.
It was the era when the featherweight Honda 90 Trail, or CT90, based on the 90 Cub, could be paddled through challenging terrain by "outdoorsmen", as the ads described users. These days, modern "adventure bikes" are able to conquer natural obstacles that would make an old CT rider retreat in defeat – yet the appeal of vintage trail bikes is catching on with today's biking community.
To classic bikers, "trail bike" sparks images of early '70s Yamahondukisakis on trials-style tyres, and a freedom to roam off-road that would today get you ASBO-ed. Many will have owned one in their teens, or dreamed of owning one while watching Bruce Brown's On Any Sunday documentary.
Because they're becoming sought-after, classic DTs, TSs, XLs and KEs nowadays spend as much time on The Money Trail than the off-road trail, with bikes from 50cc to 600cc commanding increasing prices because of the importance of rare originality in bikes which were often modified and abused right out of the showroom.
What's the attraction? "People turn up to look at a road bike, see a trail bike, smile, and say 'I bet that's a lot of fun'," says Mark Redfern of Somerset Classic Motorcycles.
Mark Bryan of H&H auctioneers says it's because 1974, '75 and '76 trail bikes "are simply cool".
So which trail bikes are bikers looking for when it comes to good, clean, dirty fun? We reveal seven collectible motorcycles that are becoming increasingly sought-after.
Honda XL250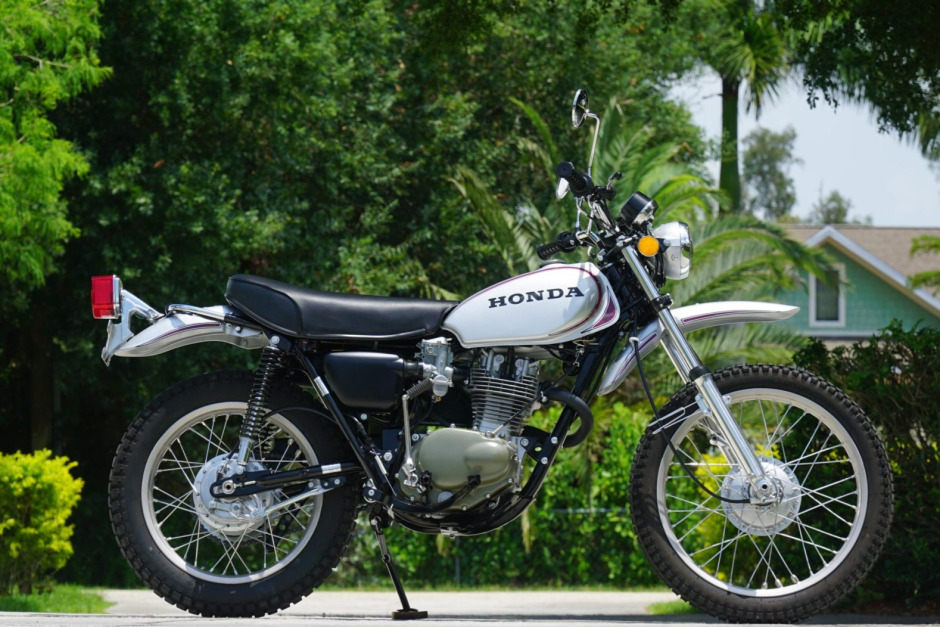 Imported and ready to restore or ride: £1500–£2500
On-the-road UK bike: £2500–£5000
"As a dealer I shouldn't buy bikes I like, but as an enthusiast I'd say the Honda XL250, especially the earlier silver-only bikes, should be on someone's radar if they're thinking of a trail bike," says Mark Redfern, of Somerset Classic Motorcycles.
"Four-strokes were naturally suited to off-road, and Hondas had legendary build quality and reliability."
Mark Bryan of H&H concurs: "I have a '74 XL250 K1. It's fantastic fun, and attracts more attention than equivalent capacity road bikes. If you park up and there's a biker nearby then you're going to have a conversation – and often a cash offer on the spot. The only thing I covet more is the earlier 1973 250 K0 Motorsport."
Suzuki TS185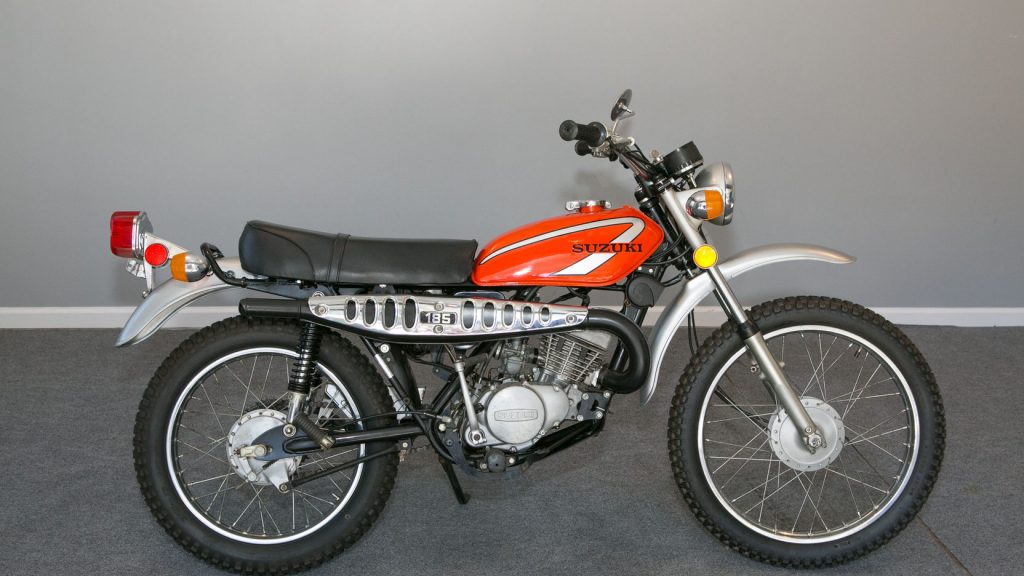 Imported and ready to restore or ride: £1800–£3000
On-the-road UK bike: £3500–£5000
"I'm a Suzuki man," says Nigel Hughes of Classic Bikes Northwest. "You just click with some bikes, and I clicked with Suzukis. The TS185 was it for me as a trail bike: not much more weight than a 125 and not much less power than a 250."
Mark Redfern concurs. "The TS185 is very rare and desirable. We sell TS185s unseen as soon as people hear we have them. And people like patina – a bit of sun fade on the paint, or where the riders knees have been against the tank."
Mark Bryan says demand creates problems of its own. "The TS185 is a great trail bike, but rare. Well worth rooting out a good one."
Suzuki TS250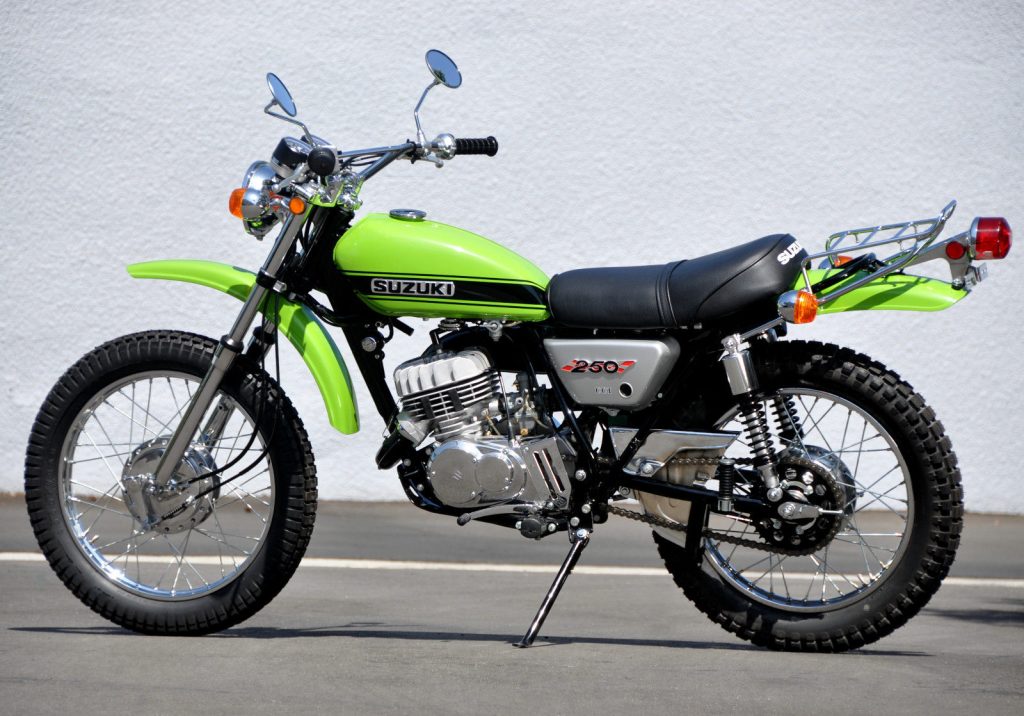 Imported and ready to restore or ride: £1500–£2800
On-the-road UK bike: £3000–£5000
"I'd have a TS250. They take me back: the look and the sound. Iconic," says Mark Redfern. "They were compromised as off-roaders, though, but made great on-roaders being tall and relatively light compared to, say, the Suzuki GT250 of the day.
"They're rare: riders who started out on a 125 wanted something that looked bigger, and the GT250 was big for a 250, so TS250s were not a natural progression, so there's not many around."
Nigel Hughes says experience suggest they're almost unbreakable. "I had a '72 TS250. It was indestructible. Customer of mine used one for work in Saudi Arabia. He'd hammer it to a construction site every day across all sorts of terrain, and it just wouldn't break."
Suzuki TC125 and TS125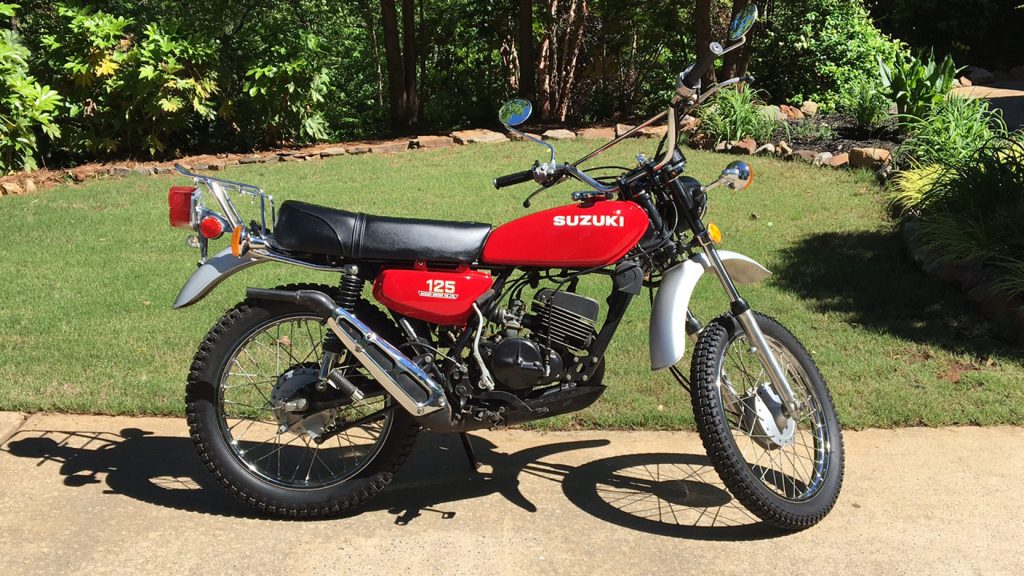 Imported and ready to restore or ride: £1000–£2500
On-the-road UK bike: £3000–£5500
This is where trailbiking is confirmed as a USA-centric activity, explains Mark Redfern. "The UK had the TS models, really cool-looking bikes which were actually a bit compromised off road. But in the US they did a lot more off-roading, and had the TC versions; the smaller bikes had dual high-low ratio gearboxes in an attempt to get screaming two-strokes to do what torquey four-strokes could do.
"The TCs are more desirable than the TSs in the UK, despite being more plentiful because they were for the bigger US market.
"I'd suggest buying a UK TS125. They looked bigger than 125 road bikes of their day, which gave them a bit of an edge on the image front."
Yamaha DT250
Imported and ready to restore or ride: £1500–£2500
On-the-road UK bike: £3000–£5000
Arguably the first "proper" trail bike back in 1968, the Yamaha DT-1 250 brought some Californian feeling of freedom to biking. Its significance as a game-changer was in the Japanese Society of Automotive Engineers' proclamation of it being a "Landmark of Japanese Automotive Technology".
"Early ones are really rare," says Mark Redfern. "Most haven't survived; they've been chopped and messed about with, and many are too far gone as a consequence to be sensible to acquire.
"But DTs of all sizes were reliable, simple, and if something did go wrong it was easily sorted. Feed them Shell V Power – you'll notice the difference. But make sure you use your DT: two-strokes like to be under load."
Yamaha DT175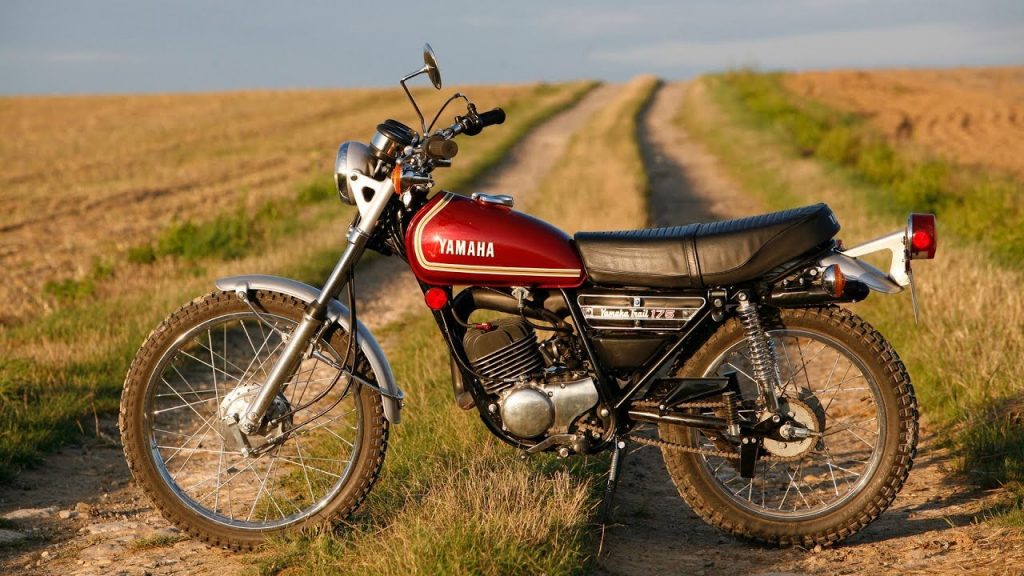 Imported and ready to restore or ride: £1200–£2350
On-the-road UK bike: £2,500–£4,000
The 175 was considered to be one of those just-right bikes. Mark Bryan is a fan. "You don't see many of them because they were cheap in their day and so just got trashed. Same with the DT250 to an extent.
"Early 70s genuine UK bikes are extremely rare because they weren't officially imported for a few years after they went on sale in the USA."
Nigel Hughes adds: "A lot of people disconnect the Autolube, and go pre-mix. I'd say leave the Autolube as it is if it's working correctly, and maintain it. The manufacturer wouldn't have put it there if it didn't have faith."
Kawasaki KEs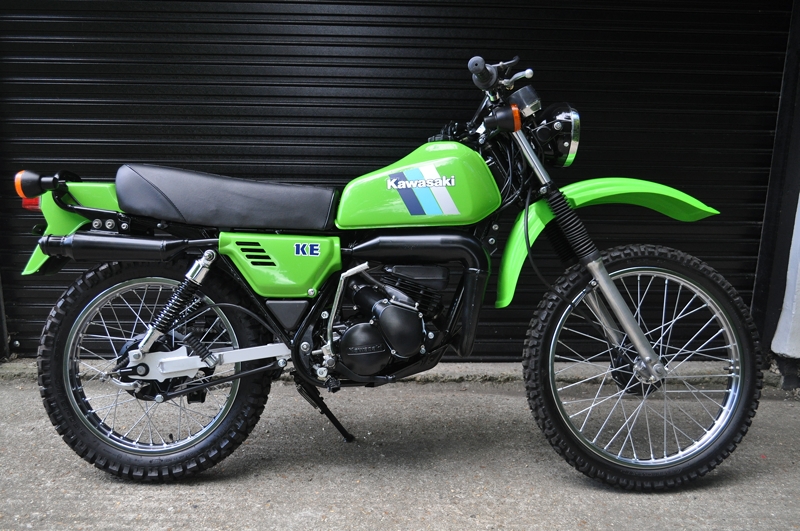 Imported and ready to restore or ride: £1000–£3000
On-the-road UK bike: £2,500–£5,500
Kawasaki is not noted for its trail bikes, more the mad three-cylinder two-strokes, or sophisticated first-generation superbikes like the 900 Z1.
"I've just bought a Kawasaki KE175," enthuses Mark Bryan. "They were quite good bikes, but Kawasaki wasn't known for trail bikes, so they're scarce. But that makes it interesting.
"It's important that they're as original as possible. Mine has been lightly restored, and there's a lot of attention to detail to go with it, things like two original keys, a handbook and complete toolkit in a pouch."
Mark Bryan summarises: "Early Japanese trail bikes were light, nimble, easy to own, ride and fix, and are genuinely good day-to-day riding options today. My mantra is don't just own a classic bike, use it.
"You'll love a trailie."
Guide to storing and caring for your motorcycle during winter