In the Swinging Sixties and the me, me, me decade that was the '70s, British cars were something of a success story – and then some – in America.
From MGs to any number of TR sports cars and plenty more besides, our friends across the pond were getting their kicks in archetypal British roadsters, dropping the roof and rolling like the surf along the West coast's Highway 1 or scooting from block party to block party in New York and beyond.
How much is your car to insure? Find out in four easy steps.
Get a quote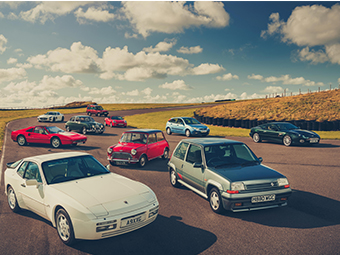 Just as they snapped up LPs from The Beatles and made a beeline for Carnaby Street fashion, plenty of young graduates wanted to be seen in a British roadster – especially as the fuel costs were nothing like as punitive as a Corvette or Mustang.
One of those graduates was Vernon Brannon. As Tom Cotter discovers, in the latest episode of Barn Find Hunter, Brannon has "more than 30" British cars in his collection, but precisely how many more than 30 he's not sure. Cotter has met Brannon before. In episode 88 of Barn Find Hunter, deep in the hills of North Carolina, the two toured one of the most impressive barn find collections Hagerty has ever had on the show.
The collection started with a TR4 that Brannon used as his daily driver after graduating, clocking up an impressive "quarter of a million miles" over time and restoring it along the way. Parked alongside is a TR250 – the US equivalent of a TR5. Oh, and Brannon has a TR5, a 'PI' with Lucas mechanical fuel injection. It's a slight surprise then to see an Acclaim saloon nearby, a car that is as unexceptional as any entry at the Hagerty Festival of the Unexceptional.
The Honda spin-off helped keep British Leyland in business while it set about developing the Austin Montego, of 1984. Talking of Austin, Brannon has an Austin Mini Cooper that was restored by a friend, as a gift for their wife, but the car wasn't enthusiastically received. Brannon made an offer, it was politely declined and as is often the way, a year later the offer was accepted.
One of the rarest cars in the collection is a Dover GTR4, a fastback TR4 with coupé bodywork by Harrington. And a more unusual piece is a Triumph Tina scooter. Other notable include a Jaguar XJC 12, Bond Equipe, Triumph TR8 race car, Triumph 1500 front-wheel drive and TR2 Franchorchamps.
As Cotter says, Brannon has got it bad for some of the best-known cars Britain has shipped to America. To see just how bad, join Barn Find Hunter and take a tour of the collection for yourself.
Watch more
These are the cars owned by the original Mr Barn Find Hunter
Jaguar XJ-S | The Next Big Thing with Magnus Walker
Barn Find Hunter: Uncovering thousands of British motorcycle masterpieces