Price: Auction
Mileage: 65,778
Condition: Boxy and classy
Advert: Car & Classic Auctions
The Ferrari-powered 8.32 gets all the press, and understandably so, but we shouldn't forget that there were more unexceptional models lower down the Lancia Thema food chain – and with a naturally-aspirated 2-litre, the 2.0 ie coming up for sale with Car & Classic Auctions fits the bill perfectly.
How much is your car to insure? Find out in four easy steps.
Get a quote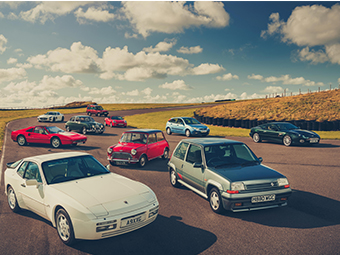 Well, it does if you think a car like the Thema deserves the 'unexceptional' tag. We've written before how we're often in two minds when featuring Italian cars. Not only were they often among the more enthusiastic to drive among their peers, but in all but a handful of cases, a customer here in the UK bought something Italian because it wasn't the default choice of a Ford, Vauxhall or something from BL. Buying Italian was a bit like buying French in that regard – you bought it because you wanted it and thought it might enrich your life, rather than because the dealer was next door.
The Thema certainly had the capacity for life-enrichment. One of four vehicles built on the 'Type Four' platform conceived among Lancia, Fiat, Alfa Romeo and Saab as a way of reducing costs, it is therefore related, if not always closely, to the Fiat Croma, Alfa Romeo 164, and the Saab 9000.
What's impressive, if you're more used to '60s and '70s BL-style badge-engineering, or the way all Volkswagen Group MQB cars use basically the same two or three engines, is just how different each brand made its cars, even if that's clouded to a degree by the boxiness of 1980s styling.
Least surprising is how far Saab went off on its own with the 9000, installing its own engines, some of which were turbocharged, and engineering it for typical Saabish levels of quality and safety. But Alfa Romeo too went off on a tangent, with more divergent styling, and redesigned front suspension.
There were some similarities particularly among the Italian trio, Alfa's Busso V6 finding its way into each (not in the UK), and obviously Lancia went completely mad with the 8.32. But from styling to interiors to the way each was marketed, they were far from identical.
If the Fiat was the mainstream option, Alfa Romeo the sporty one and the Saab… well, a Saab, Lancia went down the more luxurious path. Not all Themas got the 8.32's leather-stitched dashboard but the cabins were still spacious and well-appointed even in the ie. SE models got such niceties as Alcantara trim and plastic rosewood, but even the uniform black plastic and cloth seats of the auction car have, to our eyes, an understated class.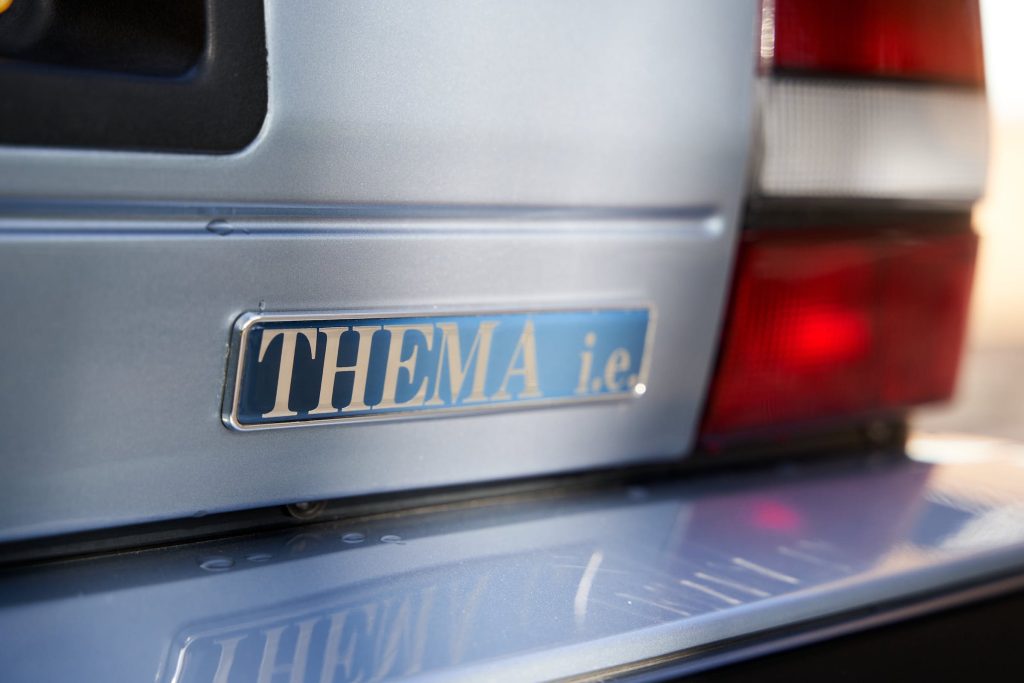 The Thema was no legendary handler, nor with this 118bhp, 8-valve 2-litre a real powerhouse, but by the standards of many Festival of the Unexceptional regulars it would probably feel like an Integrale. Of a facelift car's handling in CAR magazine in 1990, they said it "wallows in corners and changes direction grudgingly", while the steering didn't come in for much praise either – but testers did enjoy its equipment levels, motorway behaviour, and its by-now twin-cam 16v engine.
Back to the car coming up for sale, it looks like a good one from what can be seen in the photos – wax treatment from new has kept it Thema-shaped, the first owner held onto it all the way until 2016 and kept a good service record, and the MOT history doesn't even have any advisories until you go back to 2015.
As a way of cruising around in a leftfield Italian car, but still fitting in at FOTU, we're into it. And while you might be dreaming of a Ferrari V8, we doubt you'd end up wondering "what if?" about any Cavaliers or Montegos you see…
Read more
Retro Rematch: Lancia Thema 8.32 vs Ferrari 308
Before the Stratos put Lancia on the rallying map, the humble Fulvia taught it the ropes
10 Unexceptional Classics: Edizione Italiano