Price: £3495
Year: 1994
Mileage: 36,000
Condition: Ready for the Cote d'Azure
Seller: eBay
I cannot lay claim to the world's largest collection of car brochures, but since childhood I've amassed a fairly healthy number, and with various French cars in the family growing up, a decent proportion of them are split between Renaults, Citroëns and Peugeots.
How much is your car to insure? Find out in four easy steps.
Get a quote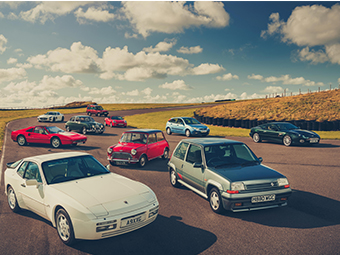 One I'm particularly partial to is a Renault range brochure from summer 1996, extolling the marque's various deals and special editions. On its opening pages are a young and good-looking couple frolicking in a swimming pool, and behind them are a pair of late-model first-generation Clios in "Oasis" and "Club Med" special editions.
With the benefit of hindsight, it's clear these were both simply near-base models jazzed up with a few fancy bits of trim and some stickers. Even the higher-spec Club Med left power steering on the options list. But when photographed by the pool, in perfect condition, bright colours and bathed in sunlight, they seemed strangely exotic in a way even the most basic European superminis can when presented in the right context.
This Citroen AX Spree is cut from the same cloth, and leaves me feeling nostalgic for family holidays in France in the same way staring at those Clios now do. Its bright metallic blue paintwork stands out even on the grey day it was photographed for the ads, so would no doubt be even more radiant in some French coastal town, and luxuries such as a sunroof, wheel trims and the obligatory stickers give off the correct special edition vibes.
It's a struggle to find reliable information on what constituted a Spree, though with a 50bhp 1-litre engine it presumably lurked down the cheaper end of the range. The interior though is a perfect example of the joy of some of those old not-so-specials though, with a fabric pattern straight from a ski-ware catalogue.
Buyers got just four gears, and a large analogue clock in place of a rev counter, but there is a cassette player rather than just a basic radio, and the three-spoke steering wheel like that of the GTI was a definite upgrade over the usual two-spoker.
This Citroen AX is, it goes without saying, perfect Festival of the Unexceptional fare; a once-common and fondly remembered supermini, in an appealing but not especially exciting specification, and in very good condition on account of its low mileage. The only thing missing is the swimming pool.
Also read
Our Classics: 1989 Citroën BX DTR
Celebrating the Gallic genius of Robert Opron 1932-2021
This Citroën Visa Chrono makes every journey a special stage