"Quiet, unassuming [and] generous," wrote David Benson of The Daily Express when he was entertained to Sunday lunch by Harry Webster, the father of the Triumph Stag.
Things were certainly different back then, as what Benson called "one of the finest technical brains in the country" pulled on a pinny and cooked, cleared, and washed up in front of the debonair Fleet Street motoring correspondent (who was good looking and cool enough to have once been invited to audition for the movie role of James Bond), while he explained his philosophy for the future of mass and specialist car markets in Europe.
How much is your car to insure? Find out in four easy steps.
Get a quote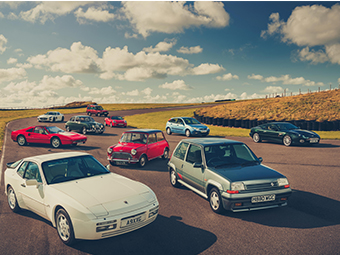 Webster was the successor to Sir Alex Issigonis as engineering chief at Austin Morris, which came under the British Leyland banner. As Benson pointed out: "As 'supremo'… he [Webster] will be responsible for one in every three of the cars to appear on our roads in the future." An important man, then…
And can you imagine this happening today with someone like JLR's creative chief Gerry McGovern? No? Neither can I.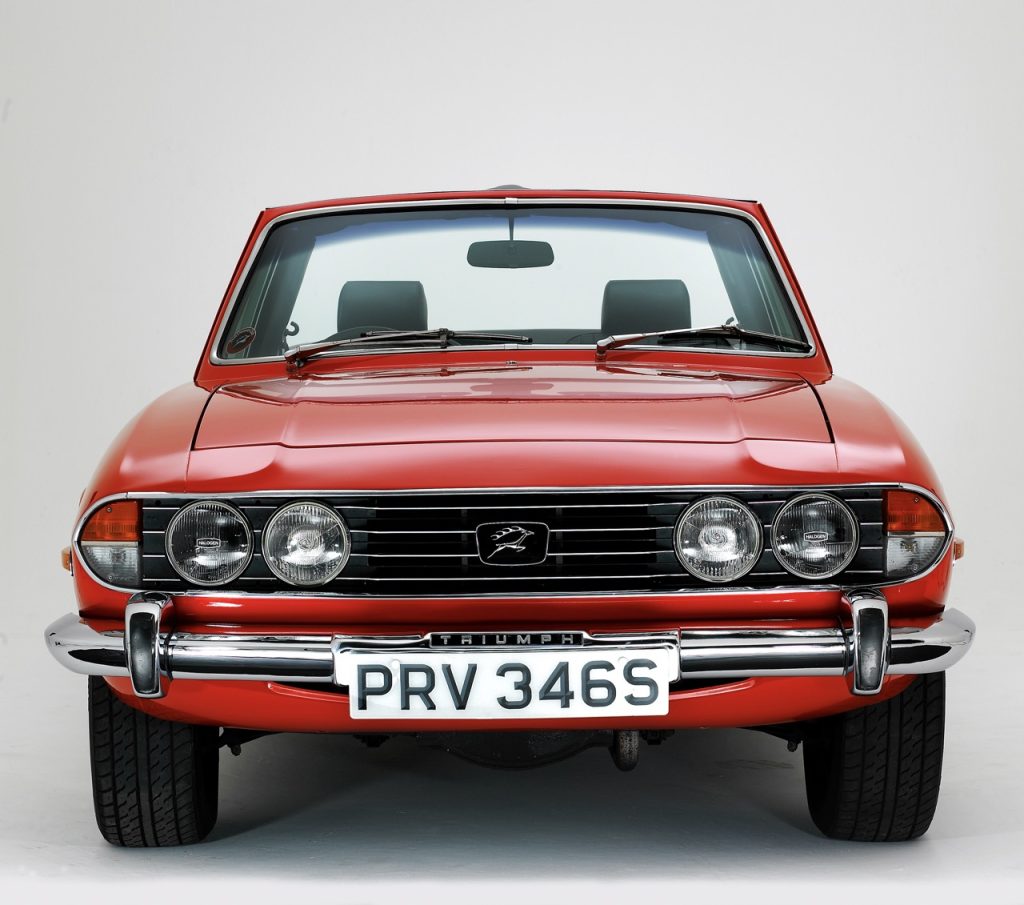 "There will always be a substantial market for specialised cars to meet individual requirements," said Webster, "although I think the cost gap between the mass-produced car and the specialist one will widen considerably."
With the Triumph GT6, the TR5 and TR6, and the Stag produced during his watch, Webster knew of what he spoke, although the Stag has always trailed its own metaphorical clouds of controversy as well as clouds of steaming coolant, if the press are to be believed. We'll come back to this.
Benson considered the Triumph Stag one of Webster's finest achievements. "Outstandingly beautiful," he opined, though others weren't quite so sure. "The nearly car" says the well-researched website ARonline, "doomed to failure from the outset," says the Stag Owners Club with tongue firmly in cheek, and "one the most frustrating cars that ever was," said one owner interviewed in the course of the article.
The thing is, despite the hindsight view of the Stag and Triumph's late, under-resourced development against its sister company Rover in the British Leyland stable, it all made perfect sense at the time.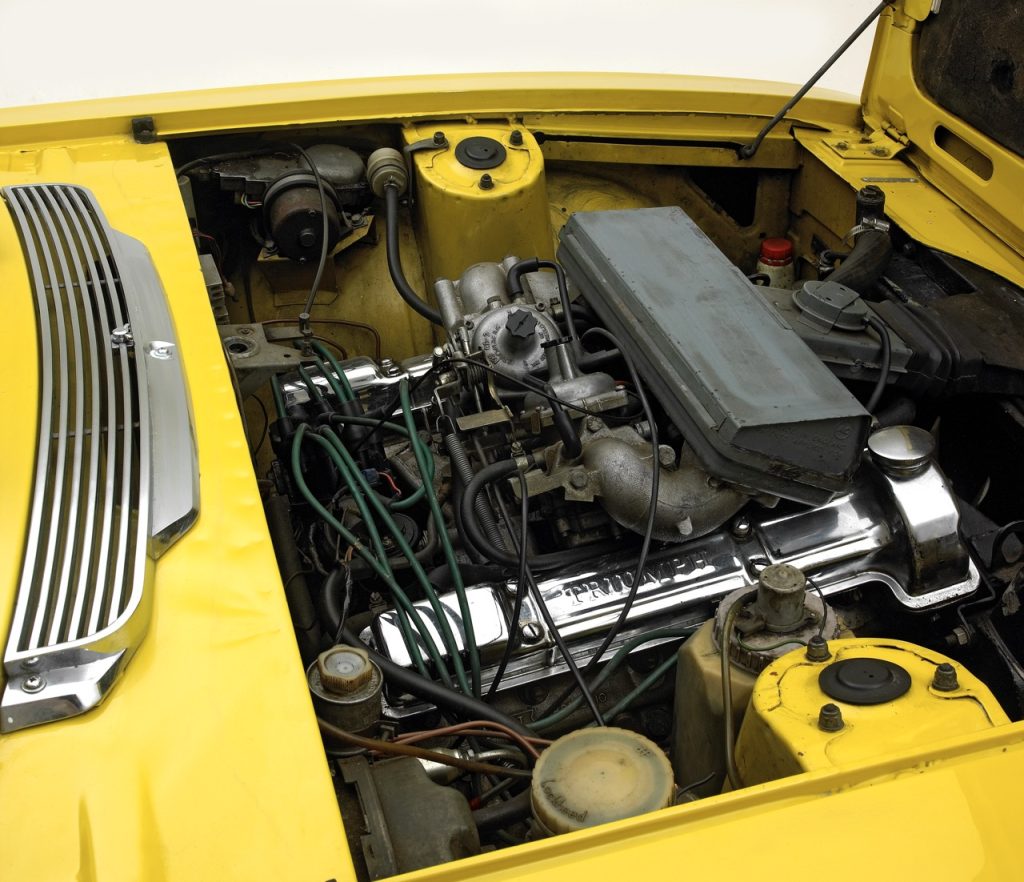 The unfairly maligned overhead-valve V8 engine, for example, was going to be a family of four-cylinder, six-cylinder, and V8 units around common block and crank dimensions. And before Rover was shoehorned into the British Leyland organisation with its aluminium Buick V8, Triumph was doing it, too. The Stag's V8, for example, is very closely related to the PE104S slant-four, two-litre unit used in the TR7, the Dolomite, and – in modified form – the Saab 99. At the behest of Webster's successor, Spen King, the engine was enlarged from 2.5 litres to 3 litres, as he didn't feel the 1.3-tonne drophead had enough go initially. Early development with mechanical fuel injection proved troublesome, and the twin Zenith 175 CDSE carburettors were used instead.
Cut to the here and now, and you might have noticed a number of these uninhibited 1970s convertibles out on the road. Anything from £17,000 to £27,000 buys you a four-seat burbling V8 convertible with Italian boulevardier looks and reasonable road holding and ride quality. It has to be admitted, they do look rather splendid out there, not quite the poor man's Mercedes-Benz SL, which apparently was in the cross hairs of Triumph's marketing effort, but different, handsome, and sharp despite that T-bar bracing across the roof line, which removes at least some of the scuttle shake.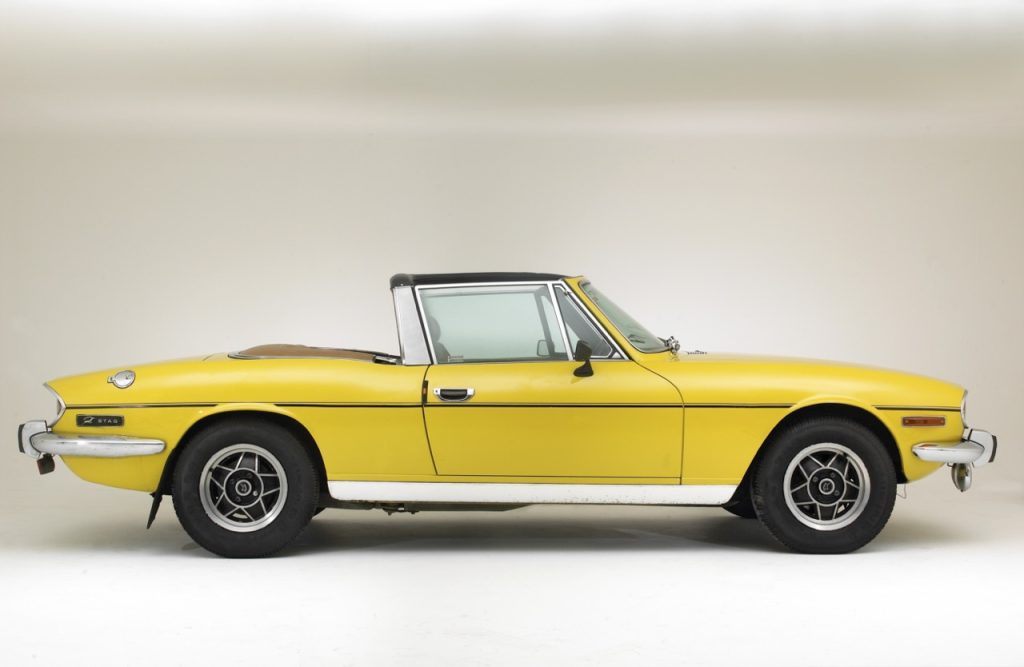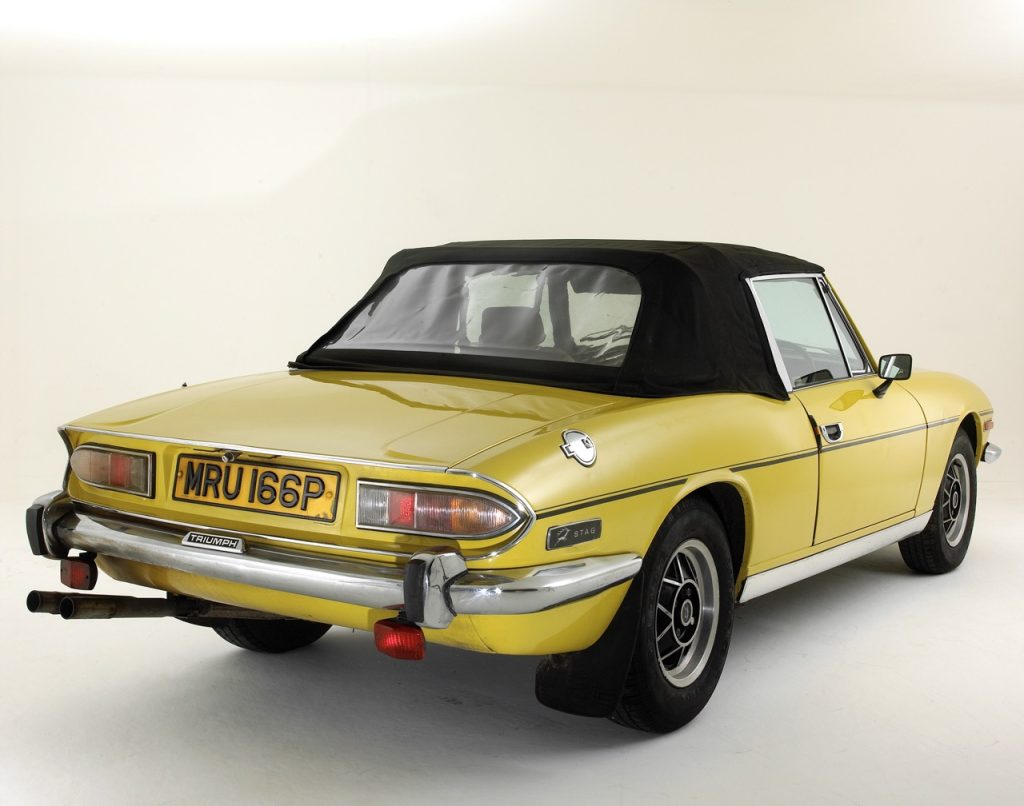 "It's not a poor man's Merc," says Peter Robinson, long-time Stag owner and registrar and membership secretary of the Triumph Stag owners' club. "But you can see what people mean when they say that."
In fact, Robinson's wife has owned a Stag for one year longer than he has, although the couple now own 11 Stags, including Webster's original model. The former Austin Rover boss purchased the car second-hand in 1984 and sold it in 1994, although the deal was curious to say the least.
"When he sold it, it went to a restaurateur's son," says Robinson. "No money changed hands, but the agreement was he'd never have to pay for a meal again."
Robinson explains that the Stag first came about when Webster indulged a request from Giovanni Michelotti, the talented Italian designer who under Webster's patronage had left Vignale and had virtually assumed the role of Triumph's Italian stylist. Michelotti wanted a basis for a styling experiment for the 1966 Geneva motor show, and Webster donated a former engineering department Triumph 2000, which had been used as a support barge for the 1965 Le Mans Spitfire team. The agreement included a clause that if Webster liked the result, he could have it and it wouldn't go to Geneva.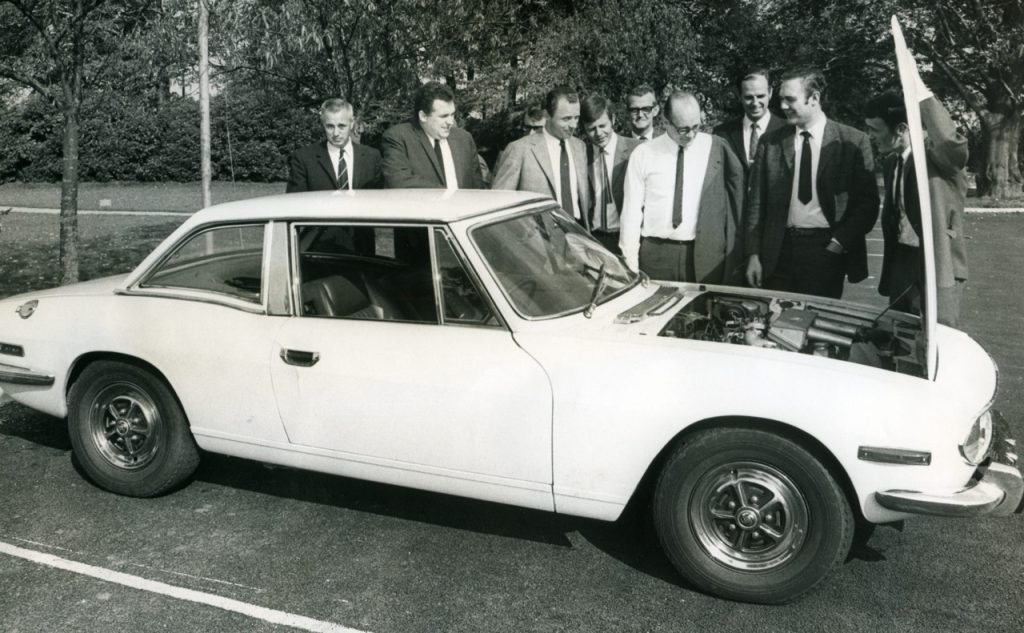 Webster didn't just like it, he loved it.
"I've seen the minutes from the board meeting when he presented the car," says Robinson, "and they loved it as much as he did, and gave him permission to go down and claim that car."
Stag was the code name. For Triumph's first gran turismo since the demise of the Roadster in 1949, and in the absence of a better name, Stag stuck. And it does rather cast its spell, the Stag, like its mythical qualities of stamina, virility, grace and maturity – and of course its role as James Potter's Animagus in Harry Potter.
Film and TV roles for this Michelotti masterpiece start, of course, with Roger Moore in Diamonds Are Forever, but also include A Very English Scandal, My Beautiful Laundrette, and Straw Dogs. Then there is a slew of bit parts in UK detective series: Inspector Morse; Endeavour; The Professionals; New Tricks; Midsomer Murders; Bergerac; The Sweeney; and Softly Softly.
My personal favourite is the short-lived series Hazell starring Nicholas Ball and based on a series of wildly underrated London-noir books written by football manager Terry Venables and Gordon Williams, who also wrote Trencher's Farm, which was the novel upon which Straw Dogs was based. Venables, I think, would have been the source of such dry observations as: "It was raining knives and forks" and "it had all the glamour of a honeymoon in a gravel pit…"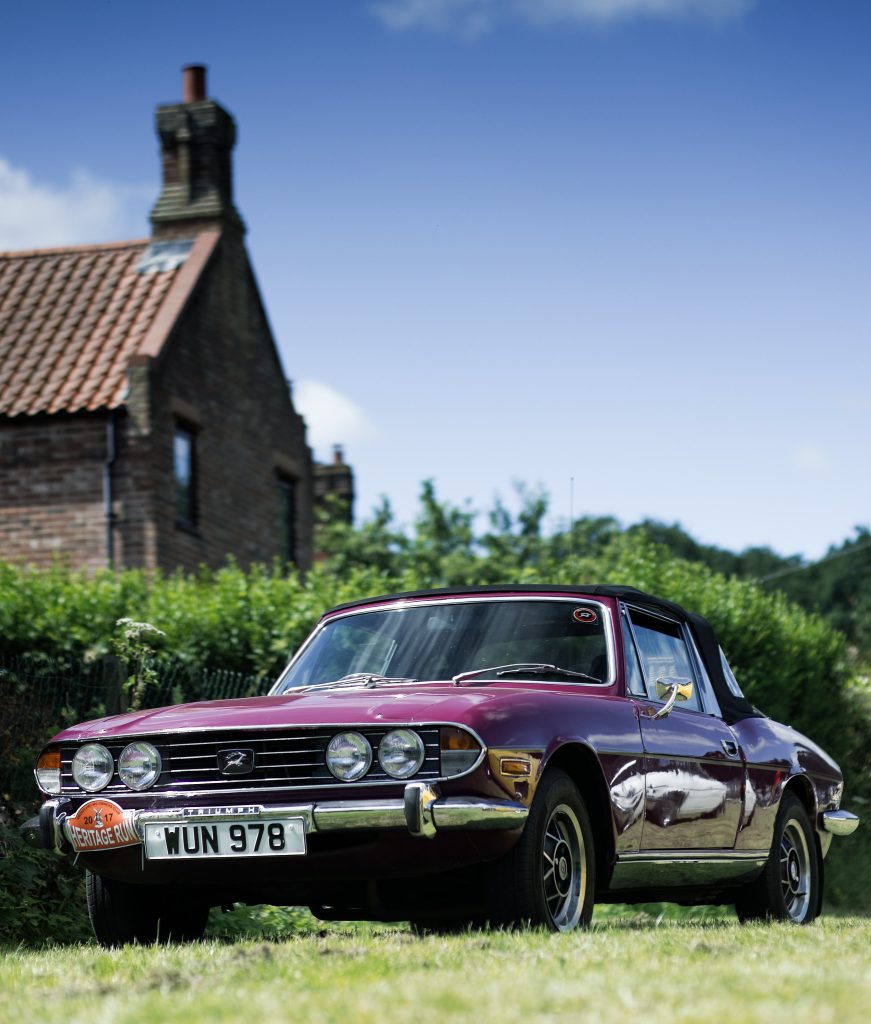 Anyway, back to the Stag.
"I fell in love with it when I was 8 years old," says two times Stag owner Richard Dean. "It was the star car in television detective series Hazell and my dad owned one. He was a cab driver and I used to go to work with him sitting in the luggage space alongside the driver – this was the Seventies!
"We were up West [London's West End] and he stopped outside a showroom, and in the front window was a Stag. He parked the cab and we went it to see it and I sat in it. I can vividly remember the smell of the leather, the electric window switches, the grandness of it all."
Dean's father purchased a secondhand example and the die was cast, with Richard buying one when he was serving with the British Army of the Rhine in Germany. "I bought it and took it out to Germany," he recalls. "I put about 25,000 miles on it there and back and it never missed a beat, never overheated, nothing. I was sad to see it go."
So, when he came into a bequest in 2013, the hunt was on and eventually he came across a decent example, which he's spent a bit of money on in the meantime.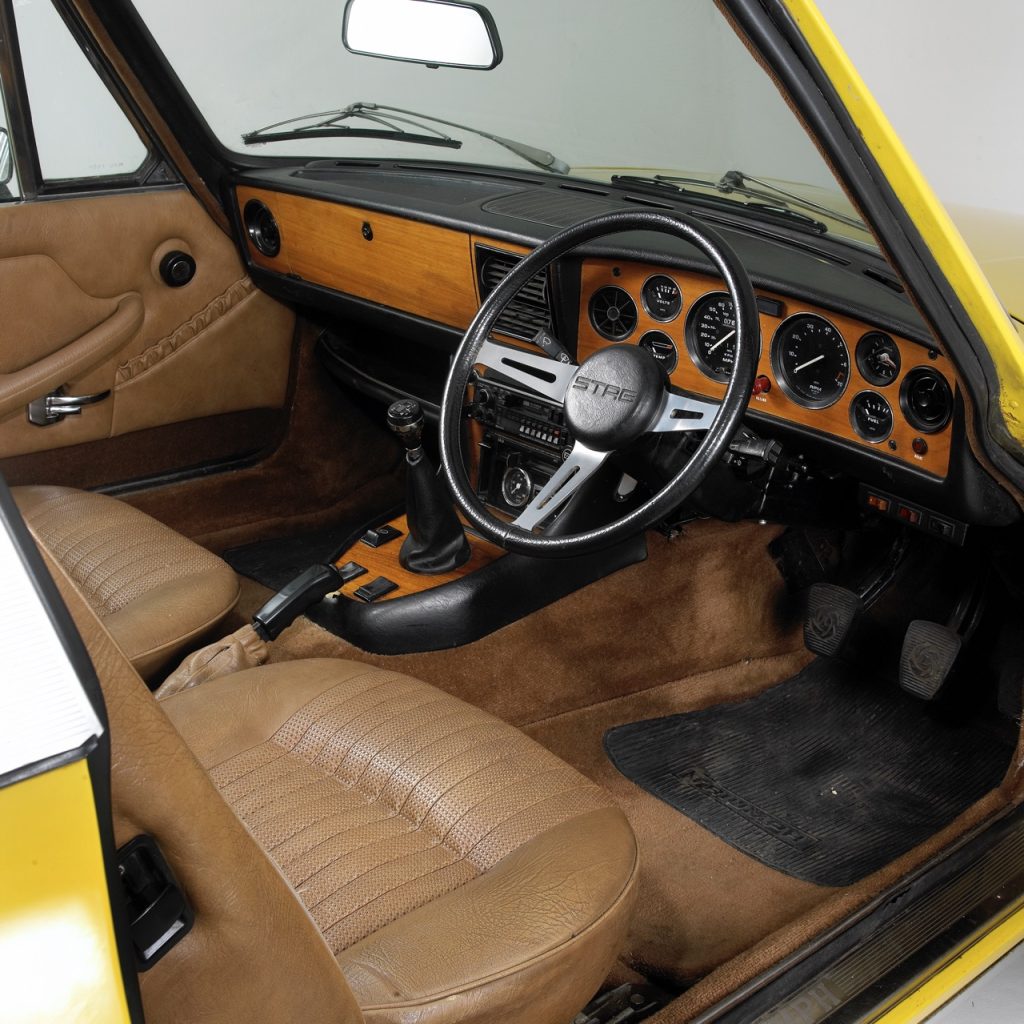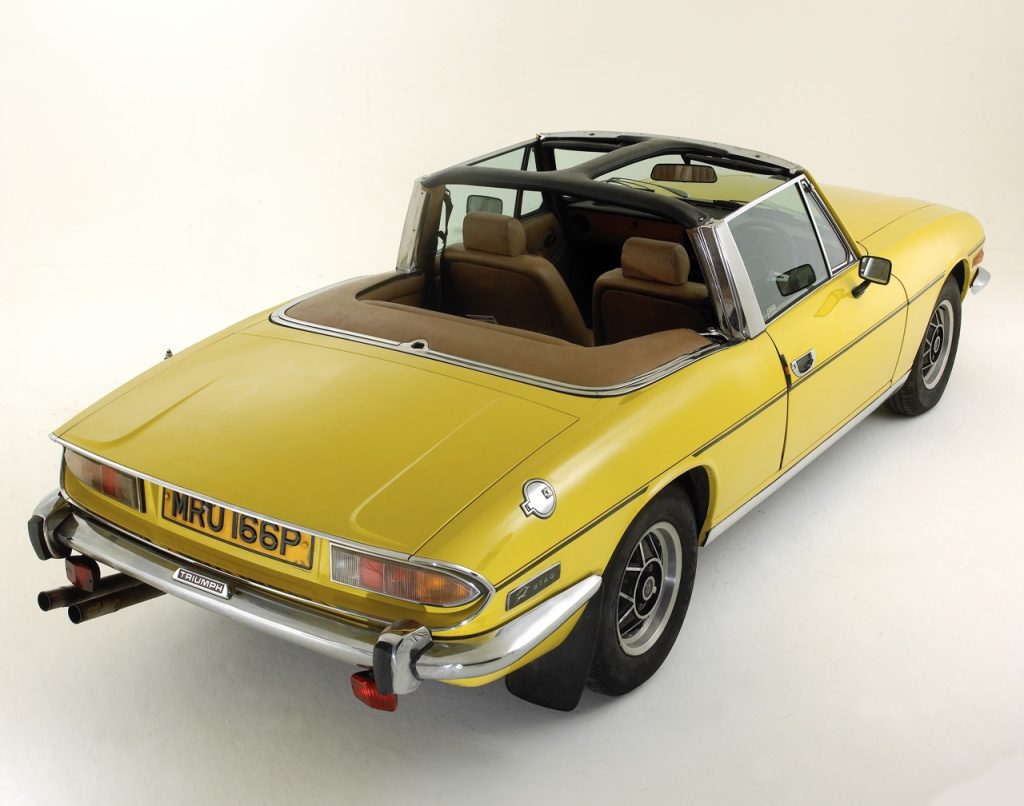 "I had the engine rebuilt, not because it was overheating, but it was getting a bit rattly," he says. "I still love them; the sound, the road presence with that aggressive front, and the performance. And being a two-plus-two, they're practical, too. I feel like a million dollars when I drive it."
Motor magazine tested the Stag in 1971. "Al fresco in style," was the headline, with the test continuing in similar vein echoing Robinson's observations. "Under the new code of permissiveness, Triumph allow themselves to issue a discreet warning to Mercedes-Benz and Alfa Romeo in their Stag advertisements."
Did the car live up to the ad men's dreams? This was an early manual car with a Laycock de Normanville overdrive (a £65 optional extra) and a 3-litre iron-block, aluminium-head V8 producing 145bhp and 170lb ft. Around Millbrook's banked track, Motor's brave testers wrung 116.5mph, with a fastest 0–60mph of 9.7sec and fuel consumption that varied between 20.9mpg overall and 25.5mpg touring.
And in the main they loved it, for its all-independent suspension comfort (and the plush front seats), and they even squeezed three children across the tiny rear bench, which would elicit phone calls to the NSPCC these days. They liked the appointment, the performance ("excellent"), the style. They didn't like the wind noise, the noisy engine (which some might regard as a bonus these days) and its lack of absolute refinement. The lack of feedback from the rack-and-pinion steering system also attracted comment.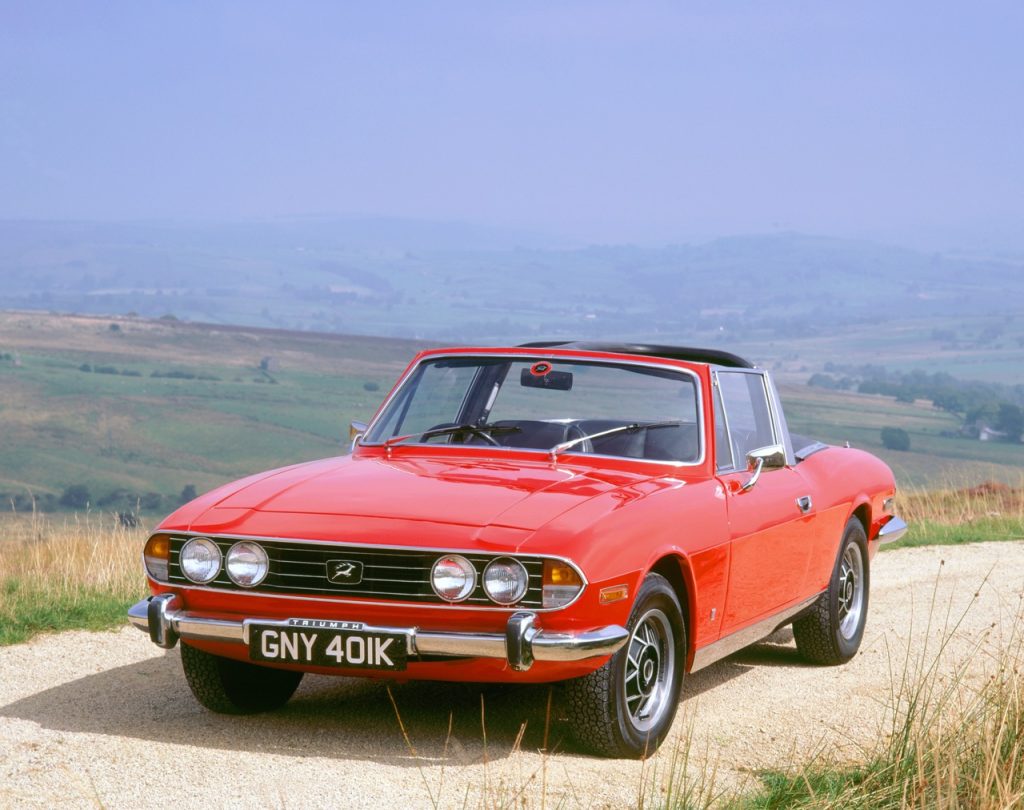 Compared against the £2,708 Jaguar E-Type 2+2, the £2,476 Lotus Elan +2S, the £1,513 Ford Capri three litre, the £2,158 Reliant GTE, the £2,431 Alfa Romeo 1750 GTV, and the £2,152 Gilbern Invader, the £2,061 Stag did well, even though it was seen as more of cruiser than an out-and-out sports car.
Triumph advertising went into further paroxysms: "a new kind of Triumph" and "Alfa and Merc look out! Triumph leap in with the Stag," ran the copy. But these cars weren't that well built, warranty claims amassed, and the press started calling it the Triumph 'snag'. That V8 engine might have been better than history records, but proper inhibitor protection, expert servicing, and titivation weren't really adhered to by all the contemporary mechanics.
"That 'bad-engine' reputation really is a load of old cobblers," says Robinson, and to be fair, the timing-chain issues, cylinder-head corrosion and water-pump failures didn't affect sales that much, although the dramatic price rises did and BL struggled to sell the last cars off the line.
But at the time, Rover's Buick V8 would have just fitted under the bonnet, and because it was so ubiquitous, it would have been a cheaper alternative. Many Stags have been converted to the Rover/Buick V8, but they fetch less money these days. And to be fair, the standard engine, if serviced properly and regularly, is a fine mill.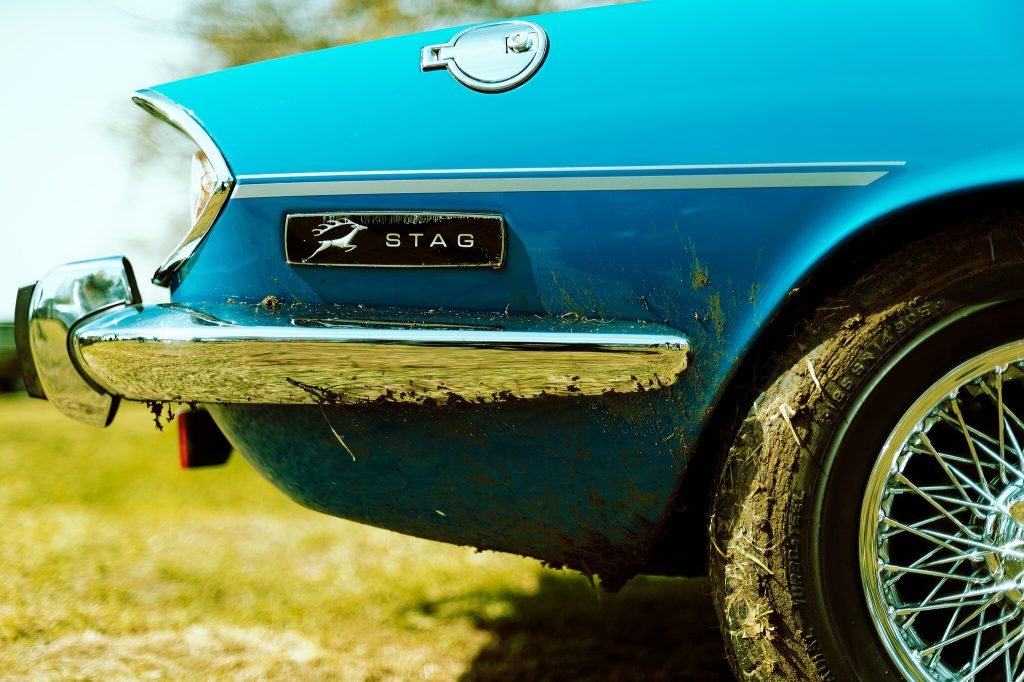 Should British Leyland have allowed two separate V8s to be developed under its watch? It's questionable, but supply was strictly limited in the BL organisation and the decision to allow both to proceed was typical of the mend-and-make-do nature of the company at the time.
Between 1970 and 1977, when production ceased, just under 26,000 Triumph Stags were built. It was sold in America, but withdrawn early as emissions and safety legislation threatened its existence, and Triumph struggled to maintain its sales and service network.
Today, Robinson says it's a tribute to Giovanni Michelotti's design that almost 50 percent survive in one form or other, which is the sort of survival rate that Porsche and Volvo can claim.
"Keeping up with the Triumph Stag is no problem. If you've got the money," ran a 1970s advertisement copy line."
Were they being ironic?
Certainly, I've never seen one on the road without the owner wearing a smile, and as we know, two-plus-two cabriolets of whatever age are rare and much-prized vehicles. So we should celebrate the short-lived and controversial Stag – not for what it could have been, but for what it is: infinitely better than a honeymoon in a gravel pit…