There aren't many hobbies that readily lend themselves to the term 'community' when it comes to describing them. Other than at local level, there's no real golf, fishing or hockey 'community'. Classic cars are different though.
On the one hand, ownership of an historic vehicle is a very personal thing. There's a relationship between the car and the owner, one that usually requires a major investment of time, effort and money in maintaining or restoring it. There are those wonderful road trips, often with nobody else in the car, that bring smiles of joy to the driver.
How much is your car to insure? Find out in four easy steps.
Get a quote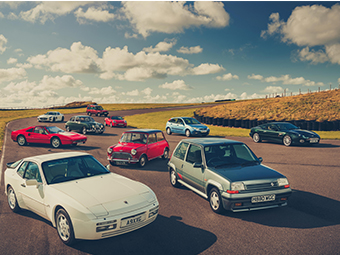 But then there are the shows, the online groups and the clubs. There are the chance meetings in car parks, where someone remarks on your classic and you find you have a shared passion. There are the times when you just can't make a certain part fit and you reach out to the forum, only to be overwhelmed by support from across the globe. In this way, the classic car and bike community is just that: a network or likeminded people. For some people, this can be their major source of social interaction.
When Hagerty looks at the statistics of the people who enjoy our content and buy our policies, we're aware that men aged 45 and above account for a large percentage. Some are of advancing years. These are just the sort of people who we're now told could be most susceptible to the coronavirus Covid-19.
Much will be written about the economic impact of coronavirus, and Hagerty are not unaware of the struggles many classic vehicle businesses will have to survive. But we also know that the community nature of our hobby could be a massive strength in helping people to get over this difficult period. We'll do our bit, as it were – we're all still manning the phones from our homes and we're planning to increase the amount of content we're publishing online and on social media – but we're also encouraging everyone to pick up the phone, drop an email or message friends they know in the car world. We'll be doing the same.
Now that we're in lockdown for the foreseeable future, it's helping us to reassess what's really important, too. Like many people, I will be continuing to spend the odd evening trying to complete my present classic project so that I have something smart to take to the roads when the all's clear is given. But most of the time, I'll be concentrating on keeping in touch with, supporting, and sometimes seeking the support of my friends, family and colleagues. I wish you all the very best of luck, safety and good health in the months to come.