First it was your car that could be gone in sixty seconds – now it's car parts that are attracting the attention of criminals, with demand for hard-to-locate spare parts fuelling car crime, say police.
Shortages owing to the 2020 COVID-19 pandemic – when many factories in the supply chain shut down – has led to a spate of thefts where vehicles are stolen and stripped in a matter of in hours, their body shells left for scrap.  Even before the lockdown, thieves were brazen enough to pull parts off cars sat on driveways, or parked in shopping centres, with items like airbags and catalytic convertors stolen according to peaks and troughs in value.
How much is your car to insure? Find out in four easy steps.
Get a quote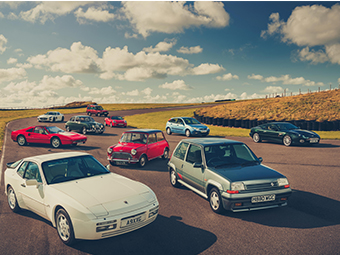 So called 'chop shops' are nothing new – the opening scenes of HB Halicki's Gone In 60 Seconds provided a guidebook for how to steal a car to order back in 1974 – but in the UK, they're growing in number, police in Essex and the West Midlands having recently shut down two such well-organised and sophisticated operations.
Parts supply still hasn't returned to pre-pandemic levels, and this has fed a growing trend. Superintendent Jim Munro, West Midlands Police, said: "What we've seen over the pandemic is there are some issues around parts supply coming into the motor industry and delays with builds. There is a desire for certain vehicle parts and this is fuelling the theft of motor vehicle crimes."
These problems were predicted in 2020 and have so far not been resolved, with thefts rising from pre-pandemic levels by 12 per cent in Surrey and as much as 28 per cent in London, according to the PA news agency. 2019 wasn't exactly uncharted territory for these thieves, however; revellers attending 2019's Creamfields in Cheshire had their cars stripped for parts in the fields outside the showground.
Former Met Police Stolen Car Squad Head of Technology and Crime Prevention in the Met, Dr Ken German, a past president of the International Association of Auto Theft Investigators, said that historical scarcity of certain parts had driven classic car theft in previous years – but that was down to key spares not being remanufactured, rather than supply chain interruptions. A high-profile case in 2017 saw Mini specialist, Chris Handford, steal parts from his customers' cars, before going on the run. Dr German also added that there was an eager black market willing to pay large sums of money for desirable parts.
"Classic cars have been found stripped the same way although not necessarily for the value in the item, but for its rarity. An increase in fraudulent activity here has also been noted by insurance companies," explained German. "Thieves arrested for these crimes have intimated they are stealing because the risk of getting caught was small when compared with other crimes they were involved in. They mention valuable parts are mostly unidentifiable anyway and scavenging was easy money. If they got caught it was no big deal. Because of this, the willing dealers also accept more readily these valuable stolen car parts and feel safe selling on the internet or through established contacts, many of whom travel weekly from bases in Europe to collect, exchange or deliver stolen items."
Read more
Thieves use tech to track and steal classic cars
Catalytic converter theft surge continues
A few things to know before stealing my Porsche 914