Drivers in the 1980s and 1990s used to fear returning to their cars to find a smashed window and their car stereo gone. Today though, thieves are targeting a different technology: catalytic converters.
Earlier this year we covered the escalation in catalytic converter thefts globally, but figures from the RAC and insurer Ageas indicate there has been a domestic surge too. The crime now accounts for three-in-ten theft claims from private vehicles, compared to a fifth before the pandemic.
How much is your car to insure? Find out in four easy steps.
Get a quote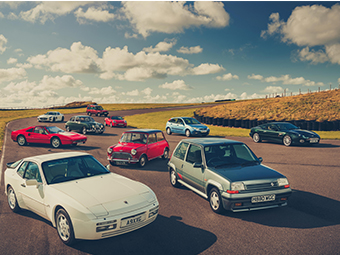 The thefts have risen in parallel with an increase in value of some of the metals present in catalytic converters, such as platinum, rhodium and palladium. The price of rhodium in particular has risen more than 200 per cent since March of last year.
Catalytic converters are an emissions control device forming part of the exhaust system. Within the unit is a ceramic honeycomb brick covered in various precious metals, the reaction of which with exhaust gases removes some of the harmful pollutants that would otherwise be emitted. Ironically, one of the byproducts of "cats" is the greenhouse gas carbon dioxide, part of the oxidation of harmful carbon monoxide and unburned hydrocarbons.
The devices were made mandatory in the United States as early as 1975, spurred on by terrible smog events in cities like Los Angeles. They were made mandatory on new cars sold in the UK in 1992 and many vehicles have run them since the 1980s, meaning most of what we'd consider "modern classics" are now potential targets.
Unfortunately, these self contained units can be fairly easily recycled for the valuable metals contained within – and their position under the car also makes them vulnerable. The first most drivers will be aware that something is amiss is the noise when starting their car, while the cost of replacement can be significant – not just for the expensive cat itself, but other damaged sections of the exhaust, since thieves will typically just hack through the pipe either side. In lower-value cars, the repair cost can be enough to write off a vehicle.
The research shows that most thefts occur while cars are parked at home, but there have even been instances where the car is targeted in supermarket car parks. The RAC suggests parking in well-lit and CCTV-covered areas, or close to a wall if you can, since it helps limit access under the car.
Police forces around the country are clamping down on both catalytic converter and metal theft – a rural task force has begun this week in North Yorkshire for example, involving stop checks of vehicles carrying scrap metal – but as with many crimes the reality is that prevention is the best cure.
Some companies offer products to protect the unit, effectively acting as a barrier and deterrent, which may be worth considering if your modern classic (or indeed a modern daily driver) is parked in a vulnerable place.
Read more
Catalytic converter theft becoming a global crimewave
Thieves use tech to track and steal classic cars
Fraud warning for car and motorcycle enthusiasts