To thieves, your car's catalytic converter is just as tempting as leaving a wallet overflowing with cash on the top of the dashboard or a jewellery box on a parcel shelf – and easier to steal without being noticed. That's why criminals are increasingly turning to cars as a way to make easy money.
Last year, The Times used a freedom of information Request to reveal the scale of the crimewave. Incidents had soared sixfold in a year, prompting demands for a crackdown on rogue scrap dealers. Between January and November, Police logged 14,690 incidents across Britain this year, a rise from 2,484 a year earlier and 985 the year before. In some areas, notably Avon and Somerset and South Yorkshire, the problem had grown more than tenfold London recorded 9,576 thefts last year, the highest number in the country and six times the total a year earlier.
How much is your car to insure? Find out in four easy steps.
Get a quote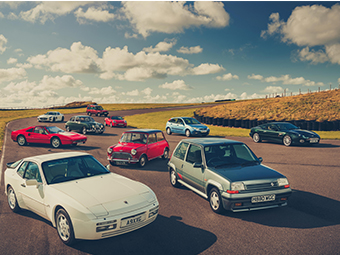 The devices can be cut from the underside of a car within 60 seconds, and thieves are conveniently out of view as they raid vehicles. One UK insurance company reported it had received more than 400 claims in a single month, last year.
Britain isn't alone in suffering this spate of thefts. In America last week, the Los Angeles County Sheriff's Department arrested 19 people and recovered a staggering £540,000 worth of catalytic converters. Several days later, San Bernardino police arrested three more suspects, after they were pulled over for jumping a red light which led police to additional stolen converters worth £72,000.
Another suspect who fled a police traffic stop led San Bernardino officers to the discovery of 150 stolen catalytic converters, believed to be part of a "large-scale catalytic theft ring." In addition to the catalytic converters, police found tools used for cutting metal and more than £130,000 in cash. The vehicle had also been stolen.
In Los Angeles County alone, police say reports of catalytic converter thefts rose fourfold in 2020 compared with the previous year.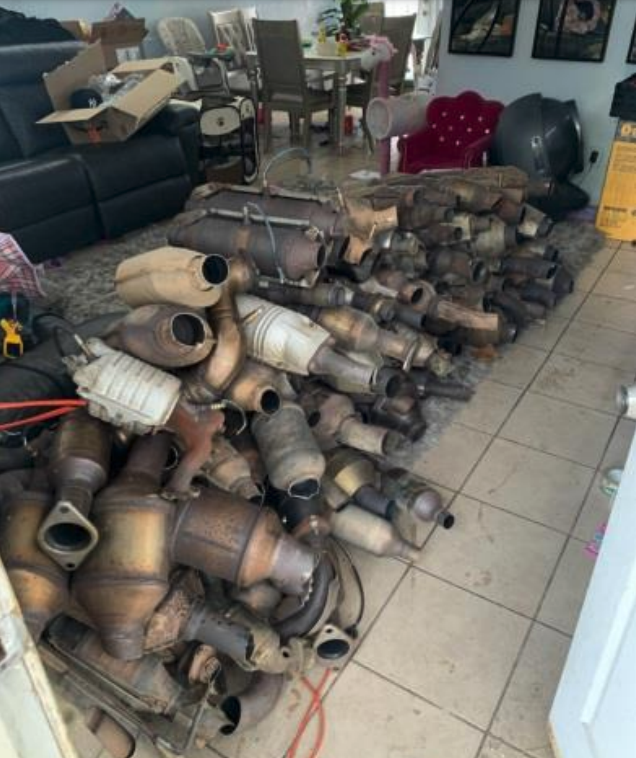 Catalytic converters are part of the exhaust system and are designed to reduce toxic emissions from engines. They are made up of precious metals which work as catalysts to aid the chemical breakdown of nitrogen oxide (NO2). However, with values of rhodium and palladium recently eclipsing that of gold, converter thefts are spiking, making this a global crimewave.
Catalytic converters had to be fitted to new cars sold from 1992, so while thieves are reportedly targeting many modern hybrid-powered vehicles, any post-1992 petrol model is vulnerable to attack. West Yorkshire Police say the attraction to hybrid cars is due to the fact the engine isn't alway running, which delays the effects of corrosion on the precious metals, making them more valuable on the illegal market.
West Yorkshire Police suggest drivers whose home has a driveway consider using a Secured by Design approved driveway alarm and sensor. It's also important that check your car alarm's tilt sensor is not deactivated. And if you have a garage, park there rather than on the driveway.
Some car makers, including Toyota, have introduced aftermarket devices that lock in around the converter to make it more difficult to remove. Its Catloc has over 45 bespoke fitments, so the device should fit quite a few models in the range. The Catloc costs between £200 and £250 (depending on model), which includes fitting by a Toyota retailer. The bill for a replacement catalytic converter could be anywhere from £1000 to £3000, depending on whether thieves have damaged the exhaust fittings.
The Scrap Metal Dealer Act 2013 was supposed to make it harder for thieves to sell stolen components, by requiring dealers to be licensed and preventing them paying cash for scrap.
Mark Silvester, a West Midlands Police crime prevention manager, told Autocar that legislated checks on scrap dealers should be carried out: "Converter theft is a hard nut to crack, but tougher enforcement of scrap dealers is a good place to start. We've got clean air zones and our fair share of hybrids and as a result we've seen a rise in converter thefts.
"Many of these stolen converters surface on internet sales sites, so we've launched pop-up advertisements warning people about rogue parts when they're browsing. We've also identified and raided over 100 chop shops where stolen cars are broken for parts."