Bubble car fans rejoice! The Messerschmitt three-wheeler has returned with an electric motor to replace its smoky two-stroke.
The quirky German firm first announced plans to revive the famous Kabinroller for its 50th anniversary in 2014 and fitted it with a 125cc four-stroke scooter powertrain offering 7.3 horsepower for a 75mph top speed. Like its forebear the KR-200, the KR-202 microcar is a convertible and seats two brave occupants in tandem style behind a tiny windscreen.
How much is your car to insure? Find out in four easy steps.
Get a quote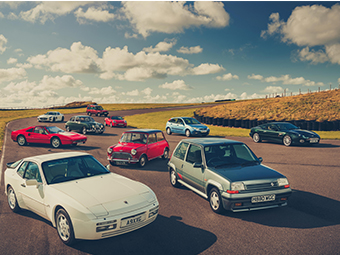 More future proof is the E-KR5000 with its pure electric power. A 5kW (6.7bhp) motor drives the single rear wheel, providing a 56mph top speed, and a range of around 50 miles on a charge. Adding electrons for a full battery takes 4–6 hours and regenerative braking can also accumulate a bit of juice.
Both versions are built in Spain on a chassis of steel and aluminium honeycomb with fibreglass bodywork, which is almost unchanged from the original. The suspension has advanced somewhat with four-way adjustable springs and dampers, and (thankfully) hydraulic disc brakes are fitted on all three wheels. The lighting system is also quite an upgrade, with LEDs instead of the dim candle-like units that came in the 1960s.
Messerschmitt describes the yoke-like steering wheel as "F1 style," but we'd humbly suggest that its cars had such a design of steering wheel long before a Formula One car did, and it can be removed to make getting in and out a little easier. The tandem seats are trimmed in vinyl, and both actually have seatbelts. The E-KR5000 comes with a Perspex windshield and removable canopy, while luxuries such as a heater and USB socket can also be optioned. More adventurous owners can upgrade to a bigger battery to extend the range to around 100 miles.
The petrol-powered KR-202 starts at €10,950 (around £9500), while prices for the electric E-KR5000 begin at €12,950 (£11,200). Less money than a new electric car then, but you're getting rather less car – the closest parallel is actually something like Renault's Twizy, which begins at £11,995.
Via Hagerty US
Also read
A flight of tiny Messerschmitt microcars could be yours
Micro scooter company's modern-day Isetta gets ready to roll
Review: The Ami city car is Citroën's welcome return to stranger things