There's a good chance you've covered more miles on foot than three cars currently selling at auction have moved altogether in their collective 96 years on the road – or rather, in the garage.
The three include a 1976 Lancia Gamma Berlina that's said to have recorded 79 miles, a 1996 Mercedes-Benz SL500 that's clocked up 89 miles, and a 1995 McLaren F1 with 390 kilometres, or around 242 miles, showing on its odometer. And with values ranging from less than £5000 to more than £15 million, there is something for almost every budget. Sort of.
How much is your car to insure? Find out in four easy steps.
Get a quote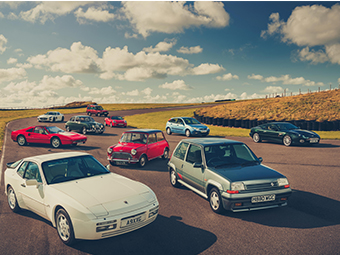 At the affordable end of the market, the Gamma is being offered by Classic Car Auctions at the upcoming London Classic Car Show Sale. CCA's description that the car is "virtually as new" is no exaggeration, with the kind of mileage you'd expect to see on a car in a museum – if any museum was inclined to put a Gamma Berlina on display.
According to the vehicle description, the seller purchased the Lancia in 2014, with only 16 miles on the clock, at which point it required recommissioning. The work is corroborated with a hardback book offered with the car, covering the 600-plus hours of work. If you're wondering where the additional mileage came from, the majority was apparently added by Auto Italia magazine in a recent feature.
The 1996 Mercedes SL500 is also described as "as new and unmarked", currently for sale through Well Bought Well Sold, an online auction platform. Sold in Mayfair in 1996, the car was a birthday gift to the original owner from her husband, and the incredibly low mileage can be explained through unusual circumstances: The lady owner managed to lose her keys, and rather than getting another set, reportedly left the car to sit in an underground garage in Knightsbridge for the next two decades. We've all been there, right?
And the McLaren F1, being sold by Gooding & Co? Chassis 029 lived most of its life out of the public eye in a Japanese collection. More recently its US-based owner has maintained it in this original and barely-used condition, but at least some of its appeal comes from the unusual specification.
That shade you're looking at is called Creighton Brown – a name chosen to honour the man who helped Ron Dennis establish McLaren International and oversaw the commercial side of the McLaren road car business – and the interior is a mix of light tan and dark brown. If you've ever wanted to see what a one of the world's greatest ever supercars looks like in the colour palette taken from British Leyland's 1970s output, this is probably the F1 for you. And no, that's not a veiled insult – it actually looks great.
In terms of values, the low-miles McLaren could well be on for a new record, perhaps eclipsing the £15,480,000 value Hagerty currently puts on a concours, Condition 1 vehicle. 1995 SLs aren't yet included in the Hagerty Price Guide but a 1993 model is good for £24,700 in concours condition, while the Gamma Berlina may just have the appeal to beat our current Condition 1 value of a modest £4900, thanks to its low mileage.
We just hope that the new owners are tempted enough to not only buy the respective cars but also enjoy driving them.
Also read
Solihull to Miami via Munich: Custom Land Rover is ready for the beach
Can't wait for a Ferrari SUV? You can buy this "Jerrari" right now
Buying Guide: Porsche 911 996 (1997 to 2004)