The UK government says motorists must ditch any GB sticker on their car and replace it with a UK sticker, when driving abroad. The rules changed on 28 September, 2021. Here's what you need to know.
Why is the GB sticker being changed to a UK version?
The government says that the change to a UK emblem is to include motorists from Northern Ireland.
Great Britain – GB – includes England, Scotland and Wales, but does not include Northern Ireland. The full name of the country is the United Kingdom of Great Britain and Northern Ireland.
How much is your car to insure? Find out in four easy steps.
Get a quote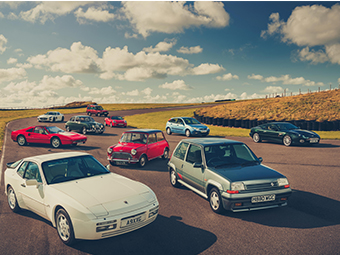 What sticker should I display when driving abroad?
When taking a UK registered car overseas, motorists must display the UK logo on the rear of the vehicle. This can be applied as a sticker or magnetic emblem, or the rear number plate can be updated to include a UK identifier with the Union flag.
Do I have to change my car's GB licence plates?
No, you don't have to change your car's GB licence plates but you will have to ensure that the new UK logo is clearly displayed on the rear of the vehicle, as a separate sticker or magnetic logo. The same applies to any registration plate with an EU flag, or the national flasgs of England, Scotland or Wales.
Are there any exceptions?
When driving in the Republic of Ireland you needn't worry about the rules. But anyone taking their car to Spain, Cyprus or Malta must show a UK sticker, regardless of what is displayed on their vehicle's numberplate.
Will I be fined if I don't have the sticker while overseas?
Drivers could be fined, if stopped by the police. However, the traffic rules vary from country to country, as do accompanying penalties and associated fines.
Change is most likely to impact classic car owners
Edmund King, president of the AA, told The Telegraph that classic cars with period enamel GB signs will now have to display a "tacky" modern sticker alongside, somewhat spoiling the aesthetic. King also complained that the AA was left "in the lurch" with a stock of "50,000 GB stickers" after being advised by the Government that the GB symbol would remain in use post-Brexit.
Is a national flag still permitted on my number plate?
Having a UK logo and Union flag on your vehicle's registration plate would be convenient for travelling overseas, as you would not need to purchase a separate sticker or magnet with the UK logo.
However, should you prefer to display another flag, the Department for Transport permits the following flags with identifying letters on the left-hand side of the number plate, with the flag above the identifier:
Union flag (Union Jack)
Cross of St George
Cross of St Andrew (the Saltire)
Red Dragon of Wales
The letters, or national identifiers, you can have are:
UNITED KINGDOM, United Kingdom or UK
GREAT BRITAIN, Great Britain or GB
CYMRU, Cymru, CYM or Cym
ENGLAND, England, ENG, Eng
SCOTLAND, Scotland, SCO or Sco
WALES or Wales
Read more
Green Card, International Driving Permit and GB sticker: Everything you need to know about driving in France, Spain and the EU from 2021
Confusion over E10 fuel as Government's car compatibility checker misleads drivers
Angle grinders and spray guns at the ready! Richard Hammond's Workshop TV show hits screens on 18 October