The aim of the Hot Wheels Legends Tour is to select a classic, modified or competition car to turn into one of the brand's diecast toys – and if this year's UK finalist wouldn't look good as a Hot Wheels toy, we don't know what would.
A panel of judges including car designer Ian Callum selected a striking Volvo P1800 "gasser" drag racer as the UK's entry, and if you scrunch up your face a bit and sit the right distance away from these photos, it could easily have come from the fevered imaginations of a Hot Wheels designer.
How much is your car to insure? Find out in four easy steps.
Get a quote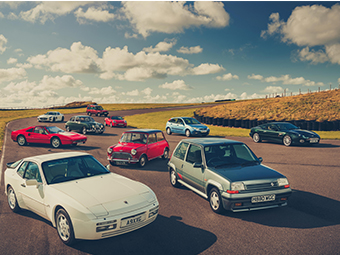 In reality, it's come from the fevered (or maybe inspired) imagination of Somerset-based Lee Johnstone. The supercharged 454 Chevy-powered Volvo is driven down the strip by Johnstone and by his daughters Ellie, Tori and Sarah – and has so far done a best quarter-mile run of 10.01 seconds at 133mph.
Called "It Ain't No Saint", the P1800 is built in what's known as a "gasser" style. Gassers were at their peak between the 1950s and 1970s, and often display an unusual nose-up stance that puts more weight on the driven rear axle for traction off the line. The actual gasser name is more prosaic: it simply marked out the cars as gasoline-fuelled, rather than the nitromethane or methanol powering custom-built drag racers.
Along with the other judges, Callum praised the car's attention to detail, and viewed as an overall package it's easy to imagine It Ain't No Saint as a toy – complete with that unusual stance and a shiny engine poking through the bonnet.
If it's to have a shot though, it'll have to win the upcoming semi-finals on November 4, and then the global final on November 13.
Read more
Hot Wheels meets high fashion: Diecast Gucci Cadillac
Your car could be the next Hot Wheels toy
It's no wind-up: These 1920s clockwork toys could sell for real-car money