The last surviving Formula One race winner from the 1950s, Tony Brooks, died on May 3 at the age of 90.
While Brooks never won a Formula One championship, he was known for winning in his first ever F1 start, at the non-championship 1955 Syracuse Grand Prix – while still studying to become a dentist – and recording the first international win for a British car, a Connaught, since 1924.
How much is your car to insure? Find out in four easy steps.
Get a quote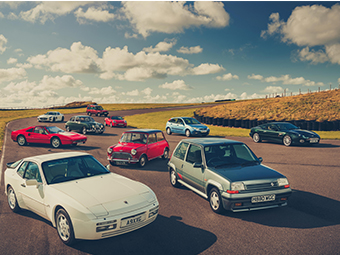 "I was totally absorbed in studying when Connaught called me, and I was still immersed all the way out there," he revealed. "It was probably a blessing, because I didn't have time to think what I was doing, going to what was regarded as the end of the world to drive a car I'd never sat in, on a circuit I'd never seen – a true road circuit! Thankfully I was more worried about my studies."
Brooks started his racing career in 1952 and retired at the end of the 1961 season. While his career was relatively short – albeit ended on his own terms, not a luxury some drivers enjoyed in the period – Brooks made a real impact on the sport, scoring six victories between 1957 and 1959.
Following his 1955 victory in a Connaught, Brooks then moved to the Owen Racing Organisation in 1956 racing a BRM P25. While he scored no points that year, the next two years with Vanwall driving alongside Stirling Moss bore more fruit, with a victory at Aintree in 1957 and three wins, at Spa, the Nurburgring and Monza in 1958.
A spell at Ferrari in 1959 resulted in two more wins, at Reims and Avus, while podiums that year in Monaco and the USA helped Brooks to a second-place finish in the driver's championship behind Jack Brabham.
Subsequent seasons driving Cooper, Vanwall and BRMs would not see a return to the top step of the podium, but Brooks did end his F1 career on a third-place finish at Watkins Glen in 1961.
Having cheated death several times during his career, Brooks left the sport behind to focus on his garage business. "He was part of a special group of drivers who were pioneers and pushed the boundaries at a time of great risk," said F1 chief Stefano Domenicali.
Tony Brooks was a true gentleman racer with genuine speed. During his six seasons in Formula 1 arguably only three were in competitive machinery and he came incredibly close to winning the World Championship. He wisely left the sport at the age of just 29 having seen too many of his fellow drivers killed in action and went on to live a long life. Our thoughts go out to his family.
Read more
DVLA promises to end backlogs by switching to digital
A sixth sense, a shaky hand and finding the sweet spot: Terry Smith reveals the secrets of signwriting
The One That Got Away: John Illsley of Dire Straits and the Aston DB5 bought with his first royalty cheques