For those keeping track – there must be some of you out there – this, the Ferrari SP51, is the latest in a long line of one-off, special projects created for Maranello's most discerning clients.
Part of the aptly-named One-Off series, the SP51 is based around the platform of the 812 GTS – the open-topped variant of the blisteringly brisk 812 Superfast, but features a more flowing design identity more closely aligned with other cars we've seen from Ferrari recently, such as the Roma and Purosangue.
How much is your car to insure? Find out in four easy steps.
Get a quote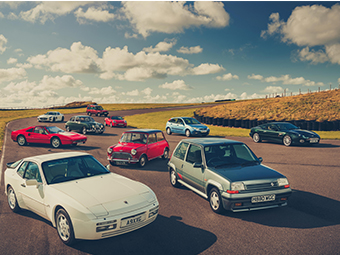 Ferrari doesn't just slap some new panels on a car like someone dressing up an MR2 as a 355 though. Instead, it goes right back to the Ferrari Styling Centre, headed by Flavio Manzoni, and walks the design process through the same aerodynamic simulations, wind-tunnel testing and track-based hoonery (okay, 'dynamic testing') to ensure it's up to the same standards as the production models.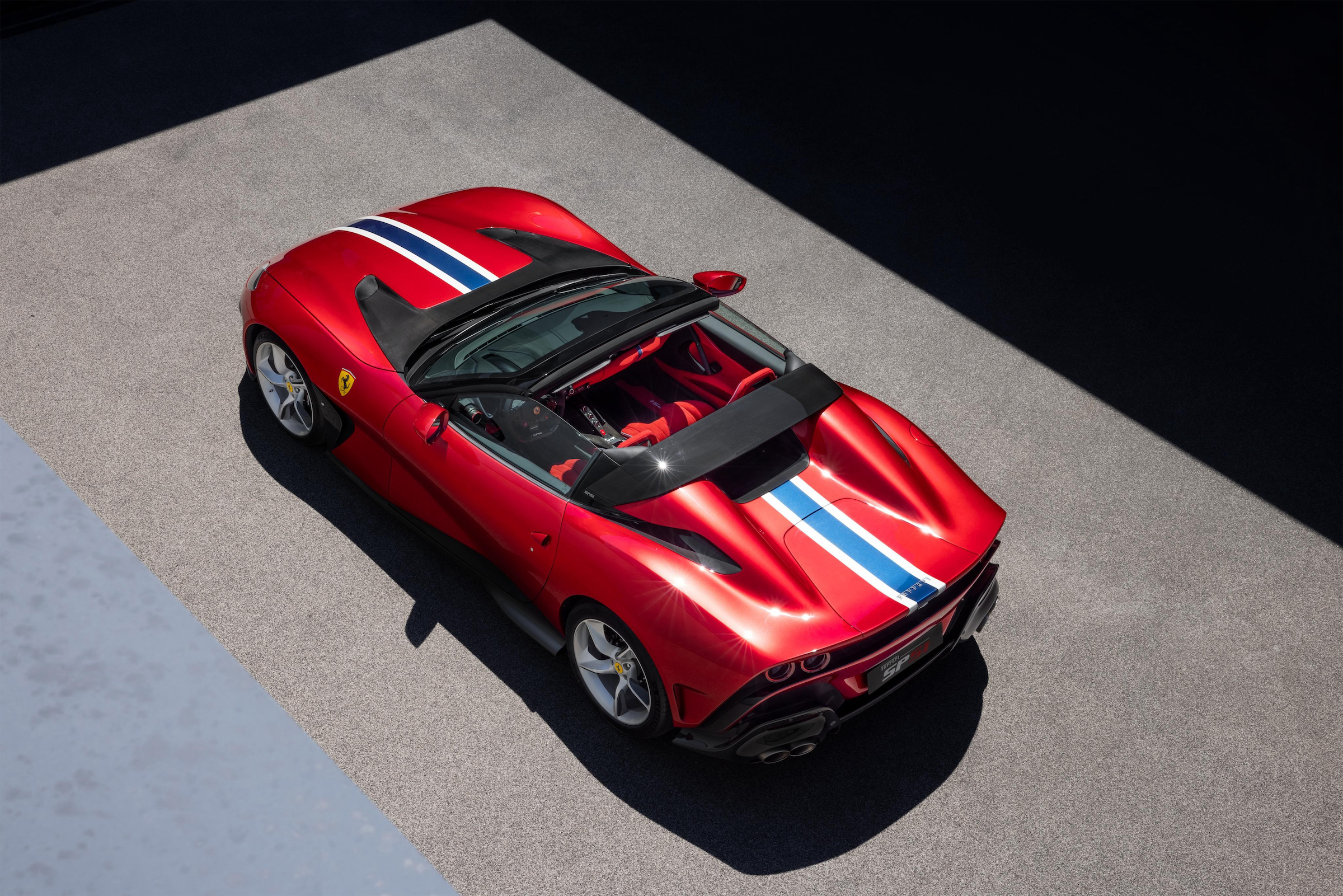 Where the 812 GTS is angular and menacing, the SP51 is smoother, more voluptuous, less manic-looking. There's more exposed carbon fibre, such as the elements at the trailing edge of the bonnet and those along the sills, while the blue and white stripe livery – painted over a coat of three-layer 'Rosso Passionale' – is inspired by the 1955 Ferrari 410S.
Peer inside and you'll note the red theme continues, while the blue and white are used to pick out seams in the seats and on the dashboard – the appearance of which is otherwise similar to that of the 812. Oh, and the stripe itself continues down the bulkhead between the seats.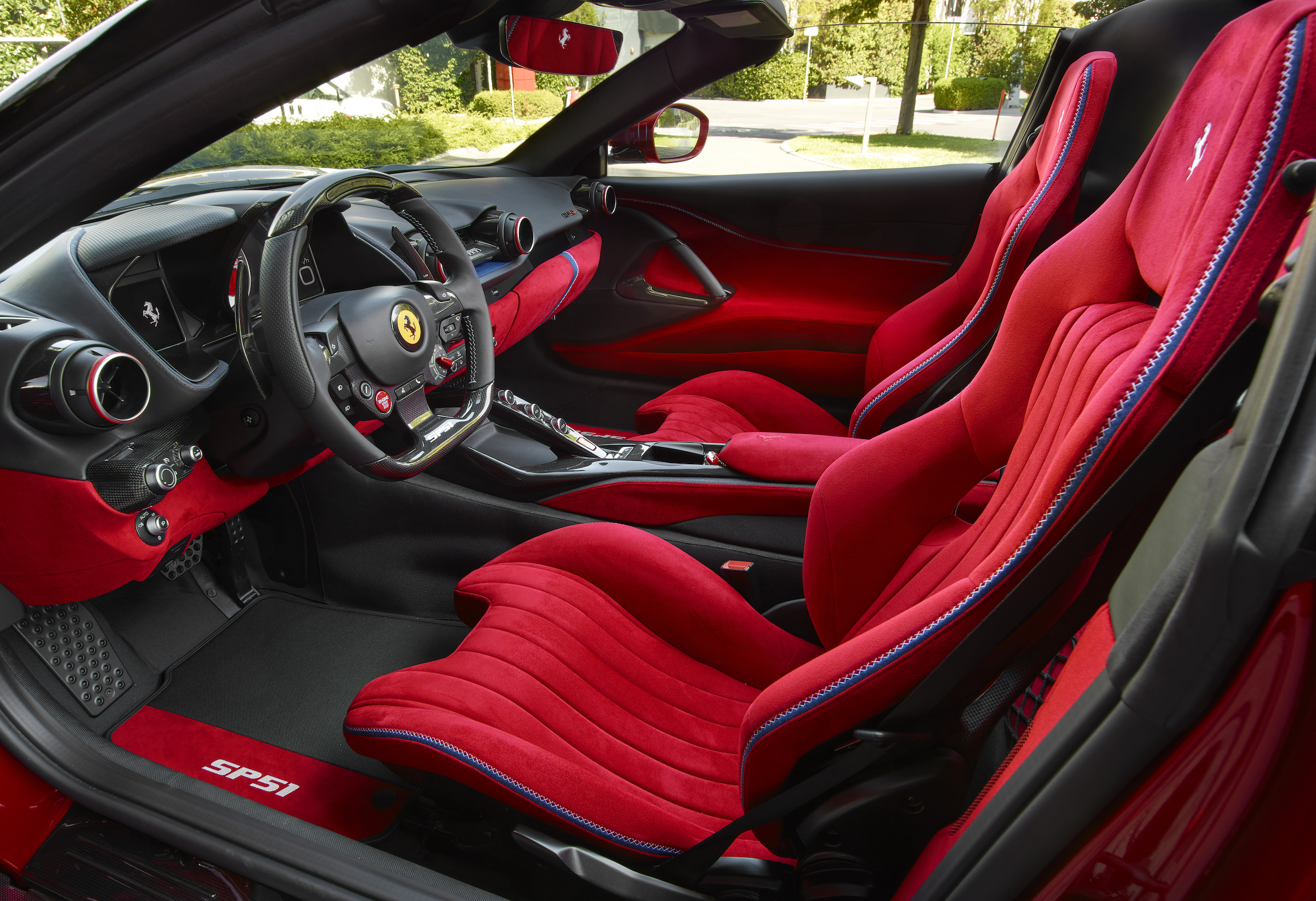 Almost all of it is coated in Alcantara and looks delightfully fuzzy as a result, though you'll find plenty of carbon fibre, as well as a uniquely-textured, lightweight textile by Kvadrat, a name we're hearing increasingly often in automotive interiors.
The powertrain – a 6.5-litre, naturally-aspirated V12 making 789bhp at a howling 8500rpm – has apparently been left well alone, but assuming the GTS's figures have been unaffected by the new bodywork, we can assume a 0-60mph run of under three seconds, and around 211mph flat out.
Ferrari says the car has been built for 'a longstanding Taiwan-based client', and while it naturally doesn't reveal a price, it's fair to assume it's some way north of the roughly £300,000 starting price of a GTS. For Ferrari's One-Off clients, that's just the price of exclusivity.
Read more
Ferrari Daytona SP3 review: Emotional rescue
Ferrari SP48 Unica is the latest one-off from the Prancing Horse
Monterey 2022's highest sale is this £18.7m Ferrari 410