Eric Clapton's obsession with Ferraris is almost as legendary as his music. A self-proclaimed car enthusiast, 'Slowhand' has owned everything from a 612 Scaglietti to a 250 GT Lusso and an Enzo to a 365 GTC. Indeed, he taught himself to drive in the 1969 365 GTC, a car he wrote about in his autobiography.
"I collect Ferraris, an obsession that goes back to my friendship with George [Harrison]. One day in the late sixties he arrived at my house in a dark blue Ferrari 365 GTC. I'd never seen one in the flesh before and my heart melted. At that point, it was like seeing the most beautiful woman on earth, and I decided, there and then, that even though I couldn't drive, I was going to have one too.
How much is your car to insure? Find out in four easy steps.
Get a quote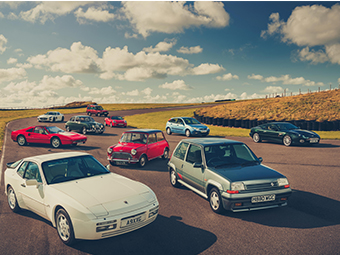 "He gave me the number of the dealers, I called them, and got driven over to the showroom in Egham, where I ordered a new 365 GTC like George's, for the princely sum of four grand. They delivered it to Hurtwood (Clapton's home in Surrey) and asked me if I'd like to test drive it, to which I replied, coolly, 'No, I'm too busy. Just leave it, thank you very much.' So they left it in front of the house."
While many of us learned to drive in something like a Mini, Minor or Fiesta, Clapton learnt in a Ferrari, before using it on tour with Derek and the Dominos.
Years later, Clapton commissioned Ferrari to build a unique model which paid homage to the 512BB, of which he's owned three. Named the SP12 EC, it features a recreation of the 512's two-tone body and is reported to have cost around £3 million.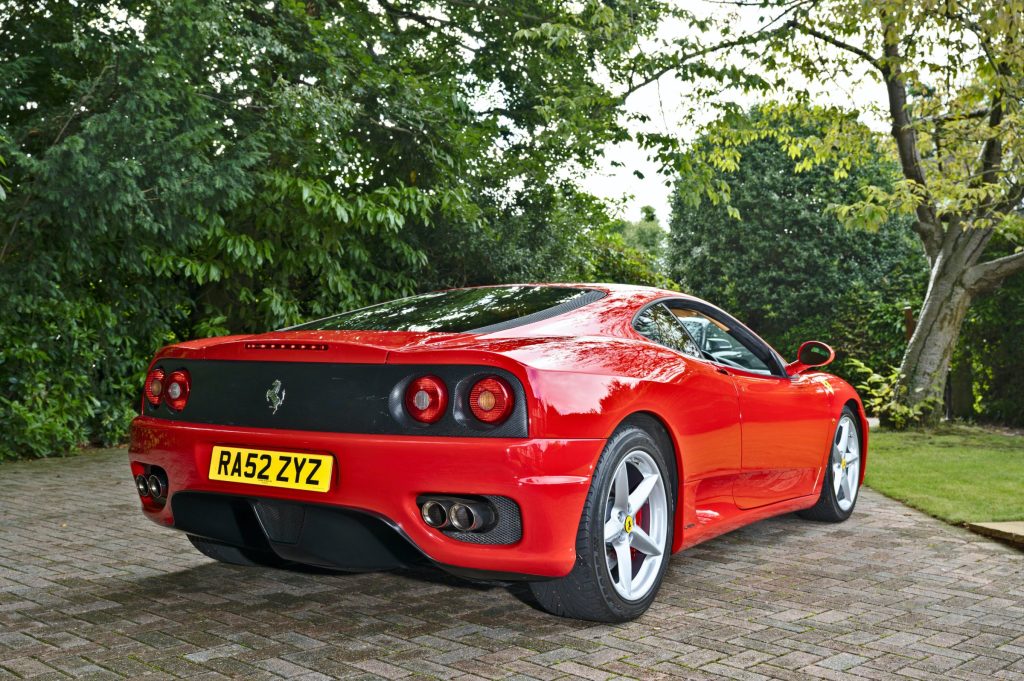 The Ferrari 360 Modena coming up for auction on Car & Classic is likely to cost a little less. It's one of only 352 right-hand drive models with a six-speed manual gearbox, which cements Clapton's status as a car enthusiast. He selected Rosso Red paint, tan leather interior, an optional 'Challenge' grille at the rear and, predictably, an upgraded stereo system.
We think it looks wonderful tonight. Or this morning. Or this afternoon. Whatever time of day you're reading this. We're just a little disappointed that Clapton didn't choose cream leather.
Launched in 1999, the 360 Modena was powered by a 3.6-litre engine producing 395bhp at 8500rpm. It could hit a top speed of 183mph, sprinting from zero to 62mph in just 4.5 seconds.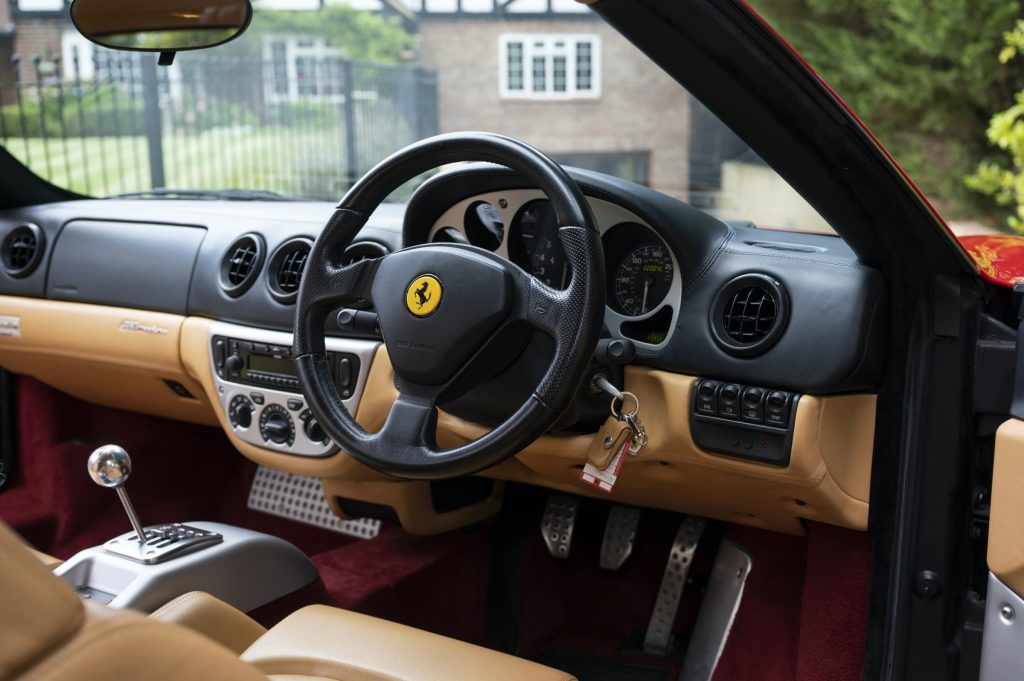 In 1999, Jeremy Clarkson said he preferred the Ferrari 355, but we reckon he'd approve of Clapton's choice of gearbox. He likened the F1 transmission to a Psion Organiser, saying: "To input a vital piece of information takes well over a minute whereas, carrying out the same task with a pen and paper, you can have the whole thing jotted down and stuck to your wall in what? Five seconds. So why not save yourself six grand and stick to a proper gearbox?"
It's not the first time Clapton's 360 Modena has come up for sale. In 2016, Nik Attard described his search for perfection when buying his first Ferrari. He rejected the car, saying it "was OK" but the "scruffy exterior" let it down. "Even Eric Clapton's signature on the logbook wasn't going to persuade me to change my mind on that one."
In the advert on Car & Classic, there are said to be "some minor blemishes and signs of wear commensurate with the vehicle's age", but the interior is "excellent". If you feel free enough to place a bid, the auction starts on 2 October, but Car & Classic is accepting commission bids before the sale begins.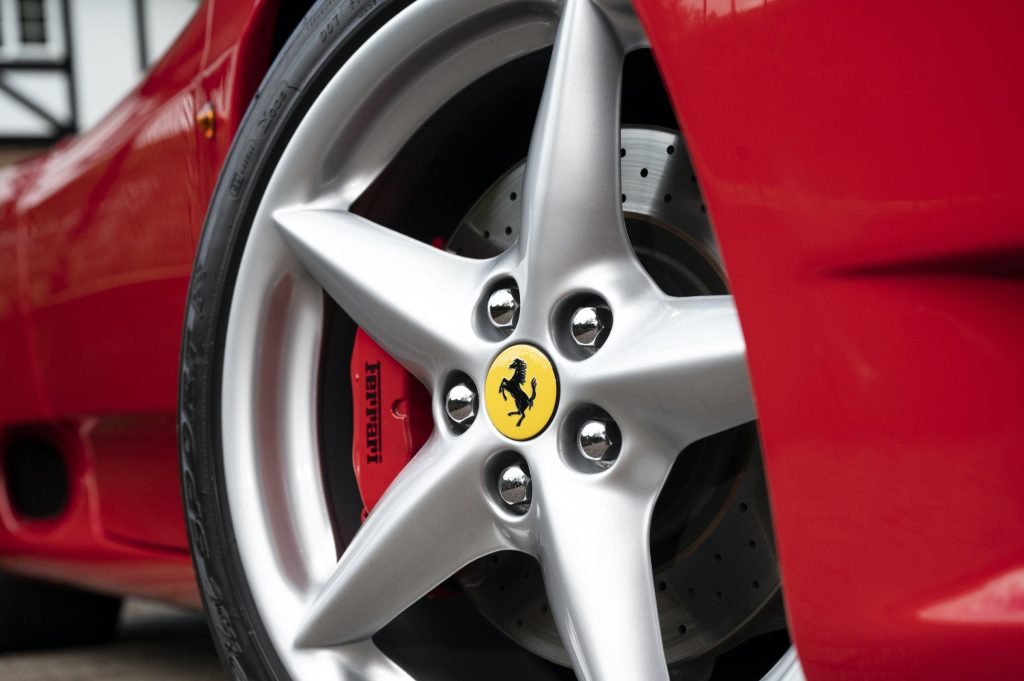 The car is in Tonbridge, so if you're successful, you'll have to find your way home from Kent…
Read more
The only white Ferrari Enzo built is to be auctioned online – with no reserve
Monterey 2022's highest sale is this £18.7m Ferrari 410
Can Ferrari's hypercar win at Le Mans in 2023?