As author of some of the world's best-selling political thrillers, Frederick Forsyth called on his time serving in the RAF and working as a journalist for Reuters and the BBC to dream up the plots for his novels. Yet there is another, unlikely source of inspiration for the author – letting his mind wander at the wheel of a Triumph TR3A.
Owned by Forsyth for 19 years, between 1991 and 2010, this TR3A is quite possibly where the author refined his ideas for novels including The Fist of God, Icon and Avenger, as well as short story The Veteran, using the open road to avoid distractions and clear his thoughts.
How much is your car to insure? Find out in four easy steps.
Get a quote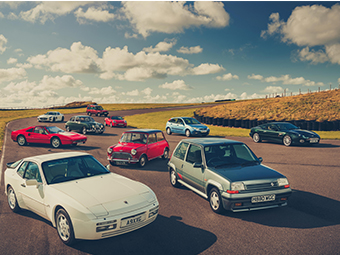 A handful of years after parting company with the TR, Forsyth admitted to working for MI6 on an ad hoc basis for more than two decades.
The 1960 model is said to have covered a mere 20,000 miles, and Forsyth's ownership is recorded in a V5C keeper document, as well as by supporting invoices for servicing and maintenance work over the 19 years of ownership.
It is presented in its original colour combination of signal red with black leather, as confirmed by an accompanying heritage certificate, and that originality extends to matching numbers for the chassis, engine and gearbox.
In addition to boasting an overdrive gearbox, the TR3A comes with desirable chrome wires, full weather equipment, tonneau, side-screens, seat belts and a hood cover, reports the vendor, St Andrews Autos.
Advertised for sale at £28,950, Andrew Hebron of St Andrews Autos, which is based in Chelmsford, Essex, said the car is pleasingly original: 'It's an older restoration to a very high standard and the Forsyth connection gives it unique provenance.' The Triumph has been owned by a customer of the dealer, and a part-exchange would be considered.
The TR3A followed the TR3 from 1957 until 1961, and went on to become the best-selling side-screen TR, with more than 58,300 made, with the vast majority exported. The 2-litre engine with twin SU carburettors developed 100bhp, making it a 100mph-plus roadster.
If you have ever dreamed of working yourself into a Forsyth thriller, this could be your chance.
Read more
Michael Caine announces Italian Job-lot sale of 60 years of movie memorabilia
Buying Guide: Triumph TR4, TR5 and TR6
The One That Got Away: Drew Pritchard has finally stopped selling the cars he loves