The Jaguar C-type is the latest historic model to get the continuation treatment, as Jaguar Classic announces a limited run authentic to the original disc-brake cars.
The C-type is the fourth Jaguar continuation model, following a run of six Lightweight E-types, nine examples of the XKSS – the nine never built when the old Browns Lane factory caught fire in 1957 – and 25 D-types authentic to those that ended production in 1956.
How much is your car to insure? Find out in four easy steps.
Get a quote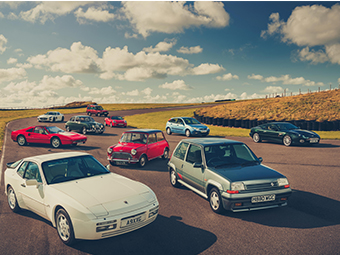 While several companies have built incredibly accurate reproductions and replicas of various Jaguars in the intervening period, Jaguar calls its models "continuation" models as they're often built from the original plans, engineering drawings and records from the period.
In many cases the cars are also eligible for the same historic racing events as their forebears, and while rarely cheap in their own right, are considerably less valuable than those originals and therefore a little easier to justify taking on track, despite wearing the kudos of an official Jaguar chassis plate.
The new (old?) C-type arrives seventy years after it became the first Jaguar to win the 24 Heures du Mans, though Jaguar will be building the C-type Continuation to 1953 specification. Jaguar won Le Mans again that year, but the victory was notable mainly as the car was using disc brakes rather than drums – a novelty at the time but one whose effectiveness saw it quickly adopted on racing and road cars worldwide.
1953 cars also used thinner-gauge chassis steel for reduced weight, as well as a set of triple Weber carburettors for the 3.4-litre inline six. Jaguar claims 220bhp from the unit – and also notes that it takes a full nine months to construct.
While Jaguar has maintained authenticity down to the smallest detail – replicating the original Smiths instruments, Lucas rear-view mirror, and digging out the final roll of "Rexine" material for the dashboard and side panels – it's also the first of the continuation series cars to have been fully reproduced using computer-aided design (CAD) to bring modern standards of precision to the hand-built techniques used to create the cars.
Potential buyers will be able to choose from 12 exterior finishes and eight leather hues to replicate the C-type of their dreams. Brilliantly, Jag has even dusted off its configurator, which seems a much more entertaining way of passing the next 30 minutes or so than deciding which alloys you'd like on a diesel XE.
Naturally, no price is quoted, though something straddling a high six-figure and low seven-figure sum is fairly safe. As Hagerty reported last year, a few continuation models have even found their way into auctions, with an XKSS and Lightweight E-type selling above their estimated purchase prices, and a D-type selling for a little below. All, though, seem a bargain compared to their vintage counterparts.
Read more
Jaguar E-type 60 gives buyers the chance to relive history
Electric GT40 on the way as Everrati pairs with Superformance
Hard charging in Bentley's new Blower continuation car