March 15, 1961 was a one of the most memorable dates in British automotive history. It was the day that the world first clapped eyes on the Jaguar E-type at the Geneva Motor Show, and to commemorate this milestone Jaguar is building six pairs of cars that replicate those first show stars.
What's more, the buyers of these most collectible Jaguars will be encouraged to drive them from the factory in Coventry, England, all the way to Switzerland just like Jaguar PR guy Bob Berry and legendary test driver Norman Dewis did back in the day. The cars were famously only completed a matter of hours before they were due to go on display and Berry drove through the night to get the first gunmetal grey fixed-head coupé to Geneva in time to reveal it to the press. The response was overwhelming so Dewis was immediately dispatched to deliver a second car, this time a roadster, for the enthusiastic media to experience.
How much is your car to insure? Find out in four easy steps.
Get a quote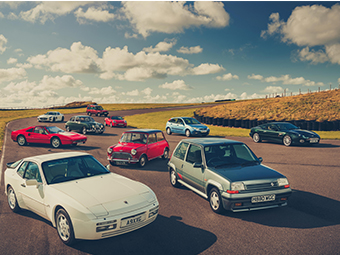 Six lucky Jaguar enthusiasts, who each buy a pair of fully-restored E-types honoring the launch, will be invited on a rather more leisurely drive to Geneva when all the cars have been completed in summer 2022.
The E-type 60 cars are only sold in pairs, one Flat Out Grey coupé, and one Drop Everything Green roadster. These colours have been inspired by the Geneva cars and will never be used on any other Jaguar. Paintwork aside, each car has undergone work that goes way beyond restoration. Bodywork was taken back to bare metal, and flaws corrected, and all running gear replaced and updated in key areas. A specially-developed five-speed manual gearbox with synchromesh and helical cut gears is fitted, and the 256bhp six-cylinder XK engine gets an electric fan and electronic ignition to improve reliability. A new polished stainless steel exhaust is also part of the package.
The coupés are trimmed in black leather and each feature a map of Berry's route to Geneva with the words "I thought you'd never get here" etched beneath, echoing Sir William Lyon's greeting when Berry finally arrived. The roadsters get suede green leather interiors and an engraving of Dewis's speedy journey to Switzerland, and the instructions given to him by Lyons, "Drop everything and bring the open top E-type over."
Further celebratory touches include E-type 60 logos on the centre console, hood badge, clock, fuel cap and chassis plate, while the beech-rimmed steering wheels get a 24-carat gold horn push. Every car will come with a tailored cover, tool and matching bags ready to recreate that ground-breaking drive to Geneva.