CSL: Competition, Sport, Lightweight. BMW's new 1625kg sports coupe is indeed lighter than the M4 it's based on, to the tune of 100kg, but cynics may argue only in a world in which two-tonne electric vehicles are becoming the norm could it be considered a lightweight.
Nevertheless, BMW has appended the famous CSL moniker to its latest M4, following in the footsteps of the 1165kg 3.0 CSL of the 1970s, and the 1385kg M3 CSL of 2003 – a car 110kg lighter than the E46 M3 of the time. Just don't bring up the kerbweight of the current Porsche 911 GT3, which is more than 200kg lighter than the new CSL.
How much is your car to insure? Find out in four easy steps.
Get a quote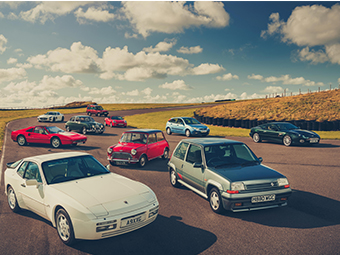 A recipe with a rich tradition, BMW calls it, and it isn't wrong. The original 3.0 CSL conquered its competition at the first turn in 1973's European Touring Car Championship, while the E46 CSL is considered something of an apex of BMW's achievements – a lighter, more focused, and better-looking version of one of the best-loved M3s.
What the latest M4 CSL has over its historical forebears is significantly more power, its turbocharged inline six making 543bhp at 6250rpm, with 479lb ft from 2750-5950rpm. The power figure is a useful bump over the M4 Competition's 503bhp thanks to increased boost, though torque is identical. 0-62mph is claimed in 3.7 seconds, as is a Nordschleife lap of a shade over 7:20 – the fastest yet for a series production BMW road car.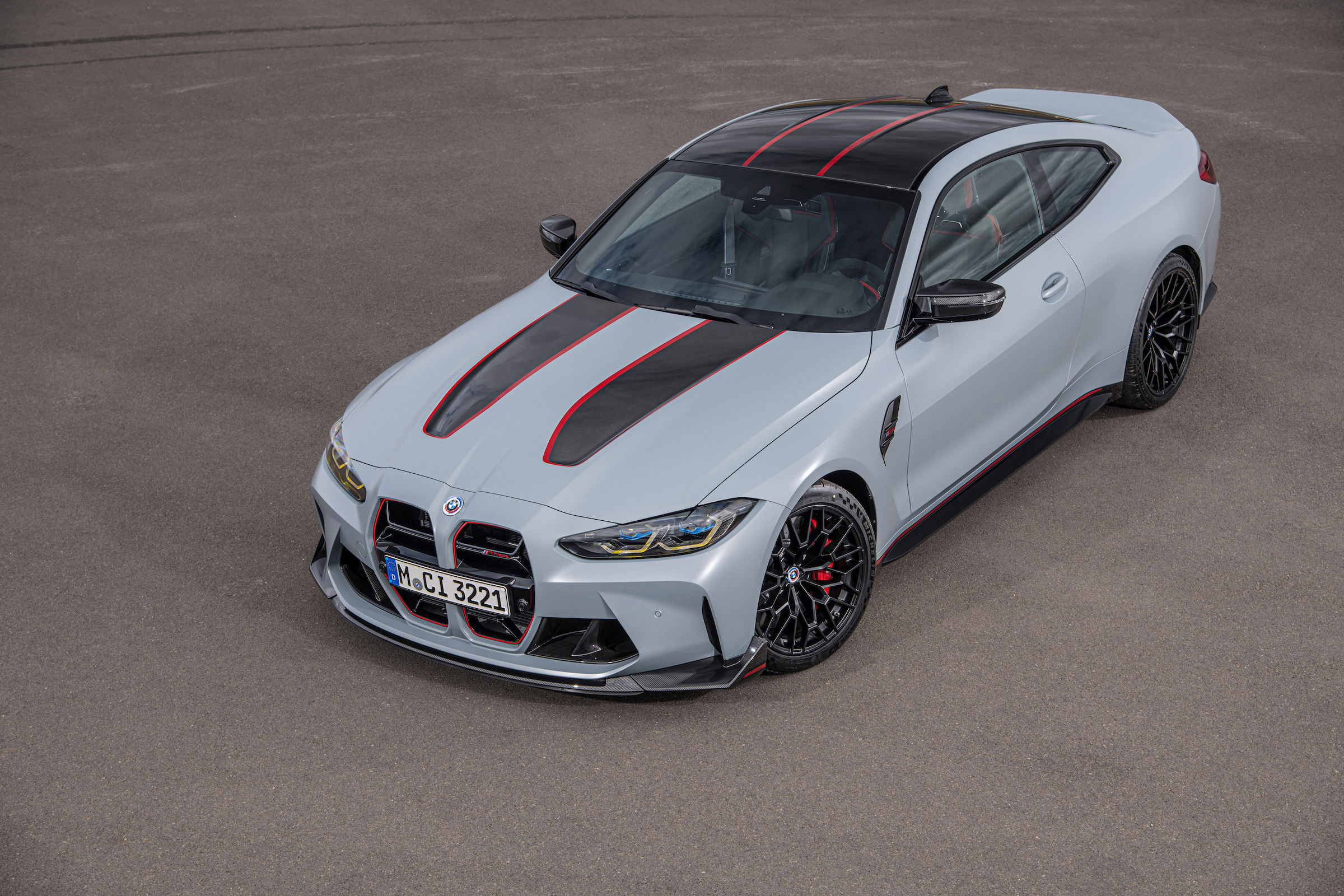 With a focus on track driving BMW has also turned its attention to the car's cooling and oil supply systems, while the chassis has been upgraded too. A new strut brace arrangement increases rigidity and revisions to wheel camber, the dampers, springs, and anti-roll bars, – plus an 8mm drop in ride height and solid-mounted rear subframe – should promise improvements in agility and precision. Stiffer engine mountings should also help here, and perhaps introduce a little more mechanical noise into the cabin – no bad thing in a car like this.
Features previously optional on other M4s are now standard too, such as adaptive M suspension, M-specific variable-ratio steering, and carbon-ceramic brakes with its own calibration. So too are the traction and stability control systems tuned for the model, with a 10-stage traction control system not unlike the firm's Competition models.
That 100kg of weight savings can be accounted for a 24kg saving from the carbon bucket seats, 21kg by ditching the rear bench and their belts, and a further 21kg from several of the chassis changes, such as the carbon brakes, CSL-specific wheels and the new springs and struts.
Reduced soundproofing sees another 15kg float out the door, and replacing plastic and metal components for carbon-fibre-reinforced-plastic (CFRP for short) parts sheds another 11kg.
A titanium rear silencer is another four, and BMW says detail modifications to parts like the grille, rear lights, floor mats and climate control system save another four. Conveniently, that makes 100kg on the dot by our count, and some excellent pub quiz ammo.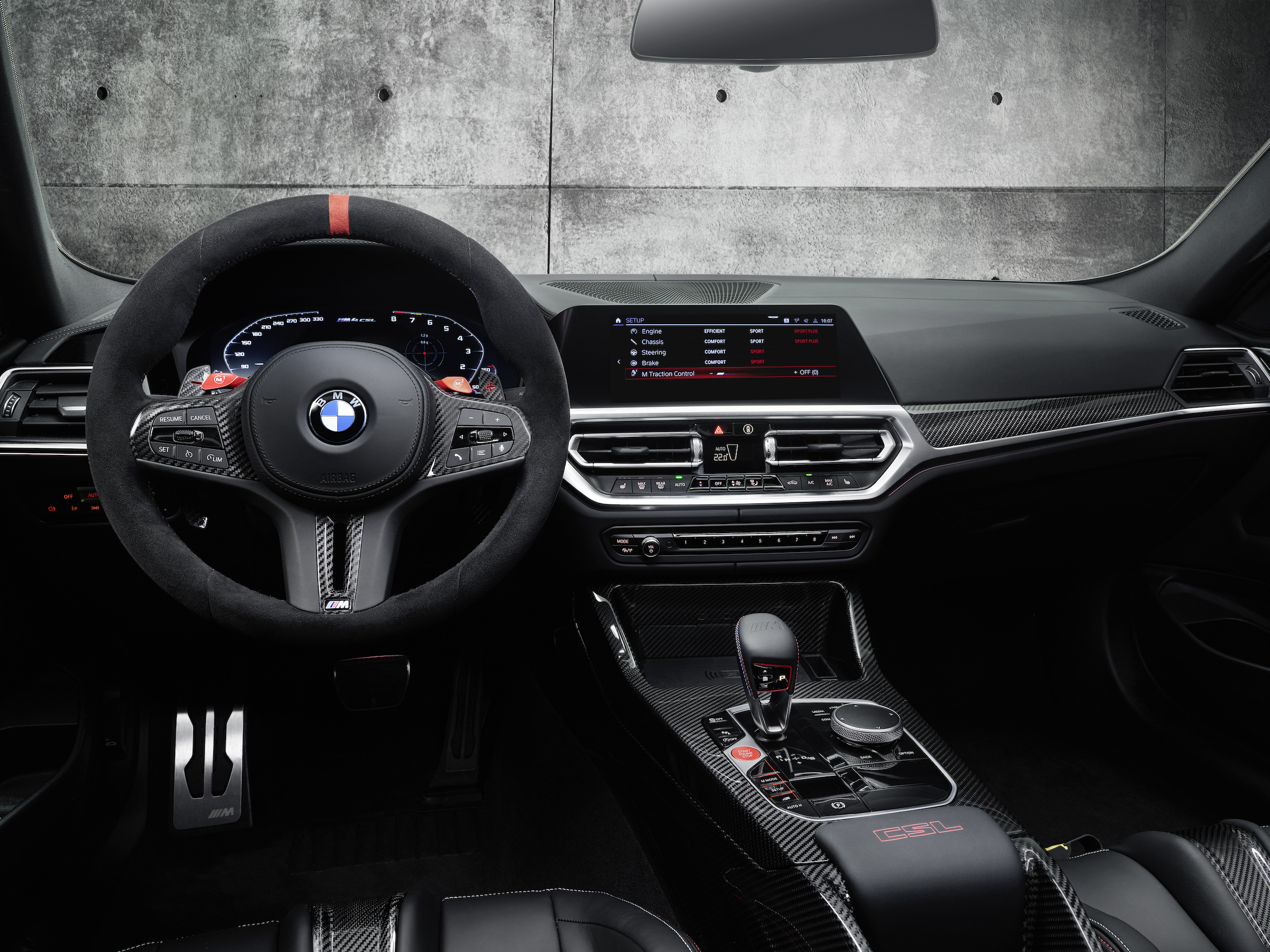 Whether the CSL's new look will go down similarly well at the pub is a matter of taste, though parked next to an original 3.0 CSL or an E46 M3 CSL it won't be the most flattering advertisement for BMW's current design language. It does get an exclusive colour, Frozen Brooklyn Grey metallic (a black and a white are both options), with red accents and carbon fibre elements sprucing up various parts of the car. Another unique touch, most recently seen on the BMW M5 CS, are optional laser headlights with a unique GT-racing style yellow colouring.
Inside you get those fixed-back carbon seats, which slide on rails but must be tweaked in the workshop if you want to adjust their angle. The steering wheel gets a coating of Alcantara, and buttons on it let you select your pre-configured M settings – a useful tool that allows a quick setup change for say, a trackday or fun road.
And, despite the "Lightweight" part of the CSL, name, there's no great cull of kit – climate control, an infotainment screen, a head-up display, and numerous active safety features remain standard.
BMW will build a limited run of 1000 cars – virtually guaranteeing its collector status – with production beginning in July 2022. Final UK pricing is yet to be confirmed and only 100 are coming here.
Read more
The BMW Z8 had 507 reasons to exist
Quiz: 50 years of BMW M cars
Alpina future secured as BMW buys Buchloe brand