BMW hasn't screwed it up. Isn't that a relief?
If you're an enthusiast, and I'd assume you are if you're on this website, then it's probably in your best interest to forget that cars like the BMW XM exist. But the 5-Series is core BMW stuff, so if the company had got this one wrong, people would be out in the streets burning Bavarian flags. But, to put your mind at ease, the new fünfer is reassuringly good.
How much is your car to insure? Find out in four easy steps.
Get a quote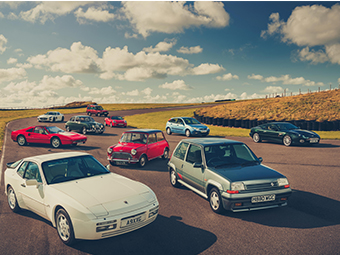 Specifically, the BMW i5, since alongside combustion models, this is the first generation of 5-Series to be offered in fully electric form. There are two models to start with: the rear-wheel-drive eDrive40 and the all-wheel-drive M60 xDrive, with an in-between xDrive40 arriving a little later down the line.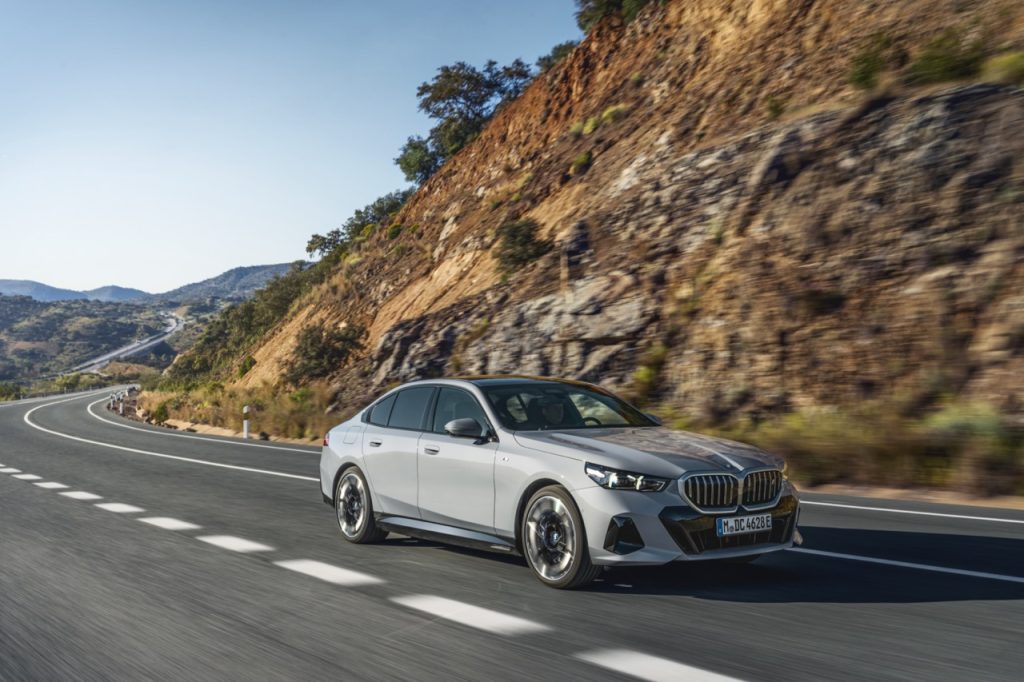 The i5 eDrive40 is the core model, the one likely to sell in the largest numbers, though it's not a core model in the way the petrol 520i will be, since in the UK the eDrive40 starts at around £74,000, or about £23,000 higher than the jumping-off point for the range as a whole.
That said, there won't be much comparison between the petrol and electric entry points. The eDrive40 gets a 335bhp, 317lb ft electric motor mounted at the rear axle, and in terms of performance and price, it sits between the plug-in hybrid 530e and the 550e. A bit like Porsche Taycan pricing overlapping with the Panamera, this should see more than a few people giving the i5 a whirl purely out of curiosity, particularly if they're company users looking to escape high tax rates.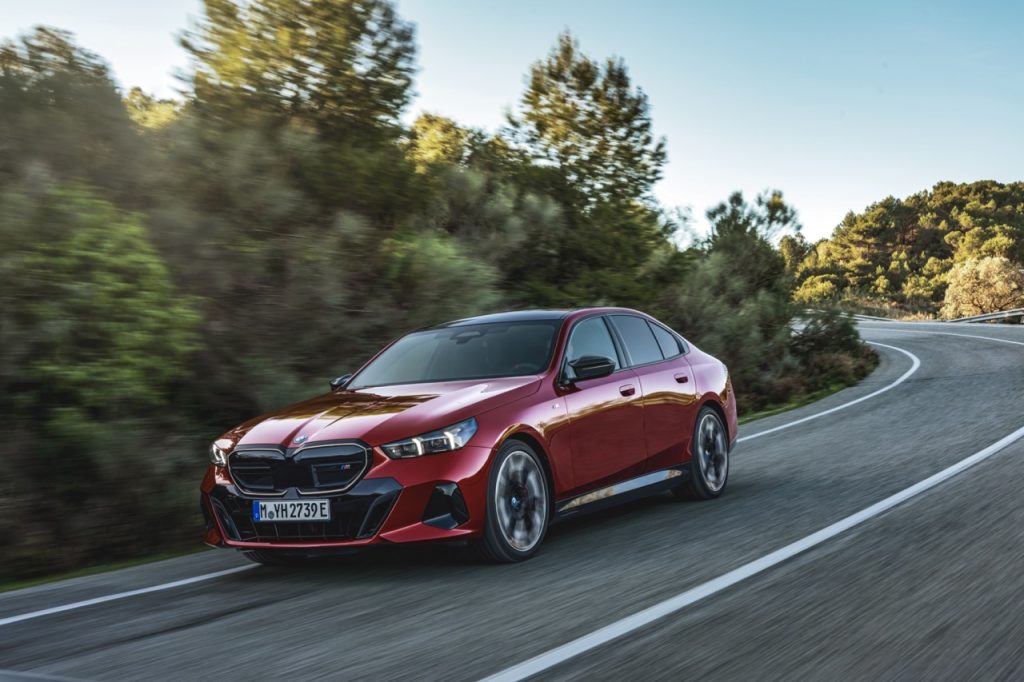 Topping the entire range, meanwhile, is the dual-motor M60 xDrive (335bhp at the rear, 258bhp at the front, for a quoted 593bhp total), and that comes in at nearly £98K. But then it's easily the most powerful and accelerative of any new 5-Series – until an M5 arrives at some point – and the outgoing one of those was £96K new. Basically, everything's quite expensive these days.
Styling? It has some of that. In fact, the i5 is probably less divisive than some other recent BMWs. The front, as ever, will take the most getting used to (with or without opting for M Sport Pro trim on the M60, which illuminates the perimeter of the kidneys). The back's simply standard modern BMW, while the side profile is most interesting, with a down-sloped boot lid of the kind we haven't seen on a 5-Series since the E28 generation.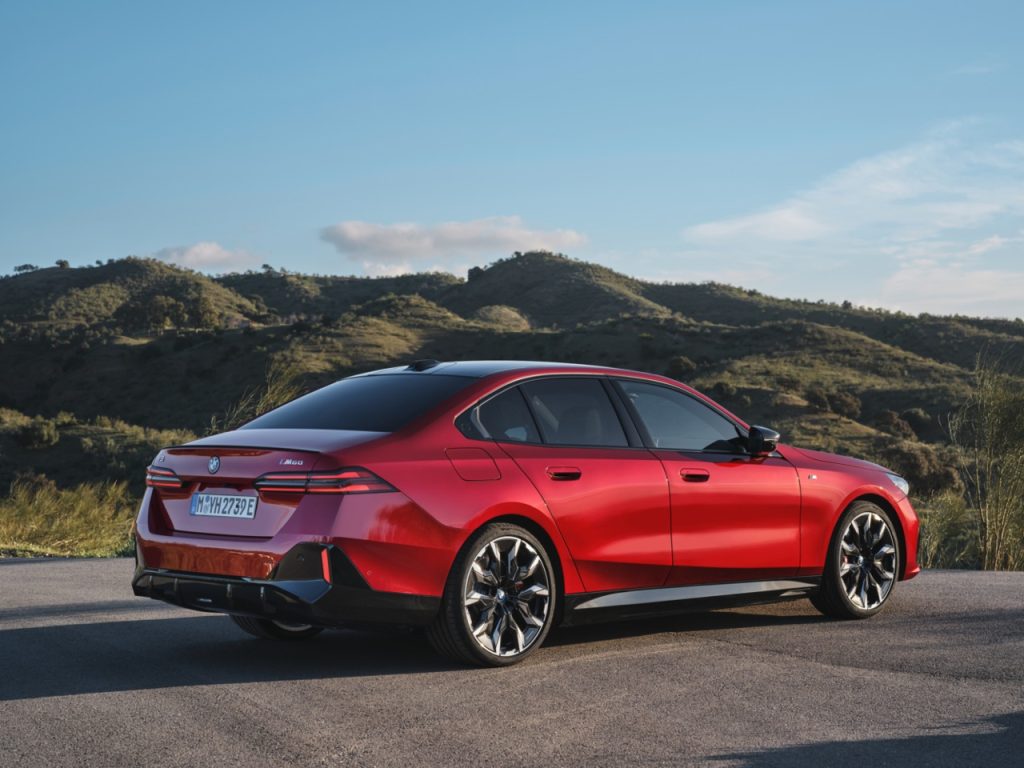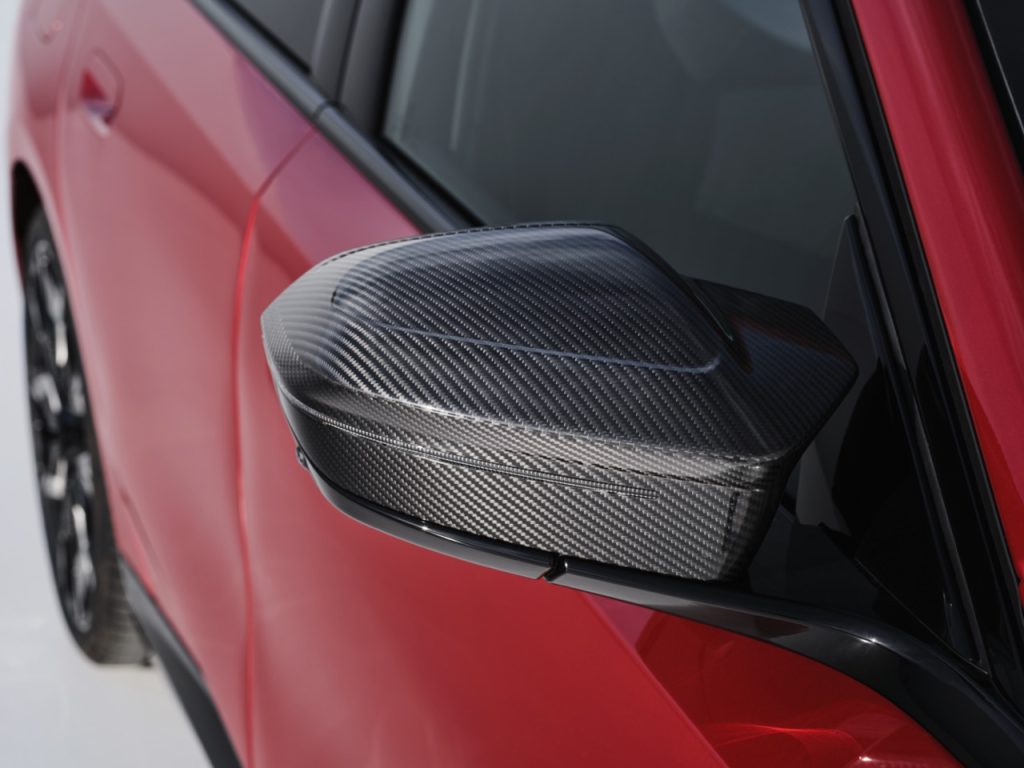 The proportions do a good job of hiding the new i5's size – this is now a 5-metre-long car – though we noticed a styling quirk of the flat sides, which almost make the doors look like they're bowing out when the light catches them a certain way. It's as if the panel gaps sit in slight valleys. You'd not get that on an Audi, is all we'll say on the matter. Large wheels help visually shrink the car, too; 19-inch items are standard (all UK models are M Sport spec, and also get lowered suspension), while the eDrive40 we drove was in M Sport Pro trim on 20-inchers, the same size as those on the M60.
The i5 is arguably most appealing from the inside out. The layout and materials riff on the larger 7-Series and i7, and as soon as your derriere hits the 'Veganza' artificial leather, the seats have the same astonishingly soft and comfortable feel as those in the i7. The difference in the i5 is that you sit lower in the car, and you can get lower still if you wish, as there's enormous adjustment in both the seat and the steering wheel.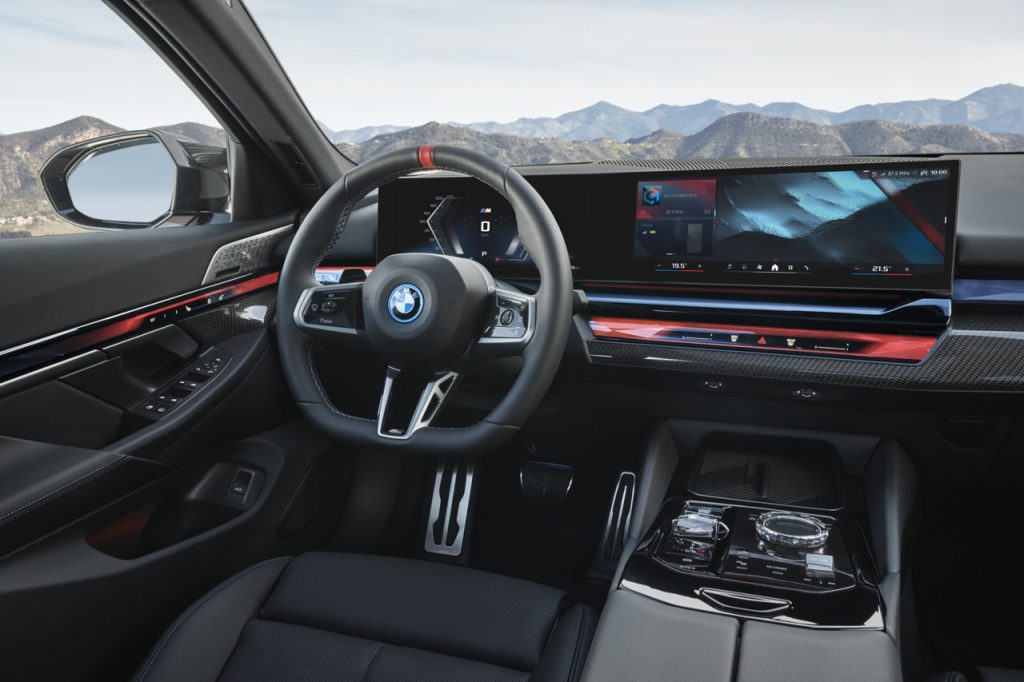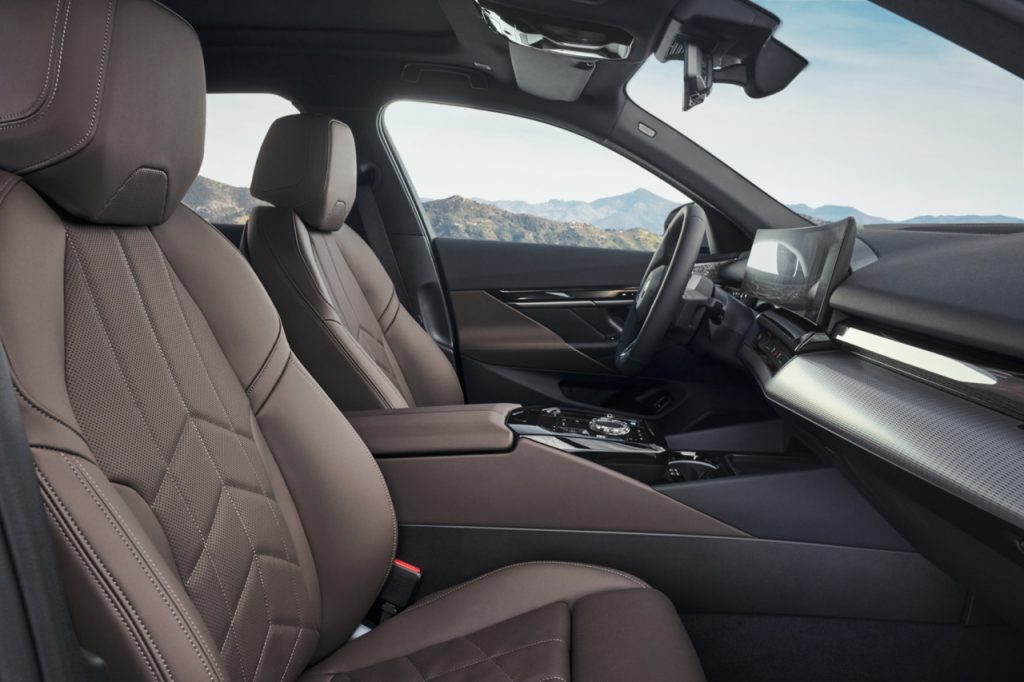 The dash layout is similar to that of many modern BMWs: A widescreen display incorporating both the driver's instruments and the infotainment screen, and the latter is both touch-sensitive and can be operated by the glistening crystal iDrive knob between the seats, a device whose design reminds us of the old glass ashtrays you used to get in pubs, turned upside down.
As ever, the infotainment is a bottomless pit of features, most of which are best investigated before you move off, if you wish to spend any time with your eyes on the road. Luckily, frequently used stuff like climate control settings can be prodded quickly and accurately on the move, and there are various shortcut buttons around the iDrive ashtray, none of which are quite as tactile since they're rendered in piano black plastic, a substance nobody seems willing or able to banish from automotive interiors. There's less of it in the back, but more space than ever, thanks to the car and its wheelbase growing for this generation.
There's little drama to starting either i5, as we've come to expect with EVs, but it doesn't take much of a press on the accelerator pedal to hear futuristic noises emanating from the speakers, part of a collaboration between BMW and movie composer Hans Zimmer. They're nice enough; we didn't feel compelled to turn them off, and they really only come into play when you're accelerating hard.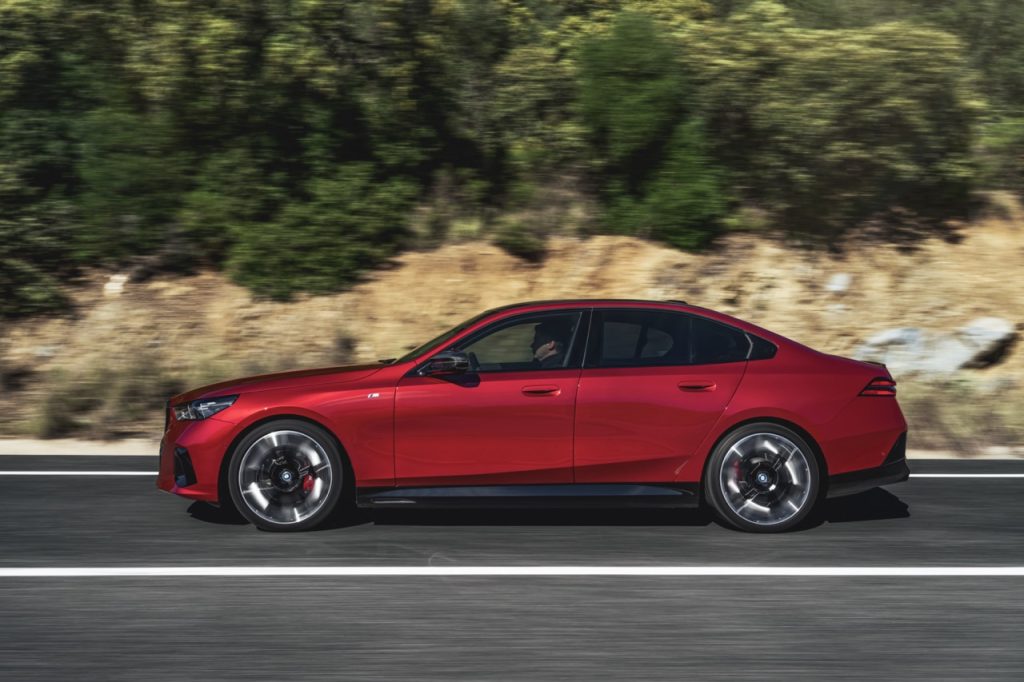 That's something both cars will happily do. The eDrive40 gets from 0–62mph in 6 seconds dead, and the M60 in 3.8. Even with only its rear wheels driven, the eDrive40 finds plenty of traction off the line, and with a quick ramp-up of power so it doesn't turn all four tyres into smoke, the M60 really launches hard; if you're not a Tesla or Taycan regular, it's enough to make you blurt out a few expletives the first time you give it a try.
A 'Boost' paddle behind the left-hand steering wheel spoke gives an extra hit of torque, which is also fun but shows BMW has clearly reined in the ultimate performance of both cars. Basic, everyday things like getting the holeshot in converging lanes or overtaking Ethel in her Honda Jazz feel like you're entering Verstappen's weekend wheels into a Formula Ford race. Still, this should not disappoint the 5-Series faithful.
Nor should handling. These are heavy machines, and it takes some time to wrap your head around a 5-Series that weighs, as a minimum, 2.2 tonnes. The much-beloved E39 5er was under 1700kg at its lightest, a whole Caterham Seven less than the i5. But you'll also struggle to wrap your head around the way it doesn't at all drive like a 2.2-tonne car, with abundant grip and next to no body roll.
The eDrive40 Pro and the M60 actually feel very similar, even though the latter has adaptive dampers and the ability to decouple its anti-roll bars in a straight line to the benefit of ride quality. Both have impressive agility for their size and weight, neither complains at fairly quick changes of direction, and they obviously have the power to surge out of corners as if they have no inertia.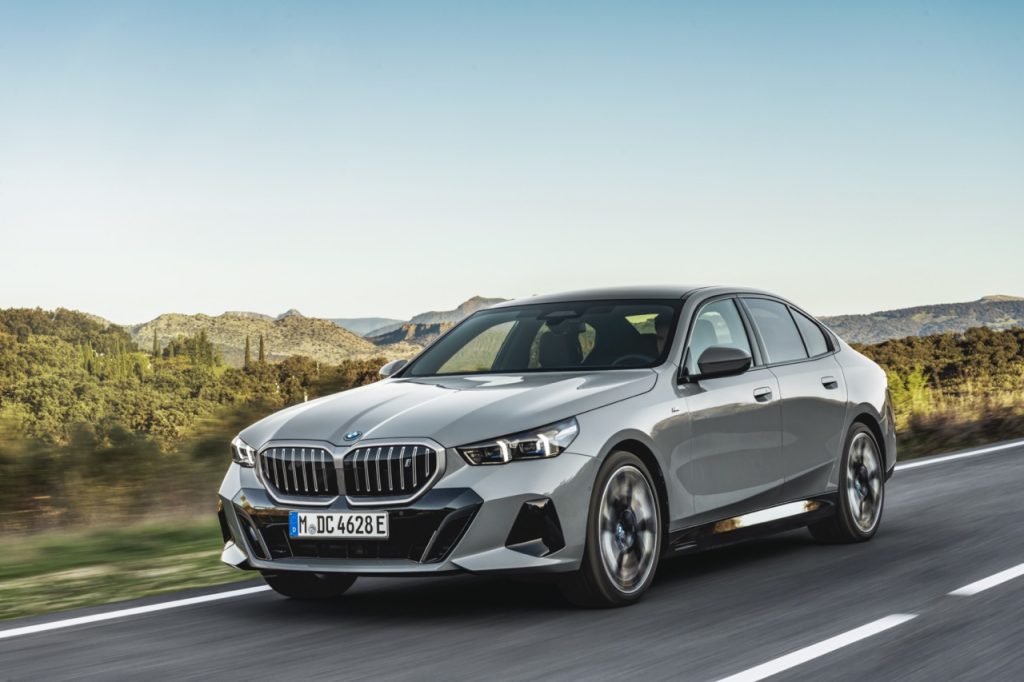 At normal road speeds, this resolute control of their faculties does leave them feeling a little aloof, particularly given the steering doesn't relay many messages beyond a gentle increase in weight in quicker turns, and its natural accuracy and response. It actually leaves you thankful for the M Sport suspension settings standard on UK cars, which renders the ride quality just tense enough that you notice what's going on underneath, without it being actively uncomfortable, though it means really rough sections can jostle you around a little. That wouldn't be a problem if we maintained our roads properly, but then criticising others for our own failings is in-vogue right now. High-speed refinement, though, is predictably excellent: little road or suspension noise, the merest rustle of wind, and obviously next to nothing from the drivetrain.
The roads of our test weren't of the kind to really put braking under strain, but BMW has blended regenerative and friction braking well enough that you'll rarely curse pedal feel, while the regen itself varies on the road, depending on where you are, whether you're following someone, and other predetermined scenarios. Lift off on a motorway and you'll likely coast (for a really long time – the i5 has a drag coefficient of around 0.22, so it barely seems to shed speed), but do the same approaching a 30 zone from a 60, and the motors will harvest energy to slow you down. It's more intuitive than it sounds.
Regen brings us on to efficiency, and with a usable 81kWh of battery capacity, the eDrive40 is claimed to do 354 miles on a charge, with the M60 slightly less at 315 miles. Real-world range will likely be a little lower, but it's enough to make either more useful than a Taycan or Audi e-tron GT, if not a Tesla Model S or Mercedes EQE. Both support 205kW fast charging, so a 10–80 per cent top-up takes as little as half an hour, and if you're low on juice, a 10-minute fill can gain you as much as 100 miles.
So, to reiterate, BMW hasn't screwed it up. If you're good with the looks and the general concept of owning an electric car, then there's a lot here to like. A classic 5-Series will still involve you more as a driver but you knew that already; a more pertinent comparison is that the i5 is nearly as good to drive as a Porsche Taycan, but more accommodating and it goes further on a charge, for less initial outlay. And it leaves us wondering: Would an all-electric M5 be such a bad thing?
Specs: 2023 BMW i5 eDrive40 & M60 xDrive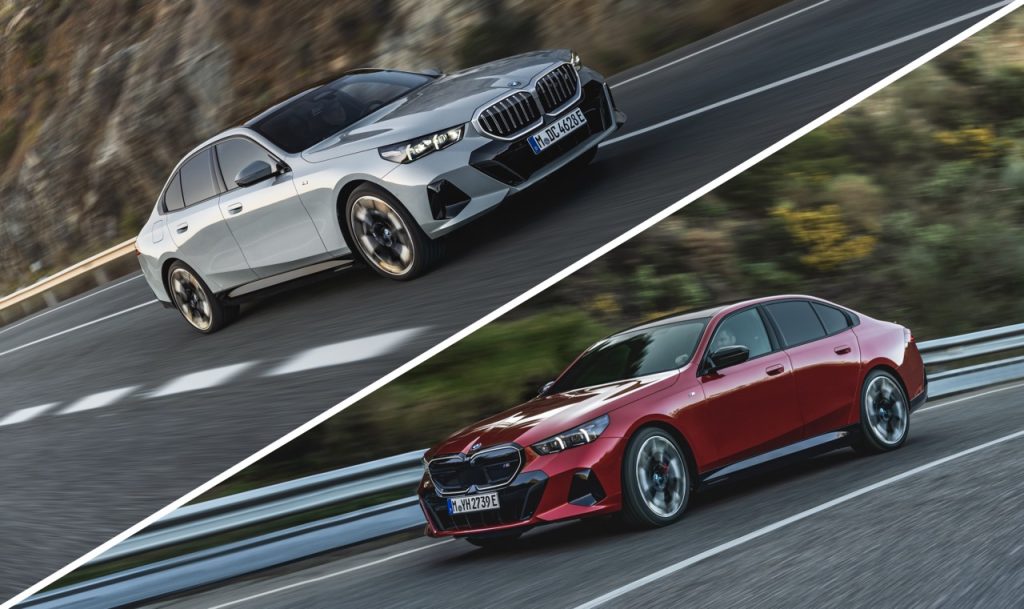 Price: £74,105; £97,745
Engine: Single; dual electric motors
Gearbox: Single-speed, rear-wheel drive; all-wheel drive
Power: 335bhp; 593bhp
Torque: 317lb ft; 605lb ft
Weight: 2205kg; 2380kg
Range: 354 miles; 315 miles
0–60mph: 6.0sec; 3.8sec
Top speed: 120mph; 142mph