"I'll make you nod," said Nigel Hughes.
"In the 1970s there was always somebody around the corner with a Japanese two-stroke you could never hope to afford."
Sure enough, I nodded.
How much is your car to insure? Find out in four easy steps.
Get a quote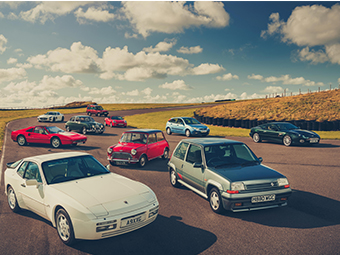 In my mind's eye I pictured my utterly unaffordable 'round the-corner' bikes back in the day: a Suzuki GT250, a GT380 and a GT750 – just as Nigel reeled himself back in from his stare back into the 70s and said: "I had a collection of Suzukis: an AP50, a GT185, a GT250, a GT380 and a 'kettle' – a GT750A."
Ha. Nigel, 55, runs Classic Bikes North West in Ashton-in-Makerfield near Wigan. It's an ordered international enterprise operating in the drive, garage, and covered back garden of his semi-detached which looks like you would expect a semi-detached near Wigan to look like.
He repairs, maintains, builds, rebuilds and sells primarily pre-late '80s Japanese two-strokes as well as classic British bikes. He set up in 2009 after an accident working in the building trade left him with a broken knee and a concern he'd not get back into bricklaying.
"I'd always repaired bikes – right from when I was eight and my dad bought me a Suzuki B120 he'd found dumped upside-down in a scrapyard. It was a non-runner, but the mechanical-mindedness of my dad and grandad obviously runs in the family because I got it running again," said Nigel.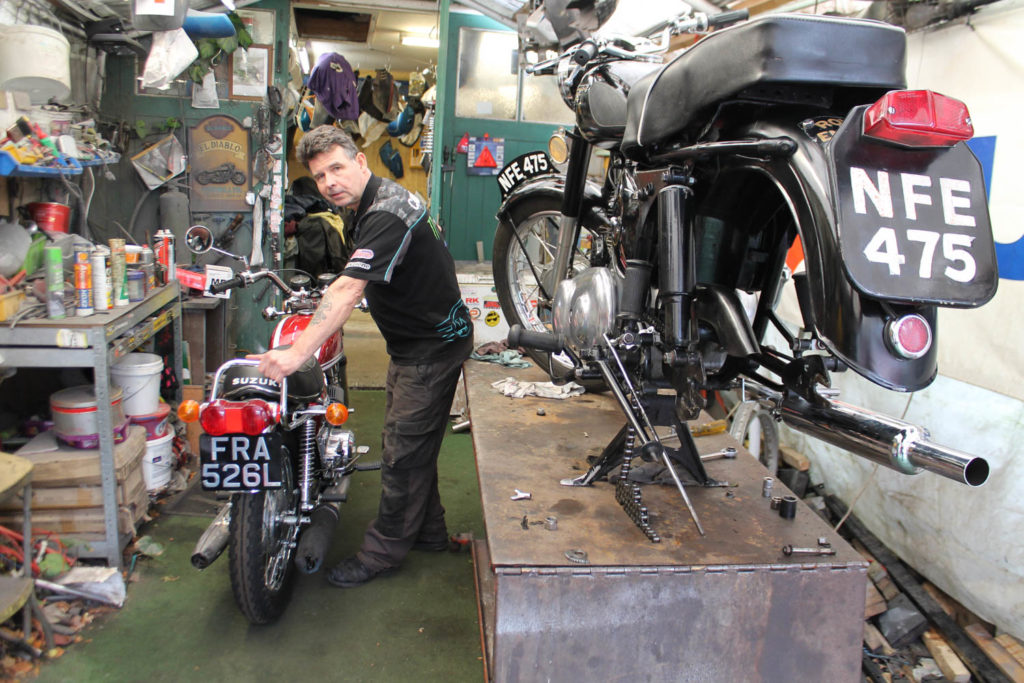 "So, by the time I set up shop I already had a lot of experience fixing them, and enough of a collection that I could sell a couple to fund the business. Luckily, the wife was working full time as well, so we got through the first 12 months OK.
"I've sold around 200 modern classic Japanese bikes and classic British bikes – quite a few internationally."
'International business' and 'near Wigan' are two phrases that somehow don't obviously fit together, but Nigel has plenty of experience of the upsides and downsides of international trade.
"I get a lot of enquiries from abroad, some of which unfortunately come to nothing because while we're all bike enthusiasts regardless of the language, let's face it people quickly find moving bikes around internationally is not as simple as it sounds."
"But one which really caught me out was the consequence of a series of phone calls from Portugal. This chap, nice enough, found me online after he spotted I had a 1971 Suzuki Hustler for sale.
"Quite a few phone calls later he said that next time he was in the UK he'd come around and buy it from me. Now 'next time I'm in the UK' is one of those phrases that suggests we could be talking about months or even years.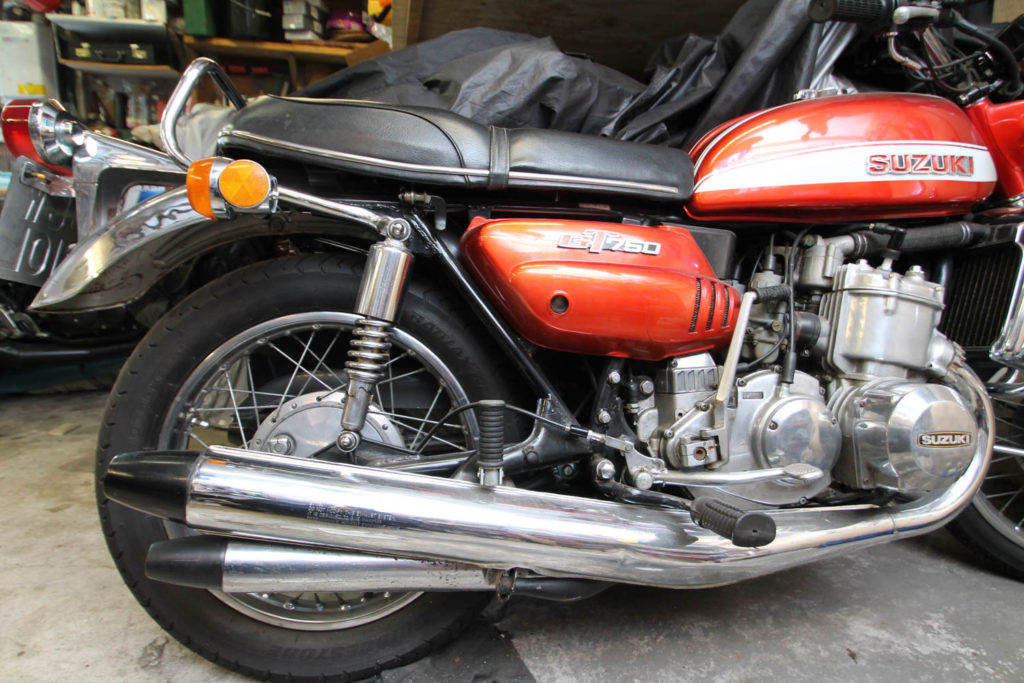 "Anyway, a couple of days later there I was working on a bike and this chap turned up. He'd come to buy the Hustler…
"You know when something happens that is just so unexpected that you just stare at somebody like they landed from outer space? Well, this chap had landed from somewhere distant, but not that distant: he was an airline pilot from Portugal. And he'd come for the Hustler like he said he would.
"I just dropped everything, and pretended I hadn't been caught out, took his money and got the bike on a trailer to Manchester Airport where he had somebody to crate it up and stick it in the hold of the Airbus he was flying back to Portugal the next day.
"But modern classic Japanese prices, though… I think about what I bought and sold bikes for ten years ago versus now: it's unbelievable. It's blokes – and ladies – in their 50s and 60s who aspired to a Japanese two-stroke when they were younger and can now afford them. Thing is, you have to get your head around owning one: you can't thrash them like you could 45 or 50 years ago. You've got to decide whether you want something for an occasional ride, or something that you keep in the garage as a sure-fire investment.
"A good one is better than money in the bank. The most valuable I sold, and my favourite, is that GT750A. It's a love-it-or-hate-it bike. But get a 'kettle' set up well and you can't beat it.
"My favourites to work on are the US imports: there's great satisfaction from bringing back to life something that's been parked in a shed in America and not run for 20 years.
"But Yamaha RD LCs are gold dust. UK owners just hang on to their bikes, but I managed to find a source in Europe – who I'm keeping secret – who has managed to find me 34 RD250 and 350 LCs. I've got seven left as I speak."
I did a lot of nodding on my visit to Classic Bikes North West.
Read more
Trailblazers: Seven collectible motorcycles to watch
Like grandfather, like father, like son: the third-generation exhaust fabricator saving Britain's classic motorcycles