This year's lack of rainfall has sparked not only wildfires but also much reminiscing about the Long Hot Summer of 1976 – the last time that rivers disappeared, lakes resembled the surface of the Moon, and using a hosepipe constituted high treason.
The nation's motorcyclists, though, had never had it so good. While the sun blazed in '76, Barry Sheene was riding his Suzuki to the 500cc world championship, and his good looks, Cockney charm and celebrity lifestyle were making motorcycling cooler than ever before.
How much is your car to insure? Find out in four easy steps.
Get a quote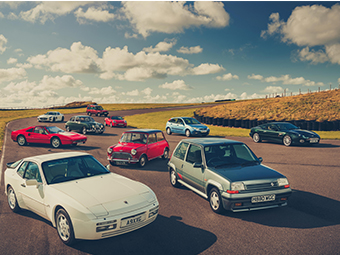 Especially for those fortunate enough to own Suzuki's new GT550A. As a sporty two-stroke of roughly similar capacity, the aircooled triple was the closest that mere mortals could get to a bike like Bazza's all-conquering works RG500 square four.
This was just the infancy of the superbike era, which had begun at the start of the decade with the arrival of Honda's CB750. Suzuki had introduced a 750cc rival in 1972 but the GT750 was a big, heavy liquid-cooled triple whose Grand Tourer designation was apt.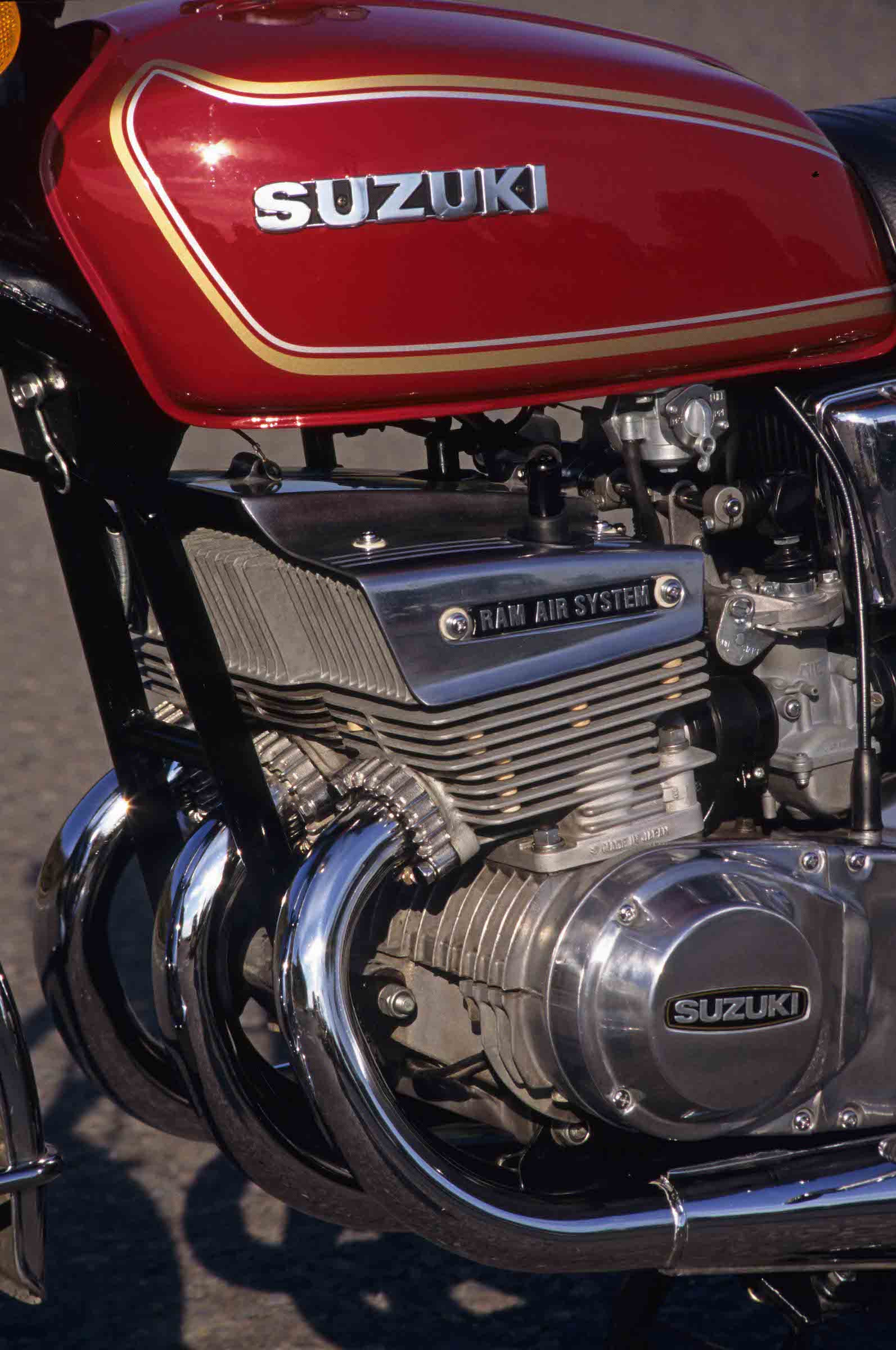 The Japanese firm had also launched the smaller, sportier GT550 to compete with Kawasaki's 500cc H1 – a high-revving, fuel-gulping aircooled triple whose acceleration had earned cult status. Suzuki's challenger was less of a party animal than the H1 but it was enjoyably quick and a better all-rounder.
The revamp and new GT550A designation that Suzuki awarded the triple for 1976 gave the model a boost. But it was arguably Sheene's efforts on the world's racetracks – not to mention in nightclubs and TV chat-show studios – that added most to its appeal, especially to easily influenced teenagers.
Since is launch the GT550 had gained a disc front brake, a few horsepower and some fresh details. It also featured Suzuki's Ram Air System – which was not some ingenious form of forced induction, but merely referred to a piece of bent metal that helped direct a cooling breeze over the 543cc engine's cylinder head.
The engine itself was in a fairly modest state of tune. Breathing out through a bulky four-pipe exhaust system, the GT produced a respectable but not spectacular maximum of 53bhp at 7500rpm. Perhaps more significantly, it made useful torque throughout the rev range, with a peak at 6000rpm.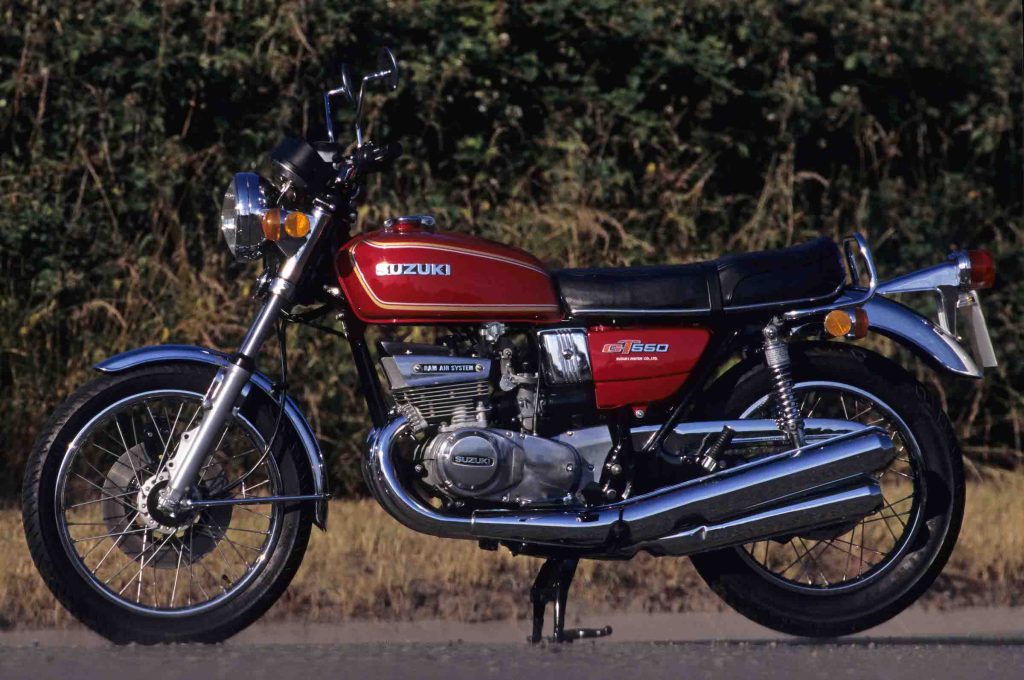 In Seventies style the chassis was based around a simple tubular steel frame, which held non-adjustable forks and twin rear shocks. Unlike earlier models the 550A didn't have fork gaiters. But its slightly dumpy styling, thick dual-seat and its fuelled-up weight of 205kg – porky by middleweight standards – all suggested a fairly practical bike.
That being the case, I was pleasantly surprised by the feel of this lovely red 550A. I'd expected a large and heavy bike. But although it was tall and roomy the Suzuki felt quite light and sporty as I hit the button (a kickstart was also provided), prodded it into gear and set off for a spin.
The engine took no time at all to confirm just what a torquey and relaxed lump it was. The bike pulled away easily, with no need for the high-revving histrionics of many two-strokes. And its pleasantly crisp midrange performance was well-matched to the not-too-frantic pace encouraged by the wide, slightly raised handlebars.
When I kept the revs down, short-shifting through the slick five-speed gearbox, the Suzuki responded with a surge of midrange acceleration that would have left many of its four-stroke rivals feeling gutless. The rubber-mounted triple generally felt reasonably smooth, too, though from about 5000rpm it began to buzz through its bars and the fairly forward-set footpegs, before smoothing out again towards the 7500rpm redline.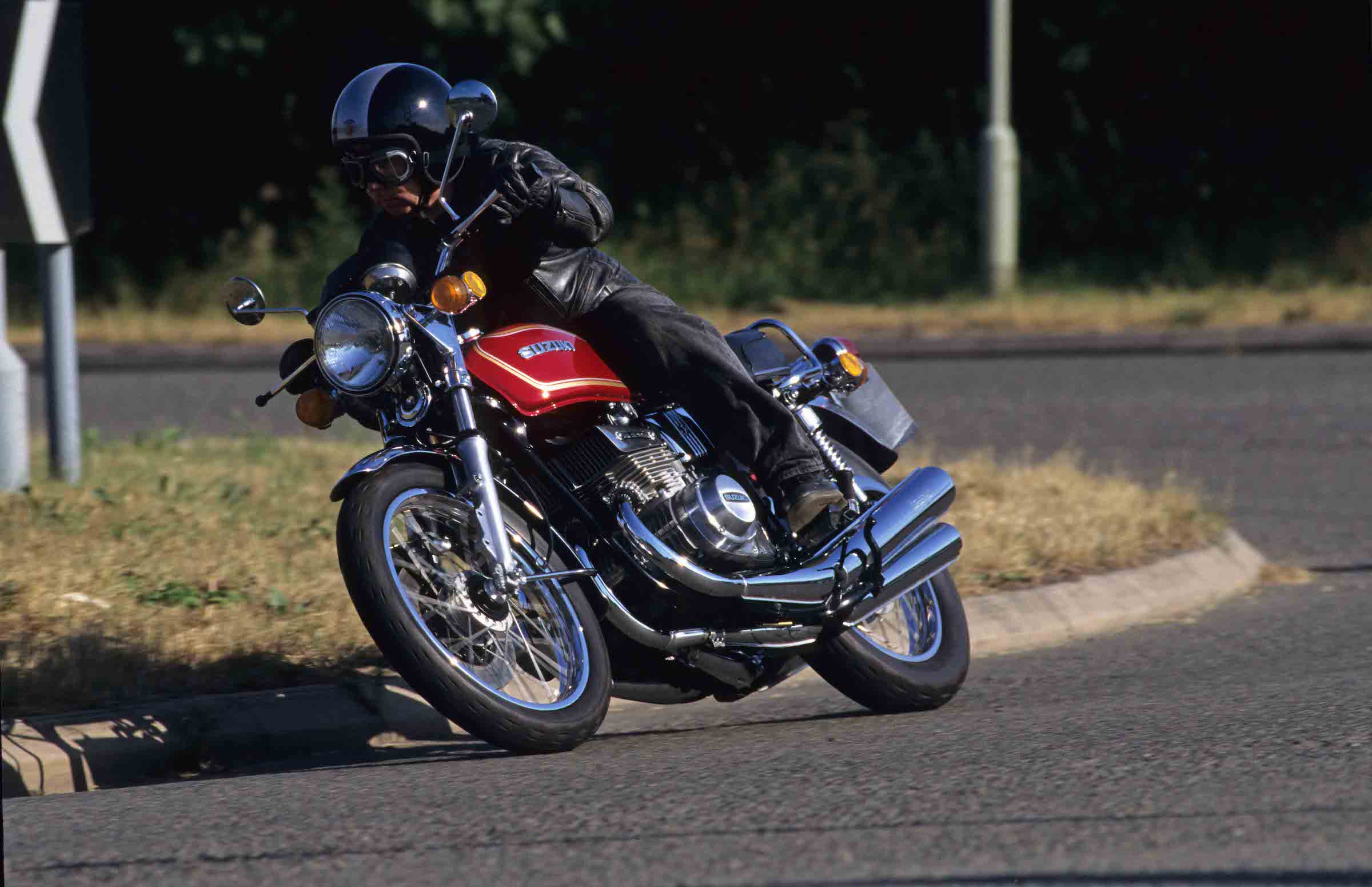 Top speed was close to a genuine 110mph, but sometimes the triple had to be worked hard to get there. On a windy day, it ran out of steam approaching 80mph in top gear, and only responded when I put my chin on the tank and changed down to fourth gear to get the revs up nearer the red.
That blustery wind also brought out the worst in the Suzuki's chassis, triggering a gentle wobble at higher speed. But the bike never threatened to get seriously out of shape, and its handling at slower speed was pretty good, let down only by too-firm rear suspension that sent bigger bumps hammering straight though the seat.
On smooth roads the GT could be cornered pretty rapidly, aided by its narrow but respectably grippy Pirelli tyres, and ground clearance that was much improved over the previous model. The wide bars gave enough leverage to allow fairly quick direction changes. Brakes were reasonably good, too, the Suzuki's single front disc slowing the bike efficiently, with help from the cable-operated rear drum.
That all helped make the GT550A a deceptively rapid roadster by mid-Seventies' standards, and it was practical in some ways, too. Switchgear and instrumentation (including a digital gear indicator) were competent, and the seat was large and comfortable. But the headlamp was feeble and the motor's 35mpg or worse thirst, combined with a small 15 litre fuel tank, gave a disappointing range of only about 100 miles.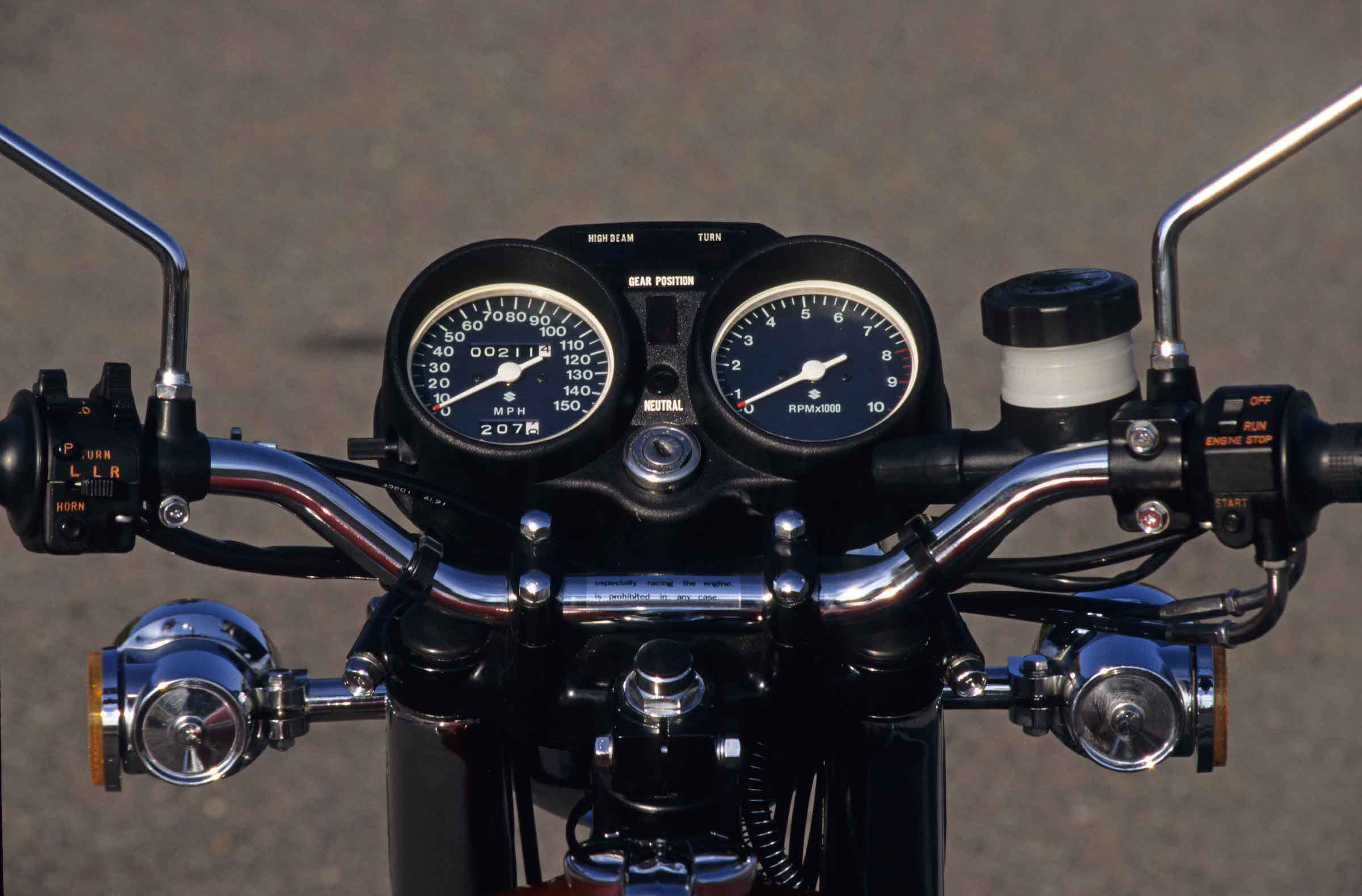 That and the harsh ride handicapped the GT550A's long-distance ability, and helped explain why the model was not as popular as Suzuki must have hoped. It was competitively priced but by 1976 the opposition from four-strokes such as Honda's new CB550 four was strong, and the GT had improved little in several years – partly, presumably, because its makers realised that time was running out for smoky, thirsty two-strokes.
A year later, in 1977, Suzuki joined the four-stroke middleweight market with the competent GS550 four, leaving the faithful two-stroke on the sidelines. Although the four-stroke was more expensive and no faster, it handled better – and more to the point was more economical, more environmentally friendly and clearly the machine of the future.
The GT550A's days were numbered – but along with Barry Sheene, Suzuki's two-stroke triple had helped make the original Long Hot Summer a memorable time for motorcyclists.
1976 Suzuki GT550A
You'll love: Two-stroke speed and smell
You'll curse: Back pain on a bumpy road
Buy it because: It's bursting with Seventies spirit
Condition and price range: Project: £5000 Nice ride: £7500 Showing off: £10,000
Engine: Air-cooled two-stroke triple
Capacity: 543cc
Maximum power: 53bhp @ 7500rpm
Weight: 205kg with fluids
Top speed: 110mph
Read more
Few bikes can approach the howl of the MV Agusta Magni
With a twist of the throttle, the Yamaha RD350LC was a party animal
Petrol-powered motorcycles and mopeds to be phased out from 2030