MotoGP comes to Silverstone this weekend for the British motorcycle Grand Prix, with its spectacular sight of insanely fast motorbikes and a soundtrack of high-revving four-stroke race engines that will echo across miles of surrounding Northamptonshire countryside.
Maybe for a few in the crowd that sound will prove as memorable as the one that greeted this 14-year-old boy as he cycled towards the track in 1974, with practice for the John Player International Grand Prix already under way: the high-pitched shriek of numerous two-stroke race engines including that of Barry Sheene's Suzuki, occasionally punctured by the deeper four-stroke howl of 500cc world champion Phil Read's lone factory MV Agusta.
How much is your car to insure? Find out in four easy steps.
Get a quote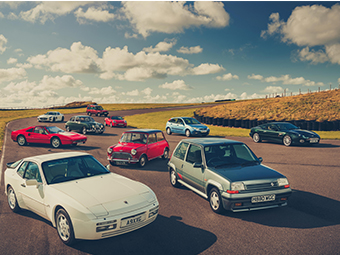 Read would retain the title at season's end, but that would be MV's and the four-stroke's last stand before the two-stroke hordes took over, led by Giacomo Agostini and Sheene. We were nearing the end of a remarkable era that had seen the "Gallarate Fire Engines" from MV's factory north of Milan win 17 consecutive 500cc championships, ridden by riders including John Surtees, Mike Hailwood and Agostini.
All of which made it even more special to be accelerating away on a stunning, fully-faired MV four, complete with yellow world champion's No.1 plates like those Read's bike wore in '74. Especially when the tacho needle hit 6500rpm for the first time, and the deliciously sculpted matt-black pipes emitted the loudest, most outrageous and most utterly thrilling racket that I'd ever experienced on a motorcycle.
Already, the sensation of riding this MV Agusta Magni had been heightened by its glorious noise. The moment the red-and-silver machine had fired up, a warbling, deeply soulful bellow had raised the hairs on the back of my neck. As I'd pulled away, the exhaust note had risen in pitch and volume, drowning out the busy whir of the big motor's fast-spinning cam gears.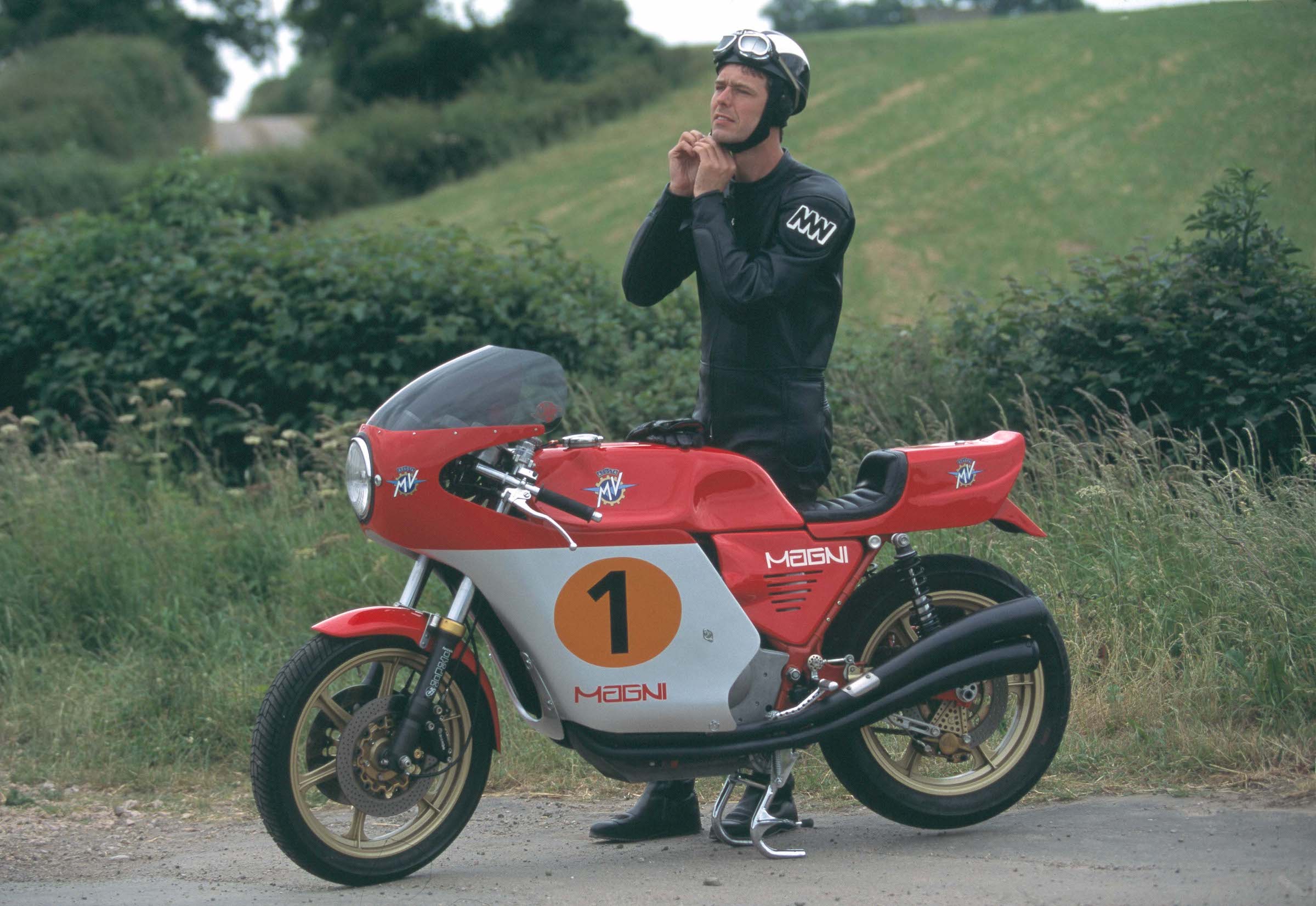 But it was with the throttle on its stop that the real magic happened. As the revs rose towards 7000rpm and the bike surged forward more strongly, its exhaust note was suddenly transformed. The tuneful howl became a hard, aggressive, shatteringly loud and almost metallic waaaaaaaaaaa that threatened to split my eardrums, which were shielded only by the leather sides of a period-style pudding-basin helmet.
It was an utterly unforgettable experience, and along with that rich racing history helps to explain why MV's mighty fours were so revered in their heyday in the mid-Seventies, and why they are still so sought-after now. This bike is even rarer and more desirable than a standard MV. It's an 832cc Magni, based on one of the special-framed, chain-drive machines produced by legendary former MV race-team boss Arturo Magni.
In fact this bike is exotic even by Magni MV standards, as it was built by Arturo for a close friend in the late Seventies, and later owned for many years by Midlands engineer Dave Kay, who sadly passed away in February, aged 82. Dave founded MV Meccanica Verghera, now run by his son Mark and grandson Mitch, which specialises in producing replicas of multi-cylinder MVs and Gileras, using original factory drawings to make many parts themselves.
If few bikes can even approach the sound of a Magni MV, the same is true of the looks of a roadster that is wonderfully evocative of Read's last title-winning works racer. Its shape and detailing are classically elegant: the long and subtly curved tank leading back to a small and delicately shaped single seat; the holes drilled for lightness in the steering damper knob, foot controls and rear sprocket; the curve of the Magni pipes.
It was a treat just to sit on the bike, leaning forward to the narrow clip-on bars and admiring the black-faced instruments, the simple pair of warning lights (just high beam and low oil pressure), the temperature gauge set further into the cockpit, and the damping adjusters at the top of fork legs that poked through the top yoke.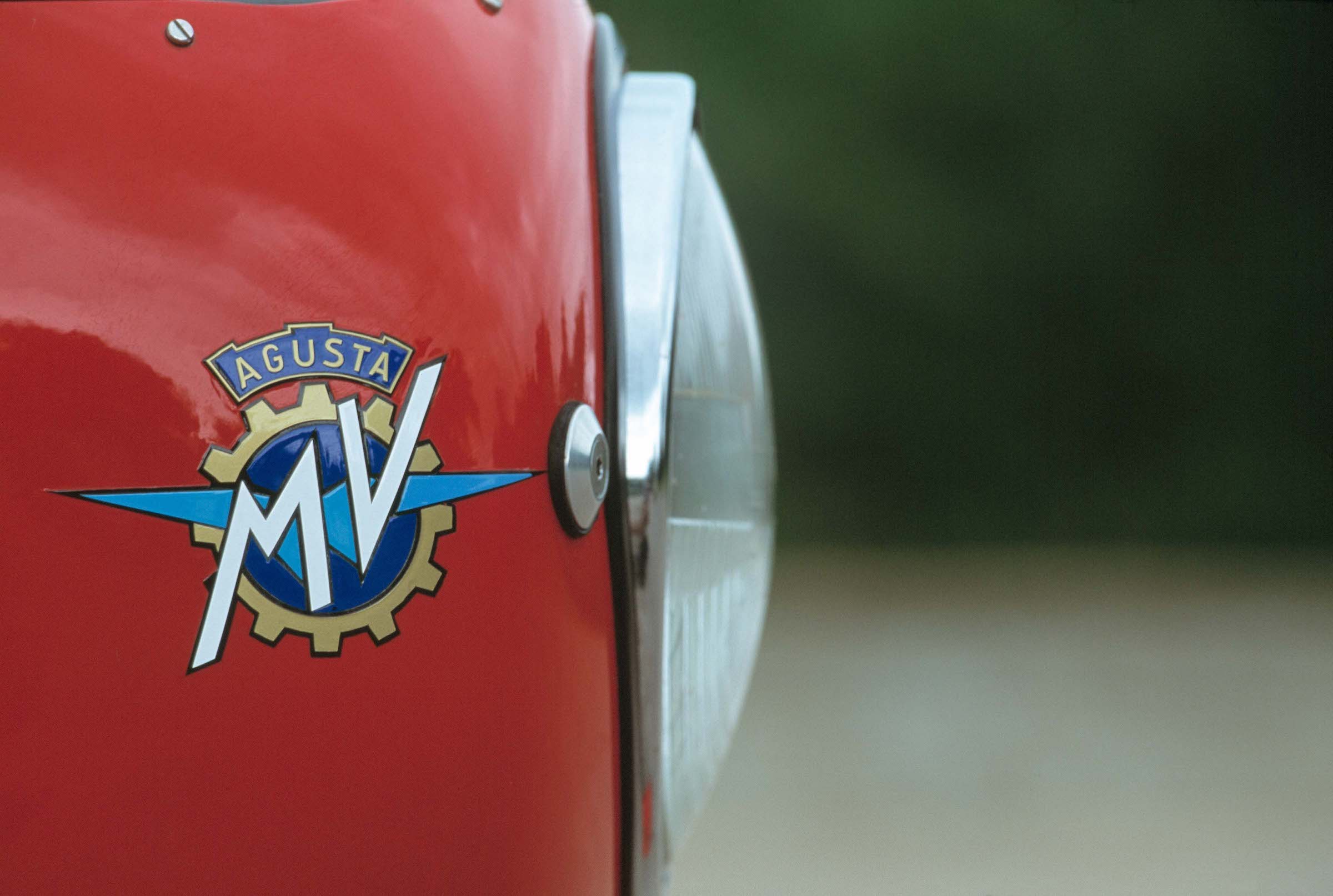 Each of the outer two 27mm Dell'Orto carbs has a choke lever, so I flicked them on and pressed the tinny-looking switchgear's button. The starter-motor – tacked on below the motor, linked by twin toothless belts and also acting as the generator – hauled the four-cylinder lump into raucous life.
First gear went in smoothly with a flick up of the right boot, and I let out the fairly light clutch to pull away, immediately impressed by the unexpectedly smooth and tractable nature of the big, fire-breathing powerplant. Even so the MV was not really the bike for dawdling round town, where its aggressive riding position and lack of steering lock made life uncomfortable.
Once on the open road it was a very different story. This Magni motor's 832cc capacity had come by increasing the original 789cc unit from MV's 750S America by 2mm to 69mm, and retaining the 56mm stroke. With a high compression ratio and lightened engine parts, it was making usefully more than the 75bhp at 8500rpm that the factory claimed for the America.
There was certainly enough power to make for strong acceleration, even before getting the Veglia tacho's needle near the 9000rpm redline. Carburation was crisp down to below 3000rpm, and the MV gained speed with a smooth and steadily increasing force in the midrange. The five-speed gearbox was generally good, too, though the change from second to third required a firm press on the lever.
At 6500rpm the bike suddenly pulled harder, as its came on the cam with that ear-splitting sound. No doubt the din made it seem even quicker than it was, but the flat-out Agusta certainly gave a mindblowing impression of speed and excitement. Top speed was about 140mph. This bike's speedo cable came adrift early in my ride, so there will be no incriminating details here.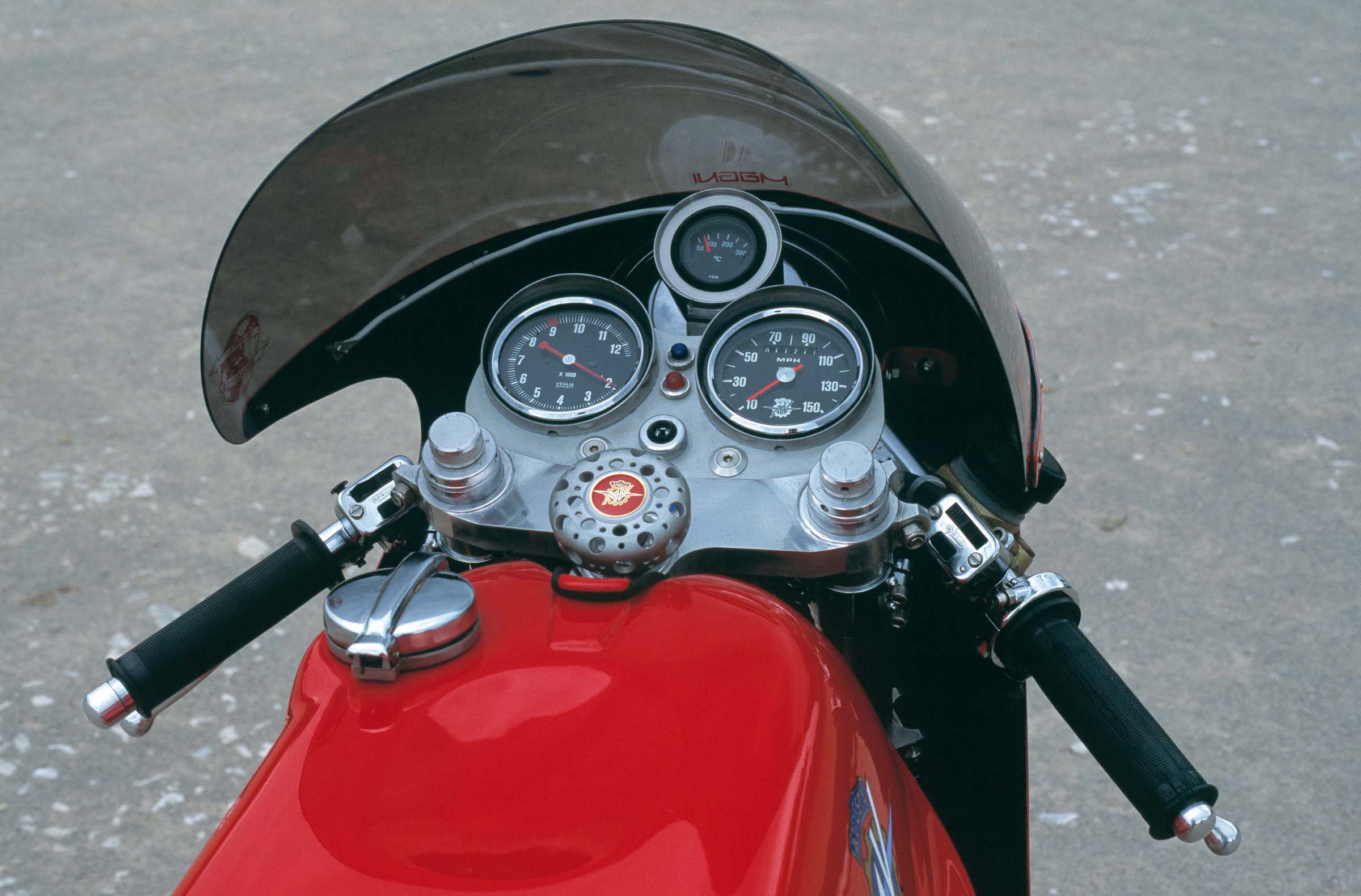 Despite their expense and racetrack heritage, MV's standard roadster fours did not handle particularly well at high speed, partly due to the factory's insistence on specifying final drive by shaft instead of chain. Magni's chain-drive conversion cured that problem, and the maestro's frame, which has twin top tubes instead of the conventional MV single spine, gave welcome extra rigidity.
This was still a pretty long and tall motorcycle, with old-fashioned steering geometry and a rather high centre of gravity. But overall weight was a reasonable 200kg compared to the 235kg of a standard MV. And with a combination of Magni frame, hydraulic steering damper and relatively modern suspension parts, the handling was pretty good.
Low-speed steering was predictably slow by modern standards, and attacking country lanes at a spirited pace required a fair bit of force through the clip-ons, but the firmly suspended Agusta went where it was pointed. Even in faster curves only the odd slight wobble got through.
Braking power from the twin front discs and four-piston Brembo calipers was reassuringly strong, and the Metzeler tyres provided respectable grip. It was a magical experience to come screaming up to a bend, blip the quick-action throttle a couple of times as I braked and hooked back a couple of gears, then force the bike into a bend and wind open the Dell'Orto carburettors to go howling off again.
Every motorcyclist should have the chance to do that just once, though inevitably the bike's sky-high value makes it impossible for all but a fortunate few. Seventies MV fours were and still are hugely expensive; Magnis even more so. This one last changed hands for a six-figure sum. If that sounds excessive, ride it and you might just change your mind.
1978 MV Agusta Magni
You'll love: Sound, speed, looks, heritage
You'll curse: Your inability to afford one
Buy it because: Ultimate Seventies race-replica
Condition and price range: Project: £80,000 Nice ride: £90,000 Showing off: £100,000
Engine: Aircooled DOHC four
Capacity: 832cc
Maximum power: 80bhp @ 8500rpm
Weight: 200kg without fluids
Top speed: 140mph
Read more
Fine-tuned by the LAPD, Moto Guzzi's California does it all
Cars That Time Forgot: ATS 2500 GT
Jay Leno is having trouble with Broughs, corks and karma