The wonderful thing about our community of petrolheads is that the cars, bikes and vehicles we celebrate come in all shapes and sizes – none more so than this modified Ford Mustang.
The MUDstang is seen in action on Unseen Builds, a YouTube channel set up in 2017 but dormant until a month ago. Now it is making all manner of films about eye-popping custom cars, and the MUDstange is the most unusual of the lot.
How much is your car to insure? Find out in four easy steps.
Get a quote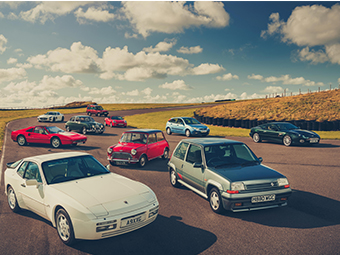 The presenter says the Mustang was originally a stock coupe until he got his hands on it and set to work on transforming it into a drag-style street car. Then his imagination got the better of him, and he decided to turn it into a grass-ripping, mud-churning MUDstang which looks like the sort of crazy creation you'd find Clarkson, Hammond and May building for a challenge on The Grand Tour.
Using spacers to mount huge 24-inch wheels outboard, the MUDstang has what our younger petrolheads refer to as 'stance'. Whether or not such things should ever be done to a Ford Mustang is a debate that won't be settled anytime soon – at least not by the end of this story.
At the heart of this beast is Ford's second-generation Coyote engine, a 5-litre, V8 unit with 435bhp in standard form. As you might imagine, however, it has undergone a considerable amount of tuning.
A pair of turbochargers, new pistons, uprated fuel pumps, intercooler and improved cooling system and all manner of electronic trickery are said to nearly triple the power output of the V8, to 1200bhp. A bonnet-exit exhaust is one weight-saving trick borrowed from McLaren or, indeed, Ken Block's Hoonicorn Mustang. Handling all that grunt is a GM-sourced three-speed Turbo 400 transmission with a Hurst shifter.
We're not sure what the turning circle is like, because the steering lock appears to be non-existent. And there are one or two mechanical maladies that rear their head. But heck, this is a crazy creation – one we suspect more than a few of us would like to have a play with.
It is a wild homebuilt special that, let's be honest, could only come out of the US of A. And for bringing us the MUDstang, we salute its owner and say: what's next?