It's painful enough to think of someone even scratching your precious classic, so the thought of it being stolen and disappearing completely will be almost too much to bear for an owner.
Older cars are easy picking for thieves, however. Ancient locks won't prove much of a deterrent and once the car is in a crook's possession it is all too easy to swap a classic's identity or break it for parts.
How much is your car to insure? Find out in four easy steps.
Get a quote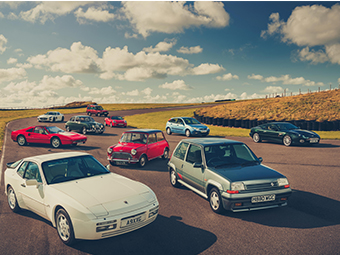 Electronic anti-theft devices can work well, but a simple steering wheel lock is a highly-visible and effective deterrent. They can be installed quickly whether you are just popping to the pub on a sunny Sunday or leaving the car stored over winter in a lock up. Best of all, they don't involve modifying your car in any way.
Any lock is better than none, but which offers the best combination of value and security?
We enlisted the help of a vehicle security consultant with more than 30 years' experience to see if our selection of devices could hold up to an attack. For obvious reasons we won't be telling you how we tried to beat the locks, but it ranged from brute force to skilled picking, using any tools which would be available to a thief.
We assumed that any criminal would not be willing to spend more than five minutes attempting a removal, so any lock which resisted attack for longer than this was considered to pass our test.
Winner – Stoplock Pro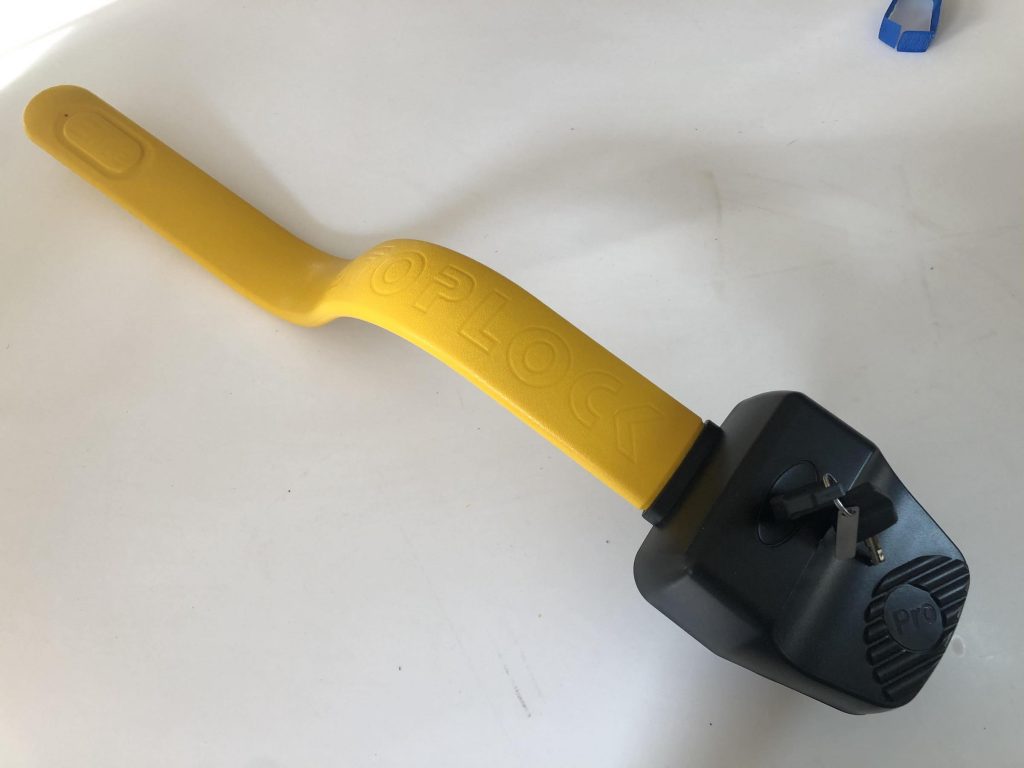 Price: £45 
Resisted attack: 5+ minutes
Score: 10
Contact: halfords.com
The Stoplock Pro looks very similar to the devices which have been around for decades but the latest version has evolved to be even more secure. There is still the familiar yellow bar which is fed though the rim of the wheel and provides a very visible deterrent. It also protects the airbag from being stolen if you have a newer classic, and prevents access to the nut to remove the wheel entirely on an older car.
The actual locking section has two hooks which can be placed either side of a spoke, making it difficult to remove by simply cutting the wheel. The bar is long enough to prevent rotation too, even on larger vehicles.
It resisted all of our attempts to remove it in the five minute limit, even using power tools. Add in the reasonable price and ease of use and you can see why it's the lock many now choose to use on their cars.
Runner Up – Milenco High Security Steering Wheel Lock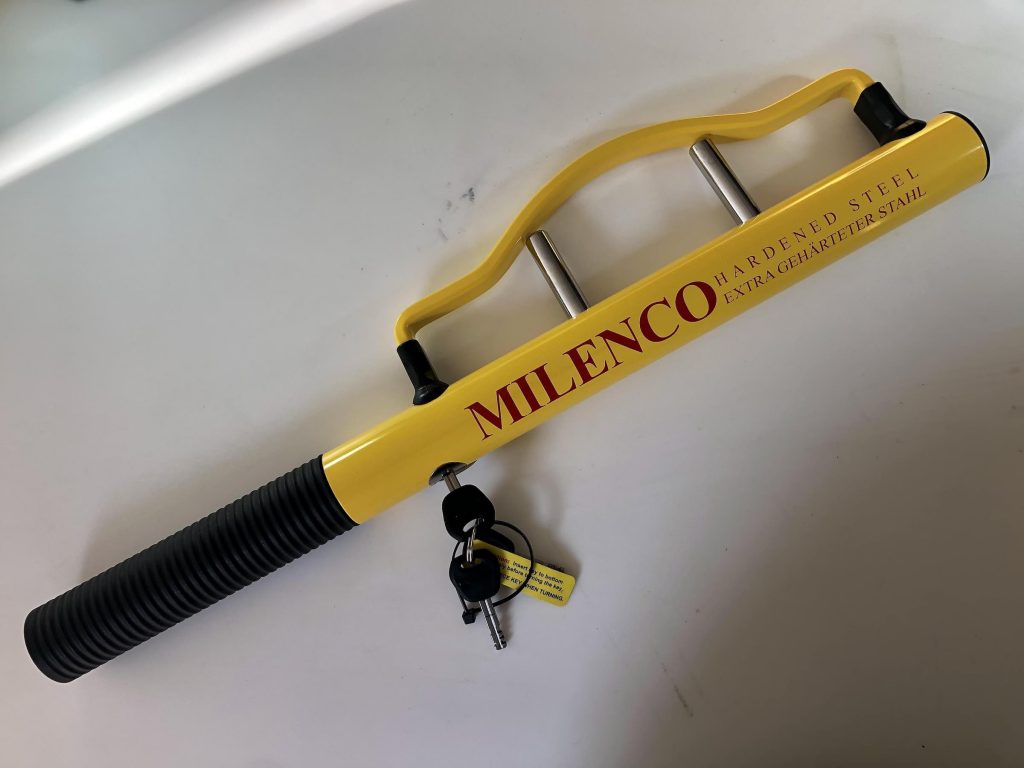 Price: £59.99
Resisted attack 5+ minutes
Score: 9
Contact: milenco.com
The Milenco's substantial weight makes it feel as though it's made from girders, and its ability to resist attack suggests as much too. Numerous official approval seal stickers from expert organisations inspire confidence too and suggest we aren't the first to attack the Milenco in a lab. Sure enough, after five minutes of attack with power tools it was still holding strong and there were no other weak points to exploit.
We also liked its compact size, which meant it could be stored inside the car without getting in the way constantly.
It's not perfect though. The fitment method is unusual and takes some getting used to. While you'll soon master it, we thought it was a little awkward. Once in place it leaves the wheel centre exposed too, making it easy to access the wheel securing nut or airbag.
Runner up – Streetwize Full Steering Wheel Lock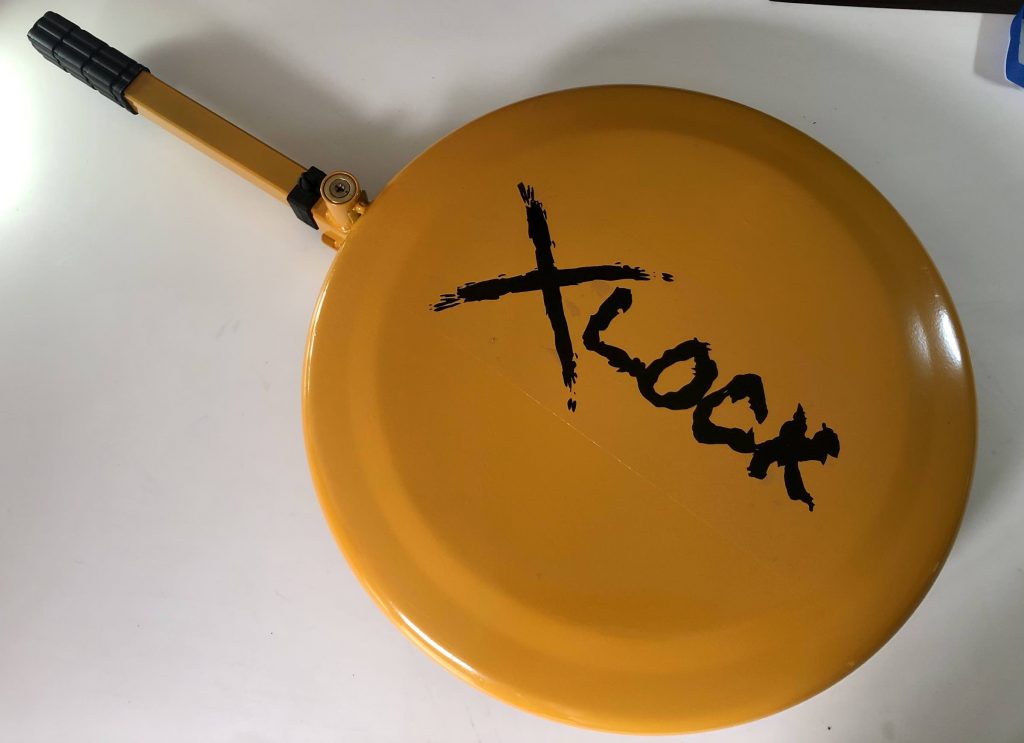 Price: £31.44
Resistance time: 4.5 minutes
Score: 8
Contact: screwfix.com
Locks which cover the entire steering wheel might not be pretty, convenient to carry or easy to fit, but there's no doubt that they offer great protection and a hugely visible deterrent – especially when they are painted bright yellow like the Streetwize. If we were leaving a car parked up for a long time then this type of lock could be a good bet.
The Streetwize looks decent value too, at just over £30 from Screwfix. But there are compromises: an extra blocker bar which prevents the lock turning has to be inserted and makes fitting it a fiddle, while the keys are big and clunky.
But the Streetwize did a good job resisting attack, only succumbing to the biggest power tools after four and a half minutes of noisy attack.
Disklok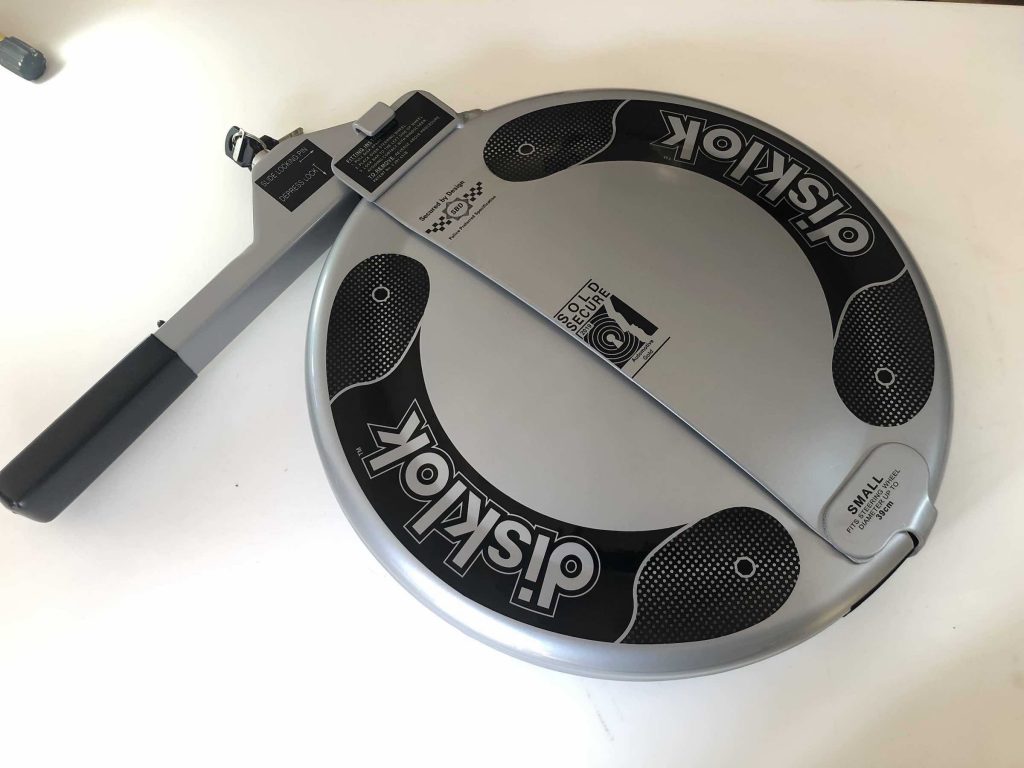 Price: £119.99
Resisted attack: 5+ minutes
Score: 6
Contact: disklokuk.co.uk
If you are really serious about protecting your car, a Disklok would seem to be the way to go. The solid metal shell encases the entire steering wheel and is almost indestructible, while clever protection on vulnerable points makes power tools ineffective. No thief would attempt to remove a Disklok unless they had a lot of time and privacy.
But it's big and very heavy, which means you're not inclined to pop it on every time you park outside a shop. It's also the most expensive lock here by some margin. In addition, we also discovered that it's crucial to make sure you get exactly the right size lock for your car or it won't offer infallible protection.
Monojoy Steering Wheel Lock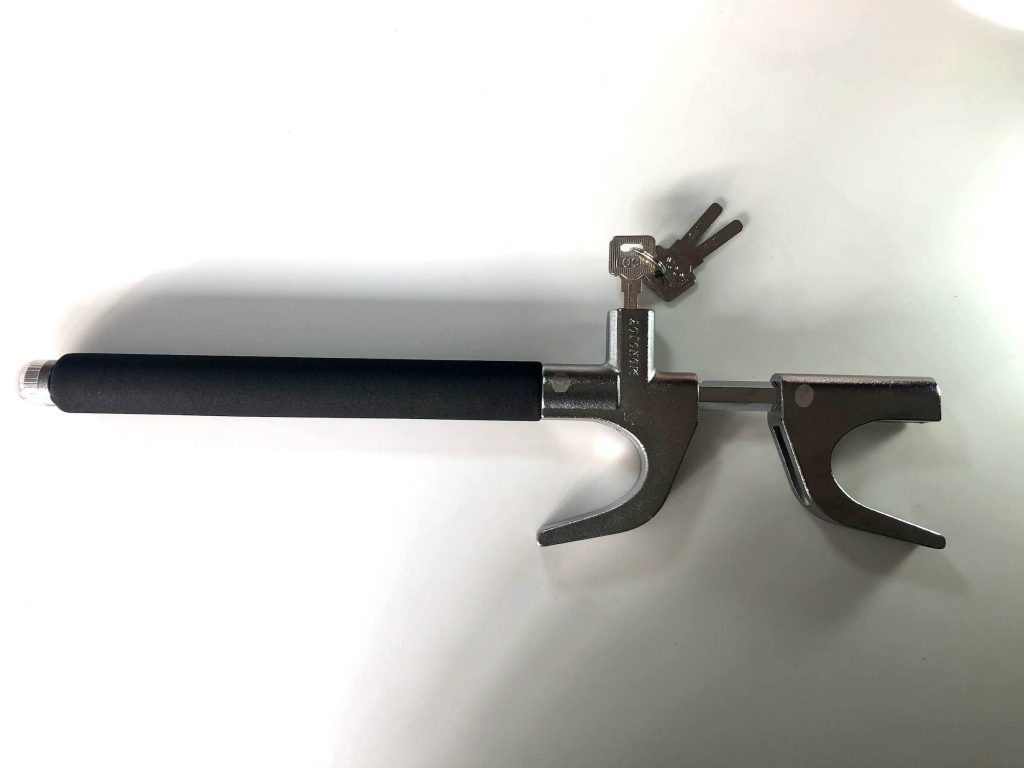 Price: £29.99
Resisted attack: 1.5 minutes
Score: 6
Contact: amazon.co.uk
This Monojoy lock didn't fill us with confidence immediately, partly because the packaging and build quality made it look like something you'd find on a market stall. We were also concerned that the black and chrome appearance might look stylish and match the interior of your classic, but offers little in the way of high-vis deterrent to anyone glancing through the window. We were also a little alarmed by the spiked end, which is designed to be used as an emergency window hammer if you are trapped after an accident. It could damage the interior easily and would need to be well secured in the car – although the same could be said of any of these steering wheel locks.
We were pleasantly surprised by the Monojoy's ability to resist our attacks though. The materials were sturdier than they look and fended off our tools for a reasonable minute and a half. It's easier to store than some of the bigger locks too.
Streetwize Steering Wheel Lock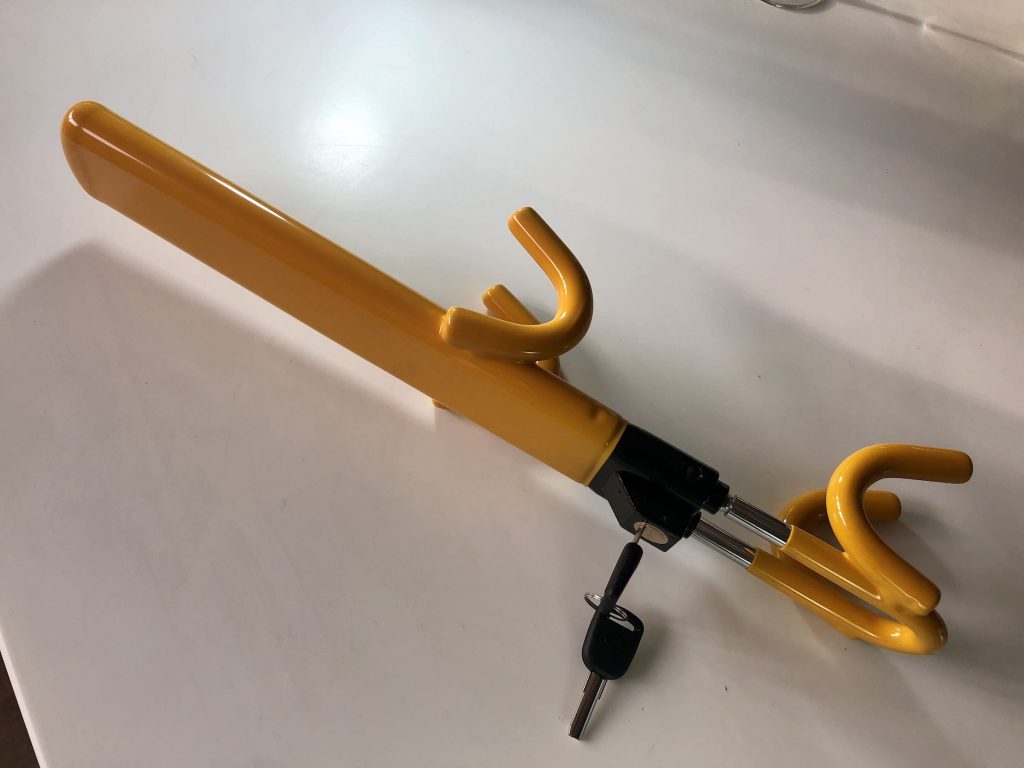 Price: £19.49
Resisted attack 10 seconds
Score: 5
Contact: toolstation.com
At less than £20, the second Streetwize lock in our test looks decent value and feels reasonably substantial too. With a bright yellow main shaft it will be visible and deter the casual thief glancing through the window. Its compact size also means it won't take up too much room inside the car, and could be left in a footwell without irritating your passengers. Unlike the visually-similar Halfords Essentials lock, the keys are easy to use and small enough to fit on your keyring without looking daft.
But it doesn't offer great protection against the knowledgeable thief. Despite feeling substantial, our expert removed the Streetwise almost as quickly as we could with the keys.
Halfords Essentials Double Bar Steering Lock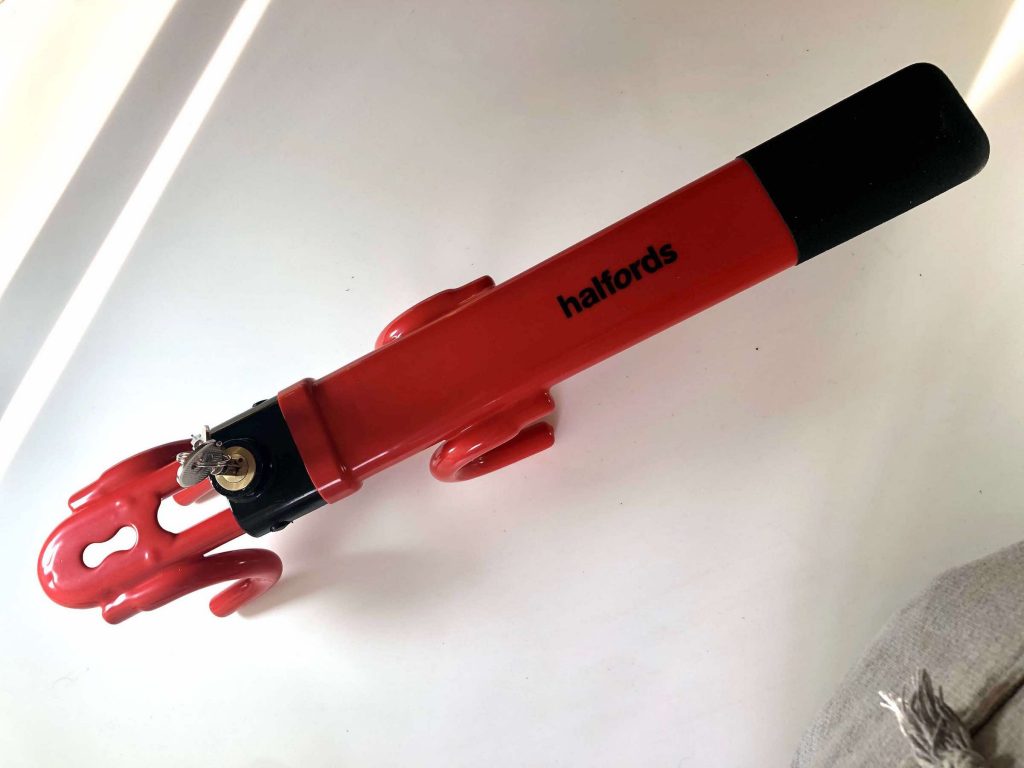 Price: £19.99
Removal: 5 seconds
Score: 4
Contact: halfords.com
Like the Streetwize lock, the Halfords 'Essentials' device has four hooks and two sliding bars, giving it the look of something which is going to offer decent security. It's also compact, making it easy to store, and is easy to attach to your steering wheel.
It's not quite so easy to remove though, as the odd-looking cross-shaped keys have to be aligned in just the right way to fit the lock. It's fiddly at the best of times, but in the dark it's almost impossible.
Our security expert found a much faster way to remove the lock though – and he didn't need the key.
Halfords T-bar Steering Lock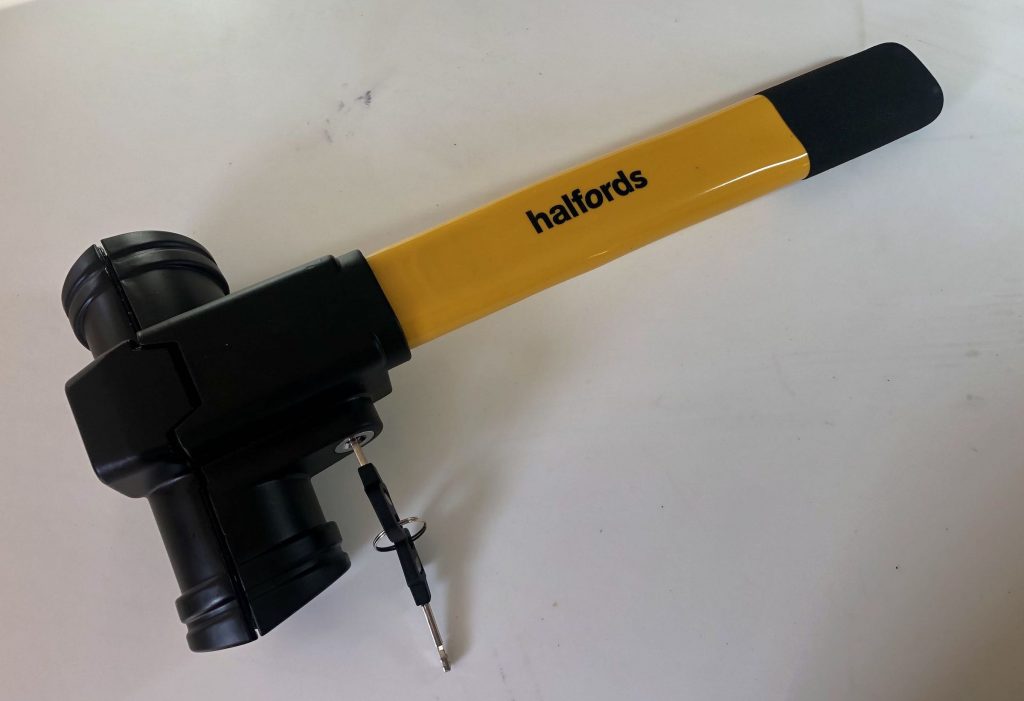 Price: £21.99
Resisted attack: less than 5 seconds
Score: 4
Contact: halfords.com
We really liked the idea of Halford's T-bar lock – in theory. It's compact, nicely designed, feels substantial and is easy to use. You don't need the key to be able to lock it, so there is no fiddling around when you want to secure your car, meaning you might use it more often, even on shorter trips.
It's highly visible too, with a bright yellow bar which rests on top of the dashboard while the clasp secures to the wheel. A casual thief will be able to spot it through the windscreen, even if it's dark or the glass is frosty.
Unfortunately, the lock is simply not strong enough to resist attack and our expert removed all too quickly and easily. Hopefully the average car thief wouldn't have the same knowledge, but we'd not want to take the risk.
Verdict
1 Stoplock Pro Elite
2 Milenco High Security Steering Wheel Lock
3 Streetwize Full Steering Wheel Lock
Whichever steering wheel lock you choose, our expert recommends that you turn the steering so the car can't be rolled away – and it makes it tricky to tow. If you are really concerned, consider bolstering other security too, both on the car and the area where it is usually stored.
If you are parking up for a long time or want the ultimate protection, a lock which completely covers the entire steering wheel is going to offer you the best protection. But they are clunky to use, awkward to store and – in the case of the Disklok – expensive too.
Of the locks which are more suitable for everyday use, our expert was thwarted by both the Stoplock and Milenco, with both holding up to attack for longer than our five minutes.
The Stoplock Pro takes the victory here due to its cheaper price, ease of use and protection offered to the centre of the steering wheel.
Read more
Reviewed & Rated: Car data checks put to the test
How to choose the best vehicle tracker for a car, bike or caravan
Thieves use tech to track and steal classic cars