Most people you'll meet while dealing with classic and specialist cars will be lovely, and the social aspect of driving an interesting vehicle is one of the reasons we all love owning old motors.
But the money involved in our favourite hobby inevitably attracts some dubious characters too. Older cars are easy to steal and even easier to disguise and pass off to unsuspecting buyers. The availability of identities from rotten or scrap vehicles makes it easy to swap over a VIN plate and convince a buyer that it is legal.
How much is your car to insure? Find out in four easy steps.
Get a quote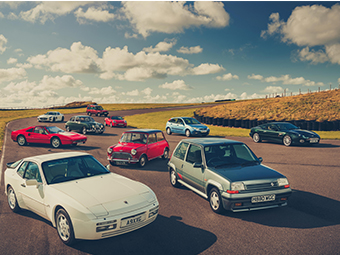 Besides being stolen, the car you've been eyeing up could still have been written off by an insurance company at some point in the past or belong to a bank as it's on finance.
In the worst case, you could find your new purchase taken away from you with no compensation. At best, the dodgy history might put a real dent in the value of your car when it is uncovered.
A data check – known sometimes as a 'HPI report' after the biggest supplier – is an essential part of the research you should do before handing over any money. Dealers will do them religiously and there is now a decent selection of thorough checks available to private buyers too, at costs which make it a 'no-brainer' for any purchase.
To see which was best for the classic buyer, we ran the details of a selection of cars with colourful pasts including a stolen BMW, an insurance write off, a potential clone for sale as a VIN plate with documents on an auction site, and a Land Rover which had previously worn a 'cherished' registration number.
As expected, the sites all flagged up the registered write offs and stolen cars, but extra points were awarded if there were other elements to the check or advice given.
We also looked at the costs of a check, either as a single or as part of a multi-buy package.
TotalCarCheck – Best Buy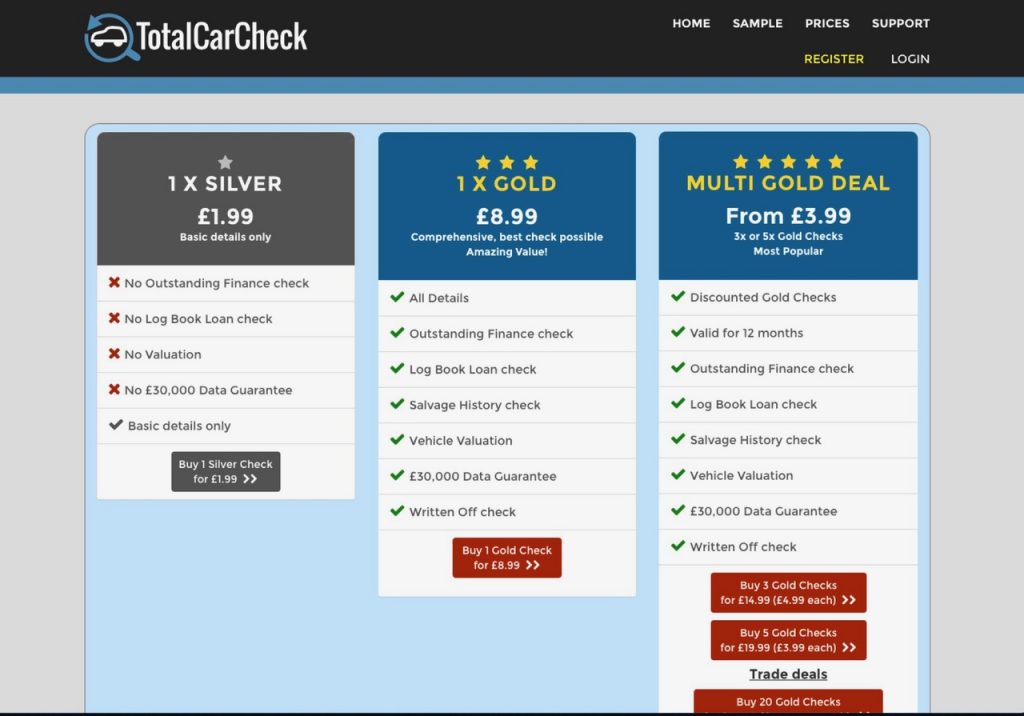 Price, single check: £1.99 or £8.99
Price, five checks: £19.99
Score: 10
Contact: totalcarcheck.co.uk
TotalCarCheck should be your first port of call even when you are just browsing the classified adverts, as it gives away a surprising amount of information for free. It will even tell you if the car is registered as stolen in exchange for signing up to a newsletter.
If you want to go further, stump up £1.99 for a basic Silver package and it is actually better than some rivals' full checks. It includes the usual stolen/written off/cherished plate change data but also has a nice keeper duration section. This tells you how long the previous three owners have kept the car and is a really interesting insight into the car's history – one of our Land Rover's owners kept the car for more than 15 years .
The Silver check even scans salvage auction databases to see if a car has been sold but hasn't been registered on the insurance database as a write off, adding another layer of protection.
Upgrading to an £8.99 'Gold Check' adds finance status, a check against log book loans, and a series of valuations – although the latter doesn't work for older classics as the price is so dependent on condition. [Fear not – there's the trusty Hagerty Price Guide for all that. Ed.]
As classics are less likely to be on HP or a PCP which is secured on the car, we'd be tempted to stick with the Silver and pocket the change. Just check the V5 registration document is present and correct to make sure the owner hasn't pawned the car.
Carguide – Runner up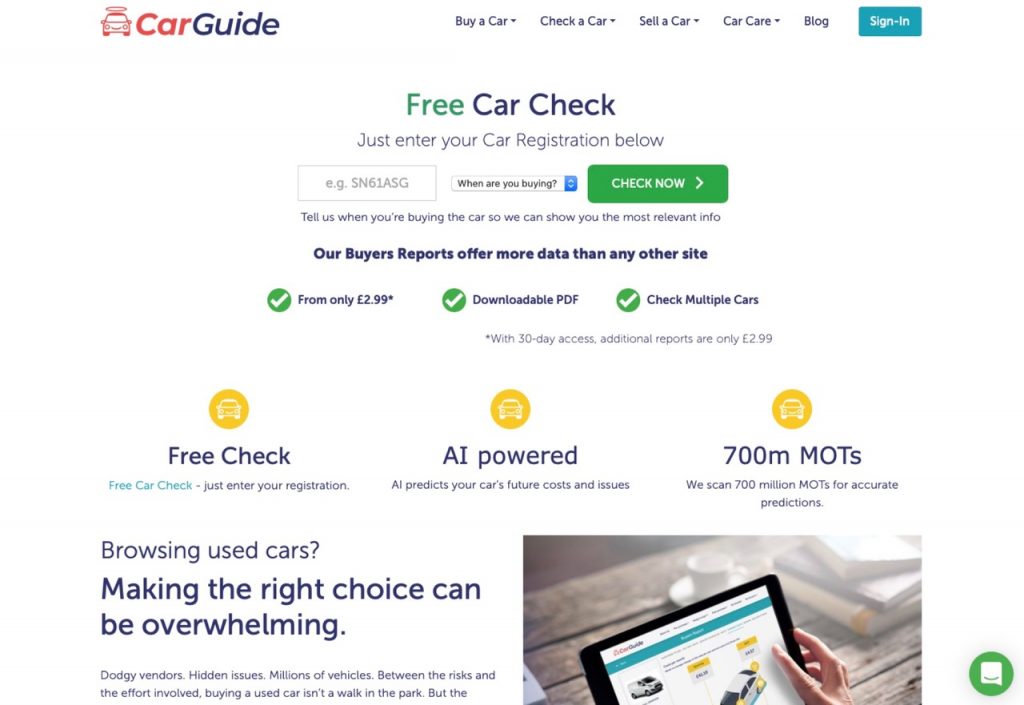 Price, single check: £8.99
Price, five checks: £19.96
Score: 8
Contact: carguide.co.uk
Carguide's unique selling point is that it can predict the future of your car as well as scan its past. It doesn't use a crystal ball, but instead uses data from fleets and MoT data to tell you what maintenance bills you are likely to face.
This is all very clever but will be of little use to classic car owners looking for vehicles which have long since fallen off the fleet user lists.
Luckily, the rest of the check is still useful and reasonable value. As with the TotalCarCheck the free basic check includes a lot of useful info to help you compile a shortlist, including a salvage auction alert that uncovered a dodgy damaged car which hadn't been registered on the official insurance database.
But the site isn't as user friendly as our winner and is seemingly built to be read by search engines rather than real people, with repetitive phrases around key words. The descriptions of the pricing are slightly misleading too, with an 'unlimited' package actually entitling you to only two full data reports. Still, extra full data checks are only £2.99 once you've bought two, so it could work out cheaper if you are going to be doing a lot of checking up on potential purchases. Persevere through all the irritations and there's a decent amount of data available for not much money.
AA Car Check – Recommended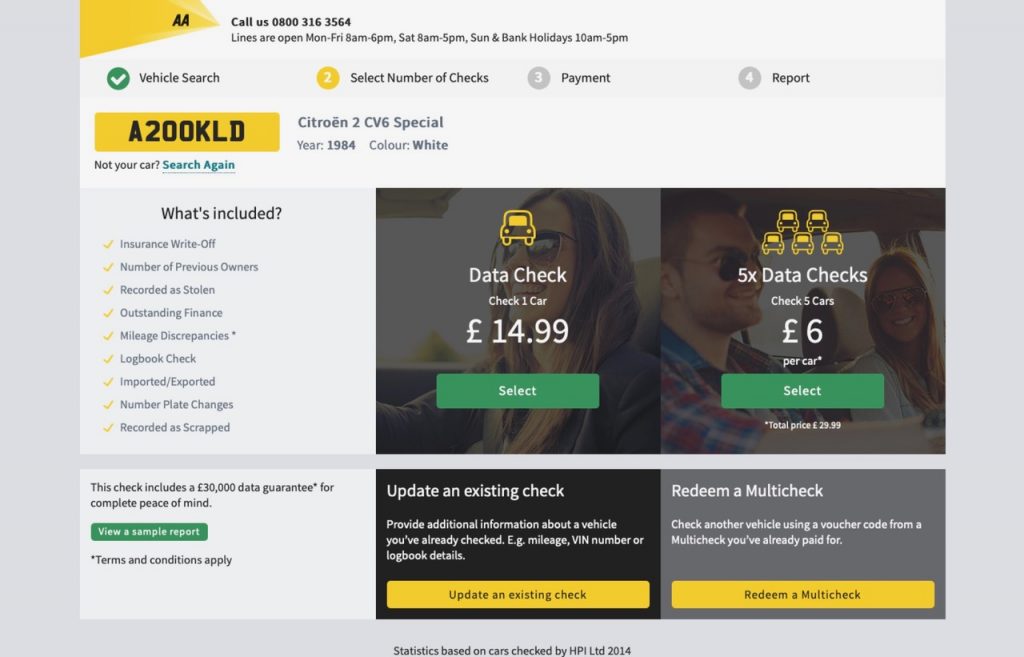 Price, single check: £14.99
Price, five checks: £29.99
Score: 8
Contact: theaacarcheck.com
There's more than a passing resemblance between the AA's check site and the HPI web page, and it appears the data supplied comes from the same source. They are far from the same price though, with the AA coming in substantially cheaper – five checks for £29.99 is pretty good value.
The data supplied is very comprehensive too, with an almost bewildering array of tabs including a 'Fraud Guard' which helps you check the V5C registration document's serial number and car's chassis number against DVLA records. There's also a valuation and fuel economy data which are largely useless for classic owners and are actually less detailed than some of the rival sites for checking more modern cars.
The sign-up process is over complicated and time consuming too, which isn't such a problem if you are sat at your desk but could be a faff if you are trying to do a check while actually viewing a car with the vendor tapping their foot in front of you.
Caranalytics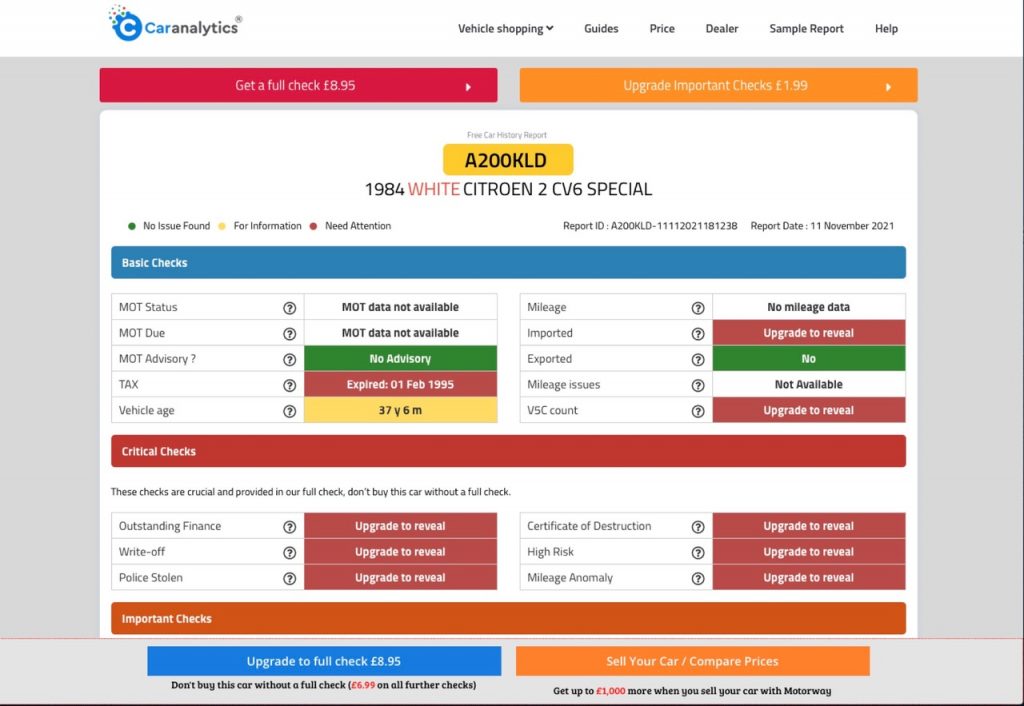 Price, single check: £8.95
Price, five checks: £36.91
Score: 7
Contact: caranalytics.co.uk
We were initially put off the Caranalytics site because it has a bit of a 'homemade' feel compared to the others here, complete with the odd spelling mistake and scrolling Google ads that make the webpage look cheap. But look beyond that and Caranalytics actually offers a really comprehensive check.
There is a £1.99 option (as with the winning TotalCarCheck) but it's not one we'd recommend as it doesn't include the data you'd really want such as evidence of a car being stolen, written off or on finance.
The £8.95 package is far more comprehensive, and the report is easy to understand and read. The mileage reports are taken from multiple sources to ensure accuracy and any additional checks are £6.99 each, which might work out as slightly more economical if you only want to investigate a couple of cars rather than buy in the multiples offered in rivals' deals.
RAC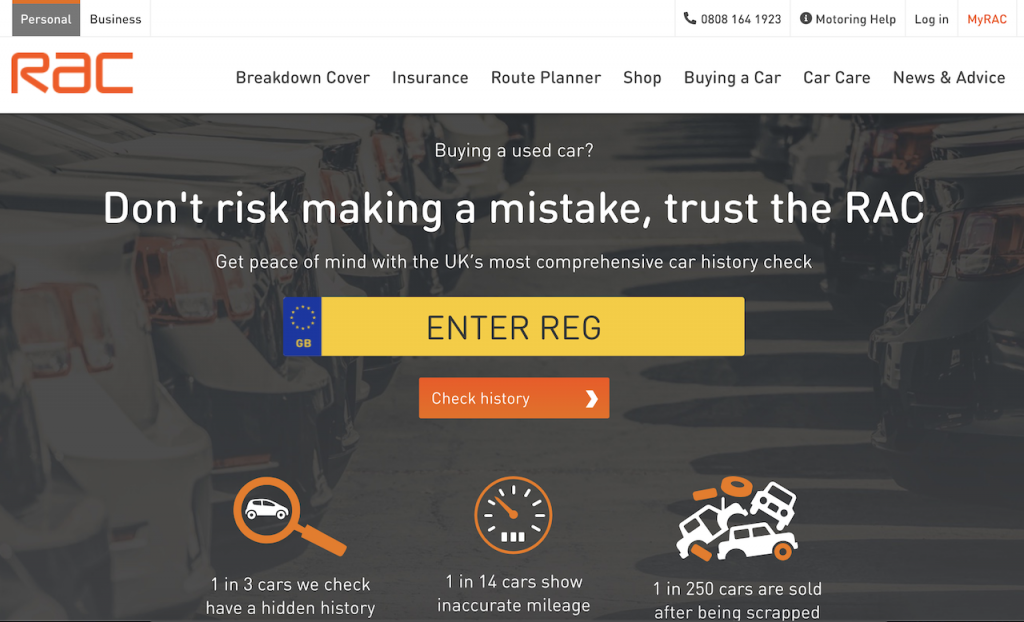 Price, single check: £9.99 or £14.99
Price, five checks: £29.97
Score: 7
Contact: rac.co.uk
There's no chance of getting any information for free from the RAC it seems. The minimum package on offer is £9.99, and although this 'Basic Check' looks like it has very limited information when viewed on the site's sneakily compiled comparison table, it actually investigates all of the important areas you would really want, such as if the car is registered as stolen, written off or has finance owing.
The extra fiver for a full check does add some more detail to the searches and a few other points of interest, but it's no better than our top ranked checks here and costs substantially more. The only other possible benefit is the offer of free vouchers to use at the RAC's online shop. It difficult to recommend the RAC checks purely because they offer pretty poor value.
HPI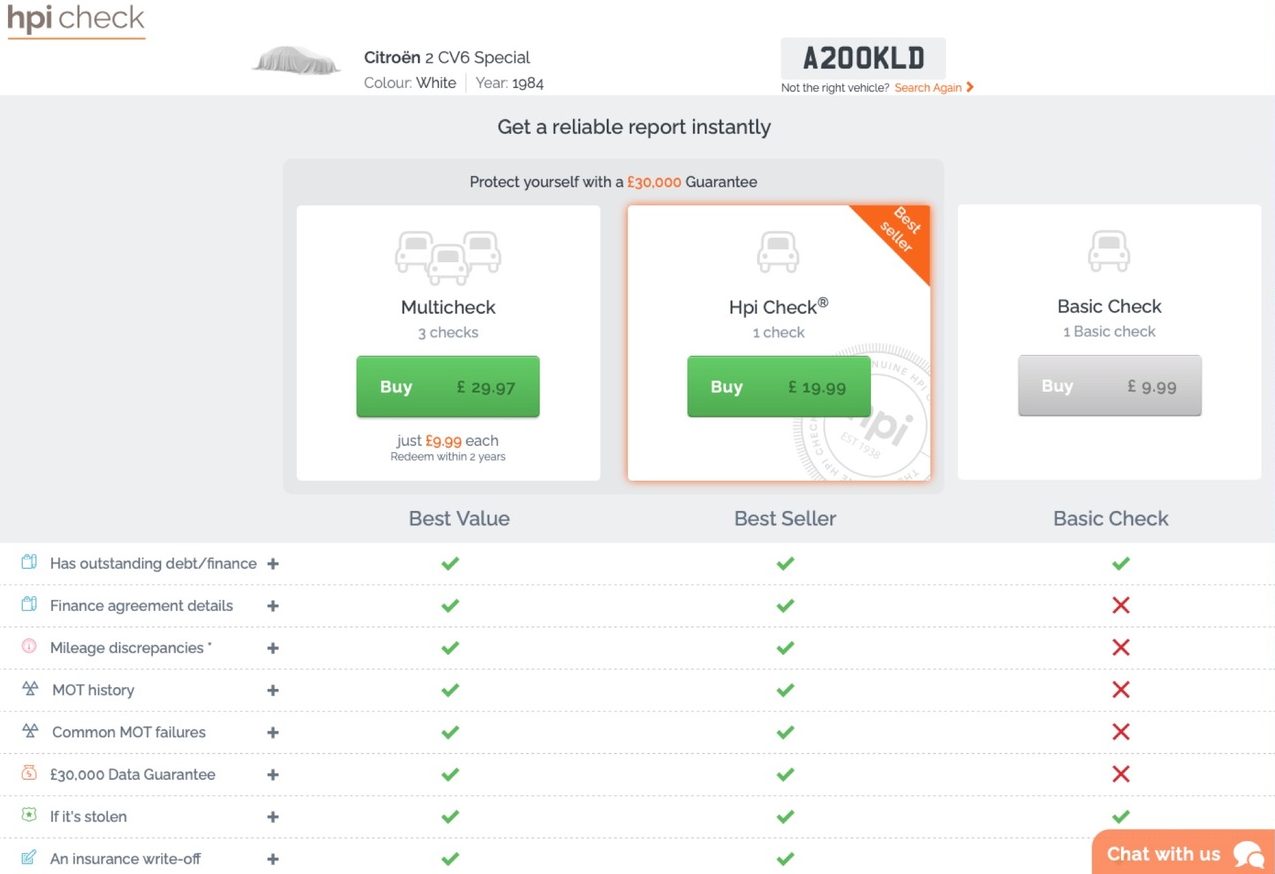 Price, single check: £19.99
Price, six checks: £59.94 (2x three check package)
Score: 6
Contact: hpicheck.com
Car data checks are still called 'HPI reports' by most people in the trade, and it has become a generic name in the same way as Transit for a van or Hoover for a vacuum cleaner. This is because the company has been doing these kind of reports for decades and many of the other suppliers here take feeds of data from them.
This experience and expertise shows in the depth of data in a HPI report, and it's all presented in a logical and easy to understand layout.
What's not so impressive is the price. Absolutely no information is given away for free and a single check is a whopping £19.99 – that's more than a package of five from our winner. A multibuy offer of three gets a discount at £29.97, but it's still pricey. If you really want the HPI quality then try the AA site – it appears to offer the same information and layout but costs a fiver less.
Instant Car Check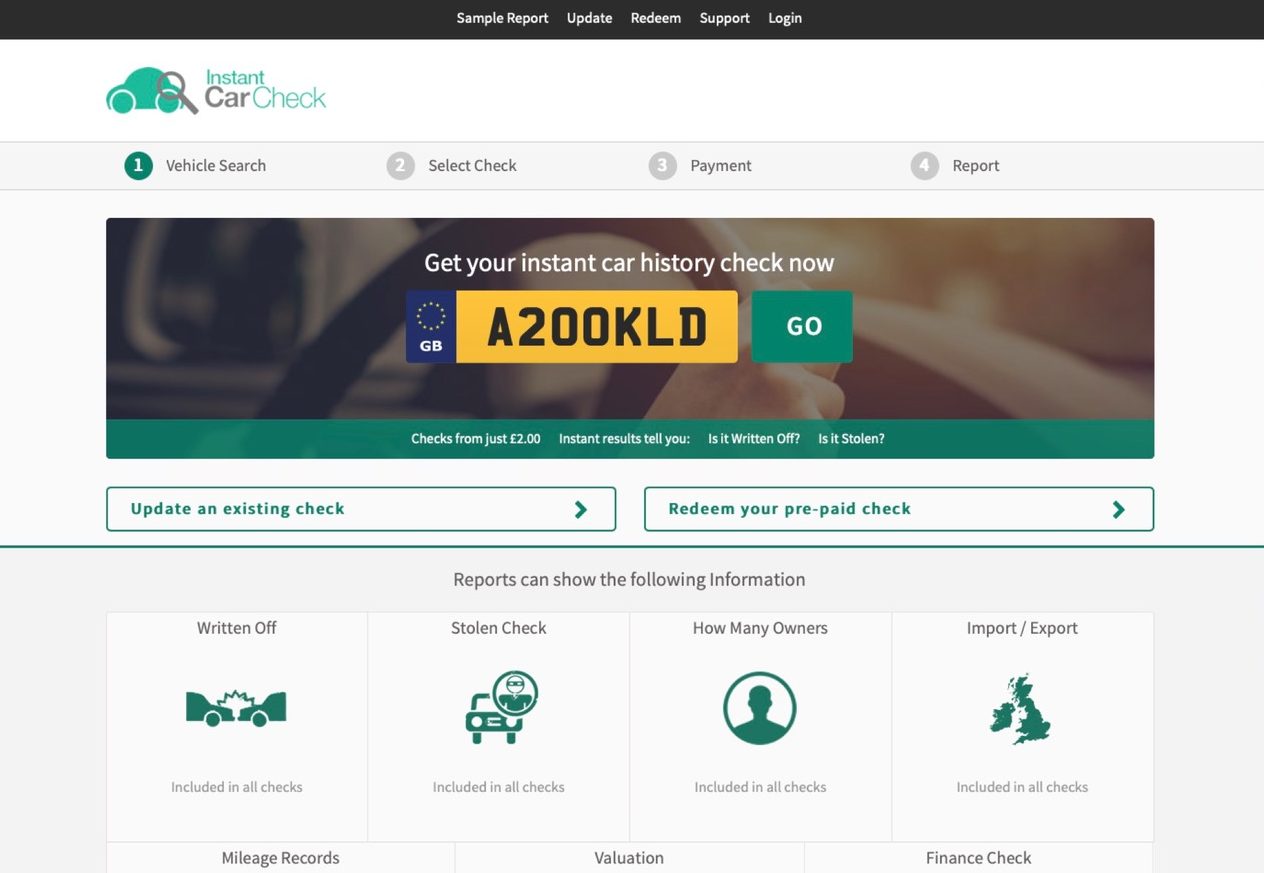 Price, single check: £2.95-£5.95
Price, five checks: £9.99
Score: 6
Contact: instantcarcheck.co.uk
HPI's products seem to be aimed more at the trade user, hence the eye-watering cost for private customers. The company hasn't forgotten us though and has a more consumer-friendly – and cheaper – site which is fronted by the brand Instant Car Check.
The cheapest check is a £2.95 'Basic' which looks through the HPI database to see if your potential purchase is stolen, has been written off, scrapped or has had a plate change. Upgrade to a 'Gold' pack at £5.99 and it will include a chassis number match, valuation and tell you the number of previous owners. It will throw in the MoT history information too, although this is available for free on the government's own site.
The multibuy offer looks generous too, as five Golds can be bought for £9.99. But it is what's missing that worries us. Even the Gold doesn't include the finance or mileage checks you'd expect and adding those is £4.99 and £2.99 respectively. Better reports are cheaper elsewhere.
Verdict
1 TotalCarCheck
2 Carguide
3 AA Car Check
If you like to browse websites looking at adverts and making shortlists of potential purchases, the free checks offered by our top-rated sites will allow you to weed out some dodgy cars without you having to invest a penny.
Once you've got to the stage of going to view a car, the prices at TotalCarCheck make it cheap enough to run a car's details through the site and have a report ready for when you are with the car, so you can cross check the information such as chassis numbers as part of your inspection.
Carguide's full checks are decent value too, but the information isn't as easy to digest and there's a lot of data which is wasted for a classic car buyer. Our last podium place goes to the AA's bargain-priced rebrand of the HPI site.
Read more
Reviewed & Rated: The dirt on the latest pressure washers
Elbow Grease: Perfect paint, PPF, and cleaning vinyl trim
What nobody tells you when you buy an electric car