Nearly 300 vehicles will go under the hammer at the Artcurial Rétromobile sale in 2023, including some of the rarest and most valuable cars in Europe. Selecting a dozen or so for an auction preview was becoming a challenge. Do we focus on the rarest, the most expensive, the fastest or even the most affordable?
There are three Bugattis, including a 1929 Type 35C with a pre-auction estimate of €2.5 million to €3.5m and a 1935 Type 57 Atalante that's expected to fetch up to €3m. A 1951 240 America Barchetta Touring Superleggera with a pre-auction estimate of €5m to €8m is one of 22 Ferraris at the sale. Fancy a Porsche? Artcurial has 39 to choose from.
How much is your car to insure? Find out in four easy steps.
Get a quote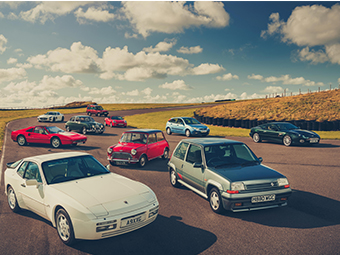 As you'll see from the title, we've decided to focus on the weird and wonderful at the Rétromobile sale. Some are crazier than others, but each one is guaranteed to turn a few heads at any cars and coffee event. The auction takes place over the weekend of the 3-4 February, 2023, and given the cars' rarity you won't find them listed in the Hagerty Price Guide.
Röhr 'Tatzelwurm'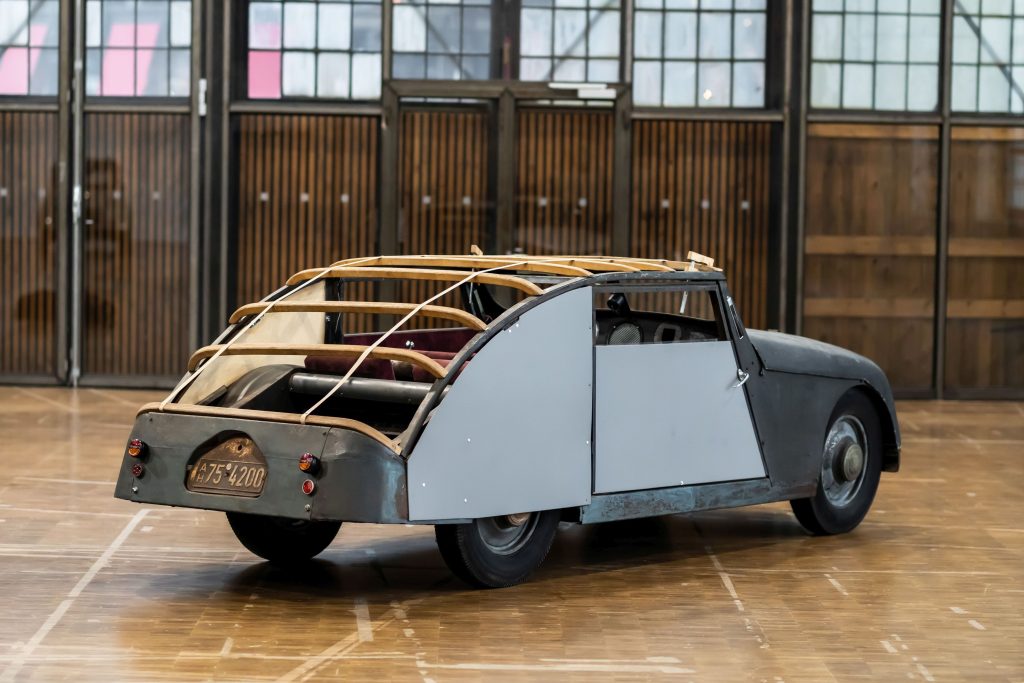 Estimate: €50,000 – €80,000 (£44,000 – £70,000)
The Junior was built by the German company Röhr Auto under license from Tatra. It was essentially a modified T75 with a smaller engine, and although it was a popular car, there are believed to be just five or six survivors. This 1933 'Tatzelwurm' was designed by Karl-Wilhelm Ostwald, a mechanical engineering student who was employed by Röhr. He left the company in 1934 – a year before it went bankrupt – and set about turning the car into an aerodynamic test vehicle.
For nearly four decades, the car served as a regular means of transport for the Ostwald family, before it was discovered by a collector. Stick it in a Tatra collection and it wouldn't look out of place, and there are even shades of the Saab 92, albeit years ahead of time. In case you were wondering, 'Tatzelwurm' is a lizard-like creature with the face of a cat. We adore this quirky conveyance, but we're not entirely sure why.
Fiat 126 Bis Cabriolet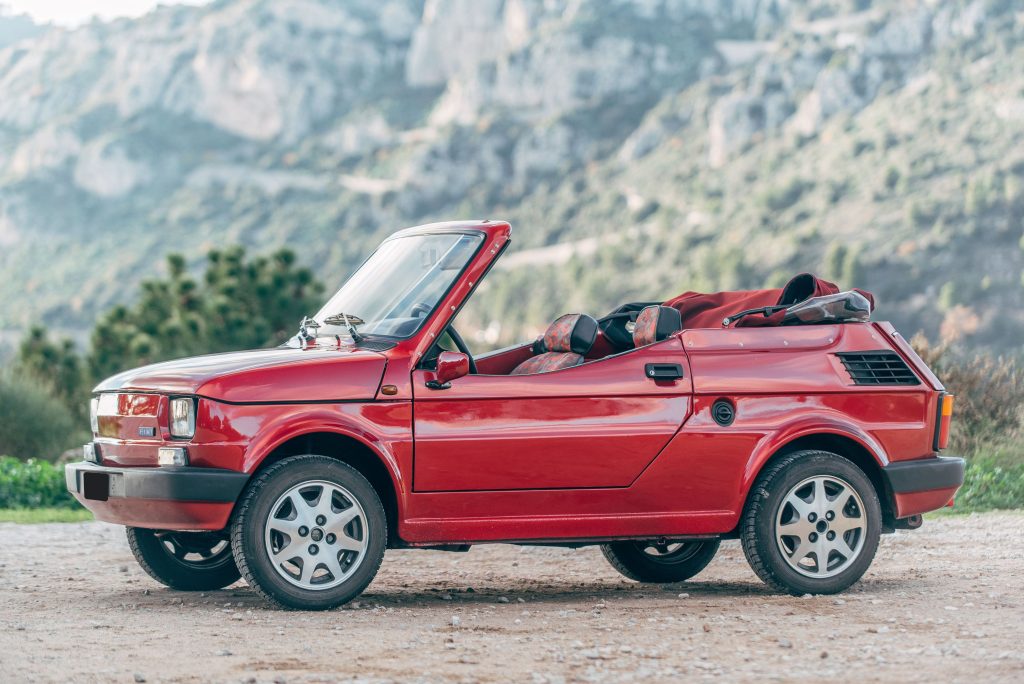 Estimate: €8000 – €15,000 (£7000 – £13,000)
Somebody needs to get Fiat 126 fanboy Tom Hanks on the blower, because this 'cabriolet de plage' is likely to be right up his promenade. With a pre-auction estimate of €8000 to €15,000, it's one of the most affordable cars in the Artcurial sale. The Italian-market 'Made by FSM' badge on the back is a reference to its country of origin; from 1985, all 126s were built in Poland. FSM stood for Fabryka Samochodów Malolitrażowych.
This example has lived in the salubrious surroundings of Monaco since 2015, with Artcurial saying it's "ideal for regions with a hot and sunny climate". Not Manchester, Margate or Morecambe, then?
Porsche 911 SC 'Safari'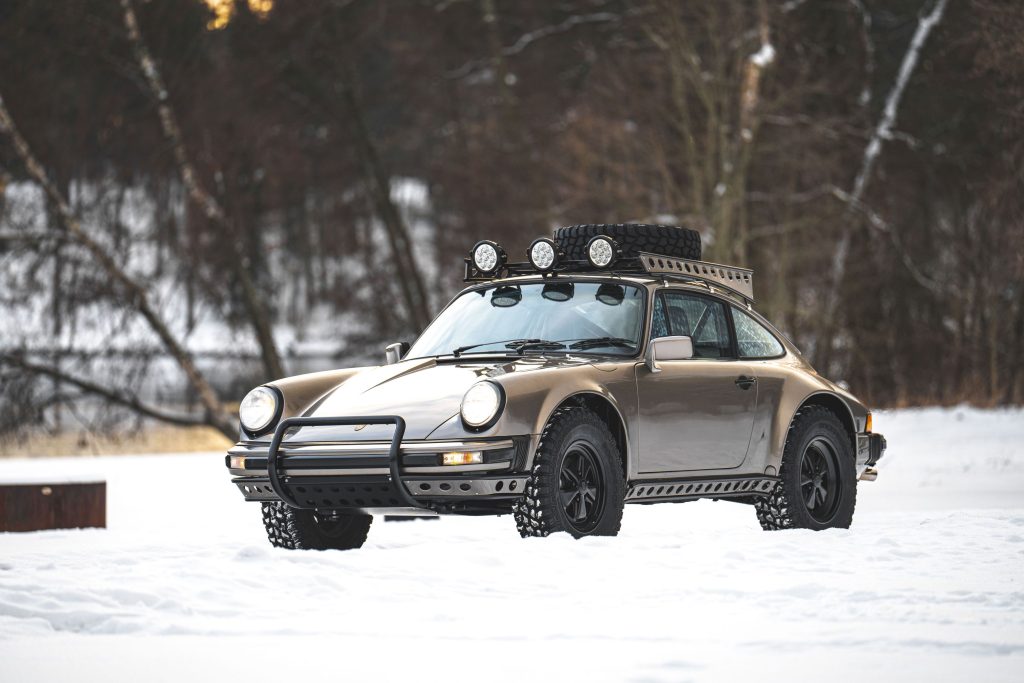 Estimate: €125,000 – €175,000 (£110,000 – £154,000)
This Porsche 911 SC was sold new in Hawaii, purchased in Sweden and imported to Finland, so you could say that it's a well-travelled car. Given the 'Safari' makeover, it looks ready to conquer more countries, taking the roads less travelled wherever it goes. Artcurial says the transformation was "carried out according to the methods of the older times", with sheet metal rather than glassfibre used for the build. Highlights include bucket seats with four-point TRS belts, Fuchs rims, Nokian Rockproof tyres and roof-mounted spare wheel and LED spotlights.
The car has completed just 300km since the overhaul and won the 'Best of Show / People's Choice' award at last year's Porsche Festival Finland. Given the state of our roads – not to mention the recent weather – we reckon this would be a welcome addition to the UK classic car scene.
Renault Reinastella flying saucer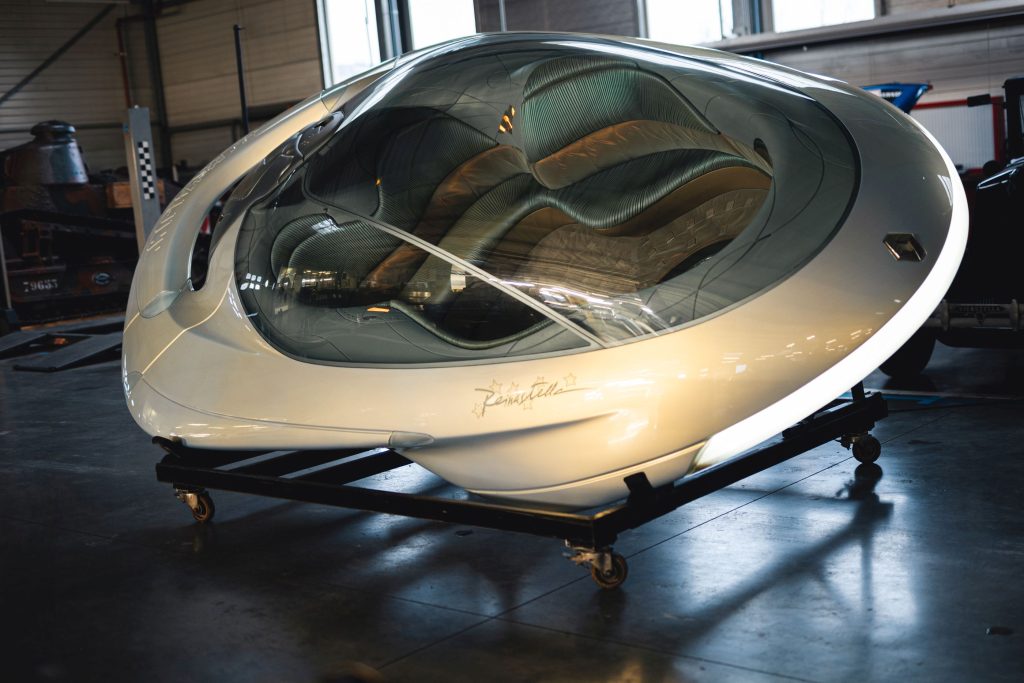 Estimate: €2000 – €4000 (£1800 – £3500)
Not to be confused with the Renault Reinastella luxury car designed by Louis Renault and unveiled at the 1929 Paris Motor Show, this flying saucer concept originates from 1992. Or should that be 2328, given that the prototype is a suggestion of what we could be 'driving' 305 years from now.
It was built for a Euro Disney (now Disneyland Paris) attraction, sponsored by the French car giant from 1992 until 2002. If you're interested in stepping into the future, you need to be aware that you enter the flying saucer from the bottom via a hatch to the passenger compartment, and although the lights can be powered by a standard power socket, there are no guarantees that it will take off…
Ford Bronco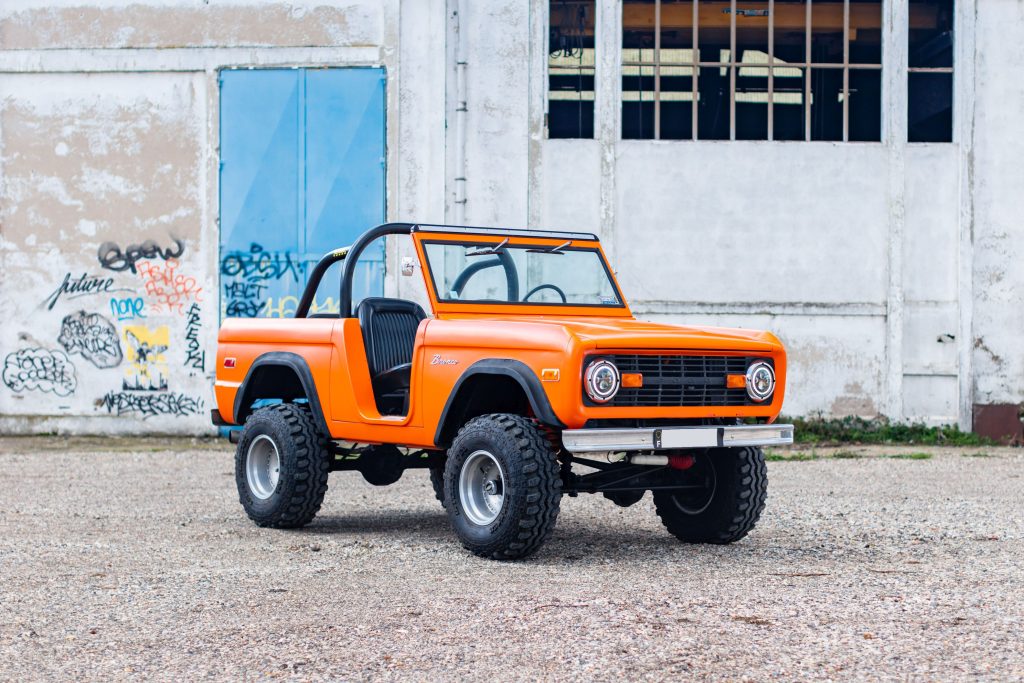 Estimate: €60,000 – €80,000 (£53,000 – £70,000)
Unveiled in 1965 for the 1966 model year, the Ford Bronco was one of the first SUVs. Ford spoke to Jeep and International Scout owners to understand their likes and dislikes, noting that both vehicles suffered from poor comfort, harsh ride, and questionable noise and vibration qualities. Identifying a gap in the market, Ford pressed ahead with the development of a utility vehicle with the codename 'Bronco', and the rest is history.
The production version arrived in 1966 with a choice of body styles: wagon, pick-up and roadster, all with two doors. The nameplate died in 1996, only to return in 2021 as the all-new Bronco. This 1975 example is a late, first-generation Bronco – the second-gen arrived in 1977 – and features a long list of mods. These include cut-out doors, matte orange paint, Super Swamper tyres and LED headlights. Although hardly an oddball in North America, the Bronco is a rare – and welcome – sight in Europe.
DB HBR Cabriolet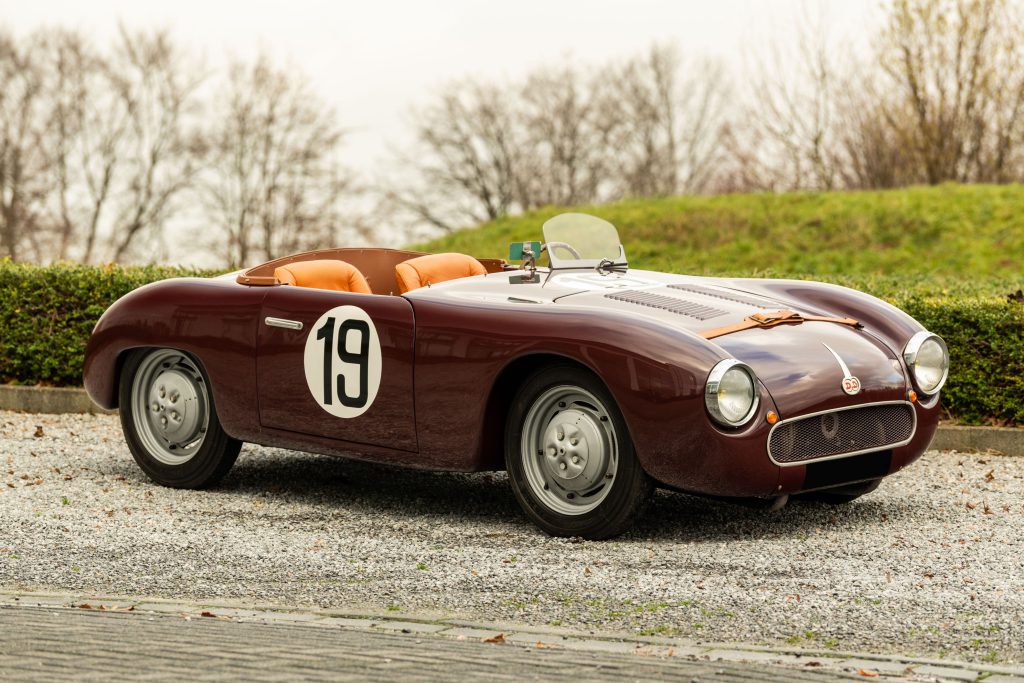 Estimate: €110,000 – €150,000 (£97,000 – £132,000)
DB – or Deutsch-Bonnet – made its name in the 1950s building lightweight sports cars for Le Mans and the Mille Miglia. The 'Bonnet' in Deutsch-Bonnet was none other than René Bonnet, the creator of the world's first mid-engined sports car, the Djet. Bonnet sold his company to Matra, which continued to build the Djet under its own name.
This DB HBR Cabriolet, which features a Panhard engine and gearbox, was delivered new in 1951 to Portuguese amateur driver José Emído da Silva, who campaigned it throughout the 1950s. It was largely forgotten until being discovered in 2010, passing through two restorations, then selling for €121,900 at an RM Sotheby's auction in 2019.
Willys M274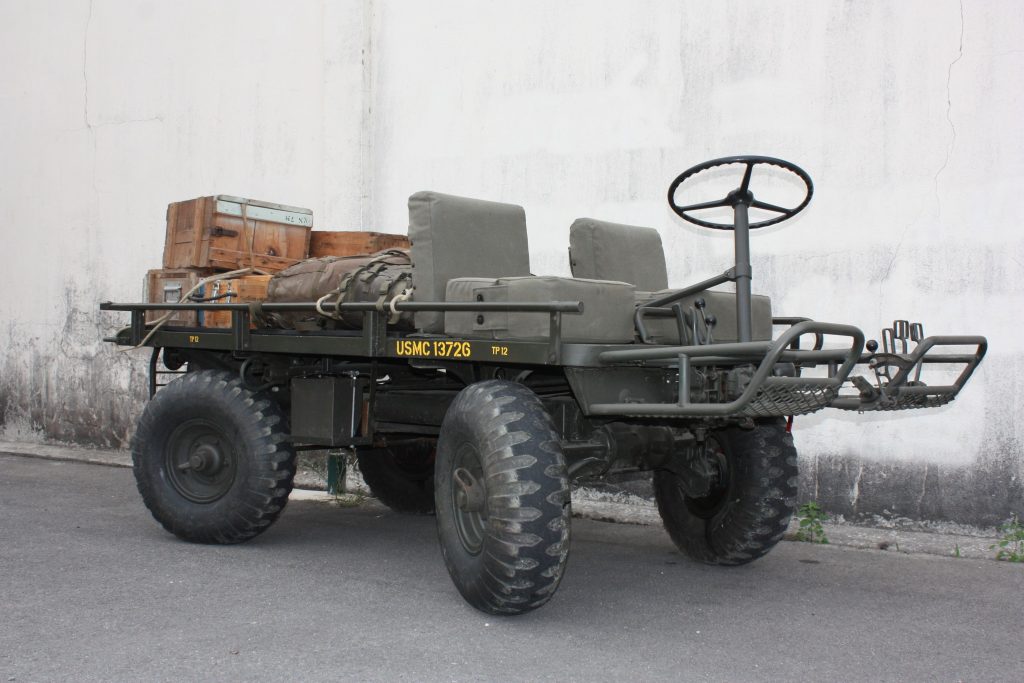 Estimate: €8000 – €14,000 (£7000 – £12,000)
And now for something completely different. Contrary to popular belief, the Willys Jeep couldn't go everywhere, which is where the Willys M274 comes in. It was designed to access the areas a Jeep couldn't reach and was widely known as the Mule. According to Military Trader, four different companies produced six versions of the Mule between 1956 and 1970, each one with a top speed of around 15mph.
This example left the factory in July 1964 and comes from the collection of Chet Krause, who had collected each model of Jeep used by the American army. Artcurial says it's "in good working condition and comes with boxes and decorative ropes… and will surprise you with its extraordinary cross-country capabilities". Yours for the price of a used Dacia Duster.
Notin Mercedes-Benz 508D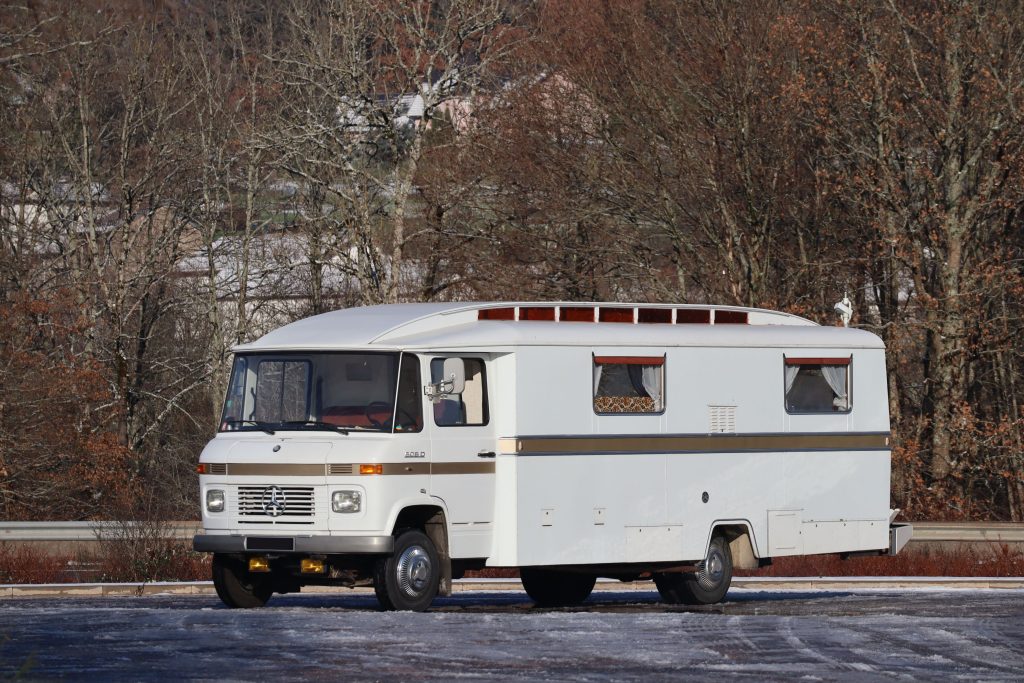 Estimate: €10,000 – €20,000 (£9000 – £18,000)
The history of Notin begins in 1921, when Francis Notin started building trailers for the fairground industry. Twelve years later, Francis and his brother Joseph were asked to build a tourist caravan for a lawyer in Nice, which laid the foundations for one of France's most established manufacturers of luxury caravans and campervans. Since 1990, the company has concentrated solely on campervans.
Thanks to the use of high-end materials and custom-built fittings, the Notin name became synonymous with the production of luxury campers, with the company positioning its vehicles as 'living-cars'. Sold new in Dijon in 1977, this Notin Mercedes-Benz 508D remained in the same family until 2018. Take a look at the photos on the Artcurial website and you'll discover that it really cuts the mustard…
Sima-Violet Type MV5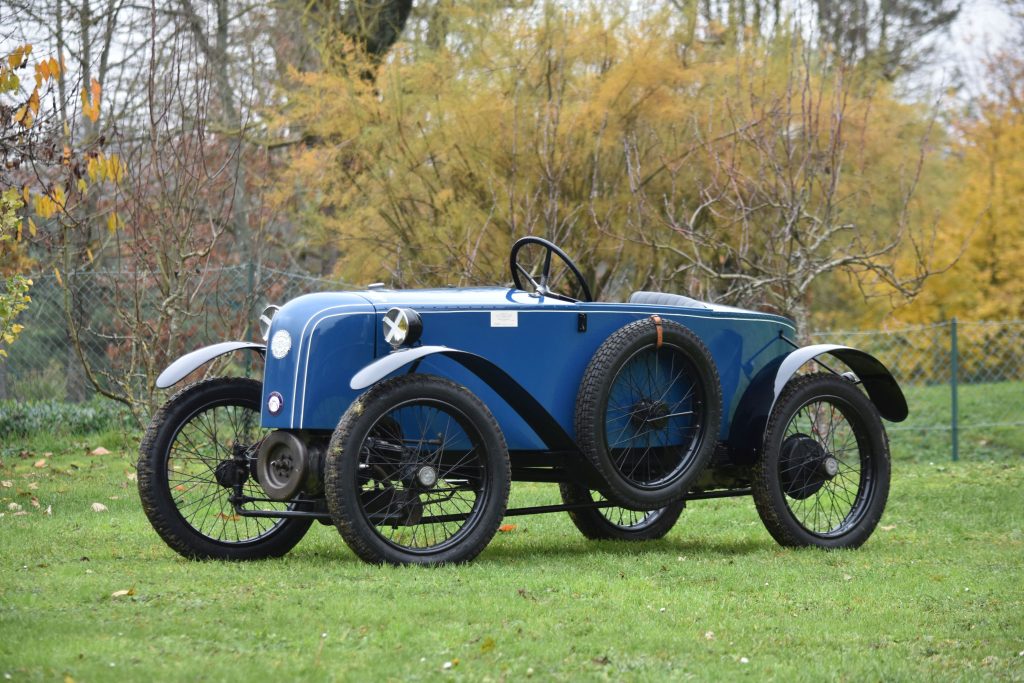 Estimate: €40,000 – €60,000 (£35,000 – £53,000)
A cyclecar could be loosely defined as an affordable and lightweight three- or four-wheeled vehicle that was neither a car nor a motorcycle. They hit their peak between 1910 and 1925, especially in France, which was home to 106 cyclecar manufacturers. One of them was Sima-Violet, which operated from its base on the outskirts of Paris from 1924 until 1929.
Its cyclecars were powered by an air-cooled 497cc flat-twin engine, which could propel the brave and, perhaps, foolhardy to a top speed of around 60mph. Artcurial says this 1925 MV5 torpedo sport special was treated to a "comprehensive high-quality restoration" and points to the period BP guide which will "help you find a good place to enjoy a veal blanquette". Other stews are available, albeit less French.
Adler 2.5-Litre Type 10 Cabriolet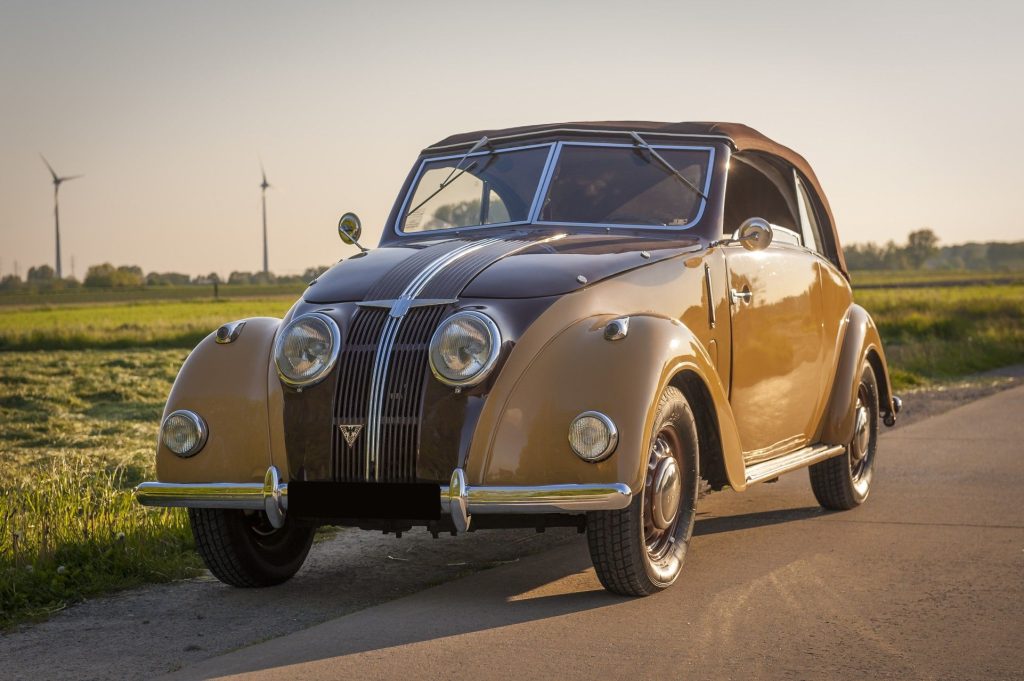 Estimate: €90,000 – €120,000 (£80,000) – £105,000)
Adler, which is German for 'Eagle', was founded in 1896 as a bicycle manufacturer, but the company is more famous for the production of cars, motorcycles and typewriters. Introduced at the 1937 Berlin Motor Show, the streamlined 2.5-Litre became known as the 'Autobahn Adler', partly because its introduction coincided with the boom in German motorway construction.
Although highly respected in period, sales were slow, with the company producing just 5295 examples of all models. This Karmann-bodied cabriolet is one of a handful known to exist and was restored in the 1980s by a former employee of the Osnabrück-based coachbuilder. It finished second in class at the Techno Classica Essen FIVA Concours d'Élégance and will come with a 100cc motorcycle, bicycle and typewriter of the same brand – a nice catch for any Adler aficionado.
De Tomaso Longchamp convertible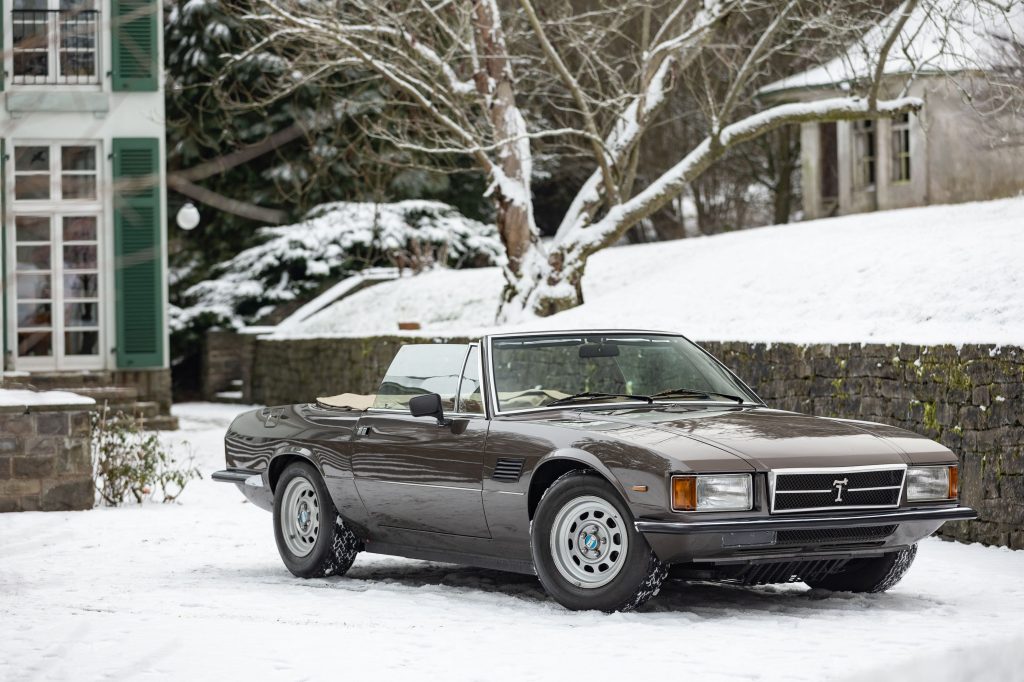 Estimate: €150,000 – €200,000 (£132,000 – £175,000)
We'd hesitate to call the De Tomaso Longchamp an "oddball" – especially considering some of the other cars on our list – but the convertible scores highly for its rarity value. Of the 410 Longchamps produced, just 16 were convertibles, with power sourced from a Ford Cleveland 5.8-litre V8.
As De Tomaso didn't have a suitable body shop, the convertible was built by Milanese coachbuilder Carrozzeria Pavesi, although the car's high price resulted in slow sales. By 1989, when the final Longchamp was built, the list price had risen to £75,000, the equivalent of £182,500 in today's money. This example was restored in the late Nineties and is expected to fetch up to £175,000 at Artcurial's Rétromobile sale, more than £100,000 above what a coupé version is worth in the UK.
Ford Mustang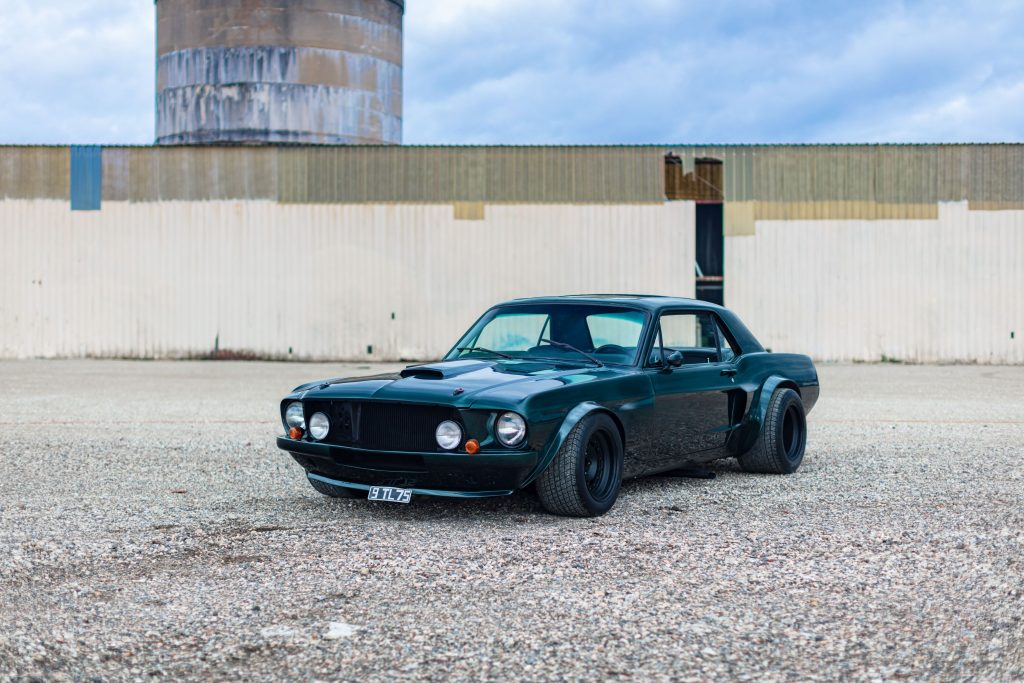 Estimate: €200,000 – €400,000 (£175,000 – £350,000)
The 1983 French film Le Marginal gets a decent 6.3 rating on IMDb. From the movie website: "The story is about Commissioner Jordan who arrives in Marseille to combat drug trafficking activities in his own unique way." It stars Jean-Paul Belmondo as Commissioner Jordan, who performs many of his own stunts in sequences choreographed by the legendary Rémy Julienne.
The movie is most famous in car circles for its four-minute chase scene involving a 1966 Ford Mustang, filmed as a tribute to Steve McQueen in Bullitt. Julienne prepared two Mustangs for the movie, one of which was destroyed after filming had finished, leaving this as the sole survivor. It was owned by one of Julienne's team until the day he took it to a scrapyard, where it was rescued by an enthusiast and restored using parts from a donor Mustang. It's probably the most badass Mustang you'll see this year.
Read more
1972 birthed a new angle for Italian sports cars
Button's buckin' Bronco: F1 star's V8 4×4 comes up for auction
The Game Changers: Cars That Rewrite the Rules