With values of over 40,000 classic car variants, the UK Hagerty Price Guide requires teams dedicated to maintaining accurate data. Insured values and dealer prices are all taken into consideration, but it is auction values that make up a great deal of the data that is analysed to ensure the Guide is correct.
Every now and again, a car sells at auction for a price that far exceeds the Guide value. Sometimes this is just the product of a vehicle being desired by more than one potential buyer, but sometimes it marks a true upturn in the value of cars of that model. It's my job, as Editor of the Guide, to decide which is which. I can only do that if I know the provenance of the vehicles and see what is going on in the sale room.
How much is your car to insure? Find out in four easy steps.
Get a quote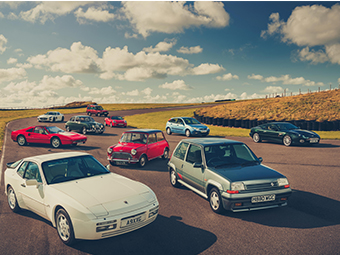 One such car sold recently at the Artcurial auction at Le Mans Classic 2018: a 1963 Mercedes-Benz 300SL roadster. Today, the top UK Hagerty Price Guide value for a 300SL roadster is £1.12m, but Artcurial's car sold for a shade over £2.8m with costs. It's a late 300SL with disc brakes and aluminium block, but even so the last auction of a similar model, at Gooding's January 2018 Scottsdale sale, fetched 'just' £1m.
The Hagerty Condition #1 value is supposed to track the very best example of a model, so what makes the Artcurial car worth way more than that top value? With just 1,372km from new on the clock, the car is essentially 'new old stock'. Fitted by the dealer with its hard top, the car comes complete with soft top and tonneau, still unused in their original wooden crate. This car is no barn-find either; stored in a dry, heated environment the interior, switches, paintwork and documentation are reportedly as new.
Another similar car in many respects came to auction with Bonhams at the 2018 Goodwood Festival of Speed. A 1957 BMW 507 Coupe smashed its top £2.5m estimate, costing its new owner just over £3.8m inclusive of commission. This was also a single-owner car, modified in period with uprated engine and brakes, but what made this car stand out was its provenance: it was presented to John Surtees by MV Agusta for winning the motorcycle world championship for them, and it remained in his ownership until his death last year.
So, will these two auction results change the Hagerty Price Guide? Yes and no. We're increasing the top value of 300SL roadsters, but not up to the level of the Artcurial car until we see another sale in the same ballpark. After all, it could have just been the product of two very committed bidders going all-out to win a car they loved and may not be indicative that every Condition 1 car of that model is now worth the same. If we see another similar sale, then we'll re-assess.
The Surtees car, lovely though it is, isn't indicative of the market. Any celebrity ownership can artificially inflate the value of a car, and a fully-documented history from a seven-time world champion motorcyclist, Ferrari F1 World Champion and the first man to win the Senior TT three times in a row is one heck of a provenance. We're sticking with our top value as a result.
Check the value of your car using the Hagerty Valuation Tool.