2009 Formula One World Champion Jenson Button finds himself quite busy these days. There's no longer a world title to win (though at least in 2009 it wasn't a battle against the race director as well as your closest rivals) but there's still a car company to launch, in the shape of the revived Radford brand.
There are other toys in Button's life though, and one of them, a modified 1970 Ford Bronco, is currently offered sale through online auction platform, Collecting Cars.
How much is your car to insure? Find out in four easy steps.
Get a quote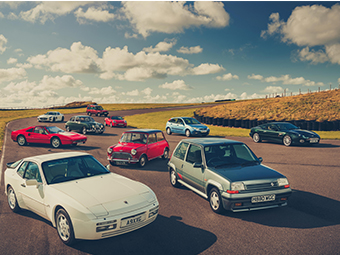 Bidding is up to $85,000 (£62,300) with three days still to run, but only some of that will be down to the F1 driver association, as Broncos themselves are riding high these days – and not just in terms of this car's raised ground clearance.
With Ford now selling a modern-day Bronco, interest in the classic models has skyrocketed, and early ones in particular. Button's car is a first-generation model, three years before Ford upsized the Bronco from a quaint Jeep competitor into a full-size SUV, but like many original Broncos it's enjoyed a few modifications along the line.
Most of those alterations are visual, with new 17-inch alloy wheels wrapped in 35-inch BFGoodrich tyres, with a set of wheel arch extensions keeping the oversized rubber in check. The car's boxy flanks are painted in a dark metallic blue, with red accents around the grille and on the Ford lettering and tow hook, upgraded headlights, and deleted side windows.
That brings the outside in somewhat, where you'll find a cream leather interior, a half roll cage, and a new soft top. The truck runs power steering through a wood-rimmed steering wheel with a column wrapped in chrome, and there's a modern stereo unit too.
With a 302 cubic inch V8 (4.9 litres in new money) Button's Bronco runs the largest engine offered in period, but it's had a few upgrades too, from a modern fuel injection setup to MSD ignition, a push-button start, and a battery cut-off switch – always handy for infrequently-used vehicles.
Talking of which, the Bronco's showing only 170 miles, and while there's no history prior to the car's customisation, it does come with receipts for all the F1 champ's upgrades. Oh, and we should probably point out that the Bronco's located in Los Angeles, so if you're interested, it'll be a little more involved that popping down to Button's native Somerset.
Read more
Black and Gold back in fashion as Radford reveals new Type 62-2 John Player Special road racer
Buying Guide: Range Rover (1994 – 2002)
Drive like a king – or The King – in this 1975 Cadillac