"As a group of British guys, and personally as a Lotus fan, I think we've made something really special."
Ant Anstead is not wrong. The JPS Lotus 62-2 engineered by Radford, the iconic coachbuilding company that he has resurrected with Jenson Button, is stunning in the flesh. Hagerty caught up with them both at the 2021 Goodwood Revival, and took an up-close look at the new sports car.
How much is your car to insure? Find out in four easy steps.
Get a quote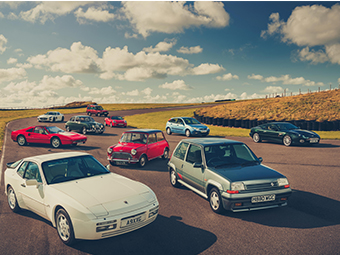 The original Lotus Type 62 created in 1969 was a test mule and consequently wasn't built to be pretty. The latest Radford incarnation, however, is something else: the proportions are spot-on, and it has a real presence that is enhanced by the JPS colours. So, why the choice of what is for many quite an obscure car to bring back to life?
"We first chose the engineering platform – elected by Jenson as being the Exige– before we knew what car we were going to build," said Anstead. "When we started the project, it was going to be a continuation car; we were going to build a historic Lotus. The Exige platform meant we were tied to cars where the engine was behind the driver, so it discounted the Elite and the Elan."
"We could have gone for something like the Esprit and some may have argued that it was a safer option: it's a Bond car, it's iconic… Pretty Woman, Basic Instinct… it has a cult following. But actually, we leaned into the Europa, because on the original Ron Hickman drawing, there's a little hand-written note that says it's Lotus's pitch to Ford when they were vying to win Le Mans. Then, when Ford started developing the GT40, they went with Radford."
"So, we went on a design exercise and realised they had made these two 'Europas on steroids' in 1969 and then we found one in LA, 30 minutes from Jenson's house. Some things were meant to be."
But this is not just an existing Lotus in a pretty body, as we explained in our story last month. "We start with an Exige, but we take out the Lotus flat steel subframe and made a tubular spaceframe. It's also 100m longer in the wheelbase and 20mm wider on the front track, which was down to Jenson. Even the carbon wheels are unique to Radford. We use 3D printing on this car as well as part of our coachbuilding… it's part Exige, but we've gone a long way further."
Just 62 of the cars are being made, including just 12 of the top-spec JPS model, but Anstead says that they will soon be seen on the road. "This car is staying here in the UK. We've created a TV show about the build, and we're both driving both cars in anger in a matter of weeks."
They're not hanging around with future developments, either: the next model following the 62-2 is already under development. Plus, unlike other re-engineering forms, Radford isn't tied to one manufacturer. "Radford's heritage is mixed with multiple platforms. In fact, the first Radford car ever made was a Rolls-Royce. The next car to come from Radford has already been developed; Jenson has already driven it, but I can tell you that it's not a sports car, and it's not a Mini."
Personally, I can't wait to experience the car on the road, but I won't lie: the JPS colours, exclusive carbon wheels and huge front diffuser made my heart skip. "There are very few racing liveries that are truly iconic, and the black and gold is right up there," Anstead said. He's right: as a young boy, my favourite matchbox car was a battered old JPS Lotus 72 that I played with until the wheels fell off. I get the distinct impression I'd do the same to this car if given half a chance.