The 2000s was, in retrospect, a rough old decade, defined by terrorism, war in the Middle East, and the financial crisis later in the period.
It's interesting to see how the zeitgeist of an era is reflected in its transportation. If the 1990s were bright and optimistic, and its cars a mirror of that with their vibrant colours, friendly forms and zany patterns, cars of the 2000s definitely matured, with low-key colour palettes, minimal ornamentation, and simpler forms – outside of experimentation by the likes of BMW and Renault.
How much is your car to insure? Find out in four easy steps.
Get a quote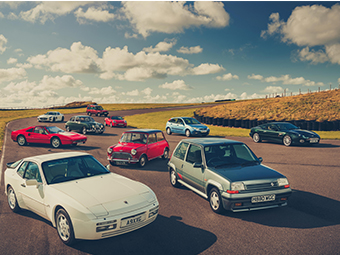 Thankfully though, creativity was still alive and well in the world of concept cars, and was perhaps becoming an increasing outlet for designers' optimism, even if many shapes would never make it through to production and your nearest showroom.
To demonstrate just how stylish the 2000s could have been, we've selected ten concepts that showed drama, beauty and innovation hadn't been forgotten – they were just confined to motor show turntables.
Once again we'll be steering clear of concepts that strongly previewed production cars, so no Land Rover LRX (Evoque), no Fiat Trepiùno (500), and no Audi Le Mans (R8). And naturally, we've had to leave many more off the list (our shortlist included everything from the Audi Rosemeyer to the GT by Citroën, designed for the Gran Turismo videogame) – but let us know some of your favourite concepts from the 2000s in the comments below.
BMW M1 Hommage (2008)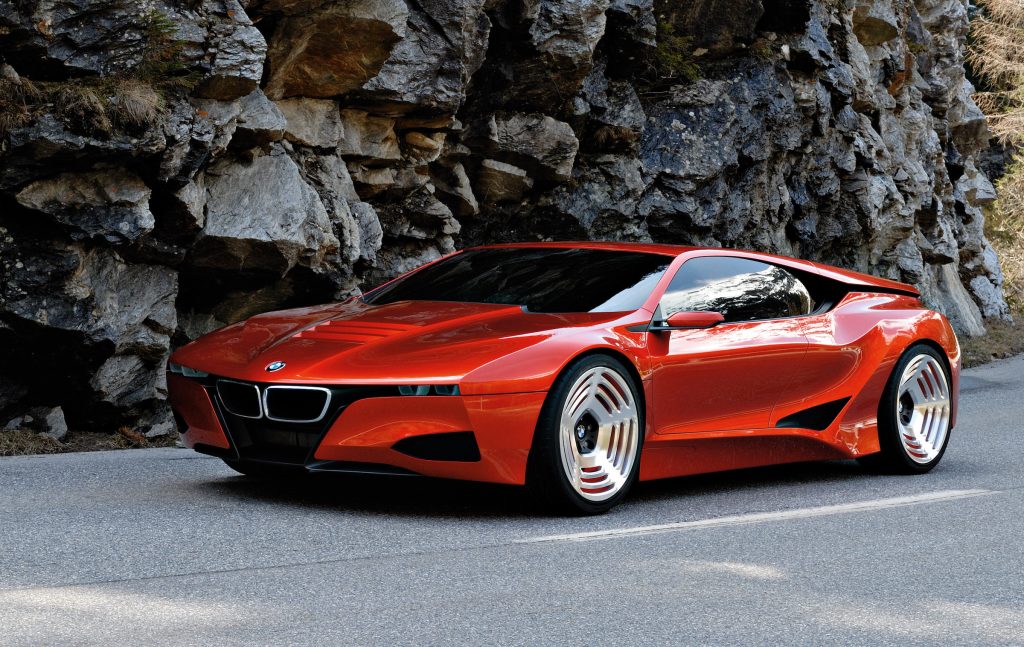 We could have included several 2000s BMW concepts on this list, from 2006's throwback Mille Miglia to 2008's clever but slightly disturbing Gina, with its peel-back bodywork. But little gets the emotions flowing like the return of a famous name – and in BMW circles, none are more famous than M1.
BMW has pulled a silk cover off several M1-style supercar concepts over the years, but 2008's Hommage (and yes, it's double-m here) was overt. Taking direct inspiration from Giugiaro's original, it was low-nosed and sharky, though BMW never revealed its powerplant.
The work of Chris Bangle and Adrian van Hooydonk, it purely served as creative inspiration for BMW's designers, and if it inspired any one model, the subsequent BMW i8 would be it. While the i8 ditched many of the Hommage's cues, it did retain the concept's eye-catching floating buttress design over the rear lights.
Jaguar R-D6 (2003)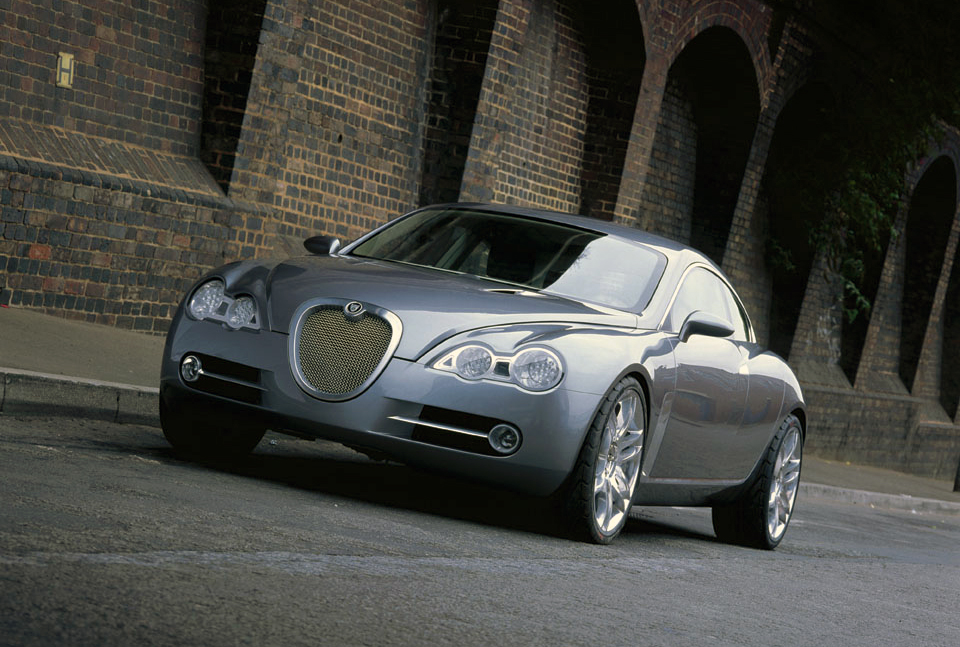 The front end of the Jaguar R-D6 shows how narrow the line is between the well executed and merely average. With its round grille and four headlights, it clearly references the old Mk II Jaguars – yet it's also far easier on the eye than the front of the 1999 Jaguar S-Type ever was.
Connecting those headlights undoubtedly helped, just as it did with the Jaguar XF that arrived in 2007. Both were the work of Ian Callum and his team, but while the XF was a traditional saloon, the R-D6 had an (at the time) unfashionably short rear end rather than a full saloon boot.
Somehow, like the front end, that worked too, perhaps helped by the broad, coupé-like rear wings. But the R-D6's real party piece was inside, with an elegant, upmarket bar-style ambience, mixing black walnut veneer, leather, and aluminium, subtly lit with red mood lighting. JLR could do much worse than give it another look, should it need any inspiration in its modern range…
Pininfarina Birdcage 75th (2005)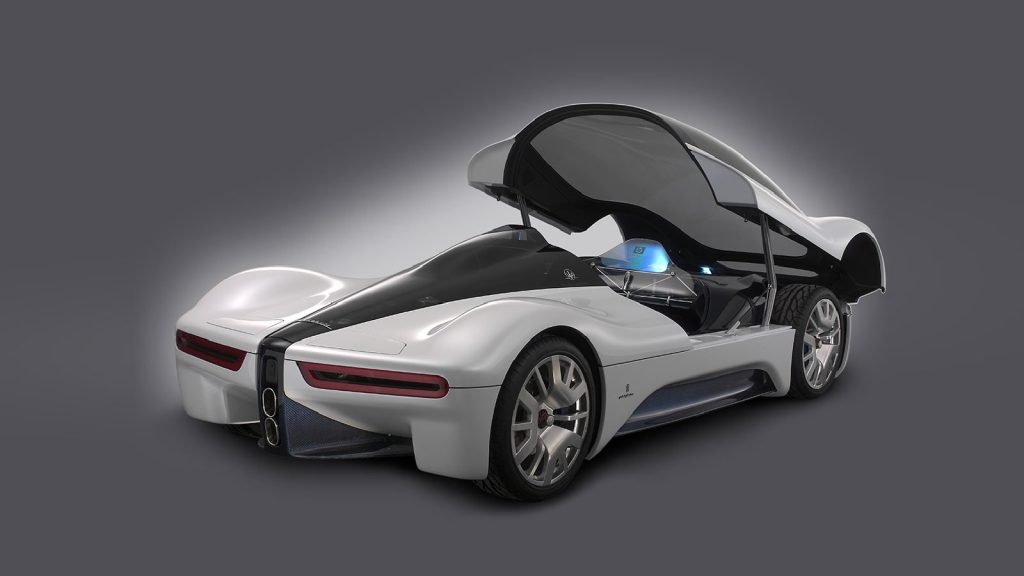 The original Maserati Birdcage – more correctly known as the Tipo 61 – was a race-winning sports car built between 1959 and 1961 using a complex tubular spaceframe chassis, that construction lending the car its unusual nickname. Light and fast, it took two consecutive victories at the 1000km Nürburgring in the early 1960s, with Stirling Moss and Dan Gurney sharing the driving in 1960, though never quite sealed a Le Mans win.
To celebrate its 75th birthday in 2005, and its association with Maserati, Pininfarina brought the Birdcage back – albeit based on the platform of the MC12 supercar and its 6-litre V12, a far cry from the original's inline four.
Easily the most dramatic concept of that year, the Birdcage used a large, single-piece canopy rather than doors, and while lattice-like structures visible through the glass were mere lip service, the MC12's own race-winning heritage at least had that in common with the original.
Cadillac Sixteen (2003)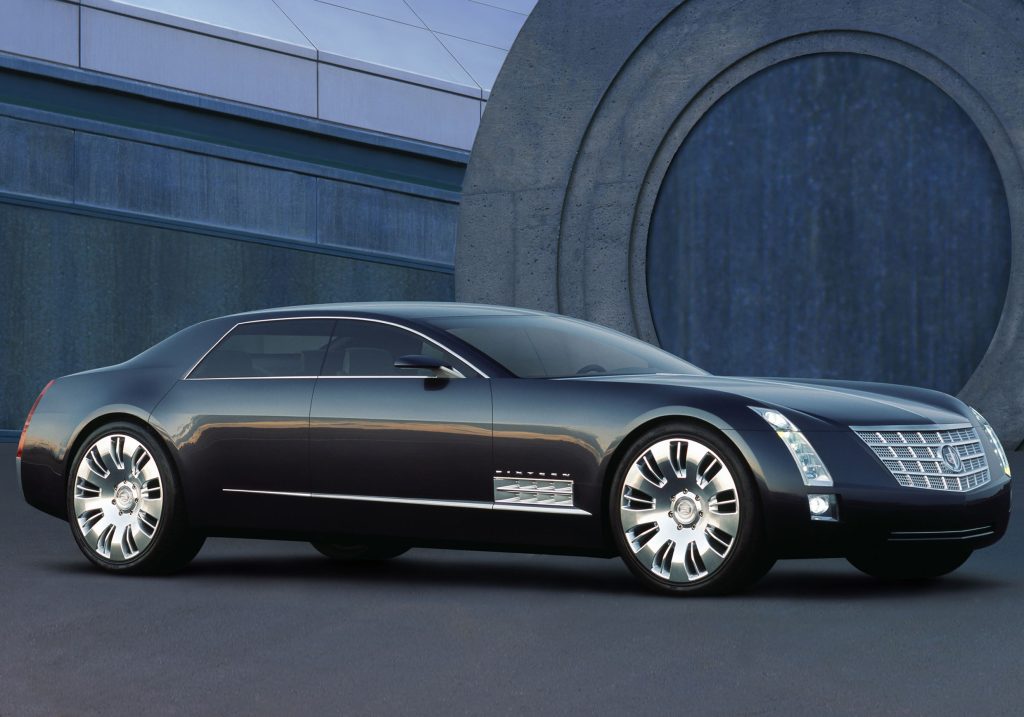 American brands had consistently good form with concept cars in the early 2000s, and arguably still do today. Much of that seems down to reviving ideas from the US car industry's grandest eras either side of the Second World War – and 2003's Cadillac Sixteen used elements of both.
The name gave the game away somewhat, the car using a 13.6-litre sixteen-cylinder engine, harking back to Cadillac's V16s of the 1930s. The enormous 5673mm body, meanwhile – that's nearly 19 feet – seemed a throwback to the enormous Caddies of the 1950s. None of those would do a claimed 200mph, though…
Predictably, the design – the work of a team led by Wayne Cherry, whose CV includes everything from the Vauxhall Calibra to the Hummer H2 – never got close to production, but as a reminder of where Cadillac used to sit, mentioned in the same breath as brands like Rolls-Royce, it was impactful.
Ford Visos (2003)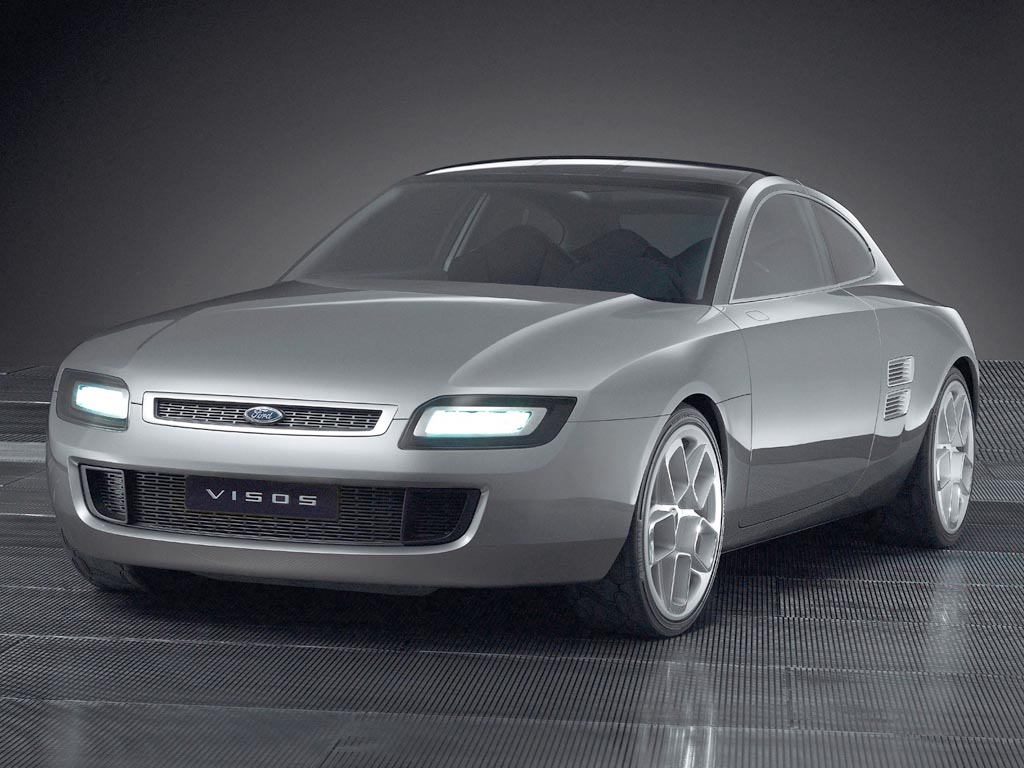 This is the concept that had all the car mags running "New Capri!" covers back in 2003 – and one look at some of the details and you can see its designer, the late Chris Svensson, had an eye on Ford's iconic coupé when this was on the drawing board.
Check out that curve to the rear window for instance, or the twin vents in the rear quarter panels. The rectangular headlights and slim grille also remind us (and clearly those contemporary car magazines) of the Capri too, though the rear end of the Visos was more shooting brake than fastback.
It was a little different under the skin too, powering all four wheels rather than just the rears, and packing a 350bhp, 3-litre inline six instead of fours and V6s. Then again, you could say it was taking inspiration from the four-wheel drive Capri that never made it to showrooms. What you also can't see are the active aerodynamic elements, activated in the car's sport driving mode – which also flipped down the little camera stalks serving as mirrors, for an even cleaner look.
Peugeot 907 (2004)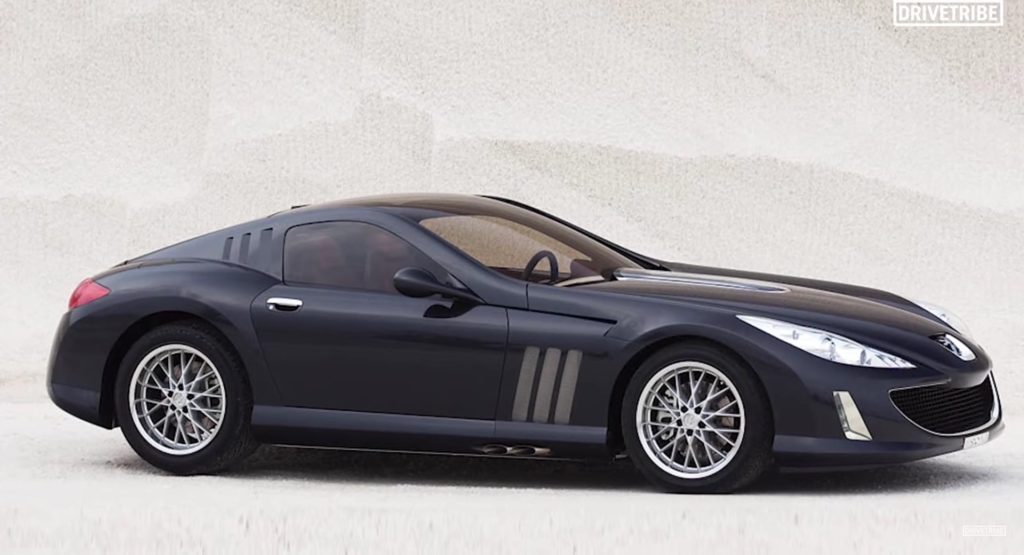 Here's a concept you can still see today if you're fortunate, and willing to make a trip to Musée de L'Aventure Peugeot in Sochaux, eastern France, because it's part of Peugeot's large and impressive collection of historical models.
The 907 is itself large and impressive, at least in presence – at under 4.4 metres long it's actually shorter than a modern Porsche 911. That's all the more impressive when you consider there's nothing less than a 6-litre, 500bhp V12 sitting lengthways under the bonnet.
We'd love to have sat in on the (no doubt wine-lubricated) meeting at which that was decided upon, while the classic GT proportions have more than a hint of Ferrari 599 – impressive, as the 907 predated it by three years. It's just a shame it was created during Peugeot's massive grille phase – the 307-style front end really doesn't suit it.
Lancia Fulvia (2003)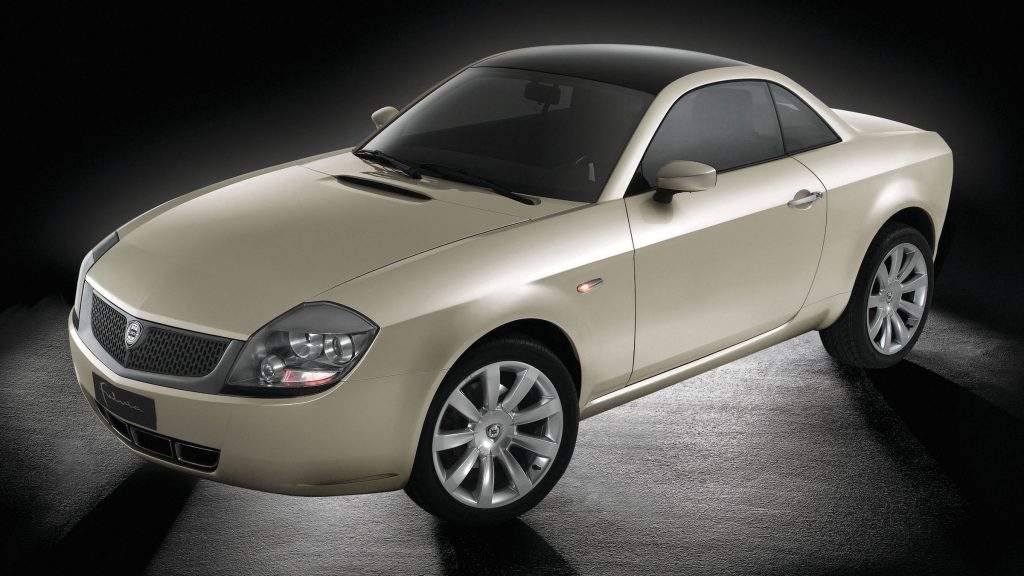 Of all the cars on this list, 2003's Lancia Fulvia concept probably hurts the most. None looks quite so ready for production, and given the concept was based on Fiat's pert Barchetta, there'd have been a way, had there been a will.
Alas, it was not to be, and now the Fulvia lives in Fiat's Heritage Hub in Turin, one of the great missed opportunities. Styled by Flavio Manzoni – now design director at Ferrari – it was designed to look as if it had evolved from the 1960s original, much like the Porsche 911 has evolved over time. And boy did it hit that target.
While modestly powered using the Barchetta's 1.8-litre four, it was designed to weigh barely more than the original Fulvia, at 990kg. Had Lancia made it, enthusiasts 20 years on would no doubt be falling over each other to buy one – though the elephant in the room is whether Lancia would have sold many to start with.
Renault Fluence (2004)
The name might have appeared on a Renault production car but the concept itself never saw the light of day – unless you draw a wavy line between it and the Laguna Coupé that arrived four years after the Fluence debuted at the Louis Vuitton Classic Concours d'Elegance at Waddesdon Manor in 2004.
Like other Renaults penned under the direction of Patrick le Quément, the Fluence was daring, but it could also be called classically beautiful, with elegant lines and excellent proportions – the latter a surprise considering a front-wheel drive layout and sizeable 3.5-litre V6 engine.
The heavily tapered tail and largely grille-less face are elements that could never really make it into a production model at the time, but the Fluence showed there was more to Renault in the 2000s than attention-grabbers like the Avantime. The eventual Laguna Coupé (first concept in 2007, then production in 2008) wasn't quite as pretty, but it was an admirable effort.
Saab 9-X (2001)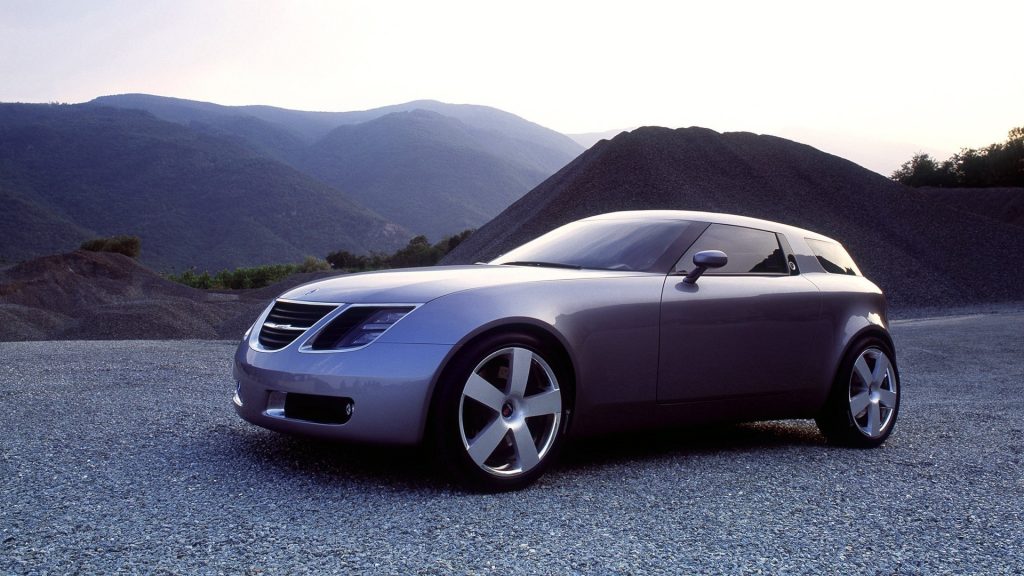 Saab wasn't just still around in the early 2000s, but still in a relatively strong position, selling respectable numbers of 9-3s and 9-5s. It also had a regular line in concept cars, of which 2001's 9-X is probably most fondly remembered.
Had it come to market, we'd be looking at a rival for the Audi TT – albeit done in a typically offbeat Saab way. Among its designers was Michael Mauer, who'd later work on the Smart Roadster, and is now design director at Porsche, and we reckon there's a hint of both brands in this car's styling.
There are traditional Saab cues too though, such as that heavily curved windscreen. Saabs can't forget practicality, so the rear end featured a shooting brake layout, while a 3-litre turbo V6 (along with all-wheel drive, and a manual gearbox) handled propulsion. Perhaps, if it had ever reached production, it could have worn the name Sonett…
Chrysler Airflite (2003)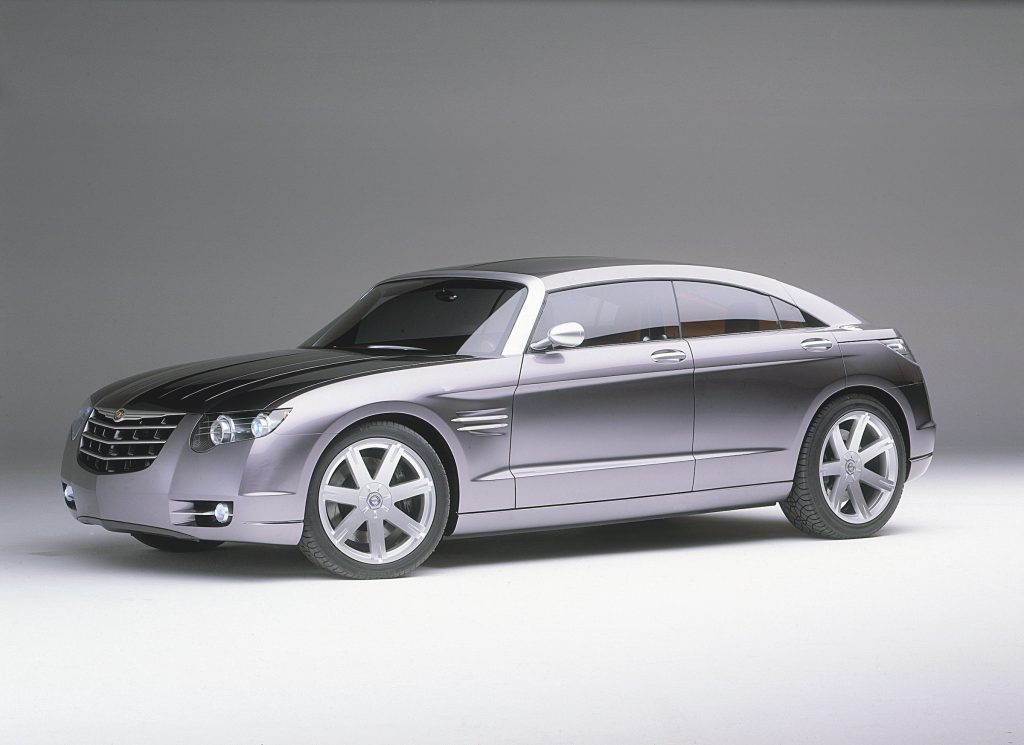 If the Airflite looks familiar, like a stretched Chrysler Crossfire, it was not a precursor to it, even though it arrived one year earlier than the production coupé. Instead, it was itself an offshoot of the original Crossfire concept, and an exploration by Chrysler into a possible art deco direction for the brand's styling – one that never truly materialised.
It's arguably a lot more successful than the Crossfire, the extra length, and doors, giving it an elegance the coupé lacked. Frameless windows harked back to big 1950s and 1960s hard-tops, and like many concepts of the era, wood – in this case, for the floors – was still in fashion for interior furnishings.
Power from a (no doubt Mercedes-derived) 3.5-litre V6 went to the rear wheels, so there was tradition there too. Chrysler's current range is a shadow of its former self, only the dated 300C upholding any interest for enthusiasts. Perhaps the brand should shuffle through the archives and rediscover some of its early 2000s boldness.
Check out the Hagerty Media homepage for daily news, features, interviews and buying guides, or better still, bookmark it.