Ornithologists assemble, because we really need to decipher the bird-like chirrup from the wastegate on the Smart Roadster.
There's some whistle, a bit of flutter, and a whole lot of amusement. Tuning companies will charge you a fortune to strap such a device to your turbocharged car of choice, but from 2003 to 2006, Smart gave you it for free if you purchased one of its diminutive sports cars.
How much is your car to insure? Find out in four easy steps.
Get a quote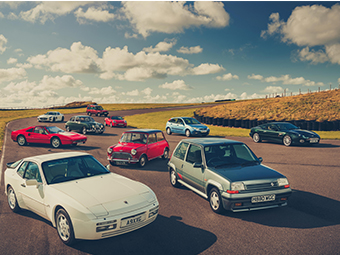 It's most audible from the passenger side, which must make it even more prominent in left-hand drive models, but to be fair the driver still gets plenty to play with, from the cartoon growling of the three-cylinder engine itself to the dare-you-not-to-brake cornering grip.
Press that big red lozenge on the dash to activate the hazard lights though, because we're getting ahead of ourselves.
The Smart brand's early story you may be vaguely familiar with. Nicholas Hayek, top bod at Swiss watch brand Swatch, had been knocking around the idea of a tiny city car incorporating some of his watch production techniques since the early 1980s, and by the early 1990s was ready to find an automotive partner for the project.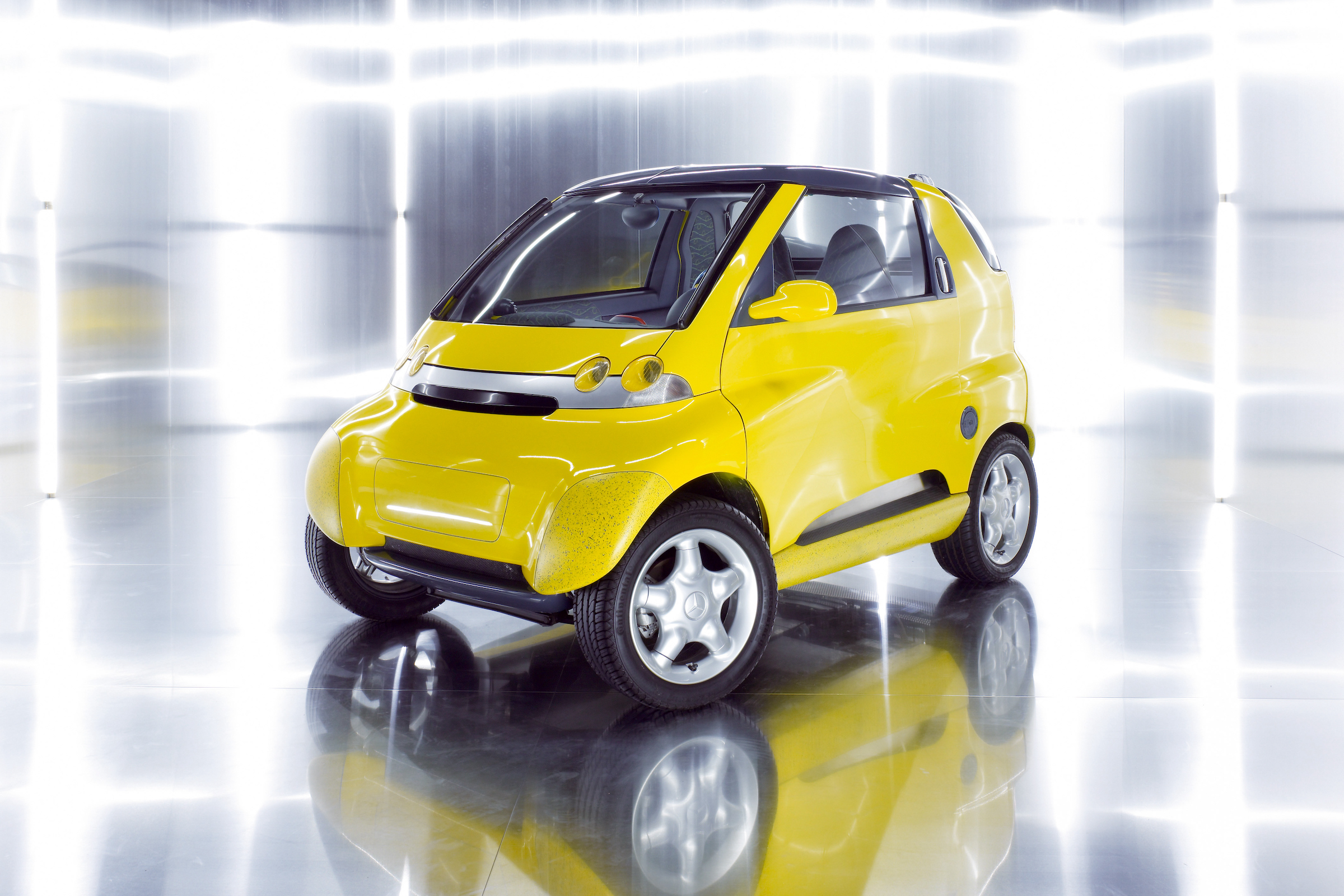 He first tried Volkswagen, which turned him down in favour of an in-house project that would eventually become the Lupo, but Mercedes-Benz was more receptive. In 1994 it published research showing the average car in Europe carried just 1.2 persons, and the two concepts it revealed to support the research, the Eco-Sprinter and Eco-Speedster, very clearly pointed the way to follow for what would become first the Micro Car Company and then Smart GmbH.
Hayek parted ways with Daimler in the year the first Smart City-Coupé (later Fortwo) arrived, 1998 – as it turned out, the two parties didn't quite share the same vision – and the German giant got to work figuring out just who would buy their new two-seater.
Not many people, as it turned out. Mostly it was down to confusing marketing – an early slogan, "reduce to the max", felt a little hair-shirt in the optimism of the late 1990s – but bad press didn't help either. When the Mercedes A-class fell over during the infamous 'elk test', the Smart's stability came under scrutiny too, and Daimler enacted expensive fixes early on, chipping into profit margins.
The financial press quickly and correctly surmised that Daimler was playing a longer game. As Tony Lewin wrote in the book Smart Thinking, the Financial Times asked in January 2000, "Why… would DaimlerChrysler invest… if the best case was breakeven? The answer can only be that it had a grand plan beyond a model range of one funny little two-seater town car."
The new answer arrived quickly: new boss Andreas Renschler tweaked the brand's ambiguous marketing, pushed through the diesel model – which became Europe's best-selling "three-litre" car (3L/100km, or 94mpg, not that such figures were realistic in daily motoring), and presided over sales of 100,000 units in 2000, finally meeting the brand's targets.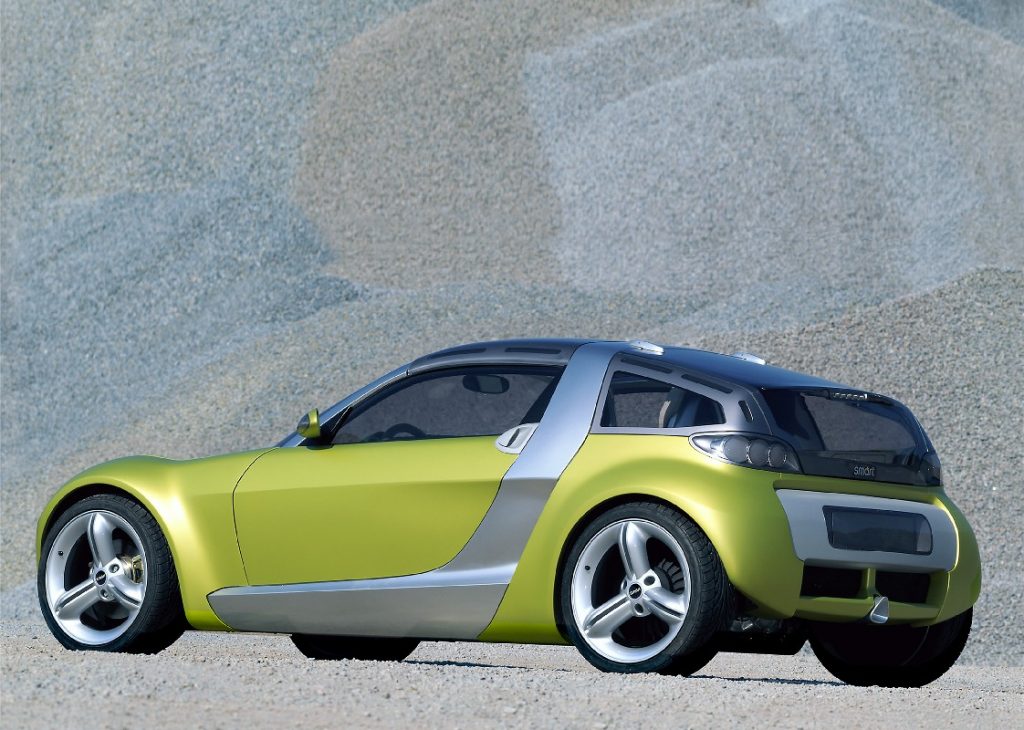 And then there were those new models. One saw Daimler investing a 34 per cent stake in Mitsubishi at just the right time in development of the Japanese brand's new Colt supermini – a perfect basis for a new four-seater, the Forfour, built in the Netherlands.
The first though was the Roadster, inspired by two cars: a notchback sports car concept shown at Frankfurt in 1999, and the Roadster-Coupé, previewed at Paris in 2000, the same car with a glass rear canopy. The concepts had been drawn up Volker Leutz and Christoph Machinek and evolved by Michael Mauer – who'd soon move to Saab and is today the design chief at Porsche – and went down a storm at their respective shows.
Smart committed to build both, introducing them in April 2003 in a 15-date buzz-building tour of European cities. Brilliantly, the production cars' designs had changed little from the concepts – a touch more plastic inside, more sensibly-sized wheels, but otherwise as close as road cars get to outlandish but immobile concepts.
Just as the Forfour had been justified with a tie-up, so too the Roadster was built on solid economic footing, sharing 40 per cent of its mechanicals with the heavily revised City-Coupé also introduced in 2003.
That included the engine, a new 698cc unit compliant with Euro IV emissions regulations. It also included a fresh suspension setup comprising MacPherson struts at the front and a de Dion axle at the rear – cheap, space-efficient and effective – and a sophisticated electronics system that allowed for, among other things, electronic gearshift control via steering wheel-mounted paddles.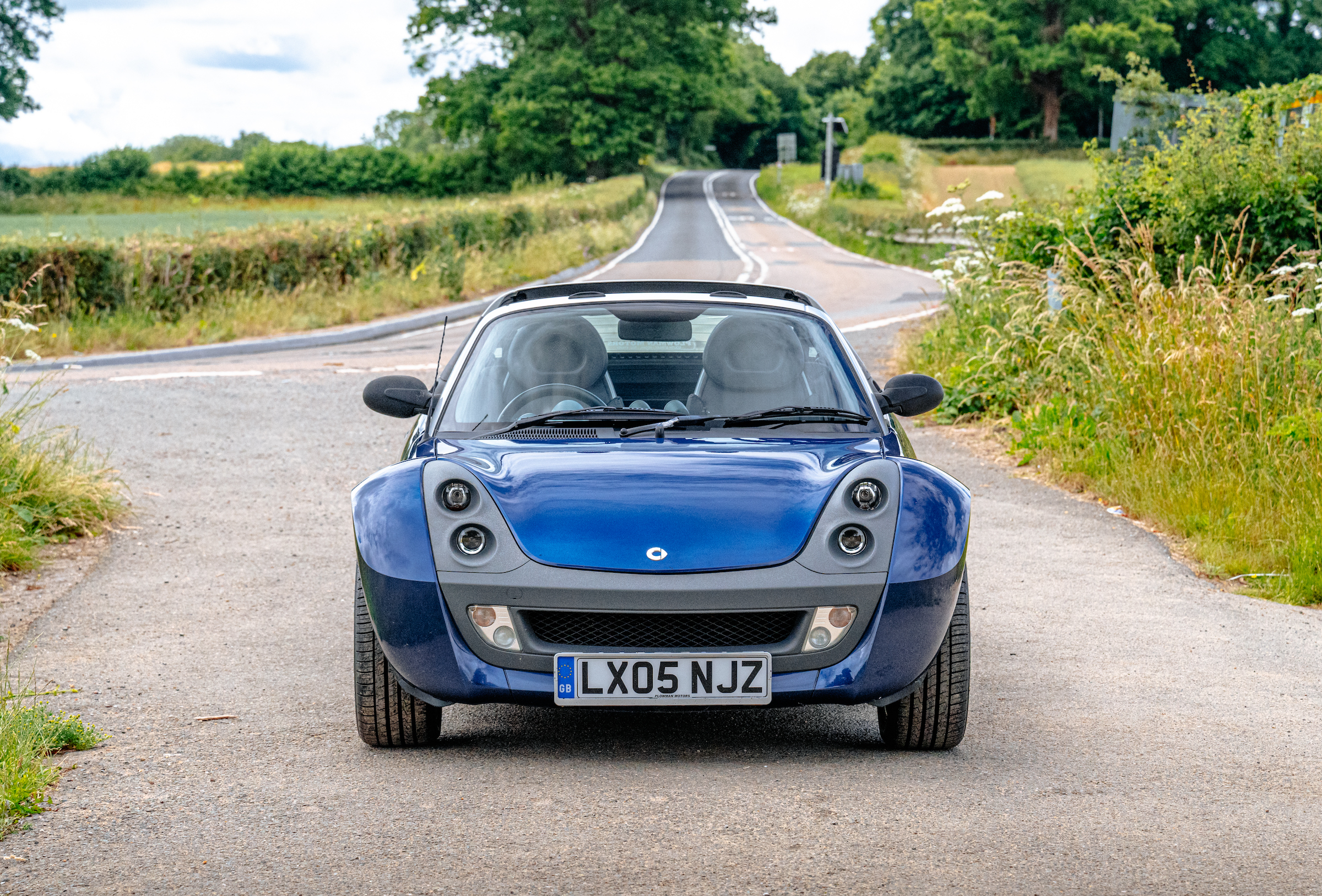 Smart pitched the new car as a kind of modern-day Midget. "Smart has revived the roadster classics of the 50's and 60's [sic]" read the brochure, "[to] recreate the open, direct and authentic roadster driving feel of the past."
While the relatively high-tech powertrain and sophisticated looks suggested otherwise, Smart really wasn't too far from the mark. It was old-school light at 790kg (20kg more for the Roadster-Coupé), a good quarter-tonne less than that other popular roadster revival still going in 2004, the Mazda MX-5. Tiny, too – 523mm shorter, 24mm narrower and 38mm lower than the Mazda. In fact, it split the Frogeye and Mk II variants of the Sprite for length.
Transverse rear-engined packaging allowed most of its length to be dedicated to the passenger compartment too – a 2360mm wheelbase was 90mm longer than that of an MX-5 – and left the cockpit free of an intrusive transmission tunnel. Modest luggage space was the tradeoff, with a 59 litre cubby in the nose (squeezed around a box through which the steering column was routed) and either an 86-litre tray in the Roadster or 189-litre (and very visible) storage area in the glass-backed Roadster-Coupé.
Indulge in one of the car's party tricks and you'd lose more luggage space, but it would be worth it: electrically whizz the electric canvas roof back, and you could remove its two spars either side of the roof, which slot neatly into the bonnet cubby. The two hard panels offered on some models lived at the other end when off, drastically cutting space there too, though Roadster owners have become experts in packing clean underwear for dirty weekends.
The press, generally consistent if not always in-step with buyers, were this time wildly polarised in their verdicts. Most had the same criticisms: a dithery automated-manual gearbox, slow and relatively uncommunicative steering, and poor luggage space; it was just the degree to which these overcame the positives of brilliant styling, strong grip and a characterful engine, that seemed to divide the experts.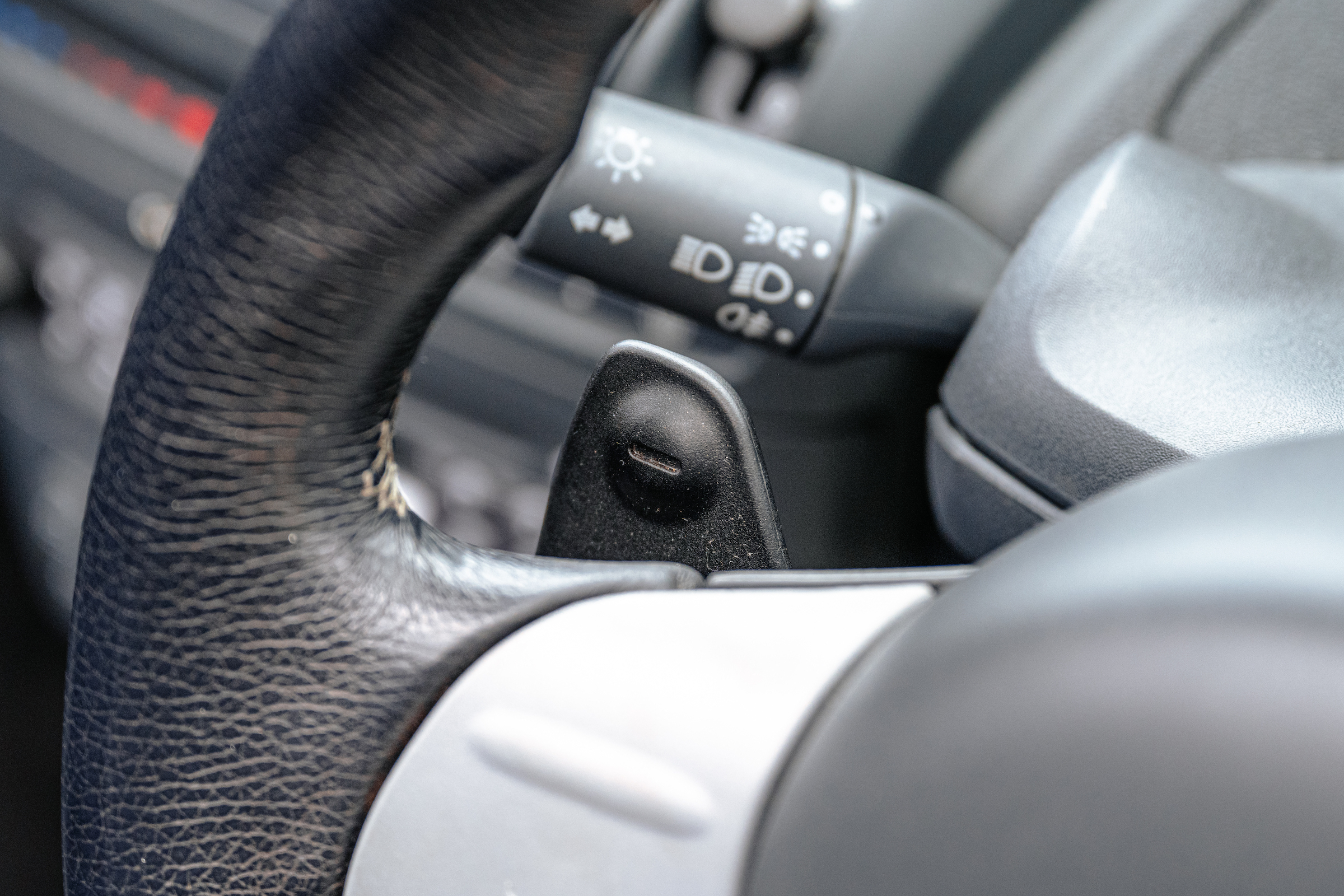 Sometime Hagerty contributor Andrew Frankel gave it no mercy in Autocar's April 2003 test against an MX-5, Ford StreetKa and Peugeot 206 CC. "Given its weight, newness and purpose-built design, this car should outhandle its opponents with ease," he started, before adding "in fact it is the least enjoyable of all."
Car was more positive in September 2003, calling it "A dynamic gem: slot-racer feeling enhanced by zippy engine and agile chassis. Brilliant". It dispatched the StreetKa, Citroën Pluriel and Daihatsu Copen with ease, while at evo, John Barker said that "Getting the Roadster to go quickly is an appealing challenge" in a generally warm review against far more talented opposition, including another MX-5, a Toyota MR2 Mk3 and a classic Lotus Elan Sprint.
Nothing blows the mind more than the passage of time, so here's a statistic that might throw you: in 2022, the Roadster is now 19 years old. As an aside, that's also how old the original Toyota MR2 would have been when the Roadster was launched.
But while the sharp 1980s folds of the Toyota might have felt every bit of their near-two-decades in 2003, the Smart Roadster has aged astonishingly well. But for a handful of details, few would bat an eyelid if it was launched today – beyond, of course, it being inconceivable that any car company could today offer a sports car in the city car segment.
We've borrowed this tidy customer car from Geoff Hall, who you might recognise as the Milk Float Man but who also buys, fixes and trades in Roadsters. And it still looks sensational, like a scaled-up Hot Wheels toy on its 16-inch 'Spikeline' three-spoke wheels.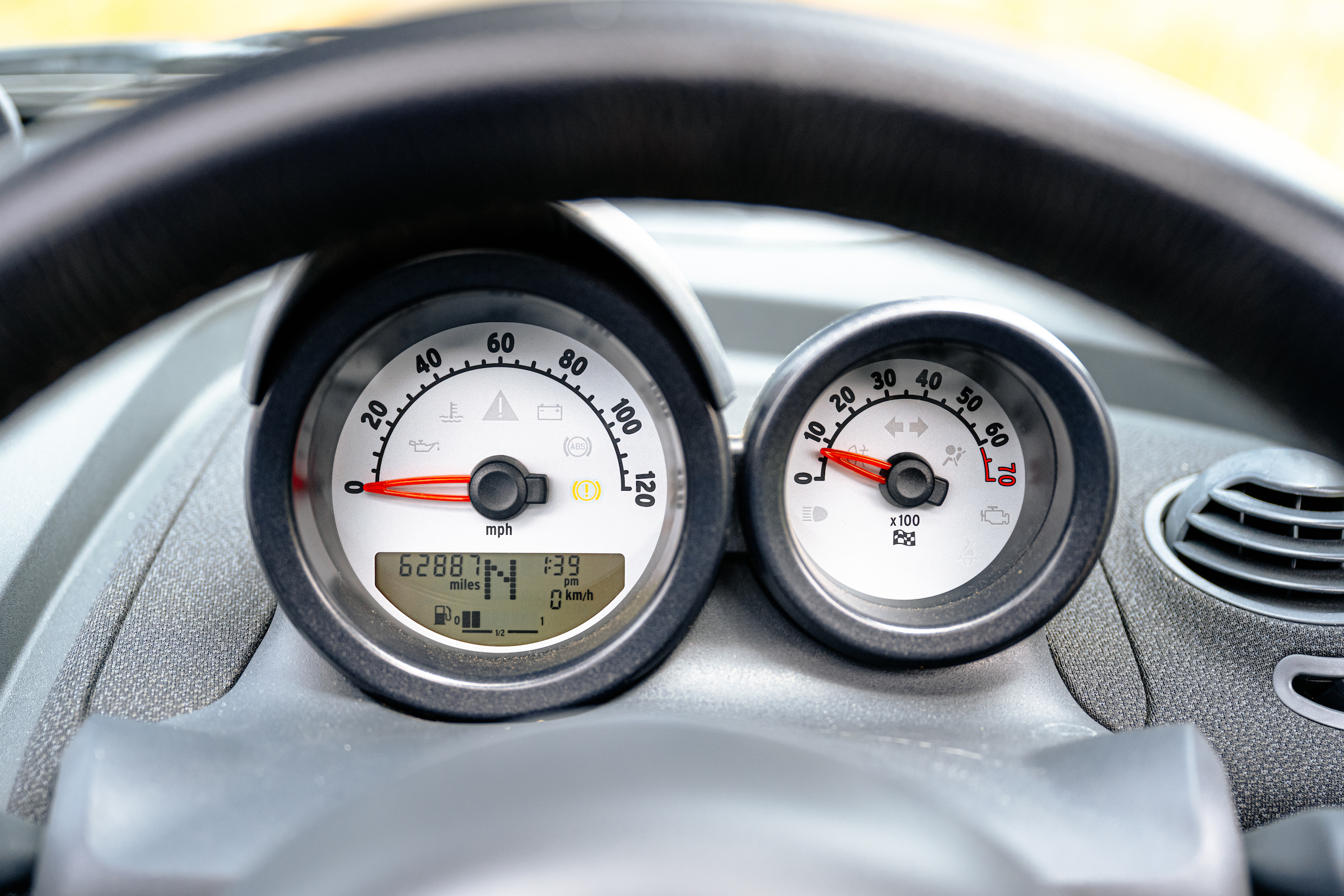 In notchback form it's less eyecatching than the glassy Coupé, but the low stance, blistered arches and two-tone details look bang up to date. This one's wearing Star Blue body panels over a silver take on Smart's 'Tridion' safety cell, but tire of the blue and those scratch- and dent-resistant panels are simple to swap, if you found an owner willing to trade.
Open the door and you feel you might pull it from its hinges. It's unexpectedly flyweight, those plastic outer panels no doubt playing a part, but also one of only a handful of Smart parts that feel as toylike as the styling. Getting in is a bit of a drop but far from difficult either – this is no Elise-style torso tumble.
The seats feel good at first and stay that way throughout the drive, both in terms of comfort and support. The steering wheel's a bit of a hula hoop (the large plastic child's toy, rather than the small salty processed snack); some Smarts got a smaller two-spoker as standard, but the three-spoke part comes with paddles for the gearbox, which is well worth seeking out.
Eyeball gauges gawp back at you from the dash, the centre stack seems to float out into the cabin, and the gear selector sprouts from a turret between the seats. It's fun and distinctive without being twee or feeling cheap, a balance lost from all too many modern cars.
On the move there's great forward visibility, no wobbles, few creaks, and a surprisingly pliant ride despite those sporty three-spokes and their spray-on tyres. The structure's about the stiffest you'll find in a small sports car, which is a blessed relief when you're used to MX-5s shimmying like a twerking TikTok star.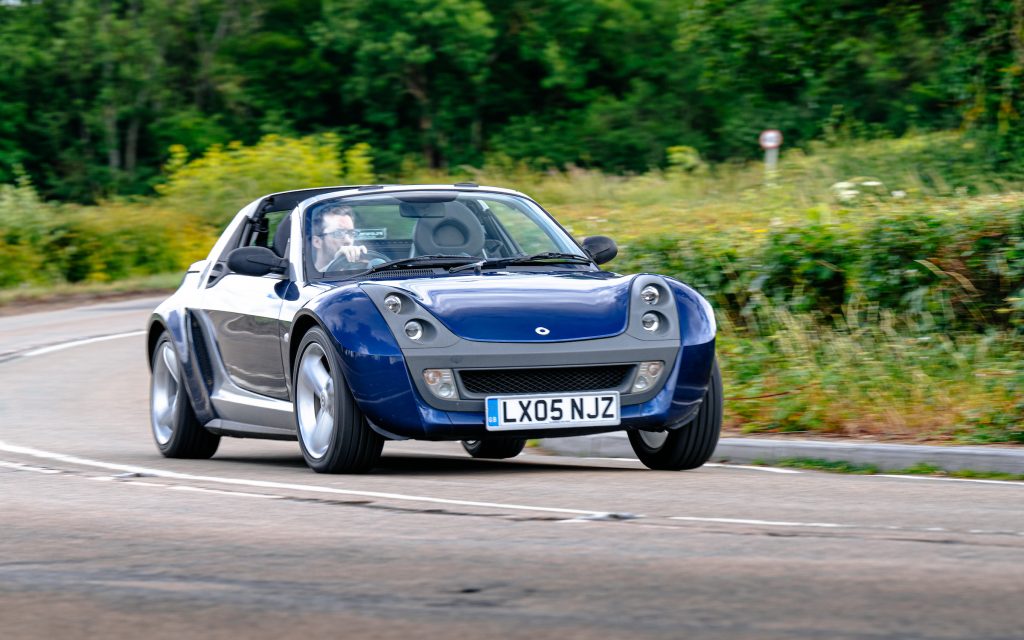 What the Smart doesn't have is the Mazda's sense of balance or quality of feedback. Accurate steering and slot-car grip are one thing, and the Roadster has both in abundance, but it's altogether more videogamey than the best sportsters, amusing more for giddy cornering speeds than the thrill of interacting with a machine.
It's much the same story for that engine and gearbox combo, which is frequently hilarious but occasionally frustrating. The noise is great, a kind of kindergarten 911 growl with wastegate twitter straight from the audio library of The Fast and the Furious. It gets a hustle on, too – gear ratios seem as short as a two-stroke 125, and the shift speed, much maligned in period, really isn't that bad if you back off to ease it through, so the action never really stops.
The 'box isn't as eager to downshift though, and it can get a bit clutch-slippy sometimes, notably away from rest. Driveline imprecision means you can't really use the throttle to adjust the car's balance either – whether accelerating or lifting off – and combined with mushy brakes and a surfeit of grip, it's easy to find yourself in a corner going slower than the chassis can cope with, often in the wrong gear, and twiddling your thumbs waiting for that corner-exit punch.
More time behind the wheel would no doubt help, as might a touch less grip – this 205-section rubber is the widest normal Roadsters came with. Perhaps there are tweaks out there to improve brake feel too, while tutorials on YouTube will tell you how to bin the unnecessary assistance for the steering to restore some feel.
In many respects, those contemporary criticisms of the Roadster were on point. It isn't really a serious sports car, and attempt to compare it dynamically with one that is – even a fairly modest one like an MX-5 – and you'll come away slightly disappointed.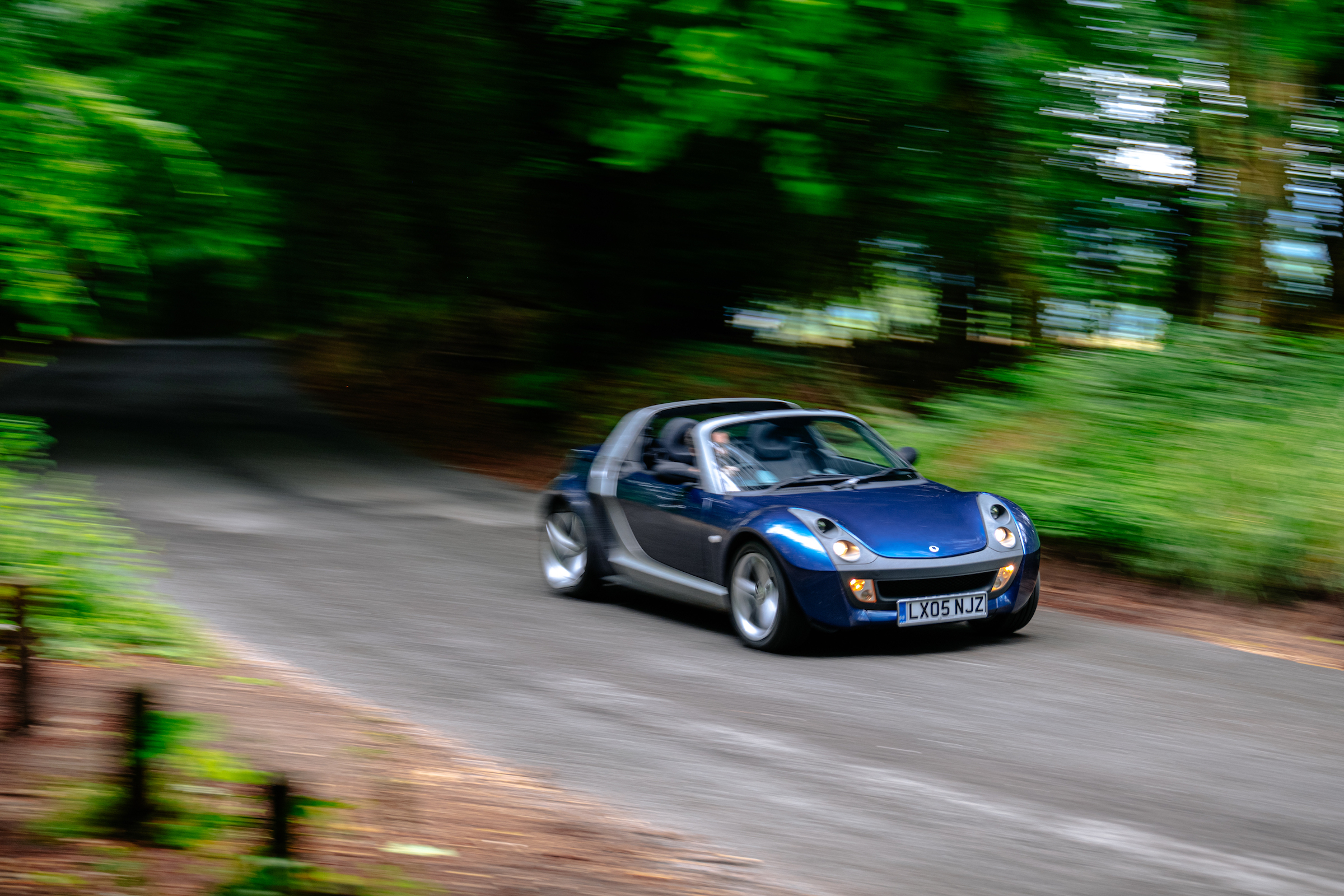 But after twenty years, perhaps it's time to judge it on different criteria. Because what the Smart does well – perhaps better than any of its contemporaries – is make you feel good. You feel good when you look at it, you feel good when you climb into its Elise-low cockpit with those goofy dials staring back at you, and you feel good when the three-pot chunters and burps and twitters away behind your head.
You certainly feel good when you're on just the right kind of road – one that weaves and flows and undulates, rather than one that forces you to brake and accelerate out of every turn – and you feel great knowing that in the era of two-quid-a-litre petrol, it's capable of doing 50, maybe even 60 miles to every gallon. And, while I'm no ornithologist, that tweeting has me hooked…
With thanks to Geoff Hall for the loan of the Smart Roadster. You can view his stock on eBay.
Read more
Future Classic: Smart Roadster
Nissan Z vs Toyota Supra | Jason Cammisa on the Icons
MGF driven: A fresh look at MG's MX-5 rival