Of all the three-letter suffixes found after a Ferrari name, 'in need of TLC' is the rarest of them all according to Hagerty's auction-watching experts. That's after analysing sales results from 163 Ferraris offered at UK auction houses from January 2020 until April 2021, and the condition each car was listed in.
Digging deeper into our findings, the Hagerty Price Guide, which tracks market values for nearly 2,200 vehicles, reveals 10 of those Ferraris to be 'Concours' condition, the bulk of 148 to be 'Excellent', only five listed as 'Good' and none whatsoever offered in the 'Fair' or 'Project' categories. That means 96.9 per cent of Ferraris offered at UK auctions were in 'Excellent' or 'Concours' condition, a significant percentage more than Jaguar (74 per cent), Bentley (84 per cent) or even Aston Martin (92.5 per cent).
How much is your car to insure? Find out in four easy steps.
Get a quote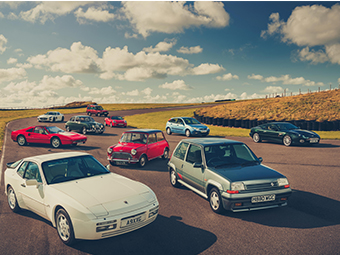 There's a similar pattern in the US, with no 'Fair' Ferraris listed at auction in 2020 or so far in 2021, only two in both 2017 and 2018, and 2019 being something of an anomaly thanks to five 'Fair' examples.
It makes financial sense, of course, to restore even the shabbiest Prancing Horses when they often sell in the six- and sometimes seven-figure price bracket, but while most of us have been priced out of the market like millennials from a Chelsea flat, scruffy projects do turn up on driveways, in garages and even at the side of the road. They're just the exception to the rule these days.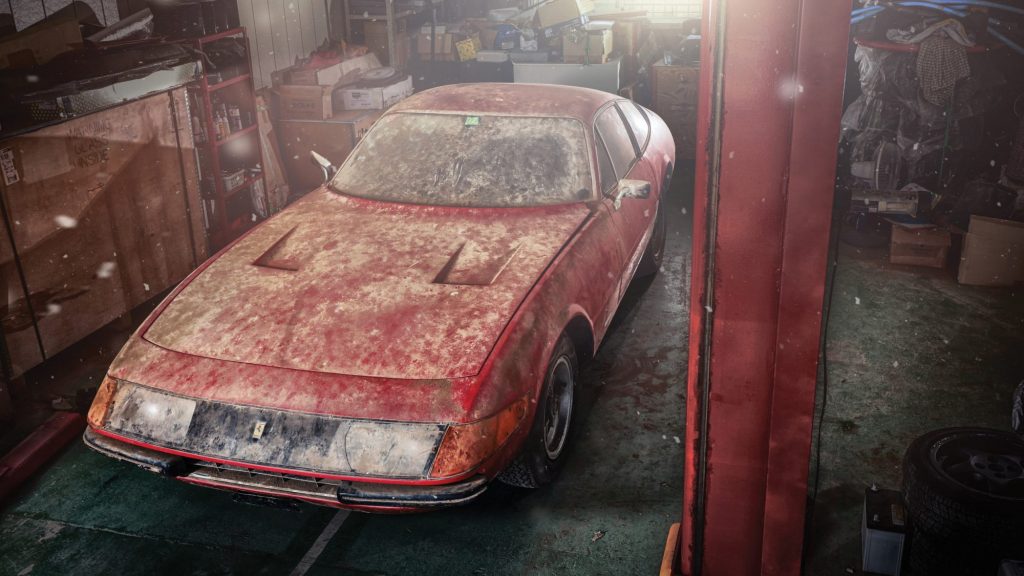 Nick Whale is managing director at Silverstone Auctions, which on 5 June runs an auction of Ferraris at Sywell Aerodrome in Northamptonshire, and says his own experience backs up Hagerty's findings – he pauses to think of the last time a barn-find went through one of his auctions and turns up a blank, though he isn't at a loss to explain why.
"The first thing is it's much rarer to find a Ferrari barn-find than anything else. The most common these days seems to be a Jaguar, and that relates to numbers – before the 458 in 2010 Ferraris were only produced in very limited numbers, so it's a much smaller vehicle park than Jaguar or, say, Porsche," Whale explains. "Secondly, Ferrari has always had a brand premium, and that attracts a price, which attracts proper collectors and enthusiasts who want to make their car as good as possible. But the trigger was really when they started to be worth something. Take Dinos: in 2009 you could buy a Dino for £60,000, today you wouldn't find one worth owning for less than £300,000 and the cars are prepared accordingly."
Of course auction sales are only part of the picture, as sellers seek to achieve the best possible results, and therefore a more complete picture emerges further down the chain. Ian Barkaway of Ferrari specialists Barkaways has been maintaining and restoring Italy's finest since the 1980s, and has witnessed first hand the increase in vehicle and restoration quality – something driven, he believes, by both the uplift in values and the rise of concours events and their standards, with Ferraris typically at the sharp end of both.
"The game has changed and people want absolute perfection," says Barkaway. "Look at the market five or ten years ago and it was going up rapidly. Investors come into the market, buy a car and they know it's going to go up. If you do a big restoration and win a big award, it probably goes up again – the market will carry it so far, and then a concours win will carry it another few rungs up the ladder. We've had concours judges start judging on things like the dates on window stamps, and that's part of why we and many others are restoring these cars to a standard better than factory cars ever were. It helps drive up the whole market."
Modern preparation standards are another factor pushing up the overall condition of Ferraris, particularly superior modern paints and bodyshop products, which in turn has given rise to the detailing industry, a virtuous circle of ever shinier vehicles. "Detailing has arrived from nowhere in the last ten years," says Barkaway. "Cars are detailed to within an inch of their lives with a beautiful glossy shine that you just couldn't get with old-fashioned cellulose paints, and that drives the expectations of clients too. So it's a combination of vehicle value and therefore the sums people are prepared to invest in a restoration and what they expect in return, together with the quality of materials we're now working with."
Despite an excellent standard of preparation generally, Barkaway says cars in poorer condition do still emerge, though they're often tucked away in family collections. "We've got a 308 here at the moment that the owner's had for 15-20 years," he reveals. "It was stored in a car park under his house, he'd pulled it to bits years ago to restore, so it was just a rolling shell and boxes of bits. He was busy and not getting round to it so he asked us to sort it out.
"There are naturally fewer [poor-condition Ferraris] around these days – between all the restorers in the world, we must have got through quite a few by now, but every now and again you get another barn-find, and another one. It is a bit random where they come from," sums up Barkaway. They have also recently taken in a 328 (pictured above). "The funny thing is there's a certain nostalgia for barn-finds, and a perception they can be worth more than a finished car!"
Restorers are the obvious first port of call for such projects as owners seek to unlock their value, so the chances of the rest of us unearthing comparable projects are slim. But a new generation is harnessing the power of social media to get ahead of the game.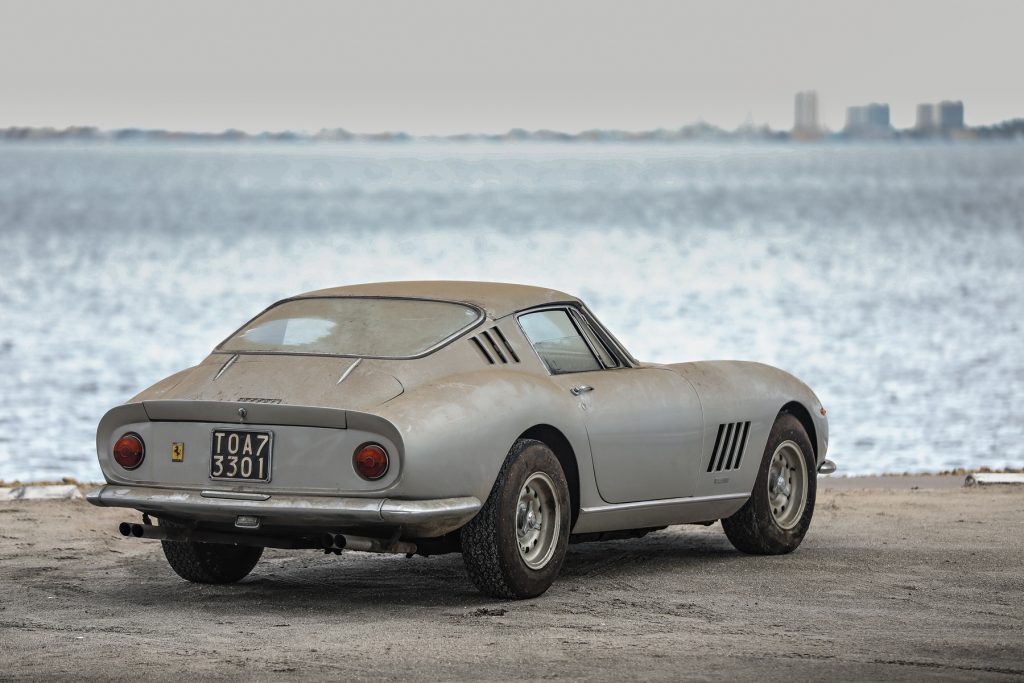 Scott Chivers is a serial Ferrari owner who documents his restorations of shabby Ferraris on YouTube. His journey began around 20 years ago with a 348 Spider. He's owned around 30 Ferraris so far and has become mechanically adept and savvy at picking up bargains, often buying left-hand drive examples from Europe and the US (particularly when exchange rates are favourable), including a non-running 456 sourced a few years ago from the US for $19,000. The anti-vibration rubber in the fuel pump had deteriorated and fouled up the fuel system, so Chivers got the car running for the cost of a new Bosch unit – and even that was hundreds of pounds cheaper than the same part in a Ferrari box.
His ambitions reached new heights with 'Ratarossa', a roof-chopped if unfinished Testarossa – imagine a ratty version of the OutRun car covered in primer and running around Bracknell and, well, you're there. Ferrari made only one Testarossa convertible (for Fiat boss Gianni Agnelli in 1986), but Chivers' 'bespoke' example was apparently created to make the moulds for a Pontiac Fiero replica kit. Initially it served as a template for a coupé, later the roof was removed to make a convertible version. It'd been in storage for years until Chivers spotted it on eBay and imported it from the US for £16,000, all landed with duties paid.
"About 90 per cent of the parts were there, and it was actually a lot of fun working out where everything should go," Chivers explains. "I owned another Testarossa at that point, which I used as a reference, the Ferrari workshop manuals are actually very good, and ferrarichat.com was very helpful."
Much of the work was conducted in Chivers' double garage or on his driveway. The tatty tan interior was put back in place with the help of an original dash in the correct colour sourced for £180, and the redundant headlining was used to trim the A pillars and where the new rear bodywork meets the rear of the cabin. Chivers gave the engine a new lease of life with two new fuel pumps that cost less than £100 and a DIY service, and sorted a cold start issue when he realised a fuse was incorrectly seated.
Ratarossa is unlikely to ever be returned to its former glory, but its ratty look is part of the appeal, and it's also built Chivers' reputation for buying shabby Ferraris as well as his YouTube following. "I've made myself known for this kind of thing, so if a barn-find Ferrari comes up on Instagram, I'll get tagged in, and then it'll be great for my own YouTube content," he says.
His latest project is a 512BBi that had languished on a Gloucester drive for 20 years. "It'd already been well shared online – you could actually see it on Google Maps – but I didn't know about it until someone sent me a link." One of only 42 right-hand drive UK cars ever produced, and the only example in white, Scott says it had previously been documented as possibly the best BBi in the world.
'The owner had bought it in 2006, drove it for a few months and then parked it up. He had people taking him bags of cash that he'd refused, and I think he thought he'd get round to it one day, but things were getting stolen off it, I kept pestering him, and I paid £80,000,' reveals Chivers.
With the YouTuber having picked up mechanical knowhow as well as his network of contacts during his Ferrari adventures, he's currently busy restoring the car. He estimates it could be worth as much as £500,000 when finished given its rarity – certainly even the most affordable example we could find was advertised at £199,500. (The Hagerty Price Guide places a 512 BBi in 'excellent' condition at an average value of £185,000, a concours example can fetch more than £210,000.) And he insists other Ferraris in need of TLC are still out there waiting to be discovered.
"A 308 vetroresina – one of the early fibreglass cars – was found in a garage not long ago, after it was parked up in 1987 with 70k miles," says Chivers, "and I did a video remotely at the end of last year about a Testarossa in Puerto Rico that'd been parked on the side of the road for 14 years – it sold for $30-40k within hours. Another in the US was just sitting around."
You're unlikely to find sub-par Ferraris going through auctions for a steal then then, but they are still out there waiting to be discovered – you just need to know where to look. And that, surely, is half the fun…
Read more
Lamborghini Espada and Ferrari 308 GT4 | The Next Big Thing with Magnus Walker
Comparing the depreciation of modern supercars shows Ferrari sets the pace
9 Ferrari-branded collectables for the tifosi