More often than not over the long term, specialist cars, like property, have become more expensive. And that presents a hurdle to many drivers who'd like to have something special tucked away for high days and holidays, or indeed those who specifically wish to invest in a collectable car – now more than ever given the rising cost of living.
It's for this reason that companies are offering the opportunity to invest in a share of a car. The cost is considerably more affordable than buying a car outright, and if the right car has been chosen in the right circumstances, there's a chance that it could increase in value – which in turn means your investment could too. Equally, from a collector's perspective, there's no need to put all your eggs in one basket – the same sum of money that could buy one car could be spread across the part-ownership of several.
How much is your car to insure? Find out in four easy steps.
Get a quote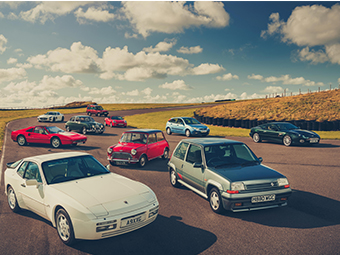 But just like stocks and shares, investments can fall as well as rise. And unlike owning the car outright, you'll not be able to fling open the garage doors, crank the engine to life and take a reinvigorating drive when you feel like it. Then there's the thorny issue of when a car should be sold or another invested in, and which that should be…
For anyone curious about the concept of fractional ownership of specialist and classic cars, this is what you need to know and weigh up before travelling further down the investment road, including how to seek specialist advice from regulated, reputable financial planning advisors.
What is fractional ownership?
It is the practice of selling shares in an expensive asset to a group of owners, so making the asset more affordable. It started in the aviation world with people buying shares in aircraft they could also fly for an agreed period. It has since been extended to other expensive assets including boats and even stamps. Most recently, modern-classic cars have become a new type of investment which, if values rise, benefits shareholders. However, to help preserve their investment, the two most prominent companies in this new field – US-based Rally Rd and UK-based The Car Crowd – do not allow shareholders to drive their vehicles.
If you can't drive your classic car, what's the point of having a share in it?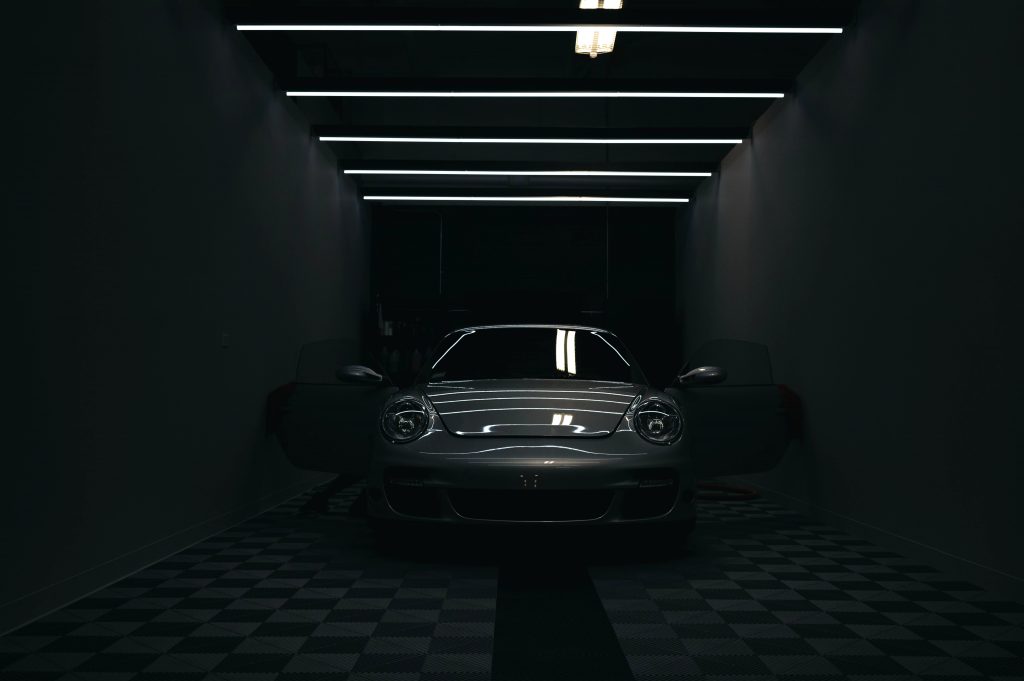 Fractional car companies say the concept of investing in classic cars isn't meant to replace owning your own classic. However, they point out that a lot of people who do own classics don't actually drive them for fear of damaging them or increasing their mileage. They claim investors enjoy the idea of having a share in a sought-after car and the feeling of ownership it gives them. Of course, the main point of having a share is that as the value of the vehicle increases, so does the value of the share held in it. When it goes live in 2022, investors will be able to post and sell their shares on what is termed a bulletin-board secondary market, without incurring any fees.
So fractional ownership is about the profit and not about the car?
When wasn't running a classic car at least a little bit about how much the car might be worth should you come to sell it? In any case, fractional companies claim they're as enthusiastic about the cars as any owner and want to bring them out of private collections to be enjoyed by many more people. In that spirit, The Car Crowd, for example, is in the process of opening a café near Newark in Nottinghamshire where shareholders, including those who might also own a classic car, can meet fellow investors.
How does fractional ownership work?
Cars are chosen by the investment company in consultation with experts within owner's clubs and industry specialists. Values are then determined with reference to leading auction houses and specialists. To allow shares to be traded in it, and to give shareholders 100% control, the car is converted into a limited company, at least in the UK. Its 'opening value' is then divided into shares, typically 1000, a figure calculated to make each share more affordable.
Depending on the investment company, an operations fee per share to cover annual maintenance, insurance and storage costs may also be charged. In the case of The Car Crowd the charge is up to 10 per cent and covers a period of five years. A limit on the number of shares that can be purchased is also applied. The Car Crowd's limit is 100. When the shareholder wishes to dispose of their shares, they won't incur any fees.
How much are shares?
Regarding The Car Crowd's recent 'flotations' they have ranged in price from £18.90 for a Peugeot 205 GTi, through £30 for a Renault Clio V6 to £220 for a Spyker C8. More recently the company has begun selling shares in a Ferrari 360 Modena, at £77 per share, and a Ford Sierra Cosworth, at £59. The share price includes a curation fee to cover provenance checks, transport costs and marketing of between 5-10%, depending on the car.
How do investors make money?
Periodically the car is made available for share trading when shares can be bought and sold in it. The Car Crowd plans to launch what is termed a 'secondary market' in 2022 to enable exactly this. Rally Rd claims that over 12 months, investors might see a 15 per cent return on their money.
In addition, investors can earn a share of their car's appearance revenue. For example, The Car Crowd rents out cars for shows and media work (they aren't driven) meaning that an investor with a 10% stake could earn £25 from a £250 appearance fee.
Every six months cars are independently valued and a market analysis report is provided to shareholders. Using this information, the shareholders then decide if they wish to keep or sell vehicles. If they decide to sell, the return on investment is returned to the shareholders while The Car Crowd takes 10% of the vehicle's appreciation to cover its expenses. The company emphasises that the shareholders are in control and vote whether to hold or sell cars.
Is tax payable on investment profits?
Assuming the investor's annual £13,500 tax-free allowance is not exceeded, then no. If it is, capital gains tax is payable.
Is fractional car ownership regulated?
In the US, Rally Rd is regulated by the Securities and Exchange Commission. In the UK, The Car Crowd is an appointed representative of Kession Capital Ltd, which is authorised and regulated by the Financial Conduct Authority. Following all relevant UK crowdfunding regulations laid down by the FCA, The Car Crowd cannot give estimates of future returns. However, it cites the Knight Frank Wealth report that showed an average 19% annual growth in the values of classic cars over the past 10 years.
What cars are available?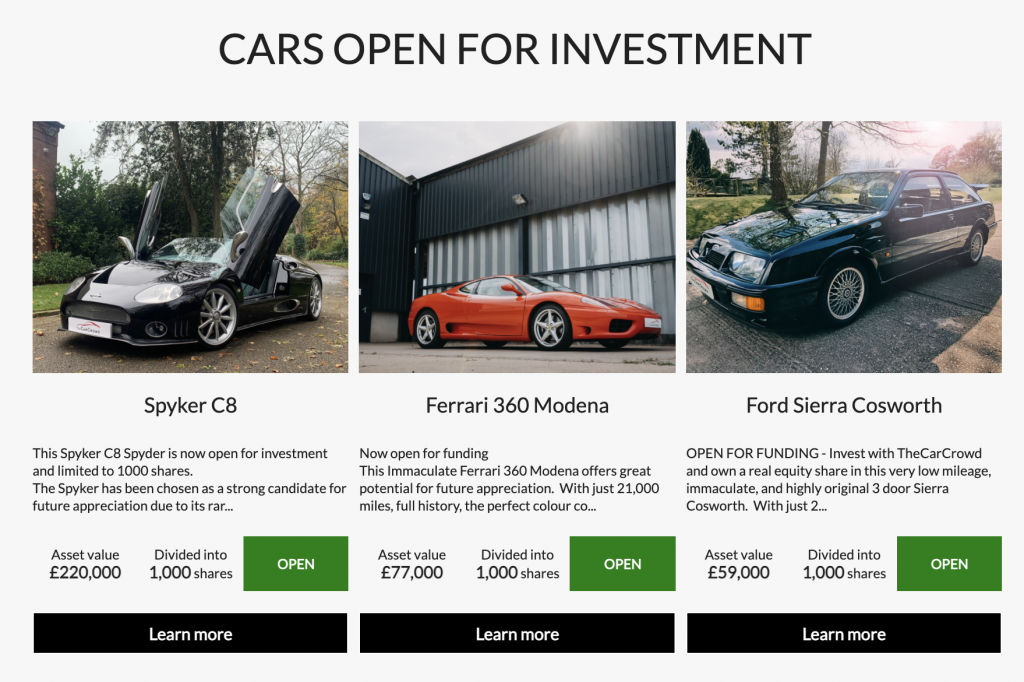 The two leading companies favour modern over traditional classics, their argument being that such vehicles still have investment potential. This being so, knowing where a car sits on its appreciation curve is key to its selection. In this respect, because they are often in demand from people who remember them when they were younger, when they couldn't afford to buy them, cars aged 20-25 years old are considered to have stronger growth prospects than older vehicles. Cars like these often have lower maintenance costs, too.
The Car Crowd plans to add 25 cars each year to its portfolio. Those on its radar include the Audi R8 (Mk1) manual, BMW M3 (E90) Frozen Black or White Edition, Honda NSX (Mk1), Lamborghini Gallardo, Lotus Elise (S1), Mazda MX-5 (Mk1), Mitsubishi Lancer Evo VI, Porsche 911 (996) Carrera 4S or Turbo and Toyota Supra Twin Turbo.
How are cars chosen?
Their position on the investment curve aside, cars are chosen according to a range of strict criteria including reputation and desirability, production numbers, condition, mileage and provenance. Whether the vehicle is a limited edition or represents a technical or design milestone is also considered.
Who are the investors?
According to Chris Bruno, founder of Rally Rd, most investors are in their 30s, understand the principles of investing and are passionate about cars but haven't the money to start their own collection. David Spickett, co-founder of The Car Crowd, says most investors are around the same age and relatively new to investing but keen to diversify. In addition, many see investing this way as a form of 'social currency' that provides a talking point among friends.
What do investors say about fractional car ownership?
Sireesh Nallanthighal and Dipti, his wife, own shares in The Car Crowd's Peugeot 205 GTi. Sireesh is a car enthusiast who always dreamed of owning a nice car but being an accountant, Dipti always tempered those dreams with hard realism. As a result, the couple have always put their savings into ISAs. However, when Sireesh told Dipti about The Car Crowd, to his surprise she was interested.
"We don't think investing in these modern classics is a risk and if our investment in the 205 outstrips our ISAs, we will be happy," says Sireesh. "It doesn't matter that we can't drive the car. I don't have the time and wouldn't want to for fear of harming its value."
What do critics say about fractional car ownership?
Experts in the market believe classic car values, already very hard to predict, risk being destabilised by the presence of increasing numbers of speculators. They question the relevance of quoting the average rise in values of classic cars in recent years when the performance of individual vehicles varies so widely. They also question the fact that the cars cannot be driven. Being able to drive your classic car is a key part of its appeal, they say, and key to keeping interest in the hobby alive.
What do finance experts says about fractional car ownership?
Jon Williams, managing director of Price Ferguson (Farnham), a wealth management company, says that by offering an asset in the form of a car, investors are unlikely to make significant losses. However, his advice is not to invest exclusively in fractional ownership but, instead, across a range of investments as part of a wider share portfolio. And as ever, it would be prudent to consult a qualified financial advisor accredited by the Financial Conduct Authority.
What if the company goes out of business?
In the instance that The Car Crowd were to go out of business, it says the investment would be included in a regulated wind-down process that protects all investors. FCA-regulated GoJi Investments, which manages all of the funds for The Car Crowd, would sell the cars on an online auction site. All funds received would be returned to investors, with no fees deducted.
Read more
Can you really trust online auctions?
Will you be buying your next classic car using Bitcoin?
Record results as collectors snap up Golf GTI, EVO VI and Quattro specials