It was on the company's 70th anniversary in 2017 that TVR unveiled the new Griffith. The company is now 75 and that one car remains the only Griffith of its kind known to exist. To say the relaunch of TVR has not gone entirely to plan is some understatement.
But why call it Griffith at all? It could be to honour the memory of the original Griff, built between 1963-67 with a viciously short wheelbase married to a wickedly potent Ford V8 requiring copious amounts of loin girding before any attempt to drive it fast, but I suspect it had more to do with the much loved Griffith that came between the first and most recent. This was the light, beautiful, fast and fun Griffith that first appeared in 1990 and, unlike either its forebear or descendant, stayed in production for a dozen years.
How much is your car to insure? Find out in four easy steps.
Get a quote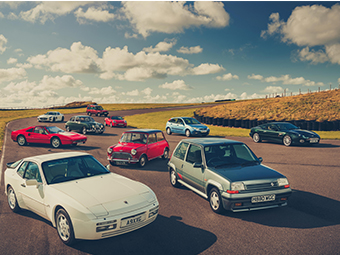 TVRs, it should be said, did not enjoy the greatest reputation in the last days of the old company before production ceased in 2006. Its cars had become too expensive, too complex and with a reputation for suspect reliability that would never go away, sales dried up leading to a long drawn out death under Russian ownership.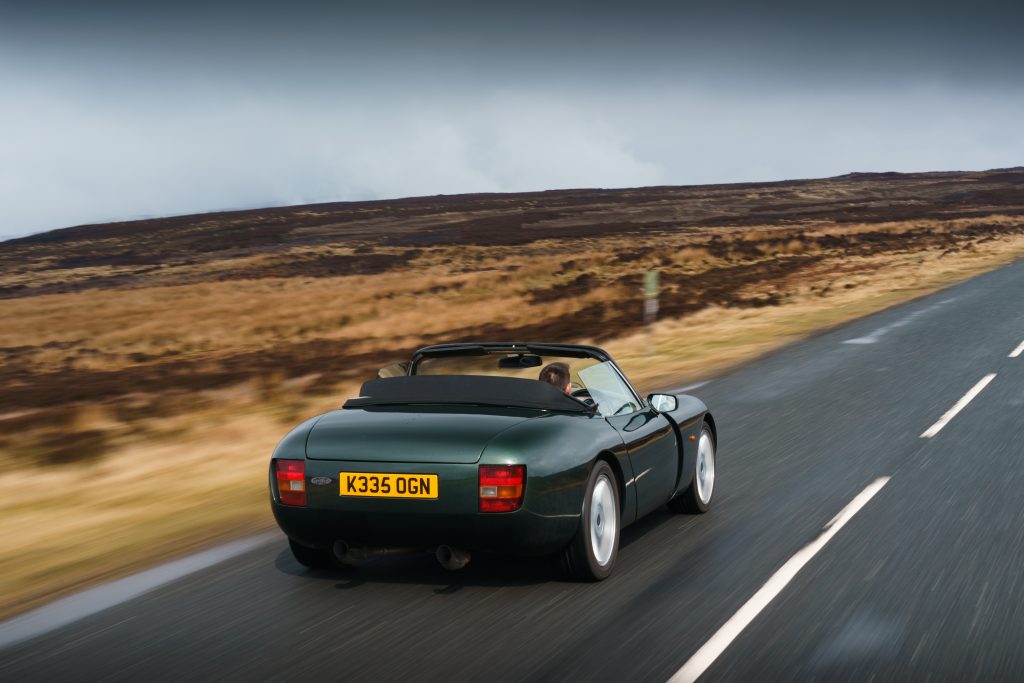 But the Griffith not only pre-dates all of that, it was a far simpler and more robust design using proven Rover mechanicals for the engine and either a Rover or Borg Warner five-speed gearbox. And if they could be somewhat inexactly constructed in period, the point I always make is that everything that was going to fall off would, at some stage over the last 20 to 30 years, have already fallen off and been replaced by someone who hopefully knew what they were doing.
What's left is a very straightforward car: a tubular steel backbone chassis, with double wishbone suspension at each corner over which a lightweight fibreglass body was draped. The light, reliable, sonorous and powerful all-aluminium Rover engine was the perfect powertrain and came in three capacities during the course of the Griffith's life: the base engine started life as a 4-litre with 240bhp, with the option of a 4.3-litre unit with 276bhp added in 1992. But its life was short, the requirement for catalytic converters to be fitted resulting in a further expansion of capacity and a 340bhp 5-litre motor that would stay in the Griffith to the end of its days.
Drive a Griffith today [as we did right here, against a Honda S2000, Ed] and unless you are already TVR-literate I guarantee you'll be surprised. Not by the performance because simple maths will tell you that a car with an all-up weight of little more than a tonne married to even the most modestly powered V8 is going to be quick, but by the way the car feels.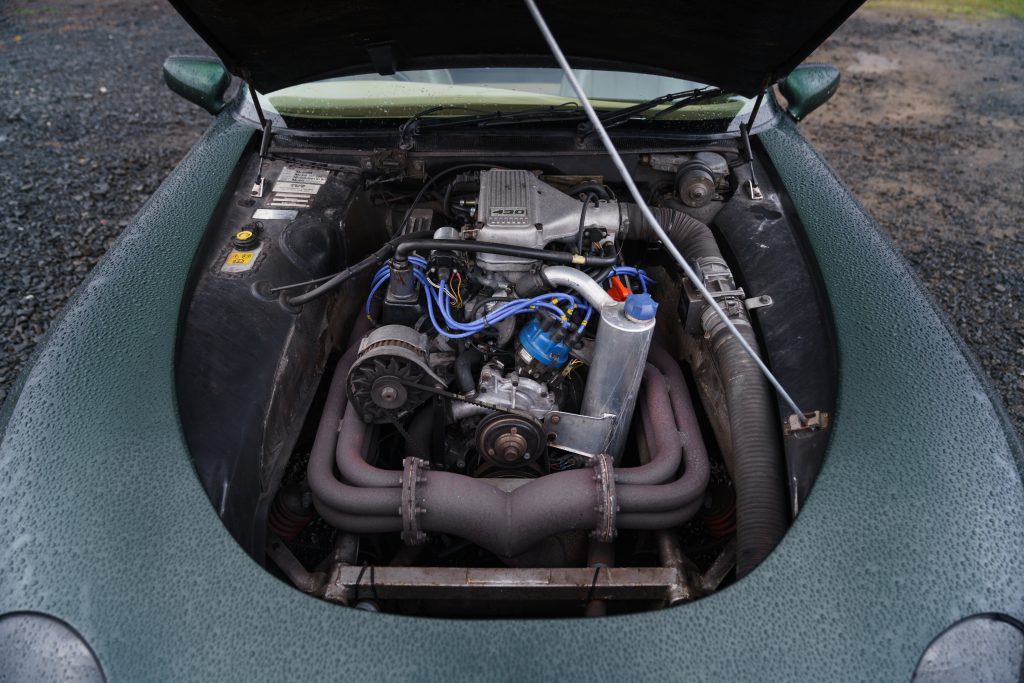 And if you're now expecting me to say it's amazing how modern is that feel, I'm afraid I'm going to disappoint you. Actually it feels quite vintage, a car with more in common with a six cylinder 'Big Healey' from the 1960s than a modern sports car. Griffiths feel softly sprung, rather approximate in the way they steer and inclined to clatter and crash their way over the bumps.
And if that's not for you, read no further. But the point is no TVR of this era ever won a handling competition even when new, and I'm old enough to have been testing them at the time. If you want a precision instrument to aim at an apex, you'd never even be looking at a Griff because you'd already own a Caterham or Lotus Elise.
Think of it more as an overtly sporting touring car and the Griffith, with its big boot and easily removed and stowed roof panel makes vastly more sense. It is a car in which to enjoy the ride, rather than one from which to wring the most from the drive.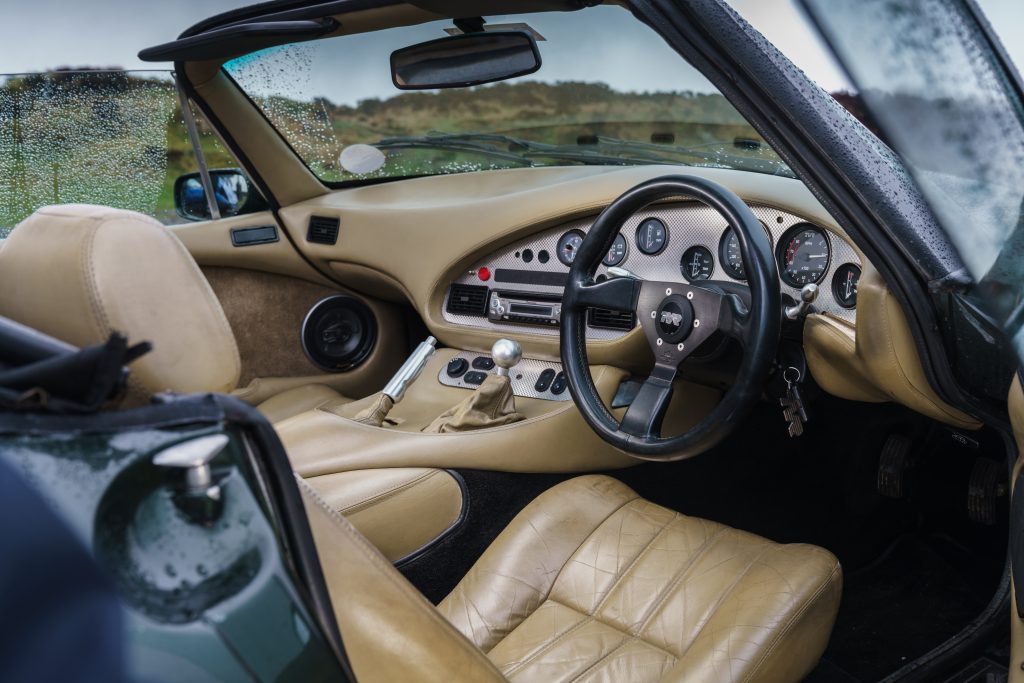 Treated that way and the Griffith is one of the most charming cars you could imagine: spacious, relaxed, with a glorious voice and, when required, enough punch still to humble almost anything that might come sniffing at its tailpipes; this is not a car for seeing how fast you can get there, but simply enjoying the journey.
Which one to get? The 4-litre cars are the most affordable and if ultimate performance is no odds, they're still good value. A 5-litre Griffith remains a shockingly fast car even by modern standards but because they had to be fitted with cats, they sound good, but not heart-stoppingly great. Which is why to my mind the best Griffith is the 4.3, which is actually very little slower than the 5-litre car, but comes with a soundtrack you'd happily have played at your funeral. Problem is they're the rarest and most valuable of all.
As with most things in life, you get what you pay for, and a well-maintained Griffith is, in its very particular way, one of the most enjoyable sporting two seaters of its or, indeed any, generation.
Read more
Retro Rematch: TVR Griffith vs Honda S2000
Join the Club: TVR Car Club
Your classics: Peter Reid is going to the end of the road with his TVR Tuscan