There's no getting away from it, by the time the Volkswagen Golf GTI reached its fourth generation, it was more Lancashire hot pot than hot hatch. Successive generations had piled on the pounds and Volkswagen knew it was losing faithful buyers in a market segment that was undergoing a rejuvenation in the early 2000s.
It wasn't until the R32 arrived in 2003 that VW had a fast Golf worthy of mentioning in the same breath as the Ford Focus RS and Honda Civic Type R. In the meantime, to add some much-needed lightness to its fast hatch lineup, Volkswagen came up with the Lupo GTI.
How much is your car to insure? Find out in four easy steps.
Get a quote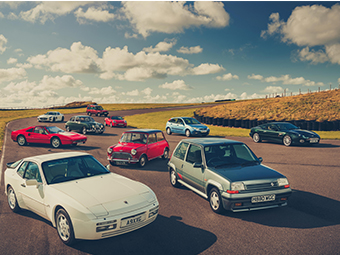 Based on the firm's diminutive city car that majored on cute rather than claws, VW armed the GTI with a 123bhp 1.6-litre engine. It produced 25bhp more fizz than the next petrol motor in the range, a 1.4-litre unit, and dished up 0-62mph in 8.2 seconds. Top speed was claimed at 127mph, but it was the way the Lupo GTI went down the road that endeared it to road testers and owners alike at the time.
If the performance figures were nothing to write home about from the test track, the drive there and back sure was entertaining. VW pared the weight of this elfin GTI down to 978kg. That was less than most standard Lupos, yet the GTI was far from Spartan inside or out – though you did have to pay extra on top of the original list price of £12,995 for air conditioning or a sunroof.
If that seemed like a lot of money for not a lot of car, the GTI justified it with the widespread use of aluminium for the front wings, bonnet and doors. Those wings were pulled wider to extend over the 15-inch Bathurst alloy wheels, while round the back was a purposeful twin-pipe exhaust emerging centrally beneath a deeper rear bumper. There were also uprated springs and shock absorbers, complemented by a 20mm ride height reduction all round compared to the 1.4 Sport model. The GTI also had disc brakes at each corner.
Early Lupo GTIs came with a five-speed manual gearbox, but that was quickly replaced with a six-speeder when the entire range was facelifted in 2001. These are the most numerous Lupo GTIs now, though the model is far from a common sight as only 950 found buyers when the car was on VW's price lists between 2000 and 2005.
However, relative rarity is not what makes the Lupo GTI a future classic. It comes back to that feisty nature motoring journalists raved about every time they got in the car. A Mini Cooper might have been more showy and a Renault Sport Clio 172 ran rings round them all for not much more cash, yet the Volkswagen oozed specialness.
It was clear VW hadn't just popped a bigger engine in and some badges on to create this GTI. What made the Lupo GTI desirable then and now is it was a veiled admission, an apology even, that Volkswagen had let things slide with the GTI badge. Here was a statement made metal that it was back on track, which led to the R32 and, ultimately, the brilliant Mk5 Golf GTI.
The low numbers of Lupo GTIs sold when new and, consequently, on the road now have bestowed cult status on this car. Today's drivers are wising up to the charms of this lesser spotted GTI, which is pushing prices gently upwards, so don't bank on finding a perfect example for bargain money. The good news is the Lupo is well made and resistant to most of the faults that can plague a Golf GTI of similar vintage. You will need to check the suspension bushes are not worn, there's no rust in the roof gutters, and there are no misfires from failing coil packs. Otherwise, this is a simple and affordable hot hatch to own and run.
The Lupo GTI is an emerging classic you will want to use, and it rewards you with darty handling. It's also one you can enjoy in the knowledge the only pounds it's putting on will be the gradual accrual in value as more people cotton on to this small but significant hot hatch.
Also read
Future classic: MINI Cooper (R50)
As VW teases the new Golf R we remember the first R32
Executive Decision: Audi 80 vs BMW 3-series vs Mercedes 190E